Switch on/off Top up Health cover
 
ICICI Lombard Group Health Insurance


(Switch on/off Top up Health cover)

Keep your family safe and your finances secure with Group Health Assure insurance that offers you both, flexibility and stability.

Flexible Insurance Coverage
Increase or decrease your insurance coverage as per your healthcare needs. You can customise your voluntary self-contribution from 2 lakhs to 5 lakhs.

Seamless Cover Switch
The health insurance allows you to switch from one insurance cover with no deductible to a cover with pre-determined deductibles up to 4 times a year.

Fortify Your Existing Plan
Strengthens and enhance your existing plan, and also choose a higher Sum Insured and broader coverage to meet your medical expenses.

Works Both Ways
It can be taken as an independent policy or as a Super Top-Up to your existing plan.

Premium Refund
You are offered premium refund when you declare a higher voluntary self-contribution. If you declare zero voluntary self-contribution then this will become your primary health insurance policy.
 
A
Better Safeguard

Against Rainy Day

The ICICI Lombard Group Health Insurance (Switch on/off Top up Health cover), at a glance.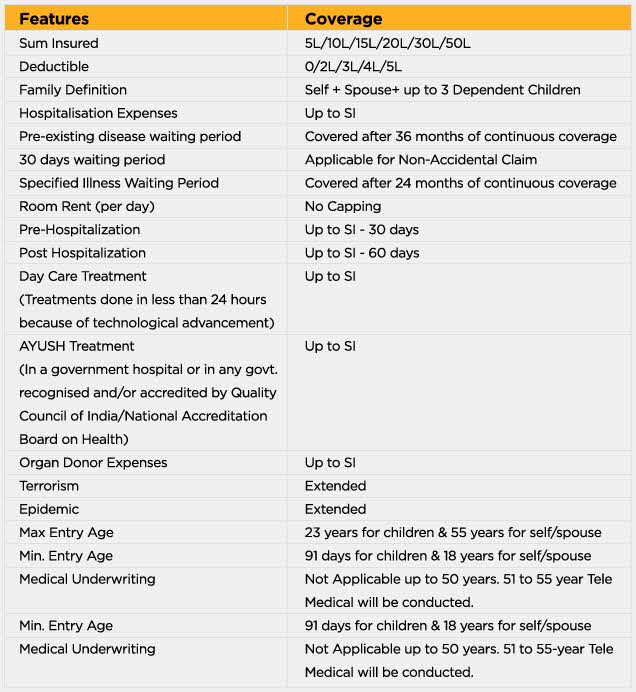 Plan Details

At a Glance

 
Disclaimer

DBS Bank India Limited (Bank) does not underwrite the risk or act as an insurer. The Insurance products are underwritten by ICICI Lombard General Insurance Company Ltd. The contract of insurance is between the insurer and the insured and not between the Bank and the insured. Bank does not give any warranty, as to the accuracy and completeness of the policies. Bank does not accept any liability or losses attributable to your contract of Insurance. Participation by the Bank's customers in the insurance products is purely on a voluntary basis and is not linked to availment of any other facility from the bank.
Group Health Insurance Policy
UIN: IRDA/NL-HLT/BAXAGI/P-H/V.I/94/13-14


Registered and corporate office address: Bharti Axa General Insurance Company Limited is (now a part of ICICI Lombard General Insurance Company Ltd. (IRDA of India Regn.No.115) CIN: L67200MH2000PLC129408 having its registered office at ICICI Lombard House, 414, Veer Savarkar Marg, Near Siddhi Vinayak Temple, Prabhadevi, Mumbai – 400025).
For more details on risk factors and terms and conditions, please read the sales brochure carefully before concluding the sale. For all other Terms and Conditions, please refer to policy wordings on www.bharti-axagi.co.in.
Section 41 of the Insurance Act, 1938 Prohibition of Rebates
Advt. No.: BhartiAXAGI/BN/General/2020-21/271
No person shall allow or offer to allow, either directly or indirectly, as an inducement to any person to take out or renew or continue an Insurance in respect to any kind of risk relating to lives or property in India, any rebate of the whole or part of the commission payable or any rebate of the premium shown on the policy nor shall any person taking out or renewing or continuing a policy accept any rebate, except such rebate as may be allowed in accordance with the published prospectus or tables of the Insurer.
Any person making default in complying with the provisions of this section shall be liable for penalty which may extend to ten lakh rupees.
Thank you. Your feedback will help us serve you better.
Was this information useful?
Thank you for your feedback
Let us know how this article helped:
We're sorry to hear that.
How can we do better?

Enter only letters, numbers or @!$-(),.