When markets are volatile and investment analysts have conflicting views, selecting a suitable investment strategy can get extra challenging.
Identifying bull and bear markets can help you navigate your portfolio but it is not a straightforward task as there are many factors involved. Think of investing like hiking, where analysing the markets is similar to assessing your trekking route and weather conditions, which ultimately indicate if you will have a leisurely or strenuous trail ahead.
The hiking gear you have is akin to the investment tools that you would use to plan your portfolio, while your fitness level is similar to your investing skills and resources and would determine how much risk you're willing to take on your hike, and your investment journey alike. And you can definitely think of the team of investment experts at DBS as your mountain guide or experienced hiking buddy who is integral in the success of your hike.
Despite the challenges, recognising a bull or bear market can be important to help you decide how you would invest your money. Read on to learn how to distinguish a bull or bear market, and the investment strategies that tend to do well in these scenarios.
How do you identify a bull market or a bear market?
Fundamentally, a bull market is marked by consistently-rising prices, while a bear market is the opposite, with prices that are consistently falling. Prices would also need to rise or fall by about 20%, in order to confirm it is a bull or bear market.
When markets are volatile, however, prices can change direction quickly. This leaves many investors wondering if the bull or bear market that they saw earlier was real, whether it will resume, or whether it is over.
At this point, focus your attention on the real reason why prices are changing – the imbalance in supply and demand for the investment you're looking at.
Take stocks for instance:
| | | |
| --- | --- | --- |
| When demand for stocks is | And supply of stocks is | The result is |
| Strong | Not enough | Rising prices |
| Weak | More than enough | Falling prices |
Bull and bear markets – 5 signs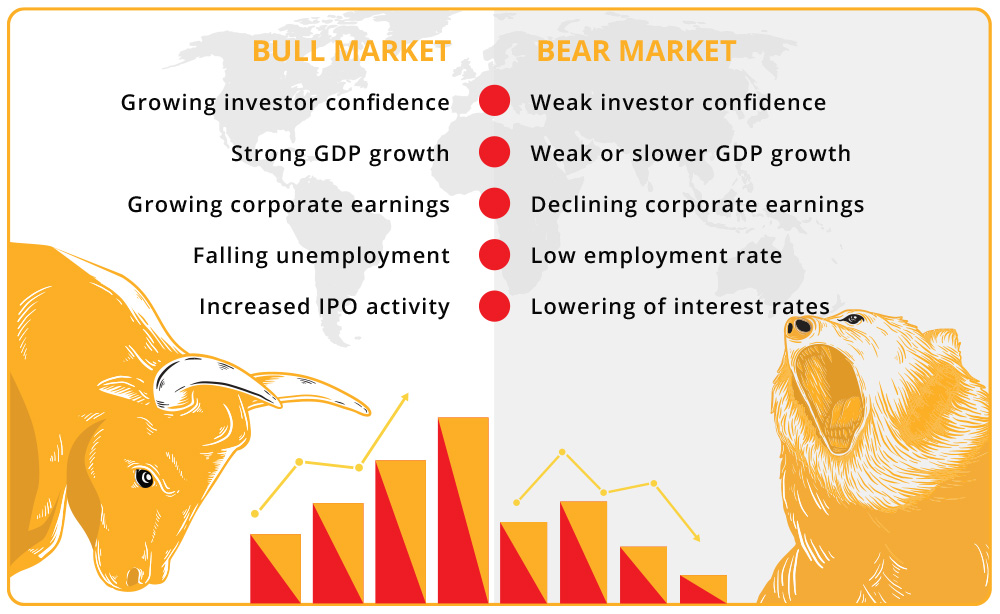 A bull market is often characterised by a healthy dose of investor optimism. Investors are more willing to invest in stock markets, which increases the demand for stocks and prices even further. In such times, more companies would also seek to be listed on the stock exchanges to capitalise on this increased demand.
Bull markets also often coincide with periods of healthy economic growth. So that's another thing to look out for: positive economic data, strong corporate earnings, and low unemployment numbers.
While in a bear market, the opposite is often (though not always) true. Investors are less optimistic about the market and tend to be more reluctant to invest in equities as prices fall.
A bear market could also coincide with periods of slowing economic growth. Signs of this include weaker corporate earnings and high unemployment rates. Another key sign of a bear market: When major central banks such as the US Federal Reserve lower their domestic interest rates.
Continue to Part 2 >>
Let us guide you
When markets are volatile, it can be challenging to build a robust investment portfolio. Just like hiking Mount Kilimanjaro, the journey is more pleasant with the appropriate hiking gear and experienced mountain guides.
Your investment journey will be different from someone else's journey. At DBS Treasures, we manage your wealth with specific strategies tailored for you.
Whatever your needs are today or tomorrow, we provide the right wealth solution to suit your preferences and risk profile, even as your needs change.
There are products that can be tailored to suit you to investments managed by professionals, such as Mutual Funds, structured products, fixed income, and foreign exchange to provide potential returns according to your goals.
Get full control with up-to-date notifications on investment opportunities via Smart Insights as well as the full suite of features offered by the DBS digibank App.
Get personalized advisory from your Relationship Manager, sharpened by digital innovation to give you confidence in making investment decisions.
Download the DBS digibank application to enjoy the convenience of investment transactions available 24/7