Counting numerous investment gurus including Warren Buffet as fans, Exchange-Traded Funds (ETFs) have attracted much chatter in the market in recent years.
ETF assets have increased - showing no signs of slowing down in the near future. While it seems like a profitable wave to ride, read on to see if ETFs are the right choice to take your portfolio further.
ETFs at a Glance
It pools money from a large number of investors and deploys it in a mix of stocks, bonds and different types of assets. It tracks one or more market indexes, which instantly provides diversification to your portfolio and helps spread your risk. They are traded easily like most stocks on the stock exchange.
Here are some key features that set it apart as an investment: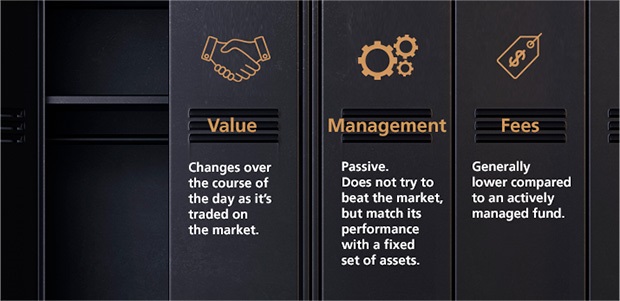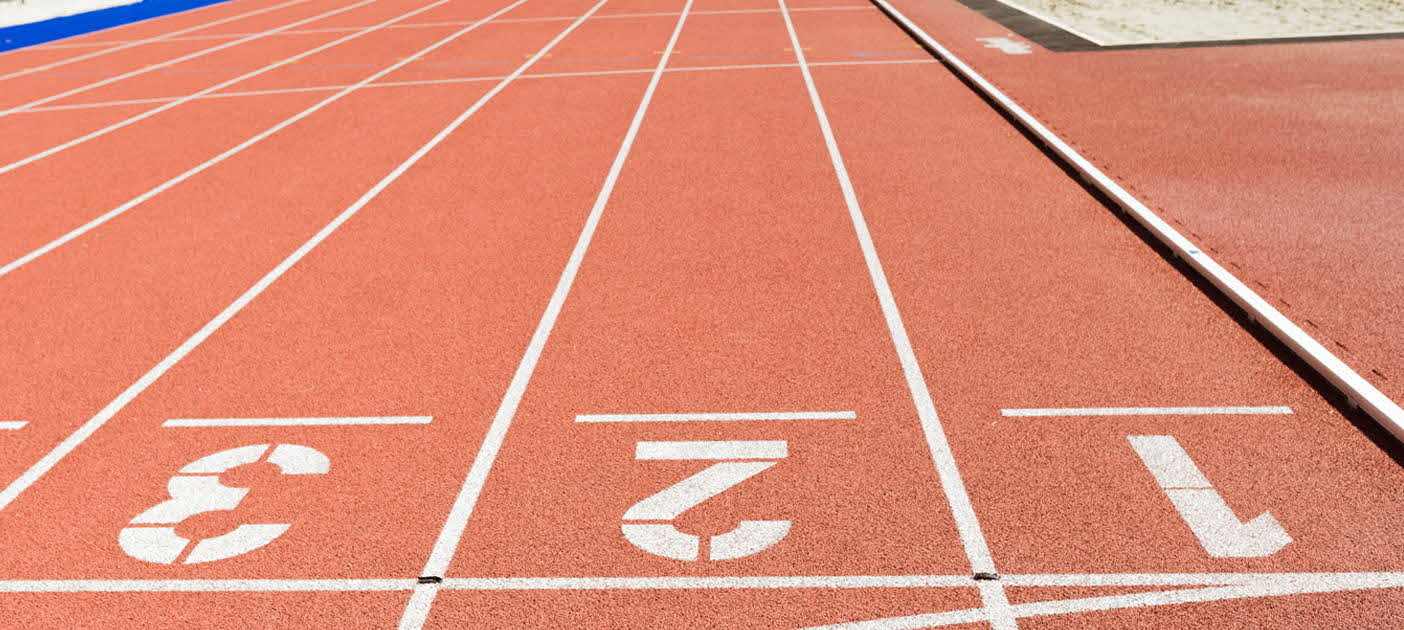 #1: Affordable Diversification
If you are looking for affordable diversification, ETFs might suit you. It allows you to expand your portfolio cost-effectively without having to pick individual stocks. For example, buying into an ETF that tracks the Nifty 50 Index will give you immediate exposure to Nifty's top 50 stocks.
#2: Ride on Market Trends
With ETFs, your investment is linked to an index like the Nifty which in turn means that your money is pegged to the wider economy. This allows you to ride on general market trends and avoid being exposed to the wider risk that is associated with selecting specific stocks.
#3: Cost-Efficient
ETFs generally offer lower expense ratios because it is passively managed as an investment which means you pay less for administrative and management fees.
Many investors overlook this but the compound value of saving on mere percentage points in fees could result in significant returns in the long run.
There is a wide variety of ETFs that caters to different investor needs and risk profiles. Here are some basic types of ETFs that interest those keen on dipping their toes into this form of investment.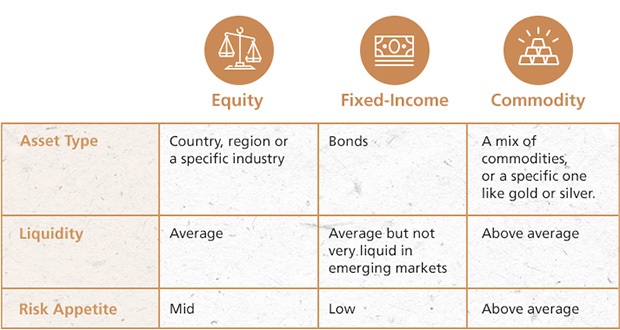 Equity ETFs
Looking for: Instant exposure to a country, region, or an industry of your choice

This is a favourite with investors. It offers the ability to gain instant exposure to a particular country, a region, or an industry at a relatively low cost. However, do pay attention to the liquidity of your picks as that would affect the buy/sell price that you will have to give.
Fixed-income ETFs
Looking for: Stability and regular income

Many investors looking for long-term exposure are advised to allocate a certain portion of this funds to fixed-income securities such as bond ETFs. As this usually offers stability and a regular income. However, do note that liquidity could be an issue especially in developing markets.
Commodity ETFs
Looking for: Diversification through other sectors

Commodity ETFs are available in a wide range of options. Some may invest in shares of companies that deal primarily in a mix of commodities, others may track the price of a specific commodity like gold or silver. This allows you to diversify your portfolio beyond the stock market.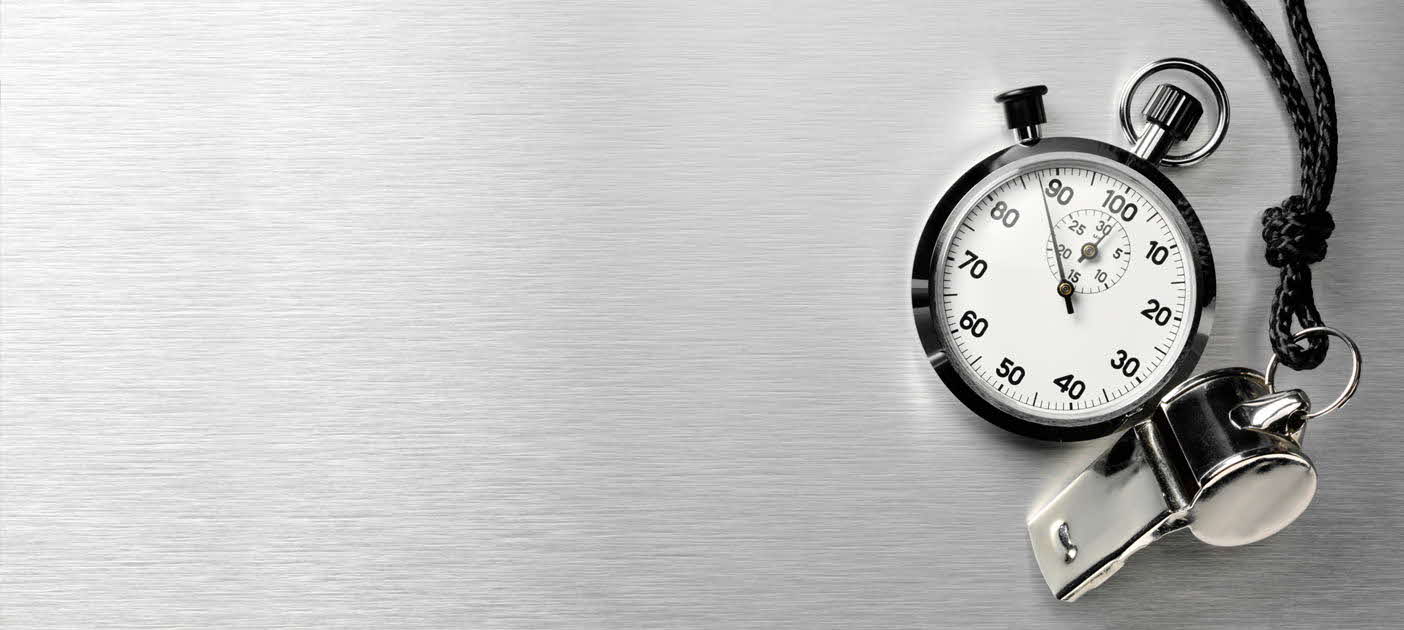 "By periodically investing in an index fund, for example, the know-nothing investor can actually outperform most investment professionals."
- Warren Buffet
Warren Buffet isn't alone on this belief. ETFs offer an opportunity to get a slice of the whole market at an affordable price – that is why it has been recommended by numerous investment gurus as a sound choice for investors who would rather not trip up on making specific stock choices.
But before plunging headlong into this investment choice, it is still important to assess your portolio to define its long-term goal. With a wide variety of ETFs to choose from, understanding the nature and length of your investment will help you determine the right one for your portfolio.
Disclaimers and Important Notices
This article is meant for information only and should not be relied upon as financial advice. Before making any decision to buy, sell or hold any investment or insurance product, you should seek advice from a financial adviser regarding its suitability.
---
digibank offers Mutual Funds that are instant, paperless, signatureless – even transaction fee-less! What's more? You get to choose from 250+ Mutual Funds across 15 top-performing asset management companies. So why wait? Login to digibank (app or internet banking) and start investing in a flash with instant Mutual Funds on digibank.
Read up more on Mutual Funds here
Mutual Fund investments are subject to market risks, read all scheme related documents carefully before investing.