Singapore is a nation of foodies, and very few things unite us more than our love for the many unique dishes that form a huge part of our culinary culture. To ensure that the best ingredients go into our dishes, many times we set out to pick what we deem as the freshest or "best-looking" produce from supermarkets when we grocery shop.
This unfortunately leads to food wastage as food that is perceived as uglier but still perfectly edible will go to waste.
We caught up with TreeDots, a social enterprise supported by the DBS Foundation, that aims to reduce food waste by linking businesses with unsold food inventory to potential buyers and prevent perfectly edible food from ending up in the bin.
We speak to Pamela Low, a Business Development representative from TreeDots, to find out more.
How does TreeDots reduce food waste?
TreeDots aggregates food producers, importers and distributors to facilitate the selling of unsold food items such as seafood and poultry to other F&B businesses such as hotels, cafes and cafeterias.
When the Covid-19 pandemic hit earlier this year, TreeDots started redistributing to households as well. This allowed consumers to enjoy quality poultry and seafood at affordable prices, while reducing food loss in the supply chain.
Why are there unsold food items?
Food is usually unsold due to these reasons: overstocking by retailers to ensure items are always in stock at stores, cosmetic filtering of items that are of the wrong size, unpopular parts of poultry or seafood such as chicken breasts, or those are close to expiry.
What kind of food items are typically thrown away?
Food items that are more susceptible to be lost are fresh items such as fresh chickens, which need to be sold within the day. Items such as frozen seafood give suppliers a longer lead time to sell the products before they reach expiry, and hence less likely to be discarded.
Why would there be unsold chickens?
Chickens that we typically see in the supermarkets are usually heavier at 1kg. However, just like all living things, not all chickens grow to that "perfect" size. Chickens that are too small or too big for the standard packaging in supermarkets are usually thrown away. The kampong chickens we sell are smaller around 600g to 700g, and perfectly good for consumption. These chickens are well-loved by households.
Should consumers decide what to cook before grocery shopping or cook based on what is available?
I recommend buying seasonal items or what's available that day. Be flexible with your grocery list! Buying seasonal reduces food loss, while you get to try new recipes and appreciate different foods at different times of the year!
How does one determine what produce is "ugly" but still edible?
Use your five senses to judge. The first step is to check if it looks okay visually, then smell it. If it smells bad, then it's a sign not to eat it! If it looks and smell okay, try it.
How can consumers help reduce food loss and food waste?
We have been conditioned to judge food based on their aesthetics such as their shape or size. But you can barely tell the food's original size or shape once it has been prepared and cooked. We need to change perceptions, and expand our capacity for accepting food. Food need not always be perfectly shaped or packed in a plastic bag for it to be deemed good or edible. Give all food a chance to reduce potential food waste!
Do you have any tips to reduce food wastage?
Always made a grocery list! It is important to know what you need so you buy only what you need and finish them. You can also buy your produce from TreeDots as every item you purchase directly helps reduce food loss.
Let's get cooking!
A couple of weeks ago, we sent ex-Masterchef Asia contestant and newest member of the Sparks cast - Lennard Yeong, some kampong chickens and a bag of odd-shaped and bruised produce from TreeDots. We challenged him to develop recipes from this "ugly" produce, and he blew us away with what he created!
Here are some "ugly but delicious" recipes you can try, crafted by chef Lennard Yeong.
A. Seared chicken with mushroom sauce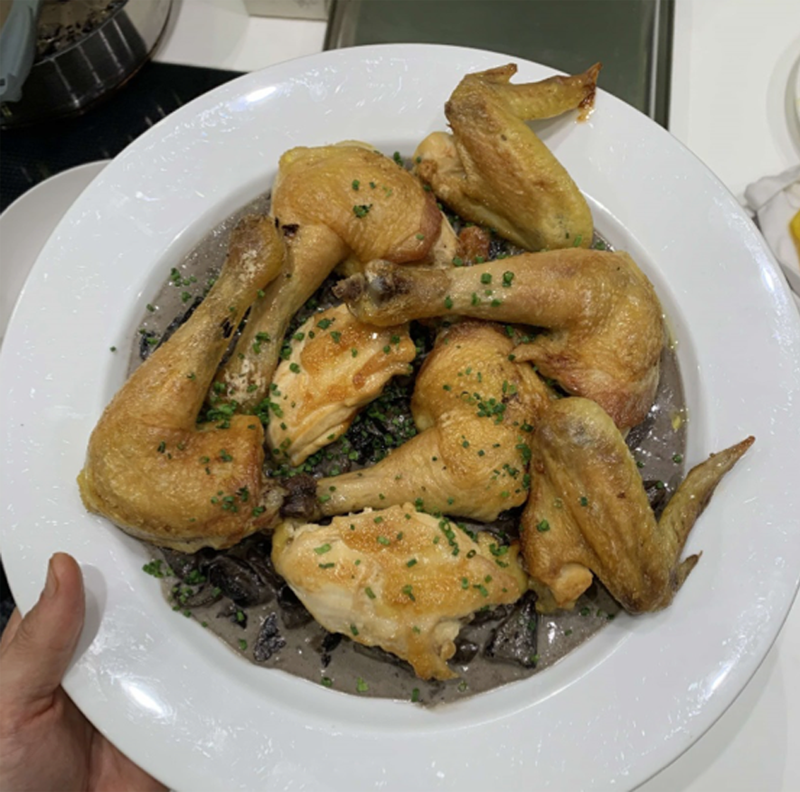 Ingredients
2 small kampong chickens (about 600-700g each)

Oil, to cover surface of skillet for searing chicken

Salt and pepper

For mushroom sauce:

 

200g portobello mushrooms, diced
 
3 cloves of garlic, finely minced
 
30g butter
 
25g oil
 
70g of heavy cream
 
Parsley, as needed
Method
1. Preheat an oven at 160C.
2. Cut into thigh and breast portions and pat dry the skin side of the chicken meat with a paper towel.
3. In a large non-stick skillet, add oil to cover the surface of the pan, place chicken pieces skin side down. Sear the skin till it turns golden brown, which takes about 3 minutes. Season the other side of the chicken meat with salt and pepper.
4. Once the skin has browned and crisped, turn the chicken around and place the pan into the oven for about 6 minutes, or until the chicken is cooked through. (Note: The time may vary based on the thickness of the chicken you are using.)
5. Season the top side with salt and pepper once it comes out of the oven.
6. For the mushroom sauce, heat the oil up in a sauté pan on high heat, then add the diced portobello mushrooms, cook and stir constantly until the mushrooms have softened and their size has reduced by about half.
7. Lower the heat to medium and add butter and minced garlic. Cook for about 2 to 3 minutes to remove the raw flavour from the garlic. Add cream and allow the sauce to simmer for about 5 to 6 minutes, to allow the flavour of the mushrooms to infuse the cream forming the mushroom cream sauce. Turn off the heat and mix in chopped parsley.
8. To serve, place seared chicken on top of mushroom sauce and serve it with the salad below.
B. Carrot salad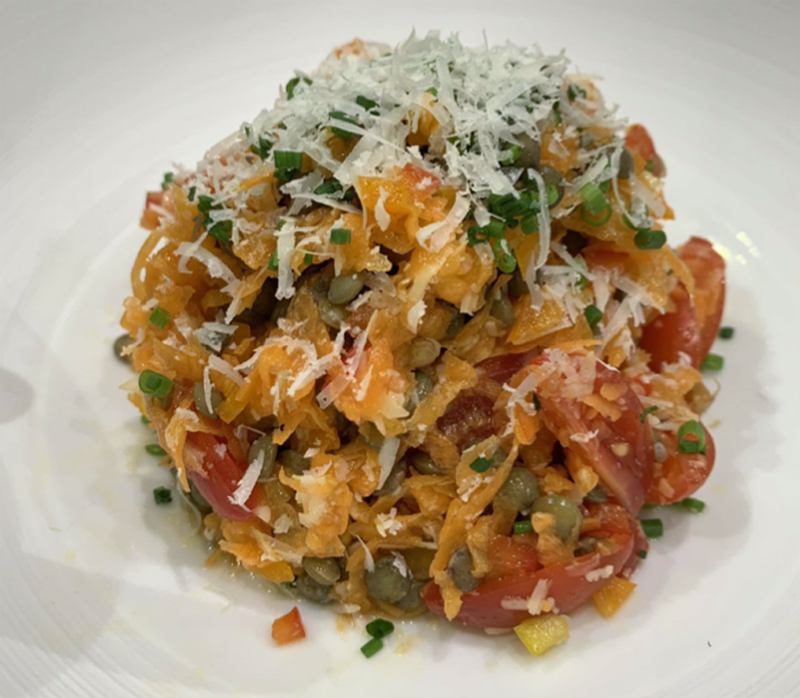 Ingredients
4-5 whole carrots, grated

60-70g lentils, cooked in boiling water

1 clove raw garlic, grated

1 red onion, finely diced

1 lemon, juiced

3-4 sprigs of parsley, chopped

Flaked sea salt, as needed

20-30g of good olive oil

Parmesan, grated
Method
Combine all the ingredients and finish with some grated parmesan over the top.
Both recipes serve four.
Get the kampong chicken and produce that Lennard cooked with! You can enjoy such produce from TreeDots by participating in their weekly group buy initiative #TreeDotsEats. Details can be found on their Facebook page – The TreeDots. You can join one of their collection points islandwide or email them!
How good are you at reducing food waste at home? Take this quiz and find out!
Question 1 of 5
How many of these actions do you take at home?
(You can select more than 1 response)
Join us for tips to make your daily life more convenient, especially in ways that contribute to a more sustainable future!