There were no megamalls in which you could buy stuff "off the rack" from one of the many shops. Back then, if you wanted something, chances were you'd have to get it made.
Today, things are different. We live in a time of e-commerce, and mass production—all of which threaten the existence of the modern craftsmen/women.
That said, not all hope is lost. Thanks to a group of next-generation Singaporeans—who are actively trying to prolong the longevity of the craft they love—the sun is yet to set on these industries.
Addynna Azlinor is one of them. After dropping out of a degree in biomedical sciences in 2009 to be a leather artisan, she started her own leather crafting company, Forest Child, just 3 years later.
We spoke to Addynna to find out why she chose such an unconventional career path, how she feels about being part of the next generation of Singaporean leather crafters, and what keeps her going.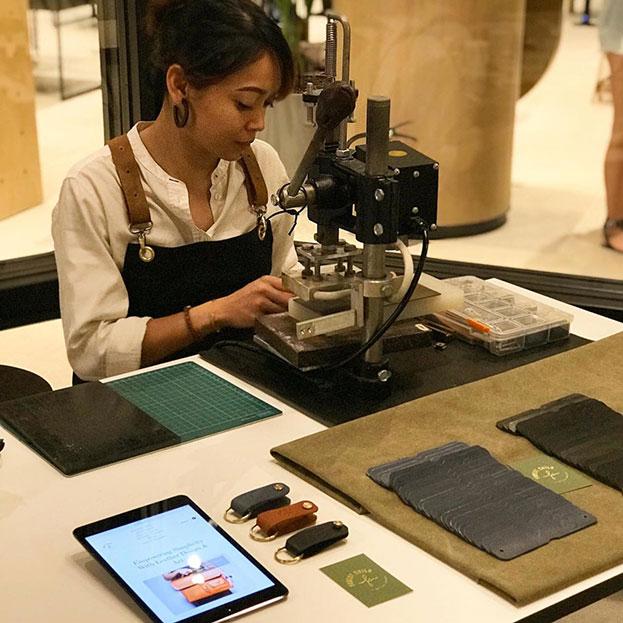 Can you explain why leather crafting appeals to you, and how you got into the business?
I've always appreciated handmade goods since I was a child as I was exposed to many DIY-ed things made by my late Grandfather.
Growing up, I was that curious kid who always wanted to know how things worked, were made, or what was going on inside a machine or the human body.
I also love leather for its aesthetic appeal: how gracefully it ages with you and its durability and versatility—strong, beautiful and timeless. A handmade leather product has its own unique characteristics. Even if two pieces are of the same design and made from the same piece of leather, no two will ever truly be identical.
Forest Child was founded way back in 2012. Can you walk me through your journey thus far?
7 years ago, I crossed paths with this man known as "Sarong" or rather, the "late Sarong" today. He was one of the pioneer leather crafters here in Singapore who always carried around an aged-looking, uniquely-designed leather-bound journal which drew my attention. Long story short, he became the first person to get me started on the very basics of leather crafting (i.e. how to cut and punch holes into the leather, how to stitch etc).
Along the way, I was blessed to have also met a few other nice souls who were willing to share some nifty tips and hacks. And the rest of it is simply based on trial and error, even up till today!
When I first started out, I only made small leather knick-knacks like lighter/pen sleeves, leather-bound journals and other accessories. Forest Child had its first booth that same year at an event called Sunday Artists Market. The response was unexpectedly overwhelming and that pushed me to start creating and designing more. My then-business partner joined me for the first 5 years of this venture.
How does it feel being part of the next generation of craftsmen/women?
I think we're lucky to be where we are today in terms of convenience and accessibility to more knowledge and useful tips on our chosen craft. Thanks to technology, they are readily available at our fingertips—literally. The advancement of tools has also played a huge part in allowing us to produce more quality work, more efficiently.
Other than that, I do feel a sense of pride for being able to preserve this handmade tradition.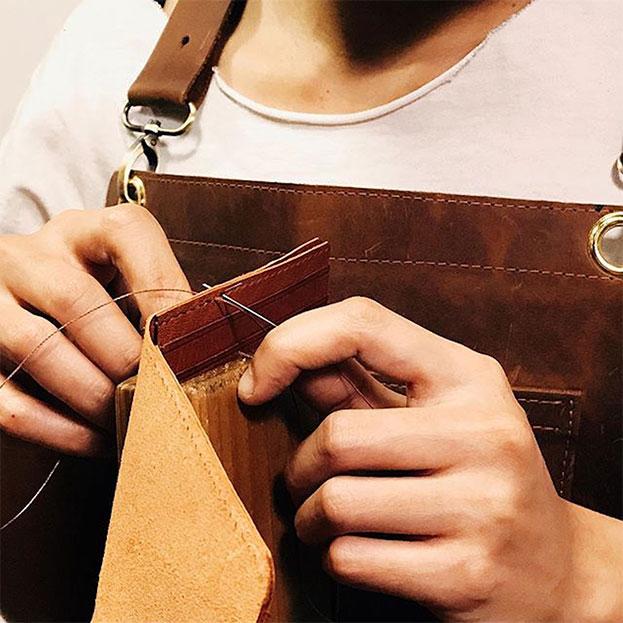 What are some misconceptions people have about leather crafting?
Most people who aren't in this industry always assume that it's as easy as "make something and sell only what!" But the truth is everything requires immense planning—especially when it comes to custom work.
From sketching the design, calculating measurements, coming up with the template, to deciding on a suitable type of leather, it's a long list of things before we actually start on the actual craftwork!
And later comes the QC work, product shoot, graphic design, and everything else needed for marketing on our social media platforms and website.
Could you tell me about some of the challenges you've faced/are currently facing in this line of work?
In my opinion, big manufacturing companies commercially dilute the art form of leather crafting.
Unlike leather crafters like us who take more time to produce handmade leather goods that last almost forever, these giants produce low-quality products in bulk very cheaply, marketing them as upscale, high-quality goods. The huge challenge is when consumers blindly believe these labels and don't find out more.
Overcoming this is and will be, an ongoing, endless pursuit. As part of our efforts, we try our best to share and educate our followers on how we craft our leather products; about the differences between leather types and how to spot the differences between real, handmade leather goods and low-quality ones.
Luckily, people these days are generally more aware of what they're buying and how it's made. It's a heartwarming feeling when we watch them become more intrigued over time. The best "plot twist" is when a wave of questions turns into a lasting relationship between us leather crafters and our customers.
How do you stay motivated despite these challenges?
We have a relentless spirit for the preservation of the leather crafting trade and an addiction to create, recreate, design and redesign with unlimited possibilities. While business is a challenge, the feeling of being able to spread knowledge to the next generation lingers every day.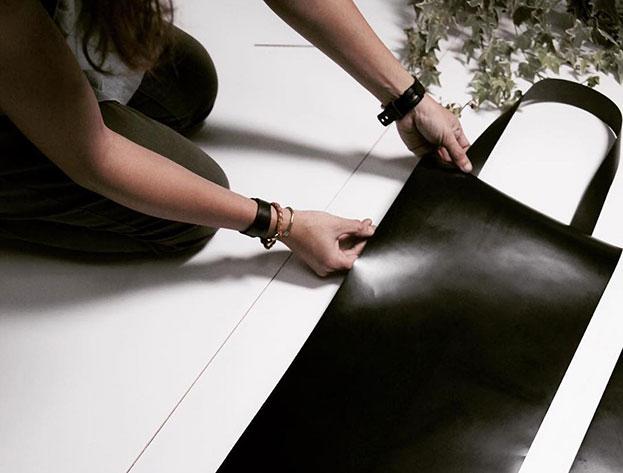 Looking back, what are the best memories you have of your journey thus far?
The memories I hold dear are of all the "first times". I mean, we started out as a home-based company with no capital. So back when we had our first commercial space—albeit a shared one—at a shophouse along Bali Lane, it was a huge deal. We had the chance to decorate the space however we wanted, open our first leather workshop class to the public, and receive our first bulk order of leather placemats from Cut by Wolfgang Puck—a renowned restaurant:
The most rewarding thing about my job would be the freedom to create or find a solution to something. I've grown to learn to rely on my faith and fate. Of course, I've made "expensive" mistakes but the lessons I took from that are invaluable; something nobody and no textbook can ever teach you.
What do you have to say to those who might think leather is cruel or unsustainable?
Leather, if well-maintained, can last for a really long time. Most of our leather is sourced from sustainable farms which means they're a by-product of meat industries. Moreover, the leather we use undergoes a tanning process using natural tannins instead of chemicals. This makes them more environmentally friendly, biodegradable and they can be reused or recycled.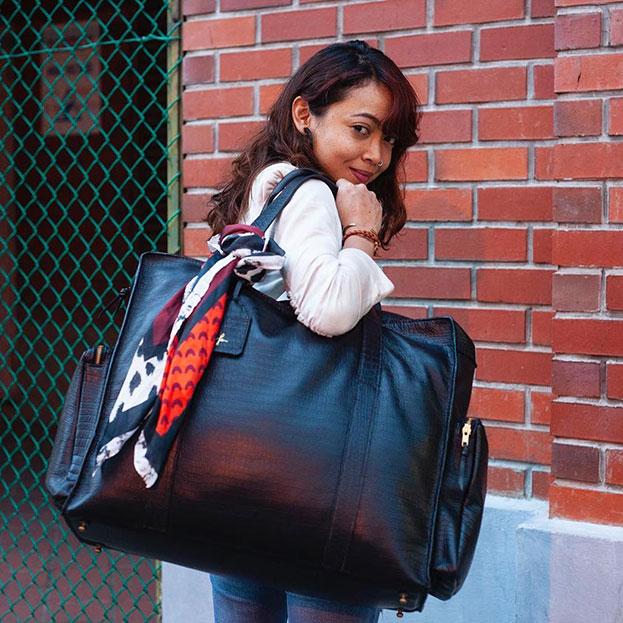 Has DBS helped you on your leather crafting journey in any way? If so, how? Could you tell me more about that?
Yup, certainly. They've made opening a business account so convenient and seamless. Everything was so efficient online which saved me the hassle of making a trip to one of their branches. Also, their low minimum initial deposit has definitely helped small businesses like mine.
Finally, I'm able to make and receive secure payments on-the-go and get instant access to my account balance anytime with the DBS IDEAL Mobile app.
What do you think the future holds for the leather crafting industry?
My strong belief is that the trade will continue its legacy in its own ways, reinvented as time passes by. Over the years, leather crafters are seeing a good growth on the support of handmade goods in Singapore & places like Design Orchard marketing local brands really is great news for us.
Granted, it's still not a common job since it requires years of skill-sharpening but there's an increasing number of people learning the craft. Technological advancements have triggered a kind of reverse psychology in the way that people go "back to basics" or find comfort in something that is handmade with great detail and crafted with love, sweat, and patience.
Additionally, I think the future of leather crafting could be a bright and inspiring platform for innovation.
Imagine this: the advancement of technology could possibly reinvent 3D-printing machines which run on solar panels to produce leather-looking products with recyclables. I mean, if the world can be shocked with the news of a circus that operates using holograms of animals doing tricks to raise awareness and fight animal cruelty, anything is possible.
This is the second in a 5-part series on a new generation of entrepreneurs who have seized opportunities with the roads less travelled, and are living their best lives.
This story was first seen on RICE.