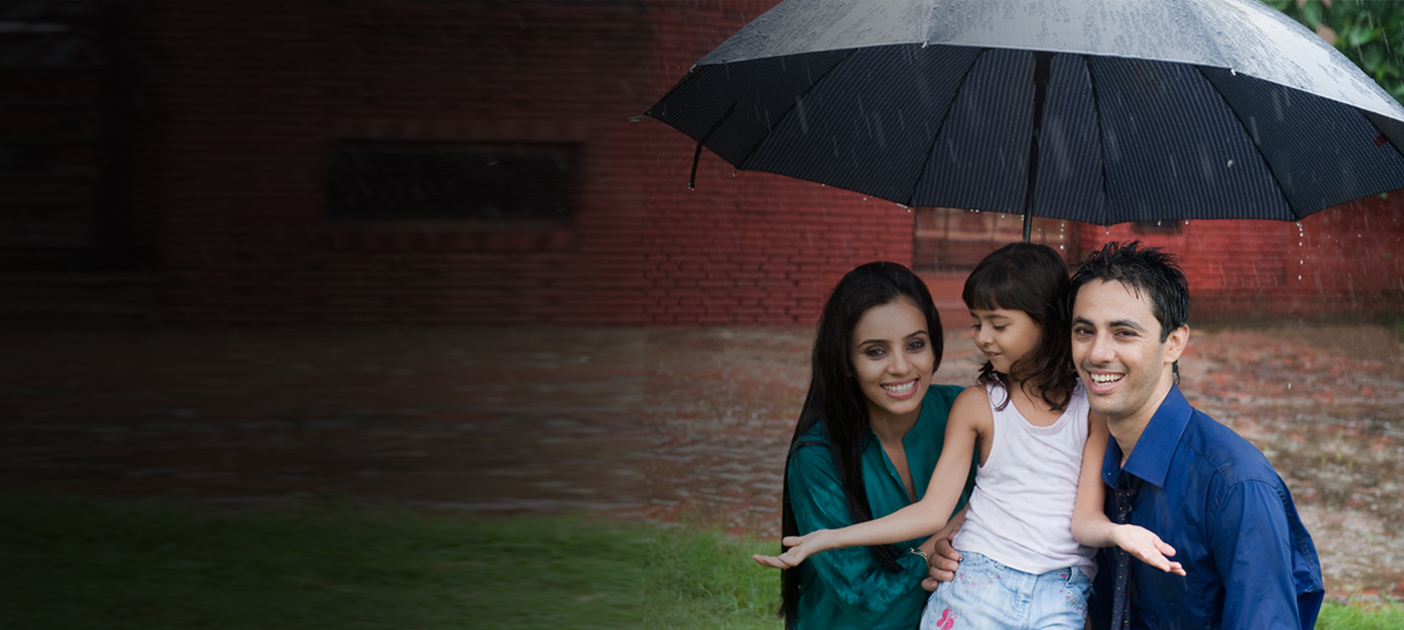 You have worked day in and out for the smile on your wife and child's face, ensuring all their wishes and needs are always fulfilled. Wouldn't you want a secured, hassle free life for your loved ones even when you are not around? Your business might face uncertainties at times, your relatives may start demanding a share out of your insurance income or your creditors might start demanding for payments from your insurance proceeds. An MWPA policy acts in favour at such uncertain times and helps ensure your wife and child's future is secured.
At a Glance
Ringfencing your personal assets from business risks!
The Married Women's Property Act, 1874 protects the financial rights of a wife on the maturity or death proceeds of her husband's life insurance policy, if they are attached to repay outstanding loans in the event of his death or bankruptcy.
If a married man buys a life insurance on his life, with an endorsement registered under Section 6 of MWPA, then proceeds from life insurance will be effective property of his beneficiaries and not be treated as part of his estate. Therefore, the proceeds from insurance policy from MWP is isolated and de-risked from personal debts and cannot be used to repay his liabilities even after his death. None of the creditors will have any right over the policy unless it is done to defraud interest of genuine creditors. In case of a widower or a divorced man, the beneficiary under MWPA can be his children, both natural or adopted.
Key Benefits
Under this policy, any insurance policy undertaken by husband and endorsed under MWPA in favour of his wife or child or any one of them will lead to them being the beneficiaries of the policy.
When a policy is taken, a trust is created wherein an adult beneficiary can be the trustee in case of unfortunate demise of husband or policy maturity. The beneficiaries receive the proceeds via trustees only.
The policy is extended to widows and divorced men as well who look out to secure a bright future for their children.
Adding to it, the entire procedure is hassle free and one can simply endorse their policy under MWPA. Just buy a Life Insurance policy and endorse it under MWPA, no additional cost or documentation involved.
How the solution works
Step 1: Husband invests in Life Insurance Policy
Step 2: He fills in a MWPA addendum making wife and / or children as beneficiary
Step 3: Trust is automatically created with Beneficiaries as trustees
On death of Life Assured OR Maturity of the policy OR on surrender, the benefits are provided to the Trustees/ Beneficiaries
 
Features & Benefits
Wife and Children get the complete control over the policies except of paying premiums as policy becomes a trust property.
There can be no changes to the policy without the consent of the beneficiaries.
The beneficiaries of the plan, once declared, cannot be changed during the policy tenure.
No loans can be availed neither the policy can be assigned once registered under MWPA.
 
Disclaimer
DBS Bank India Limited (IRDA of India Registration Number: CA 0257) having the registered office at GF: Nos. 11 & 12, Capitol Point BKS Marg, Connaught Place, Delhi - 110001 is the Composite Corporate Agent of Tata AIA Life Insurance Company Limited (IRDA of India Regn. No.110) CIN: U66010MH2000PLC128403 having the Registered office/principal place of business at 14th Floor, Tower A, Peninsula Business Park, Senapati Bapat Marg, Lower Parel, Mumbai - 400013, Aditya Birla Sun Life Insurance Company Limited (IRDA of India Regn.No.109) CIN: U99999MH2000PLC128110 having the Registered office address at One India bulls Centre, Tower 1, 16th Floor, Jupiter Mill Compound, 841, Senapati Bapat Marg, Elphinstone Road, Mumbai - 400013, Royal Sundaram General Insurance Company Limited (IRDA of India Regn.No.102) CIN: U67200TN2000PLC045611 having the Registered office address at No.21, Patullos Road, Chennai – 600002, Go Digit General Insurance Limited (IRDA of India Regn. No. 158) CIN: U66010PN2016PLC167410 having its registered office at Atlantis, 95, 4th B Cross Road, Koramangala Industrial Layout, 5th Block, Bengaluru-560095. DBS Bank India Limited (Bank) does not underwrite the risk or act as an insurer. The contract of insurance is between the insurer and the insured and not between the Bank and the insured. Bank does not give any warranty, as to the accuracy and completeness of the policies. Bank does not accept any liability or losses attributable to your contract of Insurance. Participation by the Bank's customers in the insurance products is purely on a voluntary basis and is not linked to availment of any other facility from the bank. ISNP registration valid.
For more details on risk factors, terms and conditions, exclusions, please read sales brochure of insurer and policy terms and conditions carefully before concluding a sale. Tax benefits are available as per the prevailing tax laws, which are subject to change.
For any information including cancellation, claims and complaints, please contact our Treasures Relationship Manager or visit DBS Bank India's nearest branch office or Contact our 24-hour toll free customer service helpline number 1-800-209-4555 / 1-860-267-1234 or our overseas customer service number 91-44-66854555 or write to us at customercareindia@dbs.com. Visit us at: www.dbs.com/in
 
How to Apply
Call 1860 267 1234 / 1800 209 4555 / +91 44 6685 4555
Thank you. Your feedback will help us serve you better.
Was this information useful?
Thank you for your feedback
Let us know how this article helped:
We're sorry to hear that.
How can we do better?

Enter only letters, numbers or @!$-(),.