What are the types of NRI investment options available
Reading Time: 3 Minutes
Key Takeaways: Equity, real estate, mutual funds and fixed income, NRIs have countless investment opportunities in India. Here is our list of options you can consider.
They say home is where the heart is, and that's probably why many NRIs choose to invest a part of their income in India. A large number of NRIs are drawn toward Indian investments because they can diversify their global portfolio with India investments. While some invest to create a nest egg for their family back home or prepare for their own move back to India someday; others want to earn better returns by investing in a fast-expanding economy. Whatever your reasons might be, now is always a good time to start investing.
Here are some of the best investment options for NRIs. Let's take a closer look at each one of them to understand their unique benefits better.
Fixed Deposit
Fixed Deposits, also called FDs, are popular amongst Resident Indians and NRIs alike. If you are looking for a relatively risk-free investment option giving average returns, FDs make for great NRI investment options. You can start investing in FDs through NRE, NRO or FCNR accounts. The rate of interest depends on the bank, deposit amount and tenure of the deposit.
Direct Equity
Returns in the stock market have historically been higher than fixed income products. Good equity portfolios make for great investment plans for NRIs. Any NRI who has a Portfolio Investment Scheme (PIS account), an NRE/NRO account, a Demat account and a trading account can invest in the Indian stock market. However, equity markets can be volatile and you should do your due diligence or take expert help before you invest.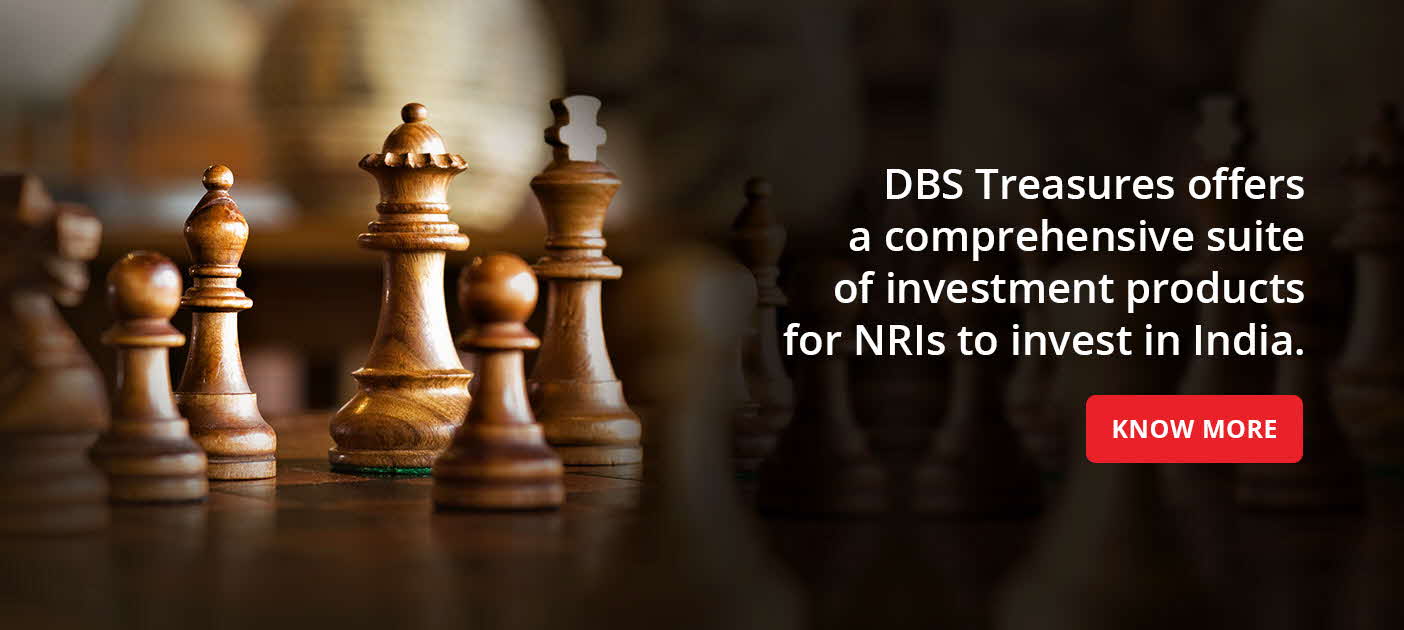 Mutual Funds
As an NRI, you can invest directly in mutual fund schemes. Mutual Funds (MFs) can be an important part of investment plans for NRIs. Mutual Funds offer a wide range of investment options, from debt to equity, and carefully chosen schemes can deliver good returns. To invest, you need an NRE or NRO account as you can only invest in Indian rupees. The rate of returns depends on the type of fund you've invested in, like debt, equity or hybrid. You are liable to pay capital gains on the returns you earn from mutual funds.
Real Estate
Among the best investment options for NRIs, real estate is a popular one because of the emotional quotient attached to owning property in India. You can invest in residential or commercial real estate. Investing in property has two benefits: earning regular income through rent and benefit from capital appreciation. According to the RBI's House Price Index, the average annual return from June 2010 to June 2020 was 11.6%. You can fund your property purchase through your NRO, NRE or FCNR account.
National Pension Scheme (NPS)
The government-backed pension scheme, NPS, invests in equity, debt or a combination of the two. There are also tax benefits making it one of the best NRI investment options. Anybody between the ages of 18 and 60 years can contribute to the NPS. NRIs can open an online eNPS account if they have a PAN or Aadhaar card.
NPS has two variants:
Tier-1 account: This account offers tax benefits up to INR 2 lakh under Section 80C and 80CCD (1B). You can invest a minimum of INR 500 per contribution and at least INR 6000 per year. When you reach 60, you can withdraw 40% of the corpus and invest 60% in a pension scheme.
Tier-2 account: This account is more flexible with no restriction on withdrawals. It also does not come with any tax benefits.
Through the NPS, you can invest your funds in a mix of debt and equity. The funds are managed by professional fund houses similar to a mutual fund.
You can fund the scheme through any of your NRI accounts.
ULIP
ULIP stands for Unit-Linked Insurance Plan and combines the benefits of investment and insurance. The hybrid option allocates a portion of your premium towards offering you a life cover and the rest is invested in a variety of financial instruments. A ULIP typically has a lock-in period of 5 years. You can claim tax benefits under section 80C of the Income Tax Act.
Government Securities
Government Securities or G-Secs are a low-risk investment option backed by the government of India. They are issued in treasury bills or bonds, whose maturity ranges from a few days to several years. These bonds may have fixed interest rates or floating rates that are determined based on market-related changes. Since these are backed by the government of India, there is no risk of default if you hold it to maturity. However, G-Secs are tradeable securities and their prices in the market are liable to fluctuate based on external factors.
Final Note: So, what is the best investment option for NRIs? Your choice will depend on your investment goals, your risk appetite and your expectations of returns. The ideal is to create a portfolio of different asset classes that complement each other and help you reach your goals.
Depending on your investment horizon or risk appetite, with DBS Treasures, you can choose from a wide suite of options. Apply Now!
Disclaimer: This article is published purely from an information perspective and it should not be deduced that the offering is available from DBS Bank India Limited or in partnership with any of its channel partners. The purpose of the Live eNRIched blog is not to provide advice but to provide information. Sound professional advice should be taken before making any investment decisions. The bank will not be responsible for any tax loss/other loss suffered by a person acting on the above.