Participants of the Yale-NUS hackathon held at DBS Asia X share how they use DBS data to uncover environmental impact
How can data be leveraged to find solutions to some of today's most pressing global sustainability issues, ranging from air pollution to transportation and water use? This was the challenge posed to participants of the annual Yale-NUS hackathon, Yale-NUS Data 2.0 hack, held at DBS Asia X
Among the many solutions proposed, Team VRBLANK from the National University of Singapore (NUS) took home the second prize for their idea of using card transactions to analyse different aspects of environmental impact.
We speak to the team, comprising Shriranga Kulkarni, Gopalakrishnan Saisubramaniam, Prateek Kashyap and Madan Kumar Manjunath, majors in MTech in Knowledge Engineering at the Faculty of Institute of Systems Science, on what drives them and what innovation means to them.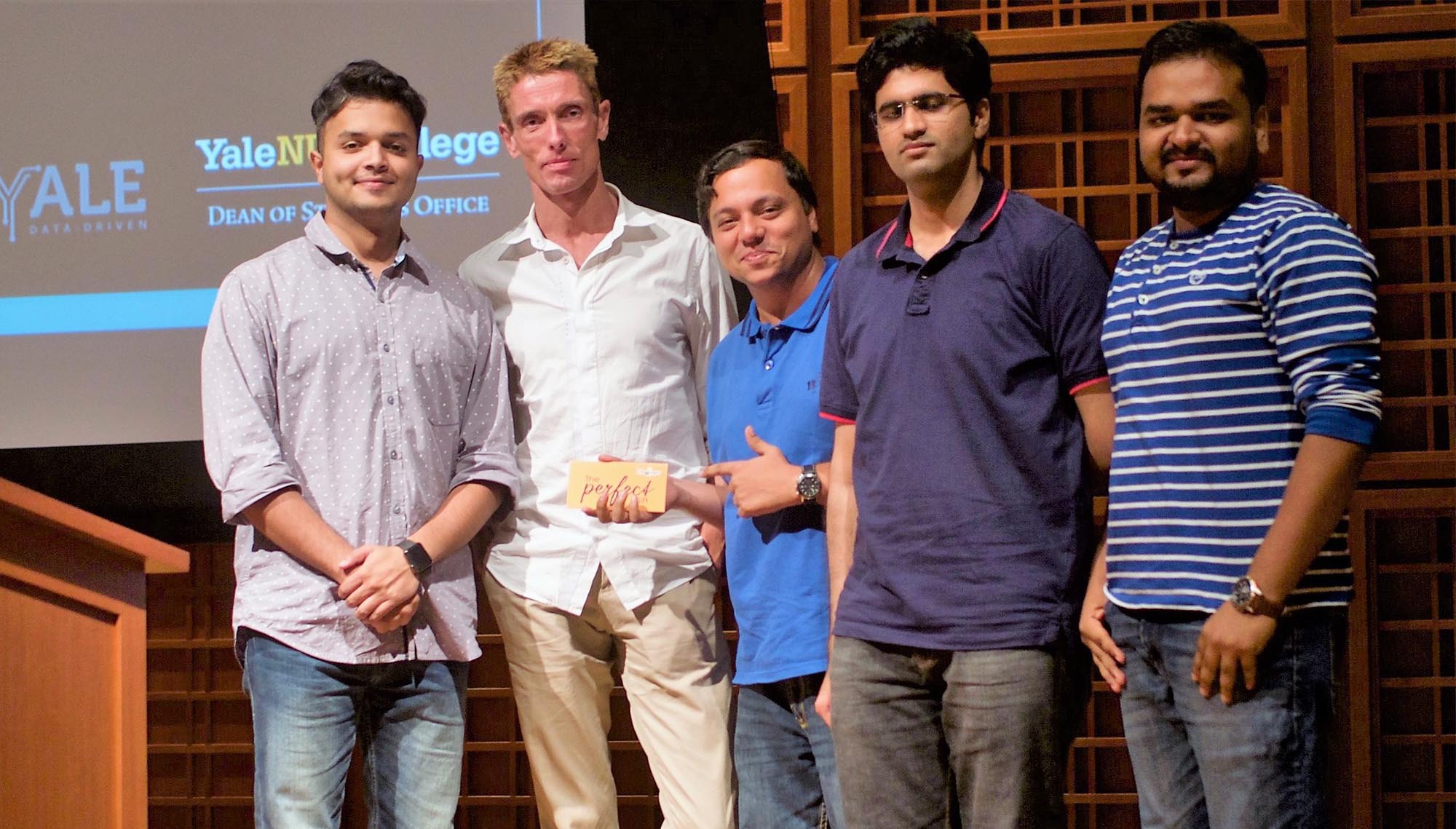 1. Why did you guys join the hackathon?
Hackathons are always a fun and rewarding experience. We often view them as technical festivals and celebration events for like-minded people. It is a community that likes to collaborate, learn, apply and contribute in different ways to build something useful.
Such hackathons provide an open-ended, cool way of achieving something useful in a finite timeline and with limited resources. It helps to see new perspectives as we meet and learn from others who are finding different ways to solve the same problem.
It is a great platform to showcase our skills and experience, especially in data, while also acquiring new skills for coding, analysis, collaboration and presentations. But most importantly, such hackathons inspire stronger innovation.
2. What stood out from DBS' data and how did you connect it with your idea?
In using DBS' data, we had to think out of the box. While the data set provided us with the volume of credit card transactions at various districts across Singapore, we considered what else the data could help us uncover.
It was a process of learning for us but we found that this information could help us identify high traffic/highly populated areas as well as the major attractions of each district. Taking it a step further, we connected the information with air pollution, water and energy consumption data from government agencies to identify clusters of high impact zones vs low impact ones.
When we constructed the information as a graph of entities across categories, we were able to observe the effect of multiple influencers on each attraction.
For example, we could see what the impact of incoming road traffic might have on a shopping centre – high traffic would result in higher levels of air pollutants as well as the building having a higher consumption of water and electricity. In a scenario where the building is cooled by air conditioners, the surrounding area will experience higher temperature than its neighbours. From here, we used a weighted calculation on each of those aspects to provide a ranking for that attraction.
In this manner, we can analyse different aspects of environmental factors for each district just from card transactions. If we have an exact location to drill down further, we can analyse and discover places of red zones (causing more pollution) vs green zones and act to reduce their activity and minimise risks.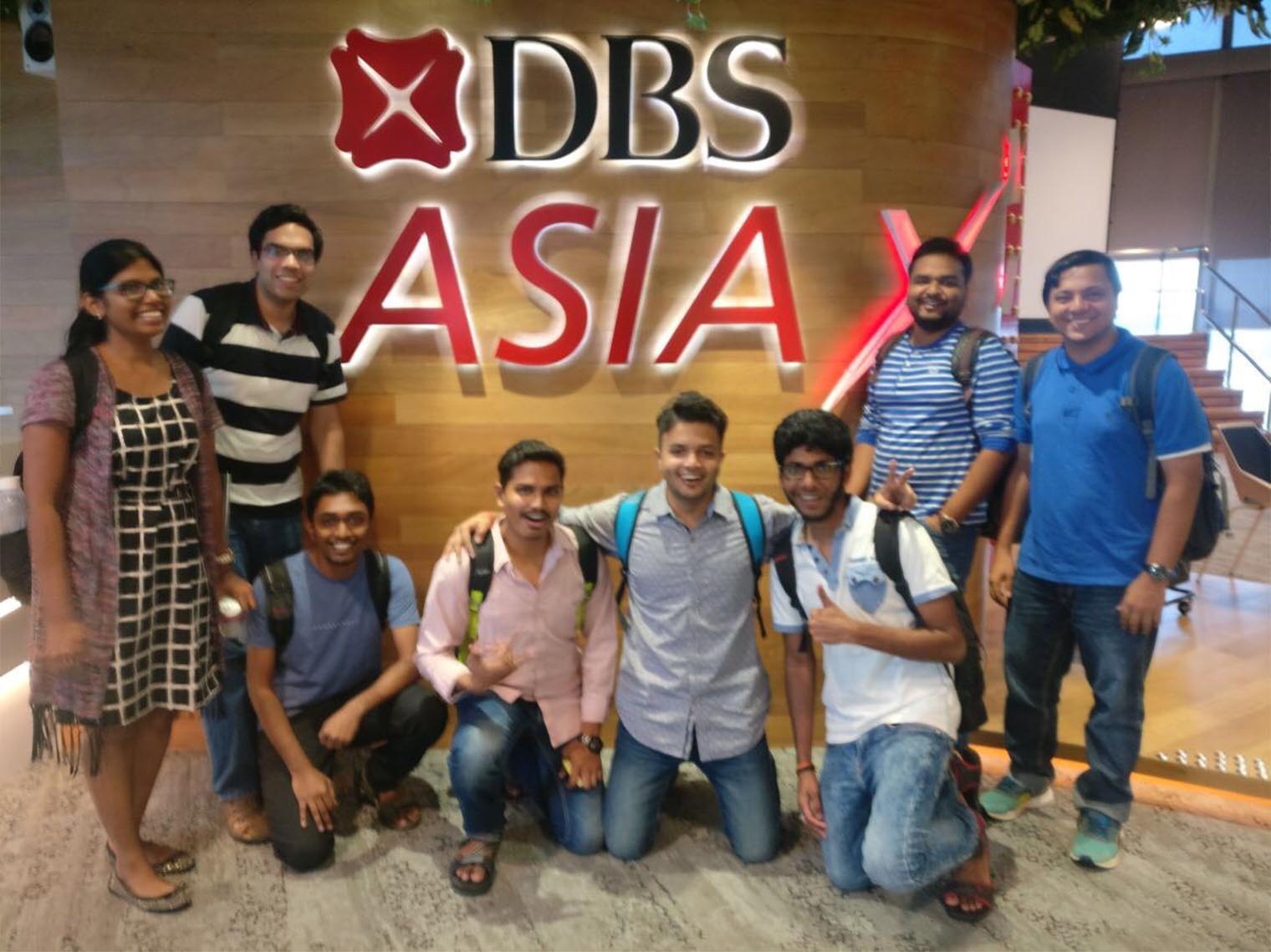 Read more: Beyond four walls: what DBS Asia X means for us and the innovation community
3. How can your analysis/insights provide benefit?
Most customers are not aware of the kind of environmental impact they create. Understanding the typical categories of purchase they make can provide an indirect way of calculating their contribution to the environmental impact.
We can also dive deeper into data around the environmental impact per location, across elements such as air, water, energy, transportation and traffic. This might enable us to provide a ranking for that specific location across the respective dimensions. Picturing this as a network or graph, we can derive more insights into air pollution, water consumption, and traffic congestion.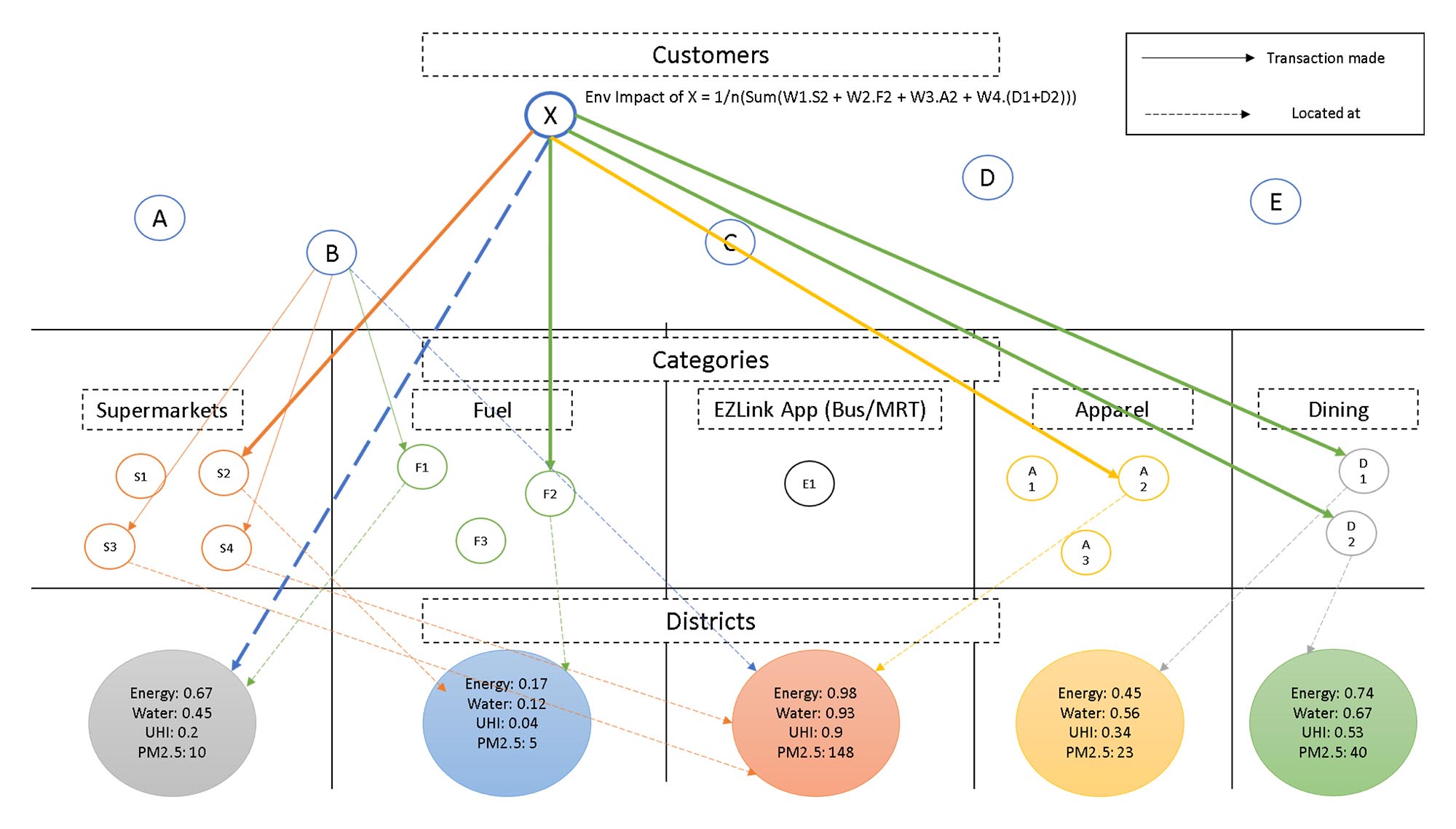 The chart shows that the environmental aspect is just a part or subset of the actual graph. The broader intention of this idea is to consider the customer space as a network of connections built on the factor of purchase, and how that grows with each incremental transaction.
To answer any query related to a single customer, a simple traversal should be able to provide adequate answers. If we combine more than one factor at a time, a simple triangle relationship can help explain the mutual similarity behind those factors and certain causal effects.
4. Sounds like you guys really had to think out of the box. What does innovation mean to you?
We see innovation as applying knowledge and context to invention. The intelligence and actions should create benefit and improve current situations.
Innovation is really a process of materialising an idea from the mind. The effect should be everlasting and constantly evaluated.
5. What do you think is the biggest barrier to innovation? How can you overcome that?
Innovation can fail to take place when certain elements are not considered. These include real world problems, application of theory into practice, the right character and mindset to help society, and endless curiosity. For innovation to take place, we believe all these need to be present.
6. What is your biggest innovation project/goal?
Currently, we're working on building an expert system – a computer program – that can perform several functions ranging from search and collation to collaboration, while being able to provide insights using knowledge engineering techniques. It might take us several years or several months. Who knows? It's something we are definitely committed to seeing through.
DBS Asia X (DAX) is a space where we collaborate with start-ups and the broader fintech community to reimagine, inspire and create the future of innovation. Regular hackathons, among other activities, are organised at DAX, which is located within the heart of Singapore's start-up ecosystem at the Sandcrawler Building in Fusionopolis. These hackathons involve students, start-ups, SMEs and social enterprises that are interested in finding ways to seamlessly integrate banking into the lives of customers and the communities we serve.