Taking the plunge, Foo Cher Fong enters a new industry and job role via DBS Hack2Hire
He's worked behind the scenes for animations and movies such as the Star Wars franchise, Warcraft and The Great Wall. As a pipeline engineer at Lucasfilm in Singapore, Foo Cher Fong handled image processing and visual effects, including building tools to help digital artists create dazzling visuals and ensuring data from different disciplines would be passed along quickly and accurately.
"The experience was great, you get to mix with people all over the world. The people working there are very dynamic," says Cher Fong, who spent seven years at the production company.
Still, when the opportunity came up to try something different last year, Cher Fong decided to take the plunge. He was among the close to 12,000 people who applied to join DBS' inaugural recruitment hackathon, DBS Hack2Hire. The first such recruitment programme in Southeast Asia, the hackathon sought to hire developers well-versed in new technologies to accelerate the bank's digital transformation efforts. Cher Fong was later hired to join DBS as a data scientist. Other job roles hired were developers and system engineers.
Cher Fong, who is in his 30s, recounts how his interest was first piqued – and competitive streak stirred – when a friend sent him a link to the Hack2Hire online test, saying it was "challenging". "I decided to give it a shot, to try something outside of my previous industry," he says.
The online test is the first of two components in Hack2Hire. It is the technical assessment designed by DBS' technology team to gauge the base skill sets required for the jobs. Those who pass will then be gathered for a hackathon, where they will solve real-life business use cases in a team setting. Successful candidates will be offered a job within the same day.
The two-day hackathon would be his first ever, and Cher Fong was both excited and nervous. To prepare, he researched on cloud technology, one of fast-growing technologies used in banking. When the day came, the atmosphere was intense and energetic, he recounts.
Everyone in the hackathon was energetic and committed. It made the atmosphere intense, in a good way.
Foo Cher Fong, DBS data scientist recruited through DBS Hack2Hire
For their challenge, the team had to devise a way to detect credit card fraud. There were issues to work through. For instance, he spoke a different programming language from his team mates – they were all Java users, while he was more familiar with Python.
"In the end, we decided to each program in the language we are comfortable in, and parse the data through API. So things got easier from there."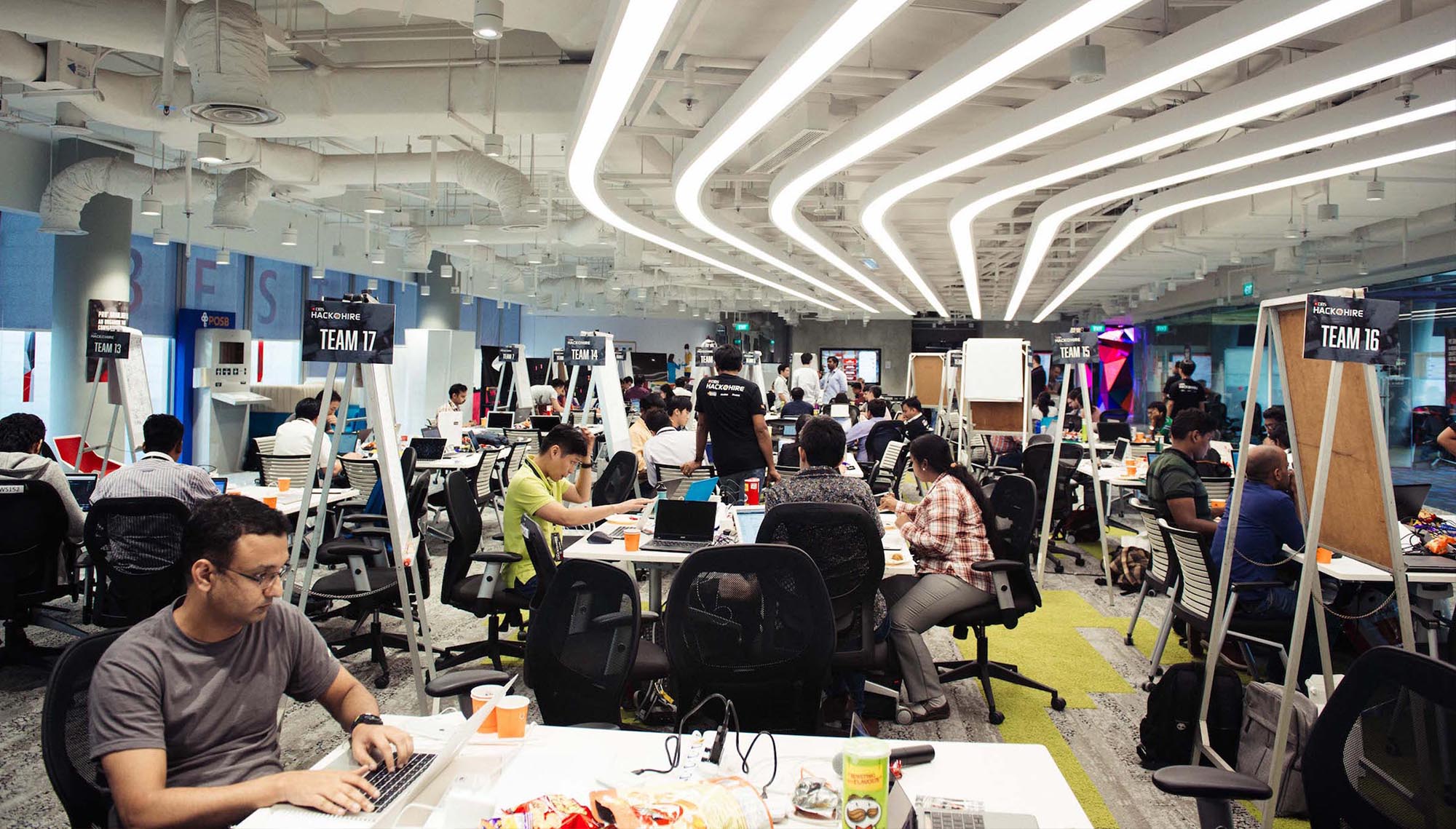 Read more: DBS Hack2Hire: Can developers really be hired through a hackathon?
Although the team did not take home any prize, Cher Fong's talents were recognised and he was offered a job with the bank. "I was surprised to get the offer as I had never worked in the banking industry," he admits. He decided to take on the challenge, and use the opportunity to learn more about himself.
"When I joined DBS, it was completely different from what I imagined it to be," he says, citing the dynamic culture.
As an employee, I am constantly encouraged to give my best, learn more and improve further.
Foo Cher Fong
Without prior experience in his new role, Cher Fong faced a steep learning curve. It was stressful, he admits, but it is more important to focus on the outcome. "You just need to break down it into smaller chunks and learn step by step.
"The bank provided the relevant training to help me transition into my new role and learn how to master modern stack technologies. I was also given access to on-line learning platform like Cloudera University and Safari books online, which helped widen my knowledge on Big Data." In addition, having previous knowledge in areas such as distributed computing and notification solutions helped him pick up new skills faster.
To those who want to make the career switch and try something new, Cher Fong, whose interests outside of work include racing First Person View drones and painting, suggests, "Ask yourself: 'Is this what you really want?' Consider and work through the trade-offs. Once you have made up your mind, don't look back. Look forward and focus on achieving your goals."
DBS Hack2Hire is back for its second year, with a hackathon session scheduled for April 21. This year, the bank is seeking to recruit a wider range of technology skill sets, including scrum masters, user interface and user experience designers and solution architects. Find out more!