An observer's perspective of the DBS Hack2Hire programme
When I found out that DBS Bank planned to hire developers via a 24-hour hackathon, I was intrigued.
While hiring via a hackathon is not uncommon for tech companies, it is not the norm for banks to take this recruitment route. Plus, the bank was looking for developers well-versed in emerging and disruptive technologies such as cloud, machine learning and Big Data.
I run a gaming development company and hiring good developers has always been a challenge. This was exacerbated in recent years when large multinational technology companies such as Google and Facebook set up shop in Singapore, and usually offered better packages. Many developers are also striking out on their own, preferring to work on projects that are their passion points.
With a stroke of luck, I bumped into an old friend who was working in DBS and the bank was happy to let me attend the Hack2Hire hackathon as an observer. I thought it was important to keep up to date with what other companies in the war for developer talent are doing so I spent a weekend at DBS Asia X, the bank's latest innovation facility located in the Sandcrawler Building, with almost 100 other developers and comrades in the tech industry.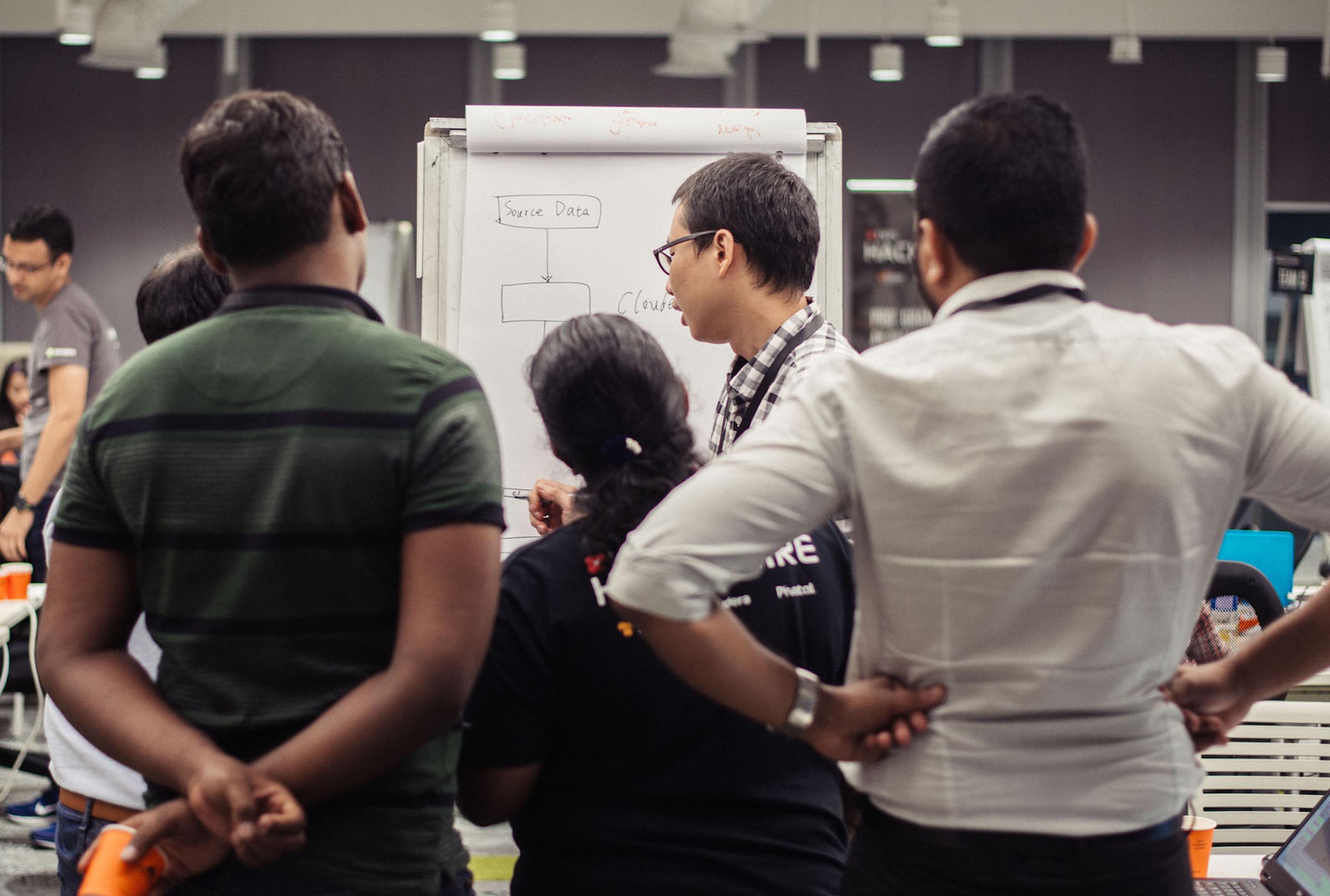 On your mark, get set, go
When participants arrived, they were put into groups of 4-5 people and most of them had never met one another before. This was a departure from some of the more conventional hackathons where you can form teams with your friends. I guess this is the bank's way of simulating a realistic work environment where you do not get much choice on who you work with. The participants ranged from fresh graduates or soon-to-graduate students, to seasoned developers who own a business or work for a large company.
From my personal experience, this is one of the biggest hurdles when participating in a hackathon with strangers, as it takes time for the team to get to know one another and figure out the various individuals' strengths and weaknesses.
In the next 24 hours, each team had to choose from three challenges and come up with a working prototype. The challenges were specific, unlike other hackathons, probably because the primary objective was to assess candidates, rather than sourcing for ideas. The team scoring criteria were based on six components: Innovation, User Interface, Quality of Solution, Pitch Presentation, Desirability and Challenge Completion.
A DBS staff from its technology arm was attached to each team. In addition to providing assistance to the team, the DBS mentor was also observing how participants worked in the team, assessing each participant's ability to work as a team, his/her coding capabilities and leadership skills up close.
I was pleasantly surprised at how committed and driven the candidates were. Although they were not required to stay overnight, most teams did.