One social enterprise is revolutionising education for underserved communities in India
Students tap away on WiFi-enabled tablets as they work on interactive assignments. They learn at their own pace, mastering certain concepts before moving on to more difficult questions. Teachers or facilitators, on the other hand, can turn to high quality pre-created learning content, or create personal plans for students based on analytics and reports on how each child is faring.
This is a blended learning model – a combination of online resources with traditional classroom teaching – that is now available to low income schools in India, thanks to efforts by social enterprise Zaya Learning Labs to leverage technology to deliver high quality, affordable education to underserved communities.
Zaya was set up by Neil D'Souza, an ex-Cisco engineer. The idea first came about in 2011 while he was working in Silicon Valley in the United States. He saw the key role technology played in providing good quality education to both low-income and well-to-do children. It got him thinking: Can technology also help children in emerging markets?
Inspired by innovations in the healthcare field, where a combination of paramedical healthcare workers and supplementary technology offer improved care to remote communities, D'Souza developed a portable learning device, called ClassCloud.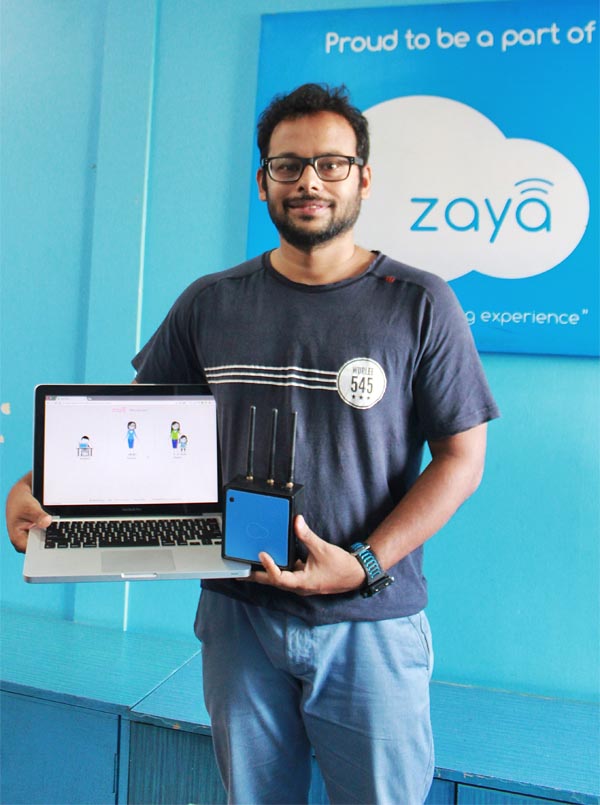 ClassCloud makes e-learning available offline, while leveraging manpower – teachers or facilitators – on the ground. Women who do not have proper training as teachers, for instance, can be empowered to be teaching assistants with ClassCloud and effectively teach and earn a salary.
High-quality learning material from content partners – instructional videos, assessment questions, lesson plans and performance analytics – is uploaded onto ClassCloud, which also acts as a WiFi router, server, storage and battery pack.
In places with limited or no Internet connectivity, WiFi-enabled devices can be connected to ClassCloud over a local wireless network; student data is collected and stored on the device too.
For just USD 1 per child per month, low-income schools in India – typically beset with problems such as poor infrastructure and varied teaching quality – can get ClassCloud with its pre-loaded content, as well as training. For USD 2 per child per month, the schools also get 20 WiFi-enabled tablets.
Zaya now works with schools, after-schools and vocational centres to implement its blended learning classrooms. Currently more than 150,000 students and 700 teachers are using Zaya's platform. Most of the business is in India but Zaya's products are sold globally, with customers in Zambia and Kenya, for example. Zaya aims to reach 10 million students by 2020, via both mobile based products and in schools.
Zaya was the the inaugural winner of the 2014 DBS-NUS Social Venture Challenge Asia, and took home a cash prize of S$30,000.1:59
Starting Zaya
D'Souza, who was in Singapore in March to take part in a DBS-organised panel discussion titled "Digital SMEs of the Future", shared his story on how he built Zaya.
After seeing the potential of technology in closing the education gap, he started working in orphanages and schools in Indonesia and Mongolia in 2012, and piloted his ideas for bringing online education resources to orphans.
Lessons learnt included the challenges of working with limited or no Internet access. In Mongolia, he worked with a student, Airun Zaya, on educational content. She would later be the inspiration for the name of his social enterprise.
When D'Souza went to India in 2013, where he is now based, the notion of formally starting a social enterprise took shape. He saw a market for his product and customers who would pay for it.
A year later, Zaya became the inaugural winner of the DBS-NUS Social Venture Challenge Asia, which had a cash prize of S$30,000. This enabled the social enterprise to build its proof of concept and pilot its product in 20 schools in India. Winning the award also enabled Zaya to attract further investment and grow its business and impact.