From meeting generous hawkers to coping with rejection, DBS Smart Nation ambassadors share the ups and downs of their job
Under the scorching sun and sultry heat, scores of young people in their trademark red t-shirts have been traversing across the island over the past few months.
Their mission: to convince thousands of merchants in Singapore to join DBS cashless initiative – a QR code payment solution using the DBS PayLah! mobile application.
These tireless individuals are part of DBS' new Smart Nation Ambassador Programme (SNAP) launched in May, where ambassadors will be recruited to encourage small cash-based merchants to adopt the QR code payment option.
Watch A day in the life of a DBS Smart Nation Ambassador 01:45
Dogged persistence
Recounting their experiences, DBS Smart Nation ambassadors Lim Xian Da, 22, and Ho Yi Shu, 21, say the job is challenging but well worth the effort.
Each ambassador is assigned locations to cover – for Xian Da and Yi Shu, the areas include Pasir Ris, Yishun and Geylang. They spend hours daily introducing PayLah! to business owners and helping interested owners get started on the payment solution.
Ambassadors must have a really "thick skin" and not be embarrassed by rejection, says Xian Da, with a laugh. "There was an uncle who did not even say anything to me. He just waved me off before I could finish talking."
Read more: Bringing traditional food and technology together the DBS PayLah! way.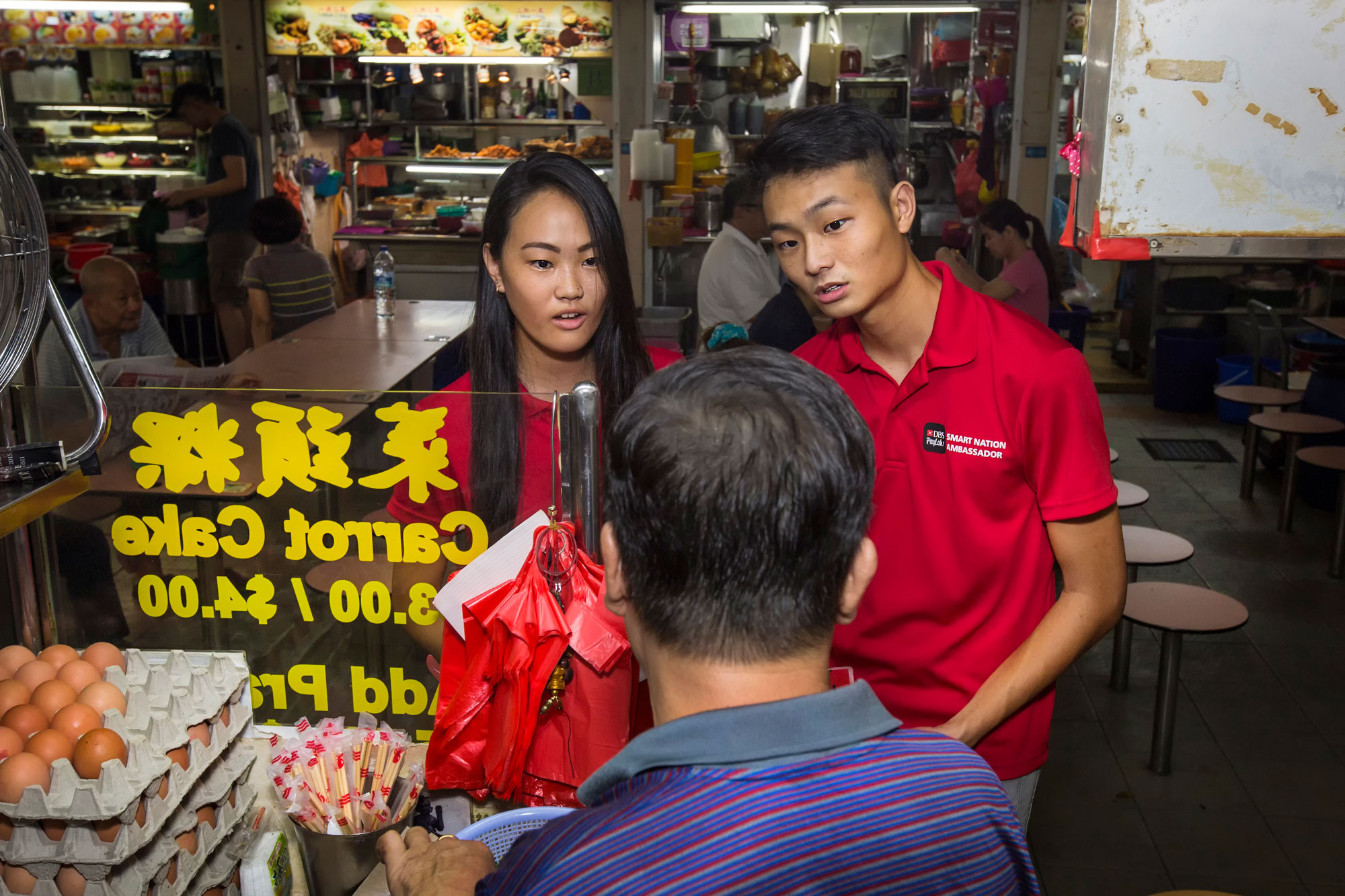 Indeed, being tenacious and patient is crucial.
At times, ambassadors have to wait for hours before they get to speak to business owners who are busy tending to customers. Sometimes, owners come onboard; other times, the wait comes to naught.
Despite waiting over two hours at a hair salon, Yi Shu admits wryly that he still has not managed to get the owner onboard. "Some people are quite hesitant at the start, so I'll need to take a few days to talk to them so they can warm up to me. You need to build the trust there first," says Xian Da.
He does this by quietly waiting and not intruding on business, or by making small talk with stall owners.
New insights, generous gestures
The job has improved his people skills, says Xian Da.
Coming into this job, you get to experience something you don't see every day. You get an insight into the daily lives of hawkers and shop owners.
— Lim Xian Da, 22, DBS Smart Nation Ambassador
"I've learnt to listen more to people's problems and learnt ways to communicate better with them. Initially I asked the wrong questions and said the wrong things. But as you build your confidence you get better at it," he says.