Pay using QR code from your DBS PayLah mobile app 1
All DBS PayLah! users, including non-DBS/POSB customers, can now pay using QR code
In another industry first, DBS PayLah! users will also be able to make QR code payments on 10,000 NETS terminals by year end
Singapore, 13 Apr 2017 - DBS today announced another ground-breaking mobile payment solution in support of Singapore's Smart Nation drive to adopt cashless payments. In a Singapore first, all DBS PayLah! users – including non-DBS/POSB customers – can pay using QR codes and also receive funds by generating their own QR code. DBS PayLah! is Singapore's top mobile wallet with some 500,000 users and counting.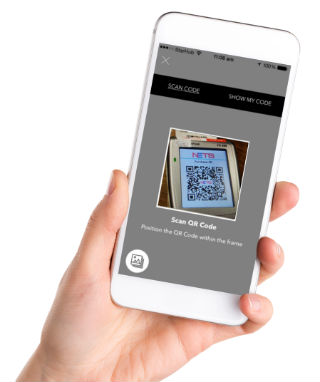 The introduction of DBS PayLah!'s capability to pay using QR codes has far-reaching implications for merchants and consumers in Singapore. Despite the continuing drive to encourage businesses here to adopt cashless payments, many small businesses remain averse as they see the leasing of payment terminals, connectivity and wiring requirements as inconvenient and costly. In Singapore, it is estimated that more than 80% of payments made at small shops are in cash. At hawker centres and wet markets, this rises to 90%. The lack of ubiquity in cashless payment acceptance by merchants in turn discourages consumers from making the transition to cashless payments.
DBS PayLah!'s QR code payments are particularly effective in tackling these issues as it has a very low barrier to entry. There is little to no cost involved and the process of paying using QR codes is extremely streamlined. To receive payments, merchants or individuals can use DBS PayLah! to generate their own QR code, which they can display at their premises or send to others via social or online channels for payments. To pay using QR codes, customers simply need to use DBS PayLah! to scan the QR code and proceed to make a cashless payment.
The simplicity of the QR code payment solution empowers offline merchants, helping them connect to the online world, and allows them to establish a point-to-point connection to their customers. In China, QR codes mobile payment have driven the adoption of cashless payments and the country is today the world's leader in mobile payments. The value of Chinese third-party mobile payments was estimated to be RMB 38 trillion in 2016.
Said Jeremy Soo, Head of Consumer Banking Group (Singapore), DBS Bank, "We believe that cashless payments in Singapore is ripe for disruption. Singapore has one of the world's highest smartphone penetration and surveys have indicated that the majority of consumers here are open to making payments with their mobile devices. All we need is a solution that has a low barrier to entry, is easy for merchants to implement, and for consumers to use. The DBS PayLah! QR code payment solution ticks all the boxes and is well positioned to drive cashless payment behaviour in Singapore, taking us one step closer to our nation's vision of being a Smart Nation."
In another industry first, DBS PayLah! users will also soon be able to pay using QR codes on NETS terminals at a number of merchants across various categories which include transport, retail, fashion and F&B. Some 2,000 NETS terminals will be enabled with this capability in the next two months and 10,000 by the end of the year. In addition, DBS will be holding a QR code bazaar from 5 to 7 May to encourage more consumers to pay using QR codes and businesses to adopt cashless payments. The event will be the first of its kind in Singapore, with some 200 young vendors setting up shop at *SCAPE. All vendors at the event will be able to accept purchases made via DBS PayLah!'s QR code payment function.
Since its launch in 2014, DBS has enhanced DBS PayLah! with several trailblazing features. Besides sending money, users can also request for payments from others, make payments to over 43 billing organisations, donate money to more than 26 charitable organisations and top up mobile prepaid SIM cards. Users can also shop and pay with DBS PayLah! at selected online merchants, including Qoo10.sg, comGateway, AXS and MSIG.
DBS PayLah! is also widely accepted as a payment option in another of the bank's unique solutions for F&B businesses in Singapore, DBS FasTrack. The DBS FasTrack solution is the first of its kind to be introduced by a bank in Singapore. It provides a seamless 'self-service' ordering and payments solution for businesses while eliminating or drastically shortening customers' wait time. Businesses in turn can use the solution to enhance their productivity and reduce reliance on manpower.
Over the year, DBS has been relentlessly expanding its mobile payments partnerships and channels by leveraging digital innovation. This is in order to provide an entire ecosystem of options to meet consumers and merchants' diverse payment needs and preferences, and is part of the bank's larger plan to drive cashless payment behaviour in Singapore – something the bank is uniquely positioned to do given that it banks most of Singapore.
[END]
About DBS
DBS is a leading financial services group in Asia, with over 280 branches across 18 markets. Headquartered and listed in Singapore, DBS has a growing presence in the three key Asian axes of growth: Greater China, Southeast Asia and South Asia. The bank's "AA-" and "Aa1" credit ratings, is among the highest in the world.
DBS is at the forefront of leveraging digital technology to shape the future of banking, and has been named "
World's Best Digital Bank
" by Euromoney. The bank has also been recognised for its leadership in the region, having been named "Asia's Best Bank" by several publications including The Banker, Global Finance, IFR Asia and Euromoney since 2012. In addition, the bank has been named "
Safest Bank in Asia
" by Global Finance for eight consecutive years from 2009 to 2016.
DBS provides a full range of services in consumer, SME and corporate banking. As a bank born and bred in Asia, DBS understands the intricacies of doing business in the region's most dynamic markets. DBS is committed to building lasting relationships with customers, and positively impacting communities through supporting social enterprises, as it banks the Asian way. It has also established a SGD 50 million foundation to strengthen its corporate social responsibility efforts in Singapore and across Asia.
With its extensive network of operations in Asia and emphasis on engaging and empowering its staff, DBS presents exciting career opportunities. The bank acknowledges the passion, commitment and can-do spirit in all of our 22,000 staff, representing over 40 nationalities. For more information, please visit
www.dbs.com
.