Shriranga Kulkarni shares his experience at a datathon organised by the Yale-NUS Data Science Society and DBS Asia X
There was no better way to spend a Saturday. Last month, I took part in a datathon, "DATA 2.0", organised by the Yale-NUS Data Science Society and DBS Asia X, where I met and learnt from new people, developed skills and, just as importantly, had fun.
The theme of the event was "Environment Sustainability". Working in teams of four or five people, we used data sets provided to devise solutions to sustainability challenges. The data provided on secured laptops included DBS credit card transaction data, environment data such as air pollution and Pollutant Standards Index levels, and energy consumption data such as electricity and water consumption.
Many novice and experienced data scientists gathered for this datathon. My team, VRBLANK, consisted of four people: Madan Kumar, Gopalakrishnan Saisubramaniam, Prateek Kashyap and myself.
Our challenge: How credit card transactions can tell a story or two about environment sustainability. Winning second prize was icing on the cake.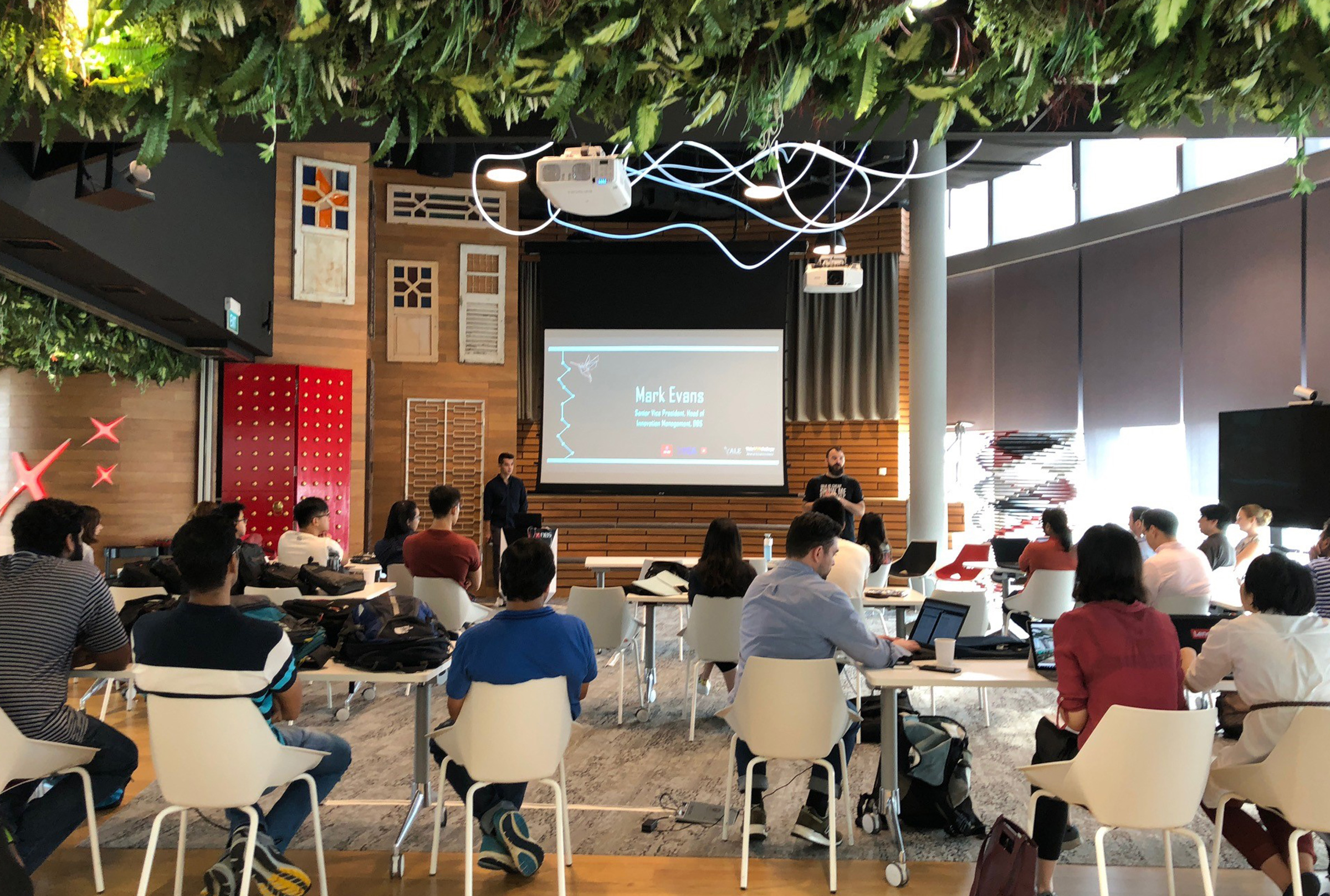 Our sustainability solution
Our team had a common goal: learn as much as we could about the data/event/venue and have a lot of fun.
We walked away with a better understanding of how DBS transactional data can be used to not only understand customer behaviour but also gain insights on a customer's impact on the environment. These valuable insights which may be further used to drive better business outcomes.
DBS provided us with credit card transactions at various districts across Singapore by category. From the data, we obtained information on how crowded an area was – more transactions indicated more people. By studying the types of purchase, we identified the major attractions of each area.
We connected this data to publicly available environmental data on air pollution, water and energy consumption, clustering high impact zones vs low impact ones. By constructing a graph of entities – for instance purchase and product categories, location, time, electricity and water consumption at those locations – across categories, we could see the effect of multiple influencers on each area.
For instance, when traffic is headed towards a shopping centre, higher levels of air pollutants are observed; the building would also have higher consumption of water and electricity. If the building uses air conditioners, the surrounding area will experience higher temperatures compared to its surrounding areas.
A weighted calculation on each of the above-mentioned aspects can then provide a ranking of the location for that environmental factor. In this manner, we can analyse different environmental factors for each district just from card transactions.
Read more: Using banking data sets to find solutions to sustainability challenges
Taking it a step further
What does our analysis mean to the average consumer?
A customer's transaction history gives an idea of the various types of purchases. If the purchase location is available, it provides an indirect way of calculating the customer's contribution to the environmental impact in the area where the transaction occurred.
For instance, if a location is a big contributor to water consumption and/or air pollution and customer X likes to buy things from this place, this customer might be said to have made a small percentage contribution to the pollution.
A weighted calculation of all transactions made by customer X, grouped by individual categories, can give insight in understanding the impact made by customer X on the environment.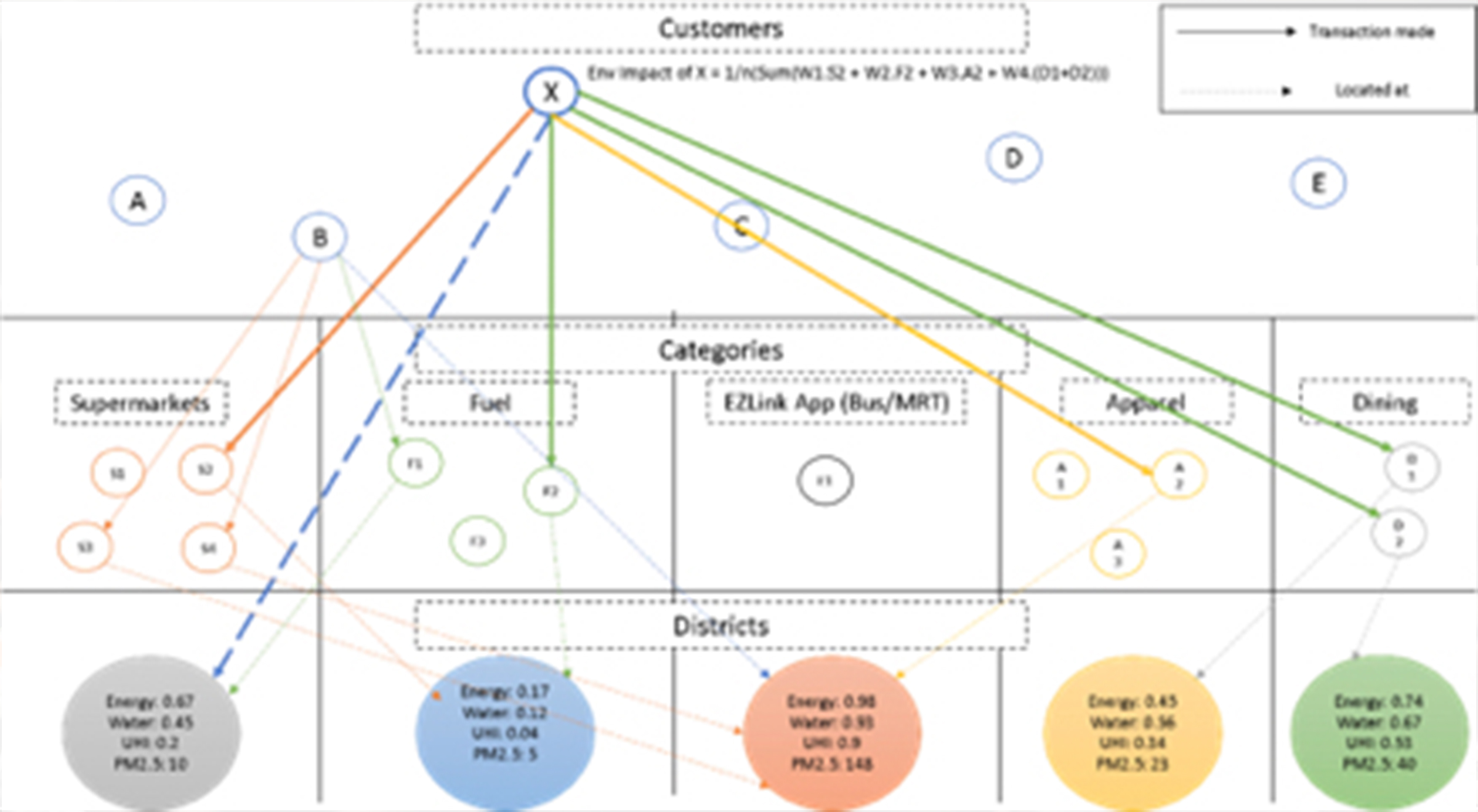 Environmental aspect is just one part of the actual graph. The broader intention is to consider the customer space as a network of connections built from their purchases.
Inspired to learn more about data analytics and visualisation
The datathon was held at the beautiful DBS Asia X Campus, located at Fusionopolis. We were there from 9.30am to 6pm. After which, we headed over to the Yale-NUS Campus for the final presentation, where teams showed their solutions and prizes were awarded. DBS Chief Sustainability Officer Mikkel Larsen also shared his views on DBS and environmental sustainability.
The datathon provided an open-ended, cool and fun way of achieving something useful in a finite timeline with limited resources. It showed different views on environment sustainability, resulting in different solutions.
The experience has given us renewed impetus to tackle the next lot of subjects, as well as to explore, in more depth, the principles of data analytics, visualisation and data storytelling.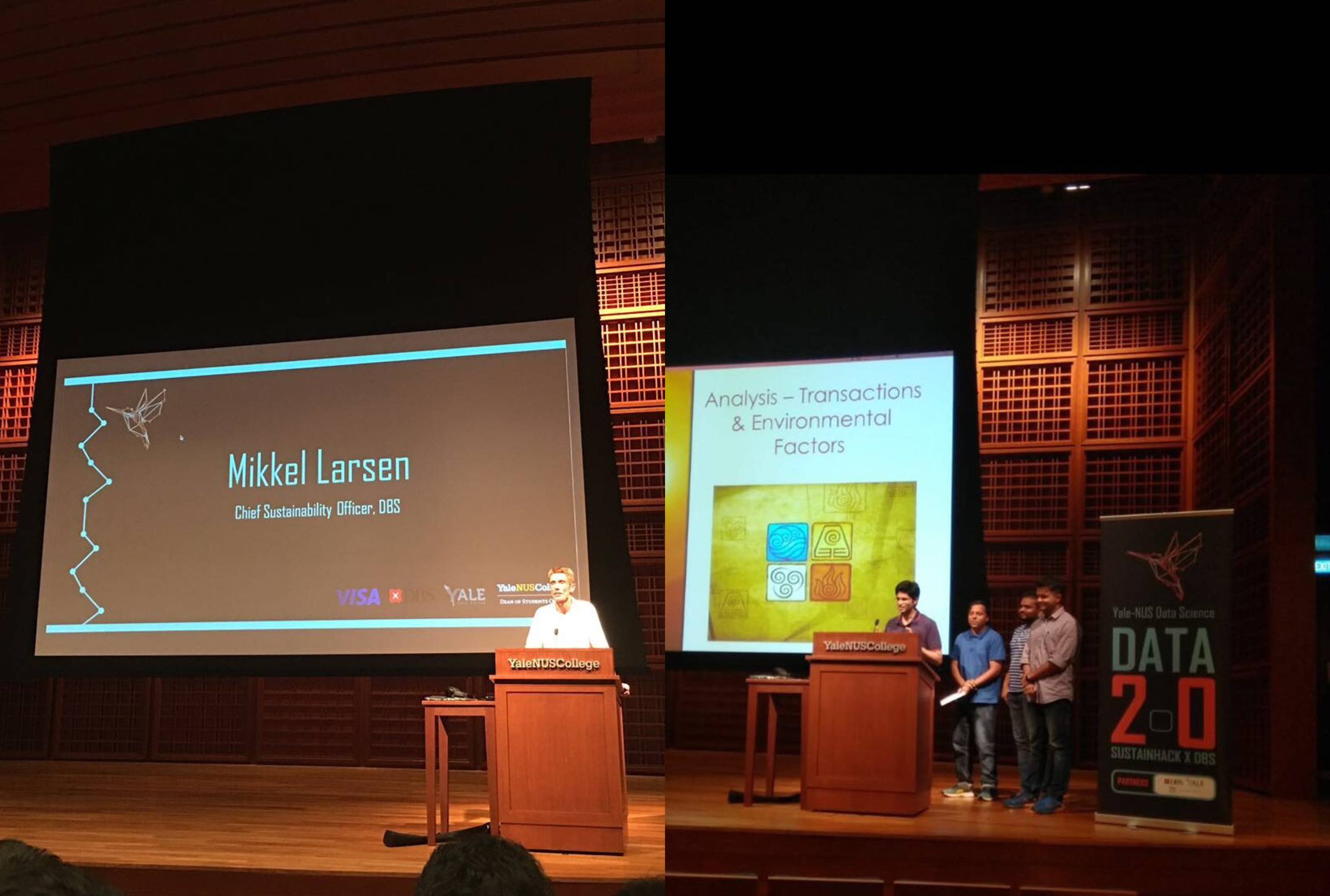 All teams received guidance from mentors in statistics, programming and data science, among others. It was a fantastic learning experience. The datathon provided my team members and I (and hopefully for all other participants) with an opportunity to put in valuable hours of practice as well as learn from expert mentors and more experienced team members.
Overall, these were our takeaways:
An opportunity to showcase our skills/experience in building data-product prototypes and acquire industry skills such as coding, analysis, collaboration and presentation skills.
A great opportunity for peer networking; a fun and rewarding experience.
More importantly, I met, worked with and learnt from some very skillful, helpful, fun-loving and talented data scientists and analysts.
Thank you, DBS Asia X and Yale-NUS Data Science Society, for this wonderful opportunity.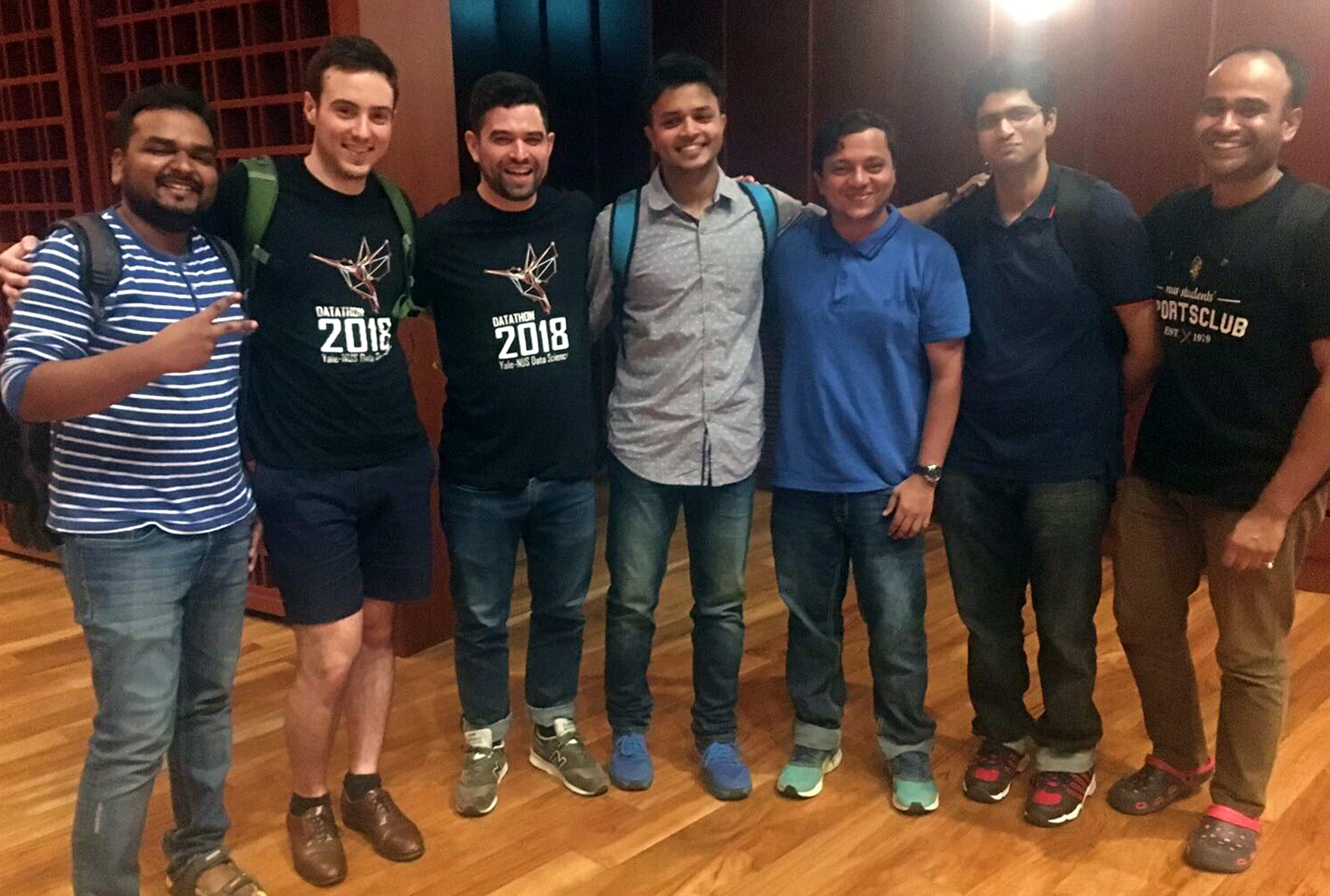 Shriranga Kulkarni is a senior technology professional currently working in the Singapore office of a US-based Technology MNC. He has over 10 years of technology and consulting experience in the insurance/finance domain for both legacy/modern digital applications for clients based in Germany, France, Japan, Singapore, Malaysia, Thailand and Hong Kong regions and worked with India/Vietnam/Mauritius offshore teams.
He is interested in solving complex business problems using technology related to core software engineering digital transformation, business intelligence/analytics. He also has M. Tech degree in knowledge engineering (artificial intelligence/machine learning) from ISS, National University of Singapore and has won multiple hackathon events. He is currently a part-time student for entrepreneurial marketing and analytical consulting modular courses from NUS Business School, Singapore. He can be contacted at Shriranga.kulkarni@gmail.com.