7 things Digital Startups Need to Know - Churn Rate
Churn rate is an indication of how many users are dropping your service. Here's why you should keep your churn rate low.
How Much is the Customer Churn Rate (Especially for Companies with a Direct Monetisation Model)?
Cloud companies are the biggest proponents of the direct monetisation model. In its simplest form, the cloud refers to the sharing of IT resources so that data can be stored and accessed from anywhere. As such, there is no need to invest in IT infrastructure and personnel for the client.
Traditionally, software companies sell a "perpetual" licence for their software and then later sell upgrades. Under this model, customers pay for the software licence upfront and then typically pay a recurring annual maintenance fee. However, under the cloud model, the customer signs up to use the software on an ongoing basis, via a service-based arrangement. There are no upfront licensing revenues to cover customer acquisition costs. The company incurs almost all its costs to acquire customers in the first place – sales and marketing, developing and maintaining the software, hosting infrastructure – upfront. Typically, the cloud provider will recognise monthly revenue from customers, which is not enough to even cover customer acquisition costs.
For example, let us look at a traditional software business that sells a licensed product for US$12,000 and has a cost of acquiring a customer of US$5,000. Assuming 100% gross margins, the upfront licence fee more than pays for the cost to acquire that customer and cash flow is immediately positive. Here is how the cash flow would look: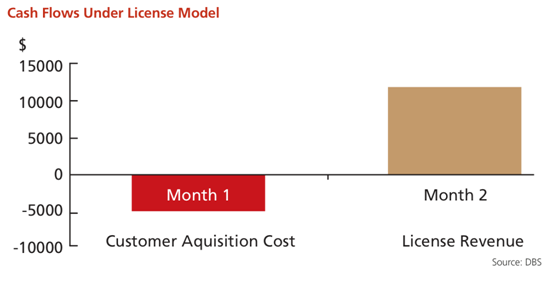 Now let's look at what happens if this same business switches to a subscription model. To be competitive, they can charge US$12,000 over two years. That means US$6,000 per year, or US$500 per month. As such, whenever the company adds a new customer, it could hurt the bottom-line due to the customer acquisition cost in that month.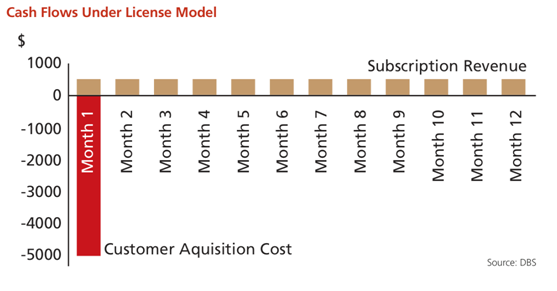 The churn rate becomes one of the most important parameters to measure the health of such businesses. The churn rate is the percentage of existing customers who stop doing business with an organisation over a specific time period. Typically, successful software-as-a-service (SaaS) companies report annual churn rates of between 5% and 7%. If a company is able to keep the churn rate low, most of the future revenues from the customer will flow to the future bottom-line, which is a good indication for investors in the company.
Report produced by: Asian Insights Office, DBS Group Research
---
Stay updated with latest industry trends and insights in Asia, connect with a network of entrepreneurs, and gain access to exclusive event invitations.
Was this information useful?