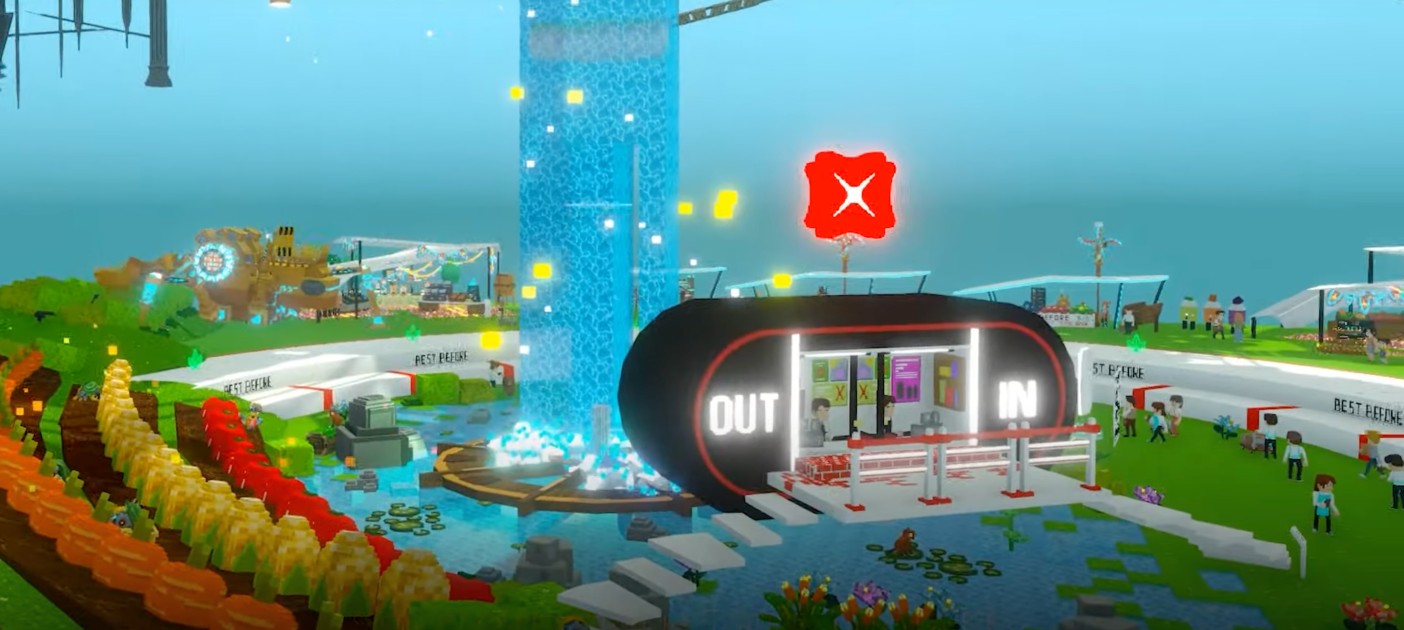 DBS unveils metaverse adventure on 'DBS BetterWorld' to spotlight global food waste challenge
Singapore, 24 Aug 2023 - DBS today unveiled its metaverse concept for DBS BetterWorld, a gamified adventure to demonstrate how the metaverse can be leveraged as a force for good.
The virtual experience highlights the global food waste challenge and what Businesses for Impact supported by the DBS Foundation are doing to address the issue. According to the United Nations, one-third of all food produced in the world – or an estimated 1.3 billion tonnes – is wasted each year. To help address this issue, DBS launched its Towards Zero Food Waste initiative in 2020 to rally its employees, customers, communities and the public to collectively create a more food resilient future. As at the end of 2022, the initiative has generated over 2,000 tonnes of total food impact, which includes food waste reduced, food recycled, and food redistributed.
Karen Ngui, Head of Group Strategic Marketing and Communications at DBS, and Board Member of DBS Foundation, said, "DBS believes that it is possible to leverage the metaverse as a force for good. It can be harnessed as an interactive platform to increase awareness of important ESG issues and creatively spotlight those who are finding innovative ways to address them. For starters, with DBS BetterWorld, we have chosen to delve into the challenges of food waste and food resilience, issues that DBS and the DBS Foundation have been championing, in a unique and engaging way. As metaverse technologies mature, we hope to create mechanisms for communities and businesses to translate the outcomes of their virtual initiatives to real world impact."
As part of the experience, players must complete a series of activities inspired by five Businesses for Impact supported by the DBS Foundation
[1]
and their unique approach to mitigating food waste:
Brewerkz – a craft beer maker based in Singapore, Brewerkz is focused on upcycling brewers' spent grains, a by-product of beer-making that is often discarded in the industry today, into food products.
Breer – a food upcycling startup based in Hong Kong, Breer collects surplus bread from bakeries and restaurants and uses it to brew craft beer.
GreenPrice – based in Hong Kong, GreenPrice specialises in selling food that is close to or just past their "best before" date, helping eliminate food waste while making food more accessible to low-income households.
Edible Garden City – operating out of Singapore, Edible Garden City champions the grow-our-own-food movement by making soil-based urban farming and edible gardening more accessible to city dwellers.
Rooftop Republic – based in Hong Kong, Rooftop Republic transforms underutilised and unconventional spaces in the territory, such as disused helipads, into urban farms.
Cognisant of its responsibility to society as a purpose-driven bank, DBS gives back to the community and empowers others to create positive change in various ways. Since 2014, the DBS Foundation has been committed to uplifting lives and livelihoods by igniting change in businesses and communities. To date, the DBS Foundation has nurtured over 800 businesses for impact in Asia, with some 100 of these awarded grant funding totalling over SGD 13 million through its annual Grant Award. The DBS Foundation Business for Impact chapter now catalyses the growth of innovative, purpose-driven businesses, including SMEs, designed to address pressing issues facing our planet and society.
In 2022, the DBS Foundation raised the bar with the
formation of a new Community Impact chapter
to equip the underserved with digital and financial literacy skills to face the future with confidence and enable communities to be more food secure and resilient. It committed SGD 5.6 million in funding to support 10 inaugural programmes across all the bank's core markets of Singapore, China, Hong Kong, India, Indonesia and Taiwan.
In August 2023, DBS announced that it will
commit up to SGD 1 billion over the next 10 years
to improve lives and livelihoods of the low-income and underprivileged, and foster a more inclusive society. DBS will deploy SGD 100 million each year in Singapore and its other key markets with effect from 2024, augmenting existing community initiatives by the bank and DBS Foundation. In addition, the bank's 36,000-strong workforce will commit over 1.5 million volunteer hours over the next decade to give back to society.
Incorporating interactive features to drive engagement
Players based in Singapore will be treated to extra rewards which can be redeemed via special QR codes accessed using DBS PayLah!
[2]
. DBS has also included easter eggs for players to discover, including cameo appearances by popular characters from the bank's award-winning web series,
Sparks
.
DBS BetterWorld will be accessible to the public once The Sandbox's Alpha Season 4
[3]
is launched.
Watch the game trailer:
[1] All five Businesses for Impact are recipients of the DBS Foundation Grant Award, which was designed to recognise and catalyse the growth of businesses that have successfully integrated both social / environmental impact and financial profit into their business models and are strongly positioned for long-term growth.
[2] DBS PayLah! is the bank's everyday app for customers in Singapore that enables them to meet their daily needs – from making payments, sending funds, hailing rides, booking tickets, ordering food, and more – all while earning rewards.
The Sandbox's Alpha Season 4 is expected to launch before the end of 2023.
[3] The Sandbox's Alpha Season 4 is expected to launch before the end of 2023
[END]
About DBS
DBS is a leading financial services group in Asia with a presence in 19 markets. Headquartered and listed in Singapore, DBS is in the three key Asian axes of growth: Greater China, Southeast Asia and South Asia. The bank's "AA-" and "Aa1" credit ratings are among the highest in the world.
Recognised for its global leadership, DBS has been named "
World's Best Bank
" by Global Finance, "
World's Best Bank
" by Euromoney and "
Global Bank of the Year
" by The Banker. The bank is at the forefront of leveraging digital technology to shape the future of banking, having been named "
World's Best Digital Bank
" by Euromoney and the world's "
Most Innovative in Digital Banking
" by The Banker. In addition, DBS has been accorded the "
Safest Bank in Asia
" award by Global Finance for 14 consecutive years from 2009 to 2022.
DBS provides a full range of services in consumer, SME and corporate banking. As a bank born and bred in Asia, DBS understands the intricacies of doing business in the region's most dynamic markets.
DBS is committed to building lasting relationships with customers, as it banks the Asian way. Through the DBS Foundation, the bank creates impact beyond banking by supporting social enterprises: businesses with a double bottom-line of profit and social and/or environmental impact. DBS Foundation also gives back to society in various ways, including equipping communities with future-ready skills and building food resilience.
With its extensive network of operations in Asia and emphasis on engaging and empowering its staff, DBS presents exciting career opportunities. For more information, please visit
www.dbs.com
.