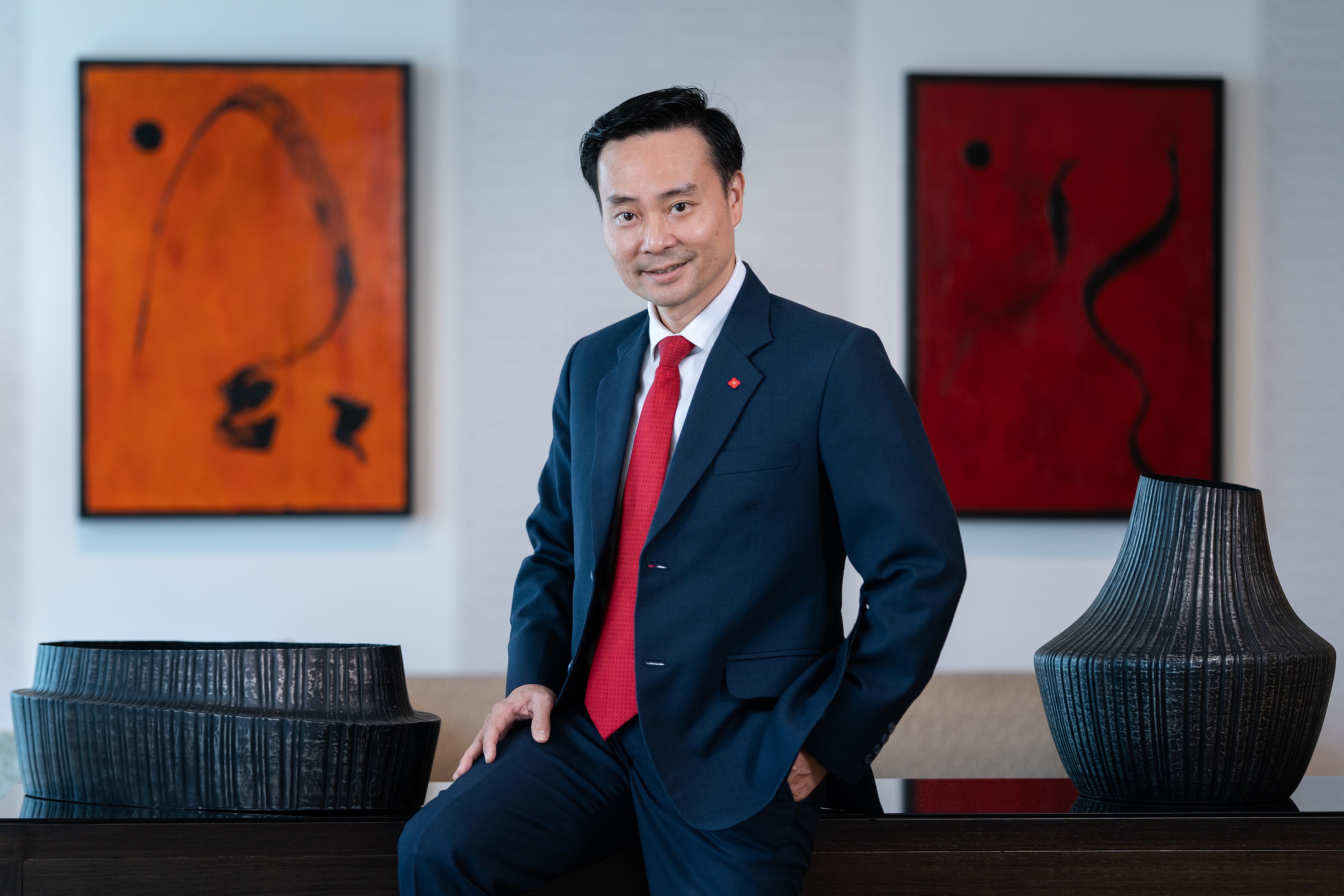 DBS Singapore's country head Shee Tse Koon sees the pandemic as a clarion call to look back at first principles - the bank's role in enabling smooth functioning of the economy and maintaining livelihoods.
As the novel coronavirus pandemic continues to wreck uncertainty on Singapore's future, the man helming the Singapore operations of the country's largest bank – and one of its key employers – is taking some time to reflect on his organisation's raison d'etre.
Formerly known as the Development Bank of Singapore, DBS was founded in 1968, just three years after the nation attained independence, for, as its name states, the express purpose of financing the nation's development and industrialisation.
"So I would like to believe that DBS played a critical part in Singapore's journey from third-world to first, in one generation," says Shee Tse Koon, who serves as group executive and country head for DBS Singapore.
Amid the current crisis, the 50-year-old career banker is tasked with a similar mission, albeit in a different "very much well-developed Singapore". DBS is also South-east Asia's largest lender.
As an essential service, the role of a bank in enabling the smooth functioning of the economy is not one that can be taken lightly. This is even more so for the country's largest bank, he emphasises.
"Unlike healthcare workers on the frontline, we, as bankers, cannot directly save lives. But what we can certainly do is to save livelihoods," Mr Shee tells The Business Times in a video conference lasting slightly over an hour.
This is also the mantra he has been preaching to his staff via virtual town halls. "If we get this in our DNA, in our values, I think we'll be a very different company – And this will help us emerge much stronger, because that's how we respond," he says.
To that end, he notes that DBS had led the industry in offering a six-month debt moratorium on mortgages for home owners here. The bank, like its peers, also granted moratoria on principal repayments for property loans to small businesses. It joined banks such as UOB, which in February said it had set aside S$3 billion to provide companies in Singapore with relief assistance to tide over the negative impact of the Covid-19 outbreak on their business.
About a month-and-a-half later, the Monetary Authority of Singapore spelt out guidelines for financial institutions across the board on how certain relief measures should be structured to allow distressed property owners and small- and medium-size enterprises a pause on debt repayments.
In May, DBS announced its plans to hire more than 2,000 more people here despite the pandemic. As with the other local banks, it has also pledged no job cuts.
DBS has also committed S$10.5 million to provide meals and care packs for vulnerable individuals affected by the pandemic across its six key markets.
In Singapore, it is working with charities and non-profits in reaching out to the low-income, elderly and migrant workers.
A crisis like no other
But Mr Shee – whose 26-year career has spanned the Asian Financial Crisis in the late 1990s, the Severe Acute Respiratory Syndrome (Sars) epidemic in 2003, and the Global Financial Crisis (GFC) a decade ago – considers this a crisis like no other.
During those years, the lifelong banker served various roles in Standard Chartered Bank. He moved to DBS in September 2016, first as managing director and group head of strategy and planning, before being promoted to country head in December 2018.
"This pandemic is kind of like the Spanish flu, or Sars, put together with the GFC. So I think this time around it's really more severe. A financial crisis can be handled with financial instruments. But this time around, I think it takes more than that," he says.
"Only when a vaccine is found, more confidence is restored, and supply chains and businesses are resumed, will we see the return of some normality, from an economic perspective. Until then, people will be hard-pressed to go out and to consume like the way they used to."
But besides its responsibility to support customers and keep the economy going, DBS – which has a 12,000-strong staff in Singapore – also has a duty to ensure the well-being and safety of its employees. And that is a fine balance to strike, Mr Shee says.
This reality hit home early in the crisis – when one of its staff working at the main Marina Bay Financial Centre office was diagnosed Covid-19 positive in mid-February.
Mr Shee recalls, vividly, that he was about to make an important presentation during a board meeting that morning, when he was notified of the news via text.
"You know, it really hit home. Till then we were making plans (for when a case strikes). This time, it was a real execution. It was a good thing that we were well prepared," he says.
By noon that day, the bank vacated the affected floor and sent home some 200 employees as a precaution. Twenty staffers were asked to take a 14-day leave of absence due to direct contact with the infected colleague.
Having a robust playbook and the ability to stay composed helped the leadership assure its staff that it was on top of things, Mr Shee says.
"We had to be transparent and ensure the news was communicated accurately, both internally and externally, to the press and our customers. I'm thankful my colleagues were very cooperative. And I did go back thereafter to do my presentation," he adds.
Leading with authenticity and integrity
As for what's in his leadership playbook, Mr Shee cites authenticity and integrity among the key elements.
He points to those two traits again when asked what he makes of the perception some have of bankers as "villains" who are in the profession just for money.
Pausing to consider the question, he says: "That is probably something which we are not new to hearing, right? In all fairness, a lot of problems, such as during the GFC, did start from within the industry."
But this stereotype holds true in a vast number of industries, he notes.
"I don't think it's about the industry or organisation, but the leaders who operate within it. What are their values? Their ability to align individual leadership philosophies with that of the company's becomes very important," he says.
"If those driving a company are people who are genuine, authentic and sincere, I think that goes a long way in building that trust which is so important particularly in the current uncertain situation."
Leaders must uphold their responsibility to "do the right thing", he says.
And while much has been made about "charismatic leadership", charisma, for Mr Shee, means more than just being able to wow a crowd with an eloquent speech.
"That is important and it can be useful. But I think natural charisma can also be demonstrated when people sense that a leader is authentic, not just as someone who speaks credibly, but as someone who can then walk the talk.
"That kind of charisma can go a long way in charting the direction for the organisation," he says.
Always learning
Mr Shee tells BT he had not planned on becoming a banker at an early age. Growing up in a three-room flat with his brothers, his aspirations did not revolve around the finance industry.
"As with many kids growing up, at one point, I wanted to be a doctor. At another point, when I grew up a little bit more, I wanted to be a lawyer. And then later on at one stage, I wanted to be a teacher. But I became none of those," he says.
Banking emerged as a possibility after he went on to read economics at the National University of Singapore, at a time when Singapore was rising in stature as a financial hub.
"The financial industry was becoming a vibrant one and I signed up to it wanting to learn and contribute," he says.
What's more interesting is not why he landed in banking, he suggests, but what made him stay on – for 26 years.
Initially, the interactions with clients from all walks of life and the opportunity to learn the nuts and bolts of various businesses piqued his curiosity, says Mr Shee, describing himself as "a curious guy who wants to find out and learn as many things as I can".
He leaves no stone unturned, by religiously logging burning questions on a list in his mobile phone titled "to find out". "So each time I come across something I don't know, I'll add it there and I'll find some time to try and find out," he says.
About half of his 22 years in Standard Chartered were spent outside Singapore – in London, Dubai, and most recently, Indonesia, as a regional chief executive officer. "I was constantly able to learn different things, different cultures, different people. That was really, really something that kept me going," he says.
Going the extra mile
More than that, he learnt that bankers are in a position to transform lives and sustain society. "I've been listening to the stories about how people's lives have been truly transformed, how businesses were transformed, how economies started to be transformed.
"These were helpful in shaping my own thinking about what, really, banking is about. And that's kind of kept me in the industry many more years.
"We can go the extra mile to support others, beyond just this immediate, commercial kind of a benefit. All of us need a pay cheque at the end of the month, but I think life is a lot more than that."
For Mr Shee, going the extra mile also comes in the form of annual trips with his church mates to north-western Myanmar, where they help support needy individuals and families through vocational training and interest-free loans.
"The monetary support is not the main thing. Helping them to be able to become independent is really more important, and helping the kids to go to school so that they can have a much better chance in life, going forward, as the country develops," he says.
Although these year-end trips have often resulted in him missing ringing in the new year with his family, he has continued making them for the last two decades.
The former school swim captain also cites swimming, running and playing tennis among his other pastimes. TV programmes, though, are not quite his thing. "Every time I tell my colleagues this, they'd be like, 'what?'. But I don't watch TV. I don't have much time to watch TV."
Source: The Business Times © Singapore Press Holdings Limited. Permission required for reproduction.