Rising prices got you feeling down Here how living sustainably is not only good for the planet but also your wallet
BY DBS, 14 JULY 2022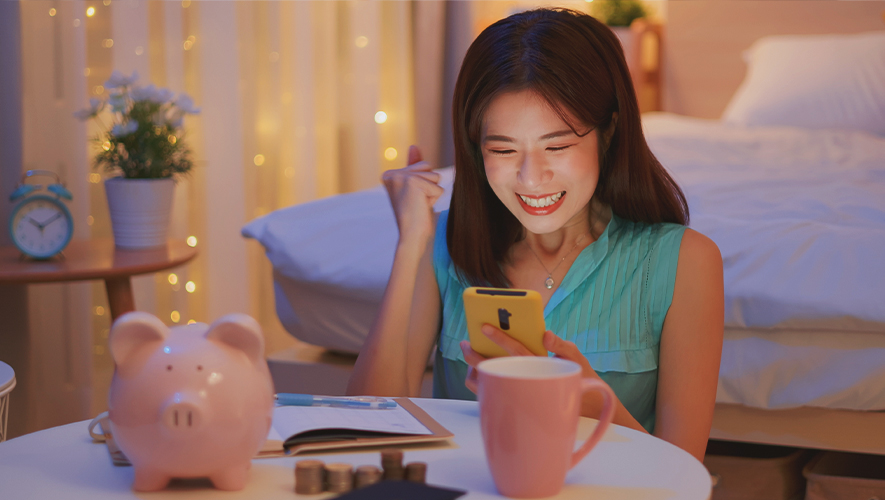 Gear up with these sustainable living tips to combat inflation
Has your usual hawker fare gotten more expensive in the past few weeks?
About nine in 10 people surveyed by DBS have been feeling the pinch of inflation in Singapore, with many experiencing it first-hand through their purchases. To cope, more than half surveyed said they would be changing their spending habits within the next six months.
The majority of respondents said they would save more by opting for cheaper alternatives, and prioritising their spending on necessities, such as groceries and food items, utilities and dining out.
Well, here's another tip on how to stretch your dollar – embrace a sustainable lifestyle. Why live sustainably, you may ask? By practicing some of these eco-friendly habits, you'll soon find yourself spending less.
How to live a more environmentally sustainable lifestyle, and save money while at it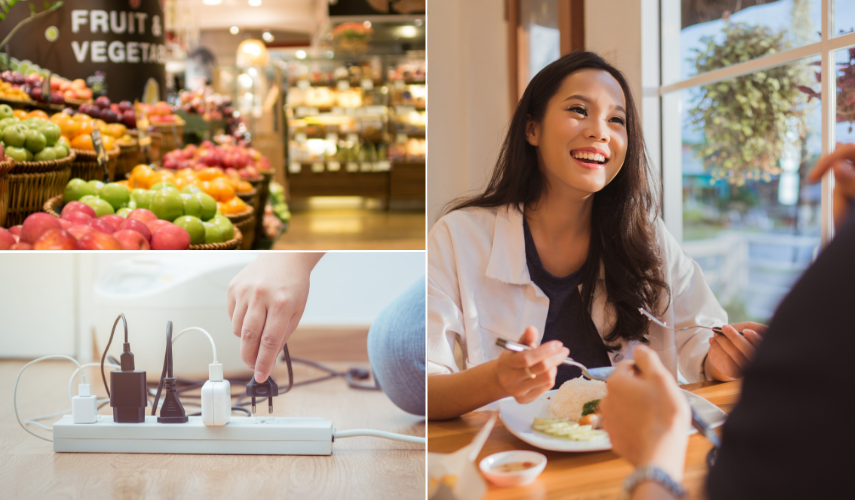 1. Leave no ingredient behind
Many of us who are financially-savvy (or perhaps, who have a bad memory) bring a shopping list to the supermarket to ensure we stay within our budget.
But we may not realise we're also "wasting" our money when we bin leftover ingredients or dishes. Let's make the most of what we buy and practice sustainable living. Turn vegetable scraps into a delicious stock, stale bread into bread pudding or broccoli stems into hummus! A sustainable lifestyle can be… delicious.
Take inspiration from these hawkers on how they create Singapore's iconic dishes such as Bak Kut Teh or prawn noodles with sustainable living and minimal food waste in mind.
Check out also how Ilya Nur Fadhly, winner of DBS' Zero Food Waste Challenge on MasterChef Singapore, demonstrate sustainable living as he turns leftovers into a winning dish.
2. Share more, waste less
Here's another tip on how to live a more environmentally sustainable lifestyle that also helps your wallet.
There are various online platforms and community groups where people giveaway or sell at a lower price, their unwanted items or excess food.
For instance, green marketplace, Just Dabao, offers discounts on surplus food from over 400 food and beverage (F&B) merchants. To make it extra convenient to lead a sustainable lifestyle, Just Dabao introduced a geolocation feature on its website so you can grab and go anytime.
New Just Dabao users can enjoy an additional 20% off (capped at $4) on their first order with the promo code DBSNEW with payments made with a DBS card. 
If you are an existing user, you can take an additional 10% off (capped at $2, limited to 500 redemptions per month) with the promo code DBSJD. 
Each redemption is limited to one user, from now until 28 February 2023. 
For more information on DBS General Promotion, visit www.dbs.com.sg/dbscardstnc.
Another app to facilitate sustainable living: Olio, which connects individuals looking to share or give away surplus food or household items. From clothes to vintage dining ware and surplus food to potted plants, a sustainable lifestyle is made easier with thousands of listings on Olio daily from individuals in your vicinity so you can get what you need without forking out a cent.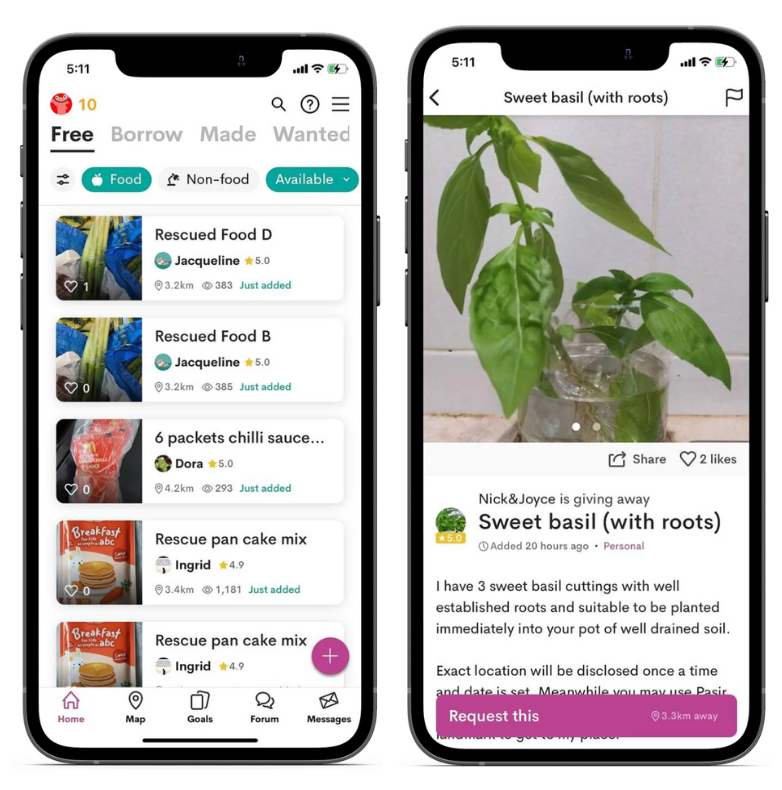 Browse and pick up items you need through OLIO's mobile application
Feeling uninspired about your closet? Explore options such as swapping, renting, or buying second-hand clothes as part of your sustainable lifestyle.
Clothes-swapping platform, The Fashion Pulpit, enables individuals to lead a more eco-friendly lifestyle by switching up their clothing options through swapping their unloved clothing with other people.
If you're looking for something fancier to wear for an event, consider renting an outfit. Style Theory, for instance, offers a plethora of designer fashion items for rent to mitigate the fashion industry's negative environmental impact through overproduction of clothing and premature discarding. You can also find preloved luxury items for sale on their website!
Feeling inspired on how to live a more environmentally sustainable lifestyle or seeing the benefits of sustainable living? We hope so!
3. Reduce your electricity consumption at home
Here's another practical sustainable living tip. Lower your energy bills and reduce your carbon footprint by switching to more energy efficient consumption habits. For instance:
Beat the heat by using fans instead of air-conditioning
Switch off your storage water heater when not in use
Purchase energy-efficient appliances with five ticks
Switch to LED light bulbs
FYI, some electricity retailers offer green electricity plans that tap on solar energy or are carbon neutral. Turning to renewable energy is part of how to live a more environmentally sustainable lifestyle but these green electricity plans are usually pricier than the standard plans, where the emissions from burning fossil fuels are not offset.
4. Bring Your Own
The next time you head out, save on spending on bottled water (actually, skip the plastic straws too even though that's usually free). Tap water in a water bottle is just as hydrating.
Bring along a container and/or reusable cup for food and drinks. This is another perk of sustainable living as you not only skip the takeaway surcharge levied by some merchants, but some businesses also offer incentives or discounts when you bring your own container, bag or cup, for instance.
Here are some participating merchants of the Bring Your Own (BYO) campaign, started by Zero Waste SG in 2017 to encourage sustainable living:
Cold Storage/Jasons: BYO bag instead of using plastic bags to earn 10 bonus TapForMore points for Passion Card Members (minimum spend of SGD 10 at any outlet)
Kimly: BYO container for SGD 0.20 off each Tze Char dish
Wheat Baumkuchen: BYO container for a free topping worth SGD 1
Mr Bean: BYO cup for SGD 0.10 off your total bill
Toast Box: BYO cup and enjoy SGD 0.10 off
Plain Vanilla: BYO cup for SGD 0.50 off your drink. BYO container for 5% off deli items
Starbucks: BYO cup and enjoy SGD 0.50 off your drink
Check out the full list of participating merchants on BYO Singapore's website.
5. Recycle your empties
Have empty or expired cosmetic products lying around at home? Don't throw them out.
Many beauty and cosmetic brands offer recycling programmes that reward customers who return their empty packaging – more benefits of sustainable living!
Here are programmes to take note of:
Innisfree: Earn 1 store credit for each empty Innisfree bottle you return
RE:ERTH: Earn store credit for bringing in your empties from any brand. Store credit can be used to redeem RE:ERTH products on its website
LUSH: Return your empty black pots to receive a free fresh face mask
This way, you can continue to indulge in your favourite beauty products and live a more environmentally sustainable lifestyle.
6. Take public transport
Rounding up our tips: Make the switch from private to public transport!
Public transport is not only more affordable, it has less carbon emissions compared to private cars. Reducing carbon emissions also brings about health benefits as there is less pollution in the air.
Get up to 10% cashback on your bus and train rides with the DBS Live Fresh Card!
Find out more here.
Sustainable living does not always have to come at a great cost to your preferred way of life. The benefits of sustainable living are manifold, and can be easily incorporated into everyday life!
Recommended for you
Based on your read
Based on similar interests
Recommended
Popular
Latest
Last Read