Startup Just Dabao helps you buy food at discounted prices to reduce food waste
BY RACHEL QUEK, 6 MAY 2022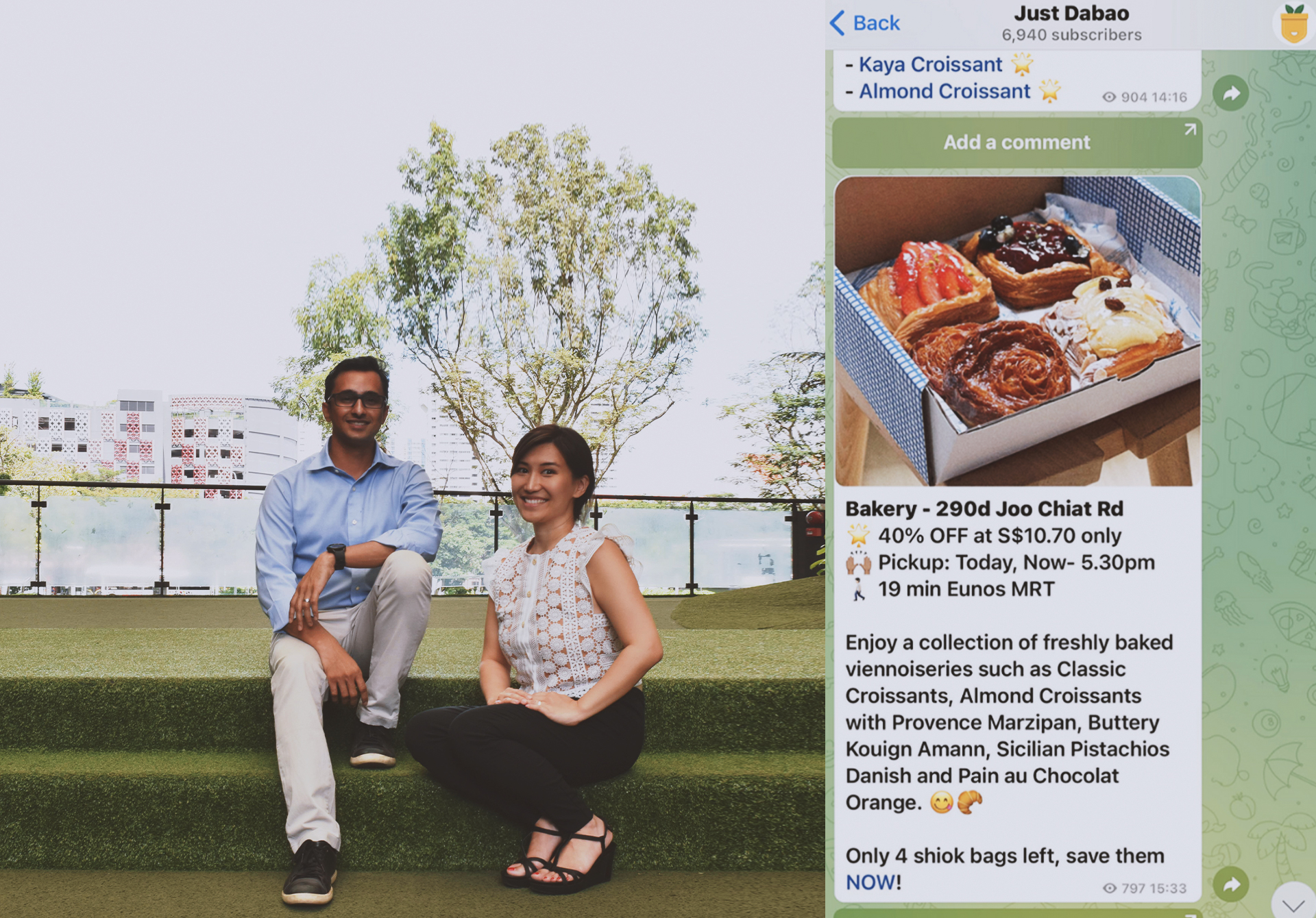 The social enterprise has saved 6,500kg of food since 2020, changing the way F&B businesses manage leftovers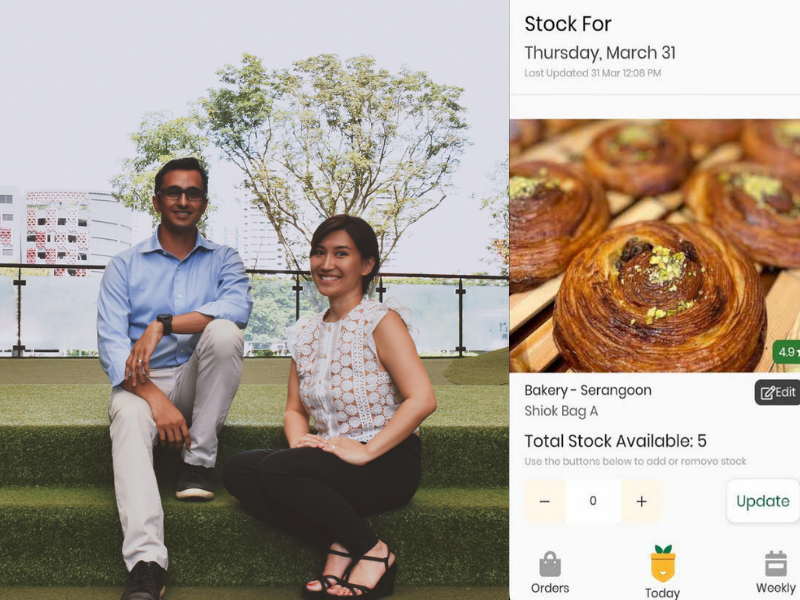 Srikanth Katikala and Jennifer Widjaja founded Just Dabao amid the pandemic to reduce food waste in Singapore.
Scroll through Just Dabao's channel on messaging app Telegram and you will find yourself browsing local delights up for sale at almost half their original price. 
The chat group posts about food bargains from over 400 food and beverage (F&B) merchants to over 6,500 foodies as a means of reducing food waste in Singapore. 
Just Dabao was founded at the height of the pandemic in 2020 when co-founder Jennifer Widjaja's friend closed her bakery and had to throw away large amounts of food. Widjaja soon discovered that food waste is a common problem in the F&B industry, with merchants throwing away food surplus to save time and money. 
These perfectly edible food often ends up in the bin due to mild cosmetic defects, wrong orders, or last-minute event cancellations. In fact, in 2021, Singapore generated 817 million kg of food waste, with the F&B industry contributing approximately 40% of this amount each year.

Surplus food come in all shapes and sizes, with many thrown into the bin due to mild cosmetic defects, wrong orders, or merchants' inability to forecast demand.
Together with co-founder Srikanth Katikala, Widjaja launched Just Dabao with a simple question: How to make saving surplus food more convenient than binning them?
Their solution: listing merchants' surplus food on Just Dabao's website at a fraction of the original price, and alerting foodies of these options via Telegram. Interested buyers place their order on the website and pick up their food from the merchant once it's confirmed. 
"Customers like the idea of killing two birds with one stone: being able to reduce food waste while enjoying yummy cakes from our bakery. Our staff have also commented that they no longer feel the pain of discarding surplus food at the end of the day."
Just Dabao uses messaging app Telegram to reach more customers and update existing ones with latest deals across the island.
Besides offering over 2,000 food options, Just Dabao also introduced a geolocation feature, making it easy for customers to collect their food on the go. Customers can search for participating merchants in the area by keying in a postal code.
"I enjoy the ease of obtaining desserts at a lower price for gatherings with family and friends as the platform has a number of dessert partners. It is even more meaningful to me that I can reduce my overall spending in times of rising food costs while saving surplus food from being wasted."
While the founders faced many rejections – from sceptical merchants and customers who felt surplus food was of low quality – their hard work eventually paid off. As of April 2022, Just Dabao has saved over 6,500 kilograms of food, an equivalent of about 20,000 plates of chicken rice. 
Just Dabao will be launching a new app in June to make pick up more seamless for customers. The social enterprise has also partnered DBS Bank to offer greater discounts on orders so users can easily adopt a zero food waste lifestyle. 
New Just Dabao users can enjoy an additional 20% off (capped at $4) on their first order with the promo code DBSNEW with payments made with a DBS card. 
If you are an existing user, you can take an additional 10% off (capped at $2, limited to 500 redemptions per month) with the promo code DBSJD. 
Each redemption is limited to one user, from now until 28 February 2023. 
For more information on DBS General Promotion, visit www.dbs.com.sg/dbscardstnc.
---
Learn more about how you can continue your journey #TowardsZeroFoodWaste.
Find out more about DBS' other partnerships and initiatives #TowardsZeroFoodWaste.
Photographs courtesy of Just Dabao. 
Recommended for you
Based on your read
Based on similar interests
Recommended
Popular
Latest
Last Read