Order and pay for your meals by "chatting" with your favourite F&B merchants
While she used to spend time waiting in the queue to order her cup of coffee, 30-year-old lawyer Lesley Fu now has another option.
When her cravings hit, Fu simply logs in to Facebook Messenger, from wherever she is, to "chat" with coffee joint Kopi Ong at Marina Bay Financial Centre. She then waits for the notification that her drink is ready, before she heads over to the outlet.
This is possible thanks to Foodster, a chatbot solution developed by DBS and Every Botty. Foodster is fully integrated within Facebook Messenger and allows customers to order and pay for their meals just by "chatting" with their favourite F&B merchant. There's no need to download any additional mobile apps.
Since August 2018, Foodster has been test-bedded with seven F&B merchants in the Marina Bay area, including Kopi Ong, NUDE Seafood and Old Tea Hut. Kopitiam will be introducing the chatbot at its New Funan outlet in 2019, while another merchant, Holey Moley, will come onboard when it launches in Clarke Quay on December 6.
Kopi Ong Foodster - Powered by DBS APIs & Every Botty 2:32
Fu says she tried Foodster due to the attractive first-time user discounts offered by the merchants. However, the chatbot's ease of service and convenience converted her to a frequent user.
"When I help my colleagues order coffee, Foodster is very helpful as it retains our order history," she adds. "Also, with just a few clicks and the DBS PayLah! express check-out option, it makes ordering customised beverages easy and quick."
Simple, seamless, invisible
Foodster was developed, in part, to cater to existing customer habits, says DBS Bank's Head of Consumer Banking Group (Singapore) Jeremy Soo.
"We are aware that consumers today are more likely to have 'app fatigue' and have become resistant to downloading new mobile apps," he says.
"As Singapore's leader in payments with over four million debit/credit cards in circulation and the nation's most popular mobile wallet – DBS PayLah! with over one million users – we saw an opportunity to combine our strengths with Singapore's most widely used social media platform."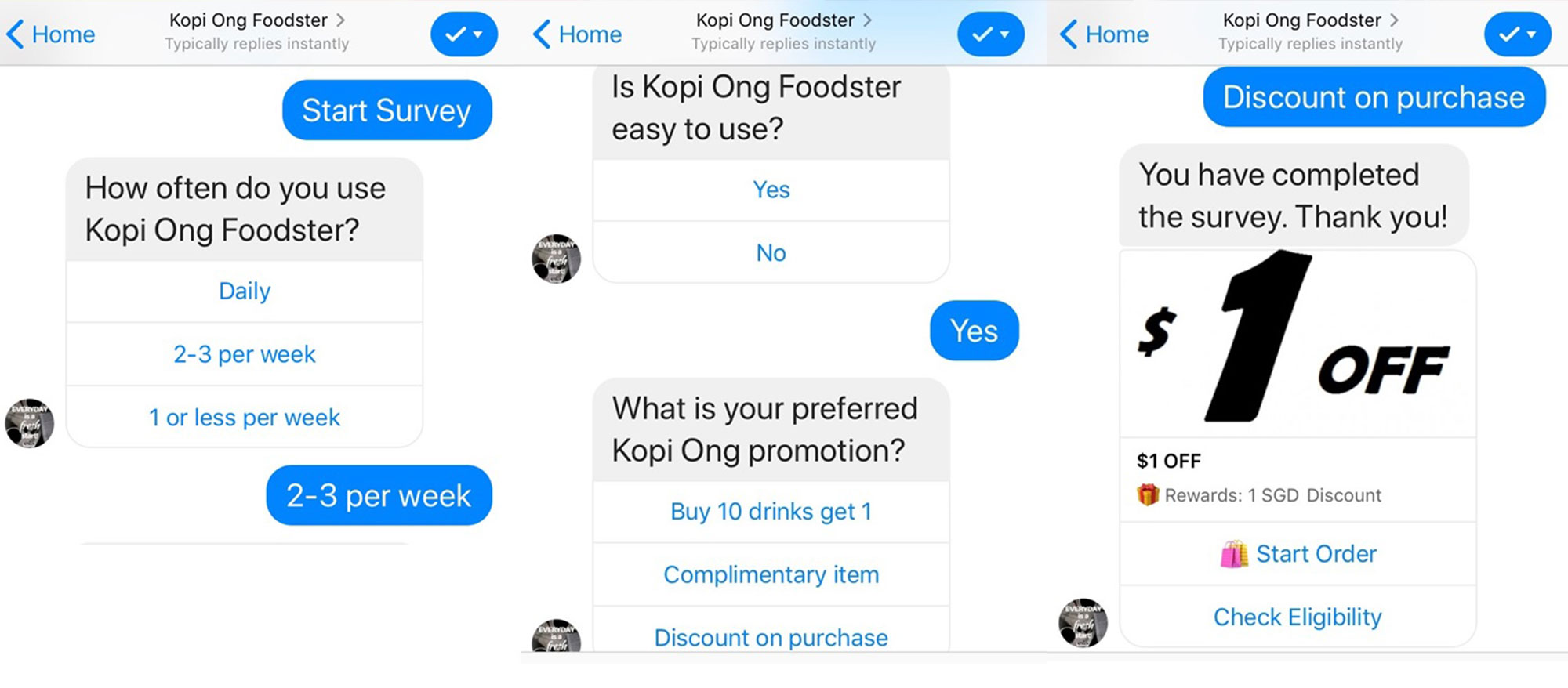 The chatbot solution marks DBS' first foray into the chat commerce space – a market that is forecast to see revenues grow by more than eight times over the next six years in Asia Pacific, from USD 41 million in 2017 to USD 350 million by 2024, according to a recent research report by market research and strategy consulting firm Global Market Insights.
In Singapore, 77% of the population actively use mobile messaging platforms. "If instant messaging is the way forward for people to communicate, then we need to help businesses find a way to engage their customers on such platforms simply, seamlessly and invisibly," says Soo.
How to use Foodster
Using Foodster is easy. Upon logging on to Facebook Messenger, search for participating outlets by entering the outlet's name with a "Foodster" suffix (e.g. "Kopi Ong Foodster").
Customers can choose from the full menu or customise their orders. Foodster retains each user's order history so ordering can be even more seamless.
At check-out, customers pay via DBS PayLah! or DBS/POSB debit and credit cards. There's also an "Express" option where customers can pay with one tap, following a one-time authorisation and set up. Once the order is ready, customers will receive a notification.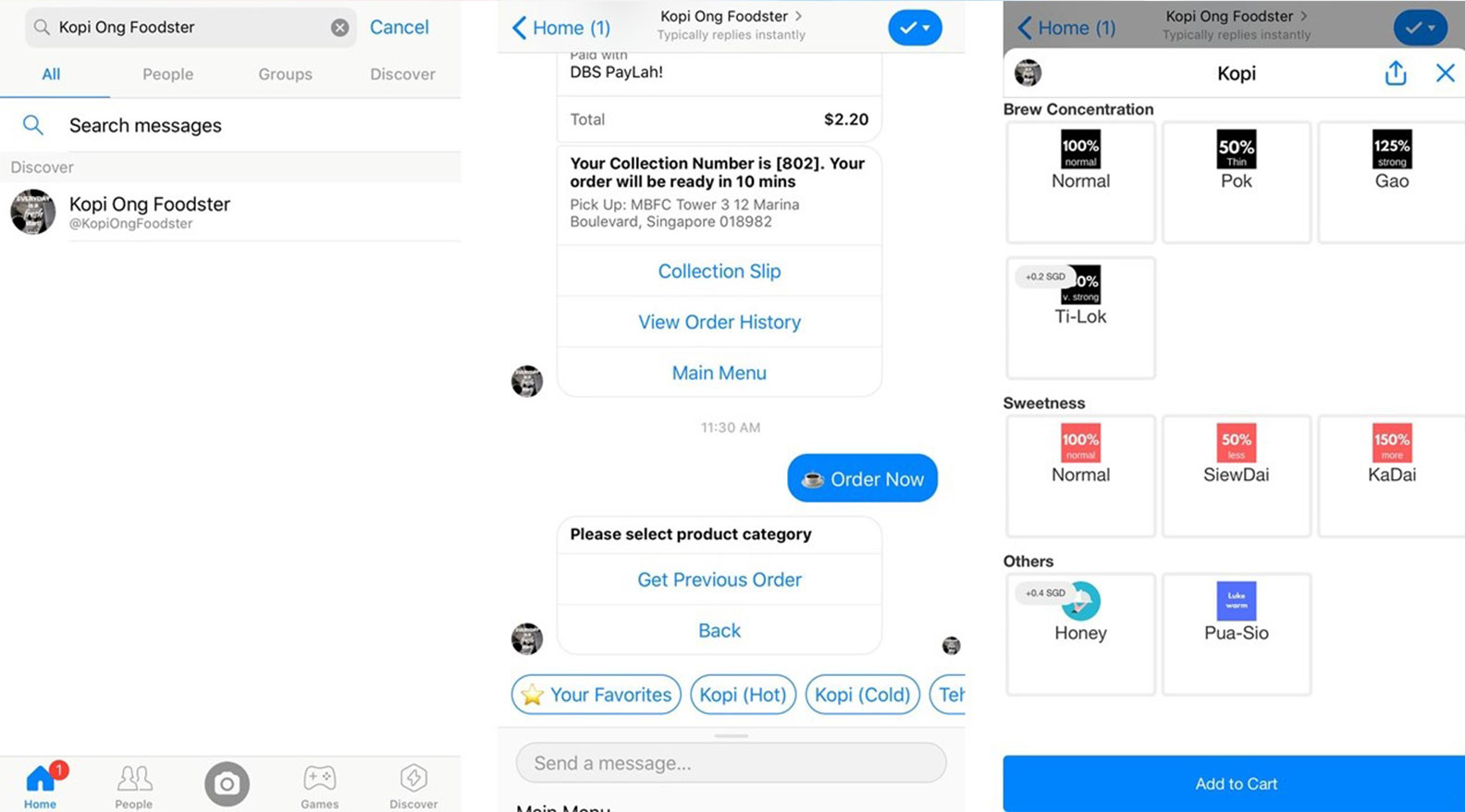 Supporting merchants
Since August, Kopi Ong, the first merchant to test the solution, has seen daily sales grow by more than 20%, without any additional manpower or space required.
Kopi Ong owner Alfred Tan says Foodster helped improve efficiencies at its MBFC outlet, as the solution reduces the possibilities of human error when taking down orders. The real-time order dashboard also "enables us to optimise our store operations and better manage inventory in anticipation of peak periods," he notes.
"The F&B industry in Singapore is highly competitive," says Tan. "To keep our customers loyal and coming back for more, we have to be able to offer customised orders and provide a personalised touch to every transaction. With Foodster, we can survey our customers on their preferences, which then allows us to provide contextualised offers."
"Through Foodster, we are able to bring what the customer expects of us. That is a great customer experience. A consistent cup of coffee, every morning, every day."
– Kopi Ong owner Alfred Tan
Foodster is among DBS' various solutions to support F&B SME clients. Other products and services include: