Out of job, but full of hope
After working in a hotel for nearly a decade, Mdm Josephine Low, 75, lost her job when the Covid-19 pandemic hit. Still, she remains optimistic.
Madam Josephine Low, 75, opens her front door promptly the moment Rahim Bin Abu Bakar, 61 knocks. A flurry of greetings is exchanged while Rahim passes her lunch.
"I know his timing well now, so I usually wait by the door for him. He is very punctual," she says.
Mdm Low is a beneficiary of The Singapore Food Bank's "Feed the City – DBS Edition" programme, which provides meals to the elderly and low-income families in Singapore who have been hard-hit by Covid-19.
The programme draws from the DBS Stronger Together Fund – an SGD 10.5 million fund set up by DBS to help communities in the region affected by the pandemic – as well as funds contributed by the public and DBS employees.
Mdm Low had been working at a hotel for nearly 10 years. Her job was to serve guests at the breakfast lounge, and when borders closed due to Covid-19, part-timers like her were laid off.
She relates with pride her duties at the hotel. "I really enjoyed my job. It was wonderful being able to take care of my guests. When the pandemic hit, I knew I would be affected, but I did not think it would be to this extent. I don't think anyone expected it to be this bad."
She continues, "I was worried, of course. So when I learnt I could get help in the form of meal deliveries from The Food Bank Singapore and DBS, I was very grateful."
"It helped me financially, and it also meant I did not need to venture out to buy food on my own. … it has allowed me to stay at home where it is safer."
- Madam Josephine Low
She adds, "It is also nice to see the delivery team. They always have a smile, and will greet me politely."
Rahim, who delivered Mdm Low's meals today, used to ferry DBS' clients from Changi Airport under the DBS Asia Treasures limousine service. When that was no longer possible due to the pandemic, DBS offered him a job delivering meals to those in need instead.
Despite her difficult circumstances, Mdm Low carries with her a graceful, cheerful, and natural demeanour – well-noted by our photographer. Laughingly, she says she was in a pageant in her younger days, and the skills she learnt during her past deportment classes have now come in handy.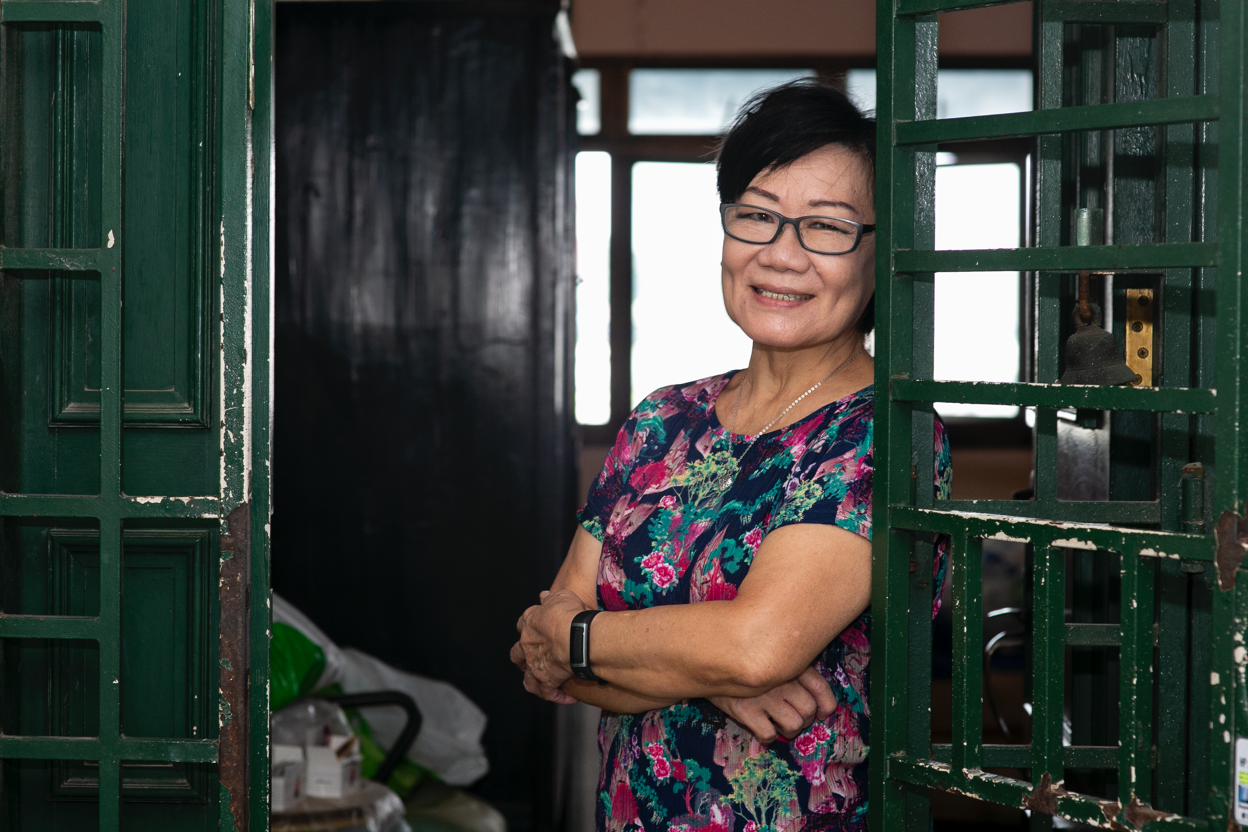 Mdm Low hopes to return to her former job when the situation improves.
"The hotel has promised that we will have our jobs back when the tourists return. I trust them. I have been with the hotel for many years after all, and I can't wait to go back to work."
Urging Singaporeans to stay safe and be mindful of hygiene, she is confident that the nation will pull through together, if we continue to support each other.
It was also during this difficult time that she realised Singaporeans have a lot to be thankful for.
"If anyone of us needs help, all we need to do is ask, and help will be there. Like how I am getting food delivered to my door now. I am grateful to DBS and The Food Bank Singapore for helping me through this time."
The DBS Stronger Together Fund is an SGD 10.5 million fund set up by DBS to help communities hard hit by Covid19 across the region. With this fund, DBS will provide about 4.5 million meals and care packs to those affected. DBS will also fund the procurement of diagnostic test kits, personal protective equipment and other medical supplies to help in the fight against Covid-19.
In Singapore, DBS partnered non-profit organisations The Food Bank Singapore and ItsRainingRaincoats to distribute up to 700,000 meals to the elderly, low-income and migrant worker communities. A portion of the meals are supplied by the bank's F&B clients, in a move to support the industry.
The bank also matched public and staff donations, dollar-for-dollar, up to SGD 1 million.
---