Finding, and offering, hope during a crisis
Business at Mr Goh Heng Hock's noodles stall was badly hit by the Covid-19 pandemic, but this didn't stop him from helping those in need.
One might say, they've got noodle soup in their blood.
Mr Goh Heng Hock, 60, is the second generation in his family to sell fishball noodles. Together with his wife, Mr Goh runs Million Fishball Noodle at the Kim San Leng coffeeshop in Bishan. Meanwhile, his 33-year-old daughter continues this legacy with another stall at Bukit Panjang.
He has been in the business for almost 30 years. Commenting on the Covid-19 outbreak, he says simply, "No crisis has affected my stall so much before."
He used to sell about 400 bowls of noodles every day, but business fell drastically when the pandemic hit. During Singapore's circuit breaker period, where people were advised to stay home and eating out was not allowed, Mr Goh's food stall revenue fell by up to 50%.
A glimmer of light at the end of what seemed to be an interminable tunnel came when he was roped in to be part of The Food Bank Singapore's "Feed the City – DBS Edition" programme, supported by the DBS Stronger Together Fund and the bank's fund-raising from the public and its staff.
As part of the programme, Mr Goh fulfils bulk orders of meals for the elderly and low-income families that were badly affected by the pandemic.
"I was happy to be part of the programme," Mr Goh says. "I now have orders, and I can help the needy at the same time."
Despite having to start work even earlier than usual to prepare the orders in time for deliveries, he says he's not tired. After learning that the food was for the needy, he reduced the cost of the food by 30%, and even gave bigger portions.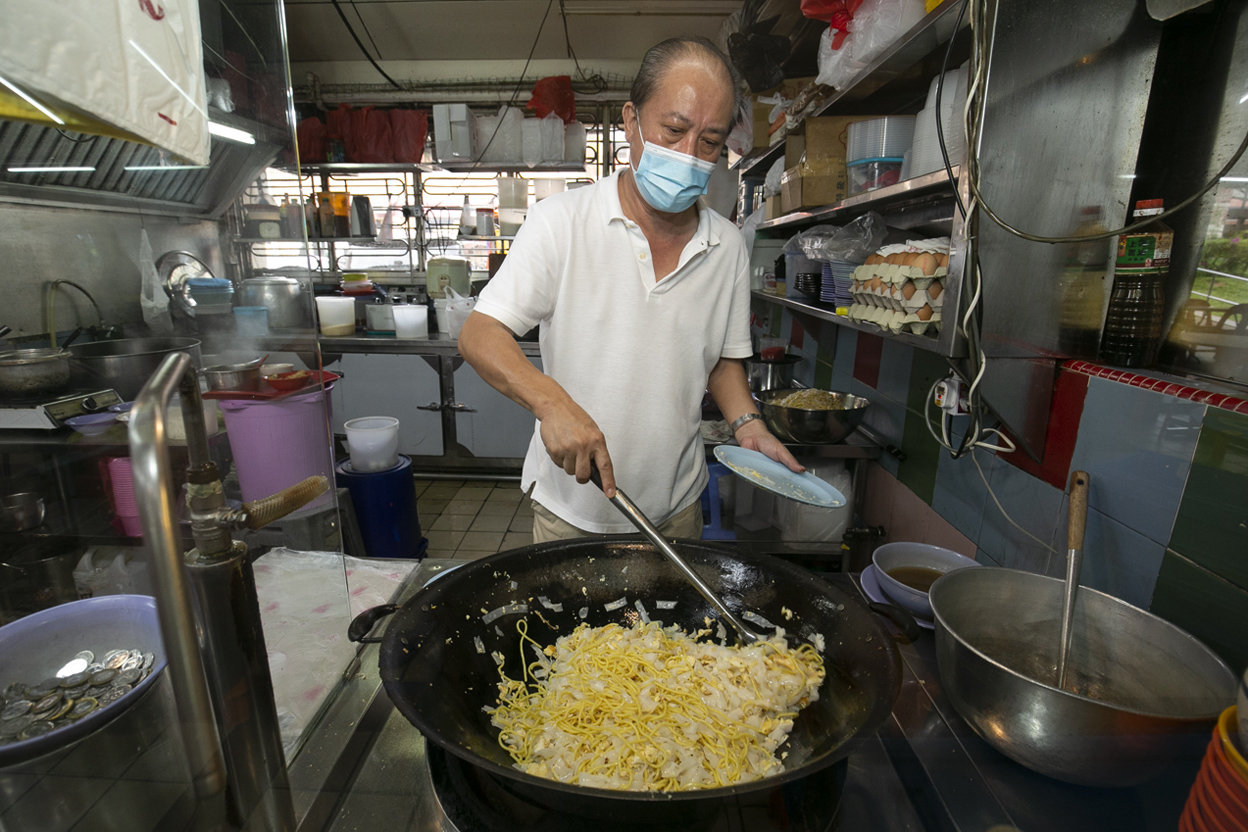 "When you've been hungry before, you will know how it feels. This is just a bit that I can do to help fellow Singaporeans," he says.
Now that dining-in is permitted with the lifting of circuit breaker measures, Mr Goh is happy to see his regular customers. "Some were teenagers when they first bought food from me. Now they are parents, and they bring their children to my food stall!"
"It is tough for now, but it will pass. Things will get better," he says optimistically.
Not business as usual
Mr Goh's stall is one of over 60 participating in "Feed the City – DBS Edition", under the Kim San Leng umbrella. Kim Sang Leng, a DBS client, was invited to take part in the programme.
"My stall holders saw a drastic drop in their earnings, and I was glad that participating in this programme could help them, and allow us to do some good for the community too," says chief executive officer Andy Hoon.
Mr Hoon's hands-on approach to ensure orders were prepared and delivered properly had him meet many of the beneficiaries.
"I saw a lot in the past few months, and I learnt a lot as well," he says. "When people clap when you deliver food to them, or when they comment that the food is good, you start to realise it is a blessing to give than to receive.
"It is important for us now to show love to those who need it, and give hope to them during this difficult time."
– Mr Andy Hoon, CEO of Kim San Leng
This partnership with DBS also marked a new direction for Kim San Leng. When word spread that the coffeeshop chain was helping to feed the needy, other companies and groups reached out to the company to partner in similar initiatives. One such group was The Social Delivery, comprising three undergraduates from the National University of Singapore.
Ms Elsa Koh, one of the students behind the project says, "Not only do we want to help the needy, we hope our initiative can help food vendors who are struggling too. We have been touched by the support given to us by Kim San Leng, and our donors via our crowdfunding page."
Mr Hoon reflects, "We have a social responsibility. During a time like this, I cannot just be a towkay anymore. Look at the group started by the young university students. They have limited resources, but they do all they can to help."
"I was relieved when DBS approached me to be part of the programme. It is a difficult period for everyone, but if we all work together, we will come out of it together as well."
The DBS Stronger Together Fund is an SGD 10.5 million fund set up by DBS to help communities hard hit by Covid19 across the region. With this fund, DBS will provide about 4.5 million meals and care packs to those affected. DBS will also fund the procurement of diagnostic test kits, personal protective equipment and other medical supplies to help in the fight against Covid-19.
In Singapore, DBS partnered non-profit organisations The Food Bank Singapore and ItsRainingRaincoats to distribute up to 700,000 meals to the elderly, low-income and migrant worker communities. A portion of the meals are supplied by the bank's F&B clients, in a move to support the industry.
The bank also matched public and staff donations, dollar-for-dollar, up to SGD 1 million.
---