"I learnt that Singaporeans are very kind"
Rahim Bin Abu Bakar's job as a limousine driver ferrying guests from the airport ceased because of Covid-19. He has now found new purpose delivering meals to those in need.
Smartly dressed in a crisp white shirt and dark blue pants, instead of his usual work attire of a suit and tie, Rahim Bin Abu Bakar, 61, strides towards the designated venue to pick up bags of packed meals. His smile is evident in his eyes, even though he is masked.
"I've planned my route and delivery details," he says, sounding like a veteran food delivery provider. Yet, he has only been doing this for about two months.
Rahim used to be a limousine driver for DBS Asia Treasures ferrying VIP clients from airport to home. He was a professional at his job, with clients frequently requesting for his service by name. But, like many others whose livelihoods were impacted by the Covid-19 pandemic, Rahim could no longer do his job when travel ceased.
He continued to receive his basic salary but missed out on the trip allowances he used to get. As the sole breadwinner of his family, with three school-going children, he was very worried. He rang his coordinator every day to ask if there were other jobs he could do.
The opportunity came when he was approached to be part of The Food Bank Singapore's "Feed the City – DBS Edition" programme, supported by the DBS Stronger Together Fund and the bank's fund-raising from the public and its staff.
Rahim was elated. "Not only did I have work to do, I could do some good at the same time too," he says.
Because she cared
Over at the DBS office, Head of DBS Asia Treasures (Regional Marketing) Adele Tan was worried for limousine drivers like Rahim. When the outbreak hit, her topmost concern was to keep the limousine drivers, whom she had been working with for the last few years, employed.
She first found work for some of them doing temperature screening at DBS Treasures Centres, but when Singapore's circuit breaker measures – which closed most workplaces – kicked in, that job stopped as well.
Then, the DBS Stronger Together Fund was launched, and Adele put two and two together.
With some sense of satisfaction, Adele relates the process of linking drivers to the programme. "It could help them, and we could all play our part to help everyone get through this crisis," she says.
"Within a week, the drivers were working with The Food Bank Singapore and ItsRainingRaincoats to do the deliveries. We have made over 125,000 deliveries so far."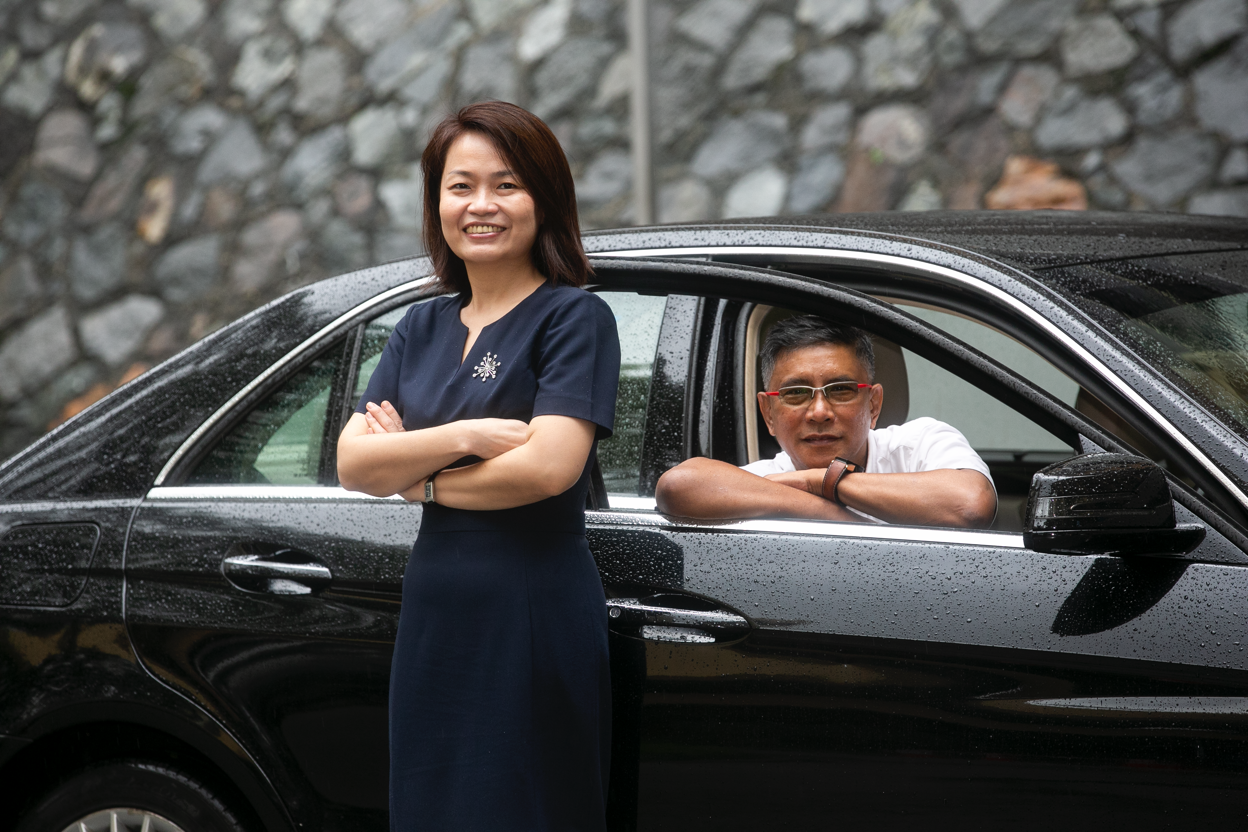 "I'm happy"
On a daily basis, Rahim delivers between 20 to 80 meals, climbing up and down stairs as he makes his rounds. Even when he is drenched in perspiration, he insists it is not difficult work. "I'm happy," he says.
Be it ferrying VIP clients or delivering meals to those in need, Rahim's deep sense of professionalism does not change.
"Being respectful is key, no matter who I am working with. The beneficiaries are also very kind to us."
- Rahim Bin Abu Bakar
"Sometimes they will pass me drinks. One old lady gave me many packets of tissue paper when I delivered food to her. The next trip I bought some mangoes for her. Many of them live alone and enjoy a quick conversation."
He laughs, "I'm now so familiar with my route and my beneficiaries, I do not need to refer to the list that The Food Bank Singapore gave me anymore!"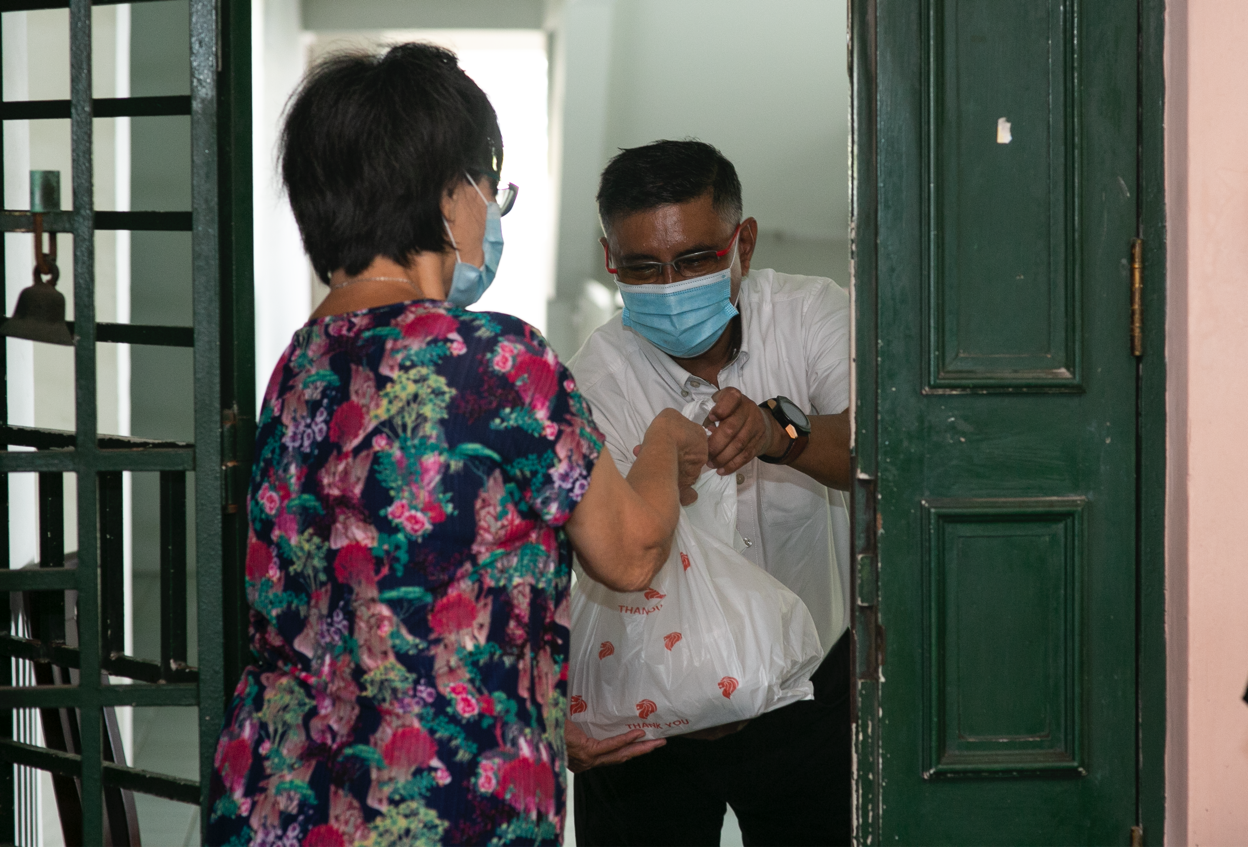 During Ramadan, Rahim adjusted his delivery plans so Muslim families could break fast on time – even though this meant his own fast had to be broken later.
He recounts his 80-year-old mother, who is active in grassroots activities, saying she is proud of him for keeping his chin up and helping those in need.
"Now I know why my mother is still so active in helping others. It really feels good. My eldest boy said he is proud of me too," Rahim says, his eyes crinkling.
When asked what he has learnt so far, Rahim says, "I learnt that Singaporeans are very kind."
"While I was delivering the food, I saw volunteers from many different organisations going around the block as well. It really surprised me. I've never seen this side to Singapore, and I'm proud to be one of them as well.
"I have to thank DBS for giving me work, and helping me to do something meaningful at the same time."
The DBS Stronger Together Fund is an SGD 10.5 million fund set up by DBS to help communities hard hit by Covid19 across the region. With this fund, DBS will provide about 4.5 million meals and care packs to those affected. DBS will also fund the procurement of diagnostic test kits, personal protective equipment and other medical supplies to help in the fight against Covid-19.
In Singapore, DBS partnered non-profit organisations The Food Bank Singapore and ItsRainingRaincoats to distribute up to 700,000 meals to the elderly, low-income and migrant worker communities. The bank also matched public and staff donations, dollar-for-dollar, up to SGD 1 million.
---