DBS opens Singapore's first net zero building by a bank, marking new milestone in nation's Green Plan 2030
Completion of DBS Newton Green moves bank closer to achieving operational net zero by end-2022
Singapore, 18 Jul 2022 - DBS today commemorated the official opening of its refurbished DBS Newton Green, Singapore's first net zero building
[1]
by a bank. This contributes to the national push to green 80% of Singapore's buildings (by Gross Floor Area) by 2030 under the Singapore Green Building Masterplan,
[2]
and is a significant milestone in the bank's journey towards achieving net zero operational carbon by the end of 2022.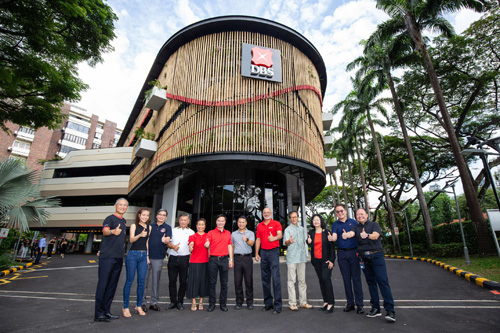 Image 1
Image 1
From Left to Right - Jeremy Soo, Head of Consumer Banking Group Singapore, DBS; Oh Chu Xian, Co-Founder of Magorium; Jimmy Ng, Group Chief Information Officer and Group Head of Technology & Operations, DBS; Sim S. Lim, Chairman of Building & Construction Authority; and Group Head of Consumer Banking & Wealth Management, DBS; Karen Ngui, Group Head of Strategic Marketing & Communications, DBS; Shee Tse Khoon, Singapore Chief Executive, DBS; Minister Desmond Lee, Minister for National Development and Minister-in-charge of Social Services Development; Piyush Gupta, CEO, DBS; Dr Shawn Lum, President of Nature Society (Singapore); Choong Yang Ping, Operations Chief Operating Officer, Group Technology & Operations, DBS; Kelvin Wong, CEO, Building & Construction Authority; Erwin Chong, Group Head of Corporate Real Estate, DBS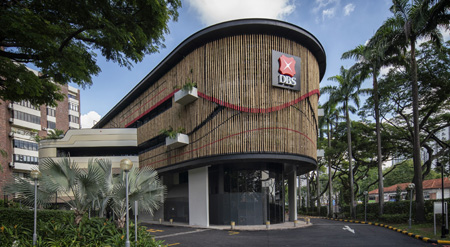 DBS Newton Green
By retrofitting the 30-year-old building located at 135 Bukit Timah Road, DBS extended the lifespan of the building and avoided squandering the embodied carbon
[3]
in the existing structure or generating additional embodied carbon with a new structure. According to the World Green Building Council, embodied carbon accounts for 11% of global carbon emissions
[4]
, and is estimated to constitute up to 40% of Singapore's carbon emissions due to shorter building lifespans as a result of urban renewal
[5]
.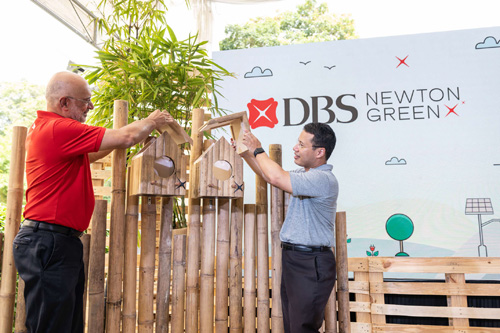 Image 2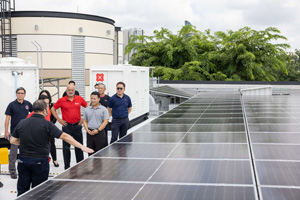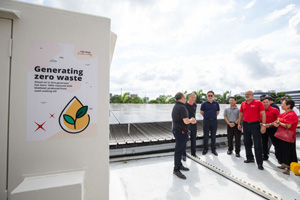 Image 3 & 4
Image 2
Minister Desmond Lee and Piyush Gupta place the finishing touches on birdhouses which will be installed in the building's biophilic façade to provide refuge for native birds.
Image 3 & 4
Over 100% of DBS Newton Green's energy needs are provided by over 1,000 square metres of solar panels deployed on the rooftop. Additionally, DBS partnered Singapore-based Alpha Biofuels to replace diesel oil in its backup generator with biodiesel produced from used cooking oil
Mr Desmond Lee, Minister for National Development and Minister-in-charge of Social Services Development opened DBS Newton Green today. He said, "We need to retrofit many more of our older buildings to improve their sustainability standards. This is more challenging than designing a new green building from scratch. The original development may not have been designed with sustainability in mind, making retrofitting more complex and potentially costly. I congratulate DBS and its partners on transforming this building into Singapore's first net zero building by a bank. Such teamwork between the private, public and people sectors is critical, as we strive to grow a more sustainable City in Nature."
Piyush Gupta, DBS CEO, said, "While the sustainability challenges before us are manifold, DBS has prioritised climate action due to the sheer urgency of the issue and how it interrelates with other environmental and social concerns. We have been empowering our clients to reduce their carbon footprint, to the tune of SGD 39.4 billion in sustainable financing transactions committed cumulatively, but it is equally important to lead by example and embed sustainability into our business practices and operations. Anchored by this belief, the choice to retrofit DBS Newton Green into a net zero building rather than to redevelop something from ground up was an easy and obvious one."
DBS began retrofitting works in the middle of 2021, investing over SGD 5 million in the process. A portion of the cost was covered by a grant awarded by Singapore's Building and Construction Authority (BCA) under the national Green Buildings Innovation Cluster (GBIC) Programme
[6]
to support the integration of green innovations throughout the development.
DBS Newton Green has been certified by BCA as a Green Mark Platinum Zero Energy development in further affirmation of the building's net zero credentials. It was also awarded the Singapore Good Design Mark 2022 for Sustainable Design by the Design Business Chamber of Singapore in recognition of the building's exceptional design quality.
Before retrofitting works began, the old building consumed about 845,000 kWh each year, equivalent to the annual energy consumption of about 200 four-room HDB homes in Singapore. To achieve net zero outcomes for DBS Newton Green, DBS deployed new technologies and creative design strategies to reduce energy consumption as much as possible while maximising the building's capacity to generate its own renewable energy. A summary of DBS Newton Green's net zero features can be found in Annex A.
Beyond net zero innovations, DBS Newton Green forged several partnerships to incorporate novel sustainability features into the building's design and operations:
DBS partnered Magorium, a social enterprise supported by the DBS Foundation, to use a sustainable material called 'NEWBitumen' to pave the driveways in the compound. NEWBitumen is made from recycled plastic waste and reprocessed asphalt waste and is an effective replacement to the bitumen derived from crude oil that is traditionally used to pave roads.
Over 50% of the building's perimeter façade is covered with living plants, which serves a dual purpose of lowering the internal building temperature by reducing urban heat gain and providing refuge for native butterfly and bird species. DBS selected the plants in collaboration with the Nature Society of Singapore to provide suitable refuge for native butterfly and bird species such as the magpie robin, bulbul and flowerpecker.
DBS partnered WhatIF Foods, another social enterprise supported by the DBS Foundation, to replace vending machines with a range of plant-based snacks made from crops grown through regenerative agricultural practices.
Staying true to its commitment to circular procurement practices, DBS will work with MTM Solutions, a local workplace furniture specialist, to salvage and refurbish workable office chairs disposed by other organisations instead of purchasing new ones for the offices and meeting rooms.
DBS partnered Singapore-based Alpha Biofuels to replace diesel oil in its backup generator with biodiesel produced from used cooking oil.
Gupta added, "We see DBS Newton Green as a beacon for what the office of tomorrow should be. It is a living testbed for innovative sustainable technologies which can be scaled up not only to the rest of our offices, but also other organisations looking to green their footprint. This we believe will contribute positively to Singapore's ambition to become a leading regional hub for developing sustainability solutions as a new engine for economic growth."
DBS Newton Green houses over 400 employees from various functions across the bank's Consumer Banking Group.
DBS Newton Green was designed in collaboration with architecture house KAIA Architects, mechanical and electrical engineering firm CCA & Partners, and sustainability consultancy GreenA Consultants – all homegrown firms actively involved in Singapore's net zero space.
[1]A net zero building refers to one that consumes only as much renewable energy as it can generate.
[2]The Singapore Green Building Masterplan is an action plan that sets out Singapore's sustainability ambitions for the Built Environment. It is part of the Singapore Green Plan 2030. More information is at https://go.gov.sg/sgbmp.
[3]'Embodied Carbon' refers to the carbon footprint of a building before it becomes operational and includes carbon dioxide emissions created in the manufacture of the building materials, the transportation of these materials, and the actual construction process.
[4]World Green Building Council, https://www.worldgbc.org/embodied-carbon
[5]Jan 2020 Interview with Lisa Bates, Chair of World Green Building Council, https://www.eco-business.com/news/tackling-embodied-carbon-is-the-next-step-of-the-green-building-journey/
[6]Administered by BCA, the GBIC Programme aims to accelerate the development and adoption of promising building energy efficient technologies and solutions in the Built Environment.
Annex A
Minimising Energy Consumption – by as much as 580,000 kWh annually
• 10% of the floor area that was previously air-conditioned has been converted to naturally ventilated spaces that do not need air-conditioning.
• Slatted façade made of bamboo shades the building while encouraging natural ventilation. As a natural material, bamboo has lower embodied carbon than steel or concrete.
• Intelligent occupancy-based lighting, air-conditioning systems to optimise energy consumption.
• Low energy appliances such as heat pump water heaters and energy-efficient fans coupled with reengineered plumbing reduced energy consumption in common areas such as lobbies, pantries, and social spaces down by 70%.
• Self-powered solar air-conditioning systems, exhaust fans and lampposts further reduce the need for energy.
Maximising Renewable Energy Production – to meet building's balance energy needs
• Over 1,000 square metres of solar panels deployed on the rooftop.
• Building design incorporates a new overhang to expand the amount of rooftop space available for solar panels. Cavity spaces in the overhang's structure allow for air handling units to be housed at the side of the building instead the rooftop, freeing up space for more solar panels.
• Bi-facial modules enables sunlight reflecting from the roof surface to be harvested.
• AI-enabled optimisers enhance the operating efficiency and performance of the solar panel array.
[END]
About DBS
DBS is a leading financial services group in Asia with a presence in 18 markets. Headquartered and listed in Singapore, DBS is in the three key Asian axes of growth: Greater China, Southeast Asia and South Asia. The bank's "AA-" and "Aa1" credit ratings are among the highest in the world.
Recognised for its global leadership, DBS has been named "
World's Best Bank
" by Euromoney, "
Global Bank of the Year
" by The Banker and "
Best Bank in the World
" by Global Finance. The bank is at the forefront of leveraging digital technology to shape the future of banking, having been named "
World's Best Digital Bank
" by Euromoney and the world's "
Most Innovative in Digital Banking
" by The Banker. In addition, DBS has been accorded the "
Safest Bank in Asia
" award by Global Finance for 13 consecutive years from 2009 to 2021.
DBS provides a full range of services in consumer, SME and corporate banking. As a bank born and bred in Asia, DBS understands the intricacies of doing business in the region's most dynamic markets. DBS is committed to building lasting relationships with customers, as it banks the Asian way. Through the DBS Foundation, the bank creates impact beyond banking by supporting social enterprises: businesses with a double bottom-line of profit and social and/or environmental impact. DBS Foundation also gives back to society in various ways, including equipping communities with future-ready skills and building food resilience.
With its extensive network of operations in Asia and emphasis on engaging and empowering its staff, DBS presents exciting career opportunities. For more information, please visit
www.dbs.com
.