DBS Foundation, with the government's matched funding, contributes SGD 1 million and staff volunteers to drive digital inclusivity in Singapore
Broad-based support will benefit some 100,000 Singaporeans through grants for digital inclusion projects as well as digital banking and payments workshops
Singapore, 04 Nov 2022 - The DBS Foundation, supported by the government's dolllar-for-dollar matching, today announced that it will contribute SGD 1 million to the national Digital for life (DfL) movement and step up its volunteer participation to drive digital literacy training, bolstering digital inclusion efforts in Singapore.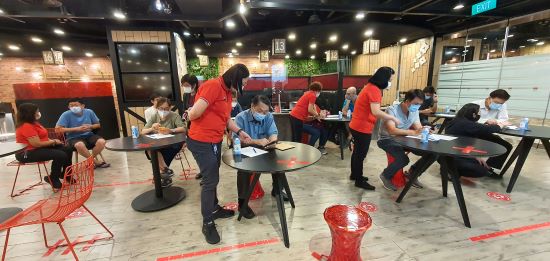 DBS will mobilise at least 2,500 of its staff volunteers at the workshops and partner IMDA to co-develop and refresh the digital literacy curriculum.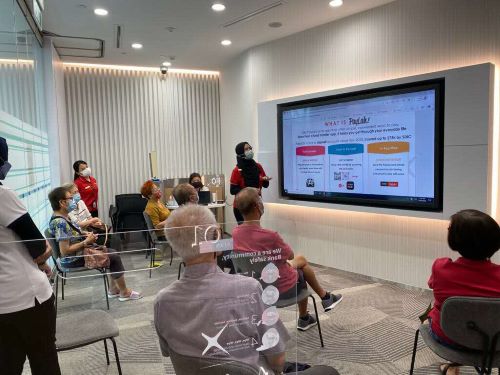 As part of its efforts to drive digital inclusivity, DBS, along with the support of community partners such as SG Digital Office, will run some 800 digital literacy workshops.
The effort aims to reach out to some 100,000 Singaporeans over the next two years and help them to embrace digital learning in order to bolster digital readiness within the community. These beneficiaries include senior citizens, youths, hawkers and special needs individuals. DBS Foundation, with the Infocomm Media Development Authority (IMDA), seeks to catalyse the growth of the DfL movement by providing multi-pronged support that includes:
Contributing SGD1 million, inclusive of the government's dollar-for-dollar matching, to the DfL Fund, which provides grants to individuals and non-profit organisations to drive digital inclusion projects and activities within the community. The bank will contribute ideas or problem statements for fund applicants to consider addressing in their projects.
Mobilising at least 2,500 of the bank's employees, with the support of community partners such as the SG Digital Office, to run some 800 workshops that will help participants make sense of everything from digital banking and payments, to how to spot and avoid scams. Some of these sessions will be held in select DBS/POSB branches to make it convenient for those who are more familiar with over-the-counter services to pick up digital skills.
Partnering the IMDA to co-develop and refresh the digital literacy curriculum to tailor to the needs of segments such as seniors, youths and special needs individuals.
Unlocking new communication channels and partner platforms to accelerate digital adoption among the population.
While Singapore takes the top spot in digital inclusiveness
[1]
, gaps still exist among different age and income groups, as well as persons with disabilities, especially in the areas of digital skills and the usage of technology
[2]
. This digital divide further deepens inequalities that already exist within communities, making it harder for impacted individuals to catch up.
As digital technologies continue to evolve and proliferate, it is now more critical than ever to foster a more equitable and inclusive society, in which no one is left behind. That is why the DBS Foundation's Community Impact Chapter, which was set up earlier this year, is doubling down on efforts to equip communities with future-ready skills and opportunities they need to thrive and grow.
Monica Datta, Head of the Community Impact Chapter, DBS Foundation, said: "Preparing communities for the future is a key priority for our foundation's Community Impact Chapter. As we navigate today's rapidly digitalising world, it is imperative that we bring the less digitally-savvy along with us by providing them with the necessary skills and guidance, and empowering them to stay ahead of change too. We are therefore excited to support the DfL movement, which shares the same vision, and hope this partnership will pave the way for more to join us in driving collective change and being more impactful together."
A key challenge to digital adoption also lies in the uncertainty and lack of confidence in using such tools. According to an IMDA survey, slightly more than half of the residents above 60 years old are internet users
[3]
. While one in four seniors are interested in digital banking, many resist going digital because they require assurance (42%) on the security and reliability (33%) of digital banking transactions
[4]
.
Shee Tse Koon, DBS Singapore Country Head, said: "Being able to access digital tools isn't enough on its own – more importantly, people need to have the confidence to be able to use these tools to effectively communicate with their loved ones and friends, manage information, and stay safe online. Those who are less comfortable with digital services should not be forgotten but instead, be given all the support they need to help them overcome the barriers to using technology. Through this holistic digital literacy programme, which combines DBS' resources with whole-of-community efforts, we hope to motivate more people to come along with us on this journey towards becoming a more digitally inclusive society."
This collaboration further builds on DBS' expertise and ongoing efforts in driving digital and financial literacy, which have successfully helped more of its customers to embrace digital habits over the years. DBS observed a 51% drop in branch visits among participants of its digital workshops that were conducted in its branches in the heartlands between February and April this year. Correspondingly, DBS digibank transactions performed by this same group of participants increased by 10%.
Gwenda Fong, Assistant Chief Executive, Strategic Planning and Digital Readiness, IMDA, said: "Digital technologies have become a bigger part of all our lives, and it is important that Singaporeans are equipped and have the confidence to use digital services. We are therefore appreciative of DBS' contribution for the Digital for Life national movement, in particular their support for 100,000 Singaporeans over the next two years, staff volunteerism and sharing of digital literacy content. We are excited to engage more Singaporeans, in close partnership with volunteers from the SG Digital Office and DBS, to empower them with digital tools and skills to enrich their lives."
[1]
https://www.rolandberger.com/publications/publication_pdf/roland_berger_sea_digital_inclusion.pdf
[2]
https://ctic.nus.edu.sg/resources/CTIC-WP-02(2021).pdf
[3]
https://www.imda.gov.sg/-/media/Imda/Files/Infocomm-Media-Landscape/Research-and-Statistics/Survey-Report/2019-HH-Public-Report_09032020.pdf
[4]
https://www.visa.com.sg/about-visa/newsroom/press-releases/digital-payments-and-online-shopping-on-the-rise-among-seniors-in-singapore-visa-study.html
[END]
About DBS
DBS is a leading financial services group in Asia with a presence in 18 markets. Headquartered and listed in Singapore, DBS is in the three key Asian axes of growth: Greater China, Southeast Asia and South Asia. The bank's "AA-" and "Aa1" credit ratings are among the highest in the world.
Recognised for its global leadership, DBS has been named "
World's Best Bank
" by Global Finance, "
World's Best Bank
" by Euromoney and "
Global Bank of the Year
" by The Banker. The bank is at the forefront of leveraging digital technology to shape the future of banking, having been named "
World's Best Digital Bank
" by Euromoney and the world's "
Most Innovative in Digital Banking
" by The Banker. In addition, DBS has been accorded the "
Safest Bank in Asia
" award by Global Finance for 14 consecutive years from 2009 to 2022.
DBS provides a full range of services in consumer, SME and corporate banking. As a bank born and bred in Asia, DBS understands the intricacies of doing business in the region's most dynamic markets. DBS is committed to building lasting relationships with customers, as it banks the Asian way. Through the DBS Foundation, the bank creates impact beyond banking by supporting social enterprises: businesses with a double bottom-line of profit and social and/or environmental impact. DBS Foundation also gives back to society in various ways, including equipping communities with future-ready skills and building food resilience.
With its extensive network of operations in Asia and emphasis on engaging and empowering its staff, DBS presents exciting career opportunities. For more information, please visit
www.dbs.com
.
About DBS Foundation
DBS Foundation is focused on creating impact and improving lives through championing social entrepreneurship and preparing communities for the future.
The existing "Business for Impact" chapter was established when DBS Foundation commenced operations in 2014, and focuses on championing businesses and social enterprises with a dual bottom line.
In 2022, the DBS Foundation expanded the scope and scale of its operations with the formation of the new "Community Impact" chapter. The new chapter looks to supporting communities by equipping them with essential skills for a better future, specifically financial and digital literacy skills. It also aims to tackle climate change with a focus on food waste reduction.
For more information, please visit:
www.dbs.com/dbsfoundation
.