DBS Foundation and IMDA kick off digital literacy partnership with 12 workshops island-wide, benefitting some 250 seniors
This marks the first in a series of some 800 workshops to be held over two years, aimed at helping some 100,000 Singaporeans and residents to embrace digital learning
Singapore, 14 Jan 2023 - Some 250 seniors took part in digital literacy workshops held across 12 locations island-wide today, as the DBS Foundation and the Infocomm Development Authority of Singapore (IMDA) kicked off their joint efforts to drive digital inclusivity in the community.
During the hour-long workshops, participating seniors received one-on-one guidance on core digital banking topics such as how to make cashless payments and spot potential scams. With Lunar New Year festivities just round the corner, seniors were also introduced to alternative gifting methods such as DBS QR Gift cards (QR AngBaos).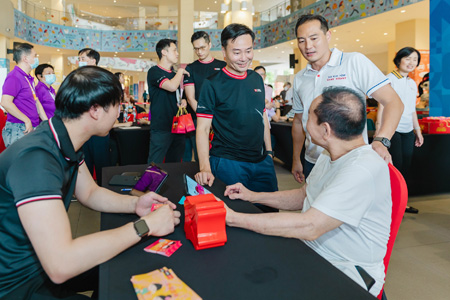 Senior Minister of State Tan Kiat How and Shee Tse Koon, Singapore Country Head at DBS Bank, speaking to workshop participants at Heartbeat@Bedok to understand their digital learning journey and challenges faced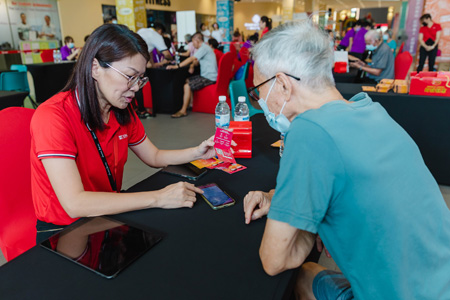 With the Lunar New Year just round the corner, a DBS volunteer shows a participating senior how he can gift more sustainably with QR Gift cards (QR Angbaos)
Facilitated by volunteers from DBS and SG Digital Office (SDO), today's series of workshops are the first of some 800 digital literacy workshops to be held over the next two years to drive digital inclusivity in Singapore, where gaps still exist among different age and income groups, as well as special needs individuals. These workshops are part of DBS Foundation's broad-based support for the national Digital for Life (DfL) movement – announced last November, the
strategic collaboration between DBS Foundation and IMDA
also includes a SGD1 million donation, inclusive of dollar-for-dollar government matching, to the DfL Fund to support digital inclusion projects, co-developing the digital literacy curriculum, and unlocking new communication channels and partner platforms to boost digital awareness and adoption.
The joint effort aims to reach out to some 100,000 Singaporeans and residents by end 2024, and help them to embrace digital learning. These beneficiaries include senior citizens, youths, hawkers, and special needs individuals.
Monica Datta, Head of the Community Impact Chapter, DBS Foundation, said: "At DBS Foundation, we're committed to paving the way for a more equitable society where the underserved are well-equipped to face the future with confidence and resilience. This includes being armed with the necessary digital know-how and skills, especially as technology continues to evolve and pervade more aspects of our daily lives. By working with like-minded partners such as IMDA, we hope to create a digitally inclusive Singapore where no one is left behind. We're encouraged by the robust turnout for today's community outreach event, and look forward to reaching out to more beneficiaries moving forward."
Tan Kiat How, Senior Minister of State (SMS) for Communications and Information and National Development, joined executives from DBS and IMDA at one of the workshops held at HeartBeat@Bedok earlier today, where they spoke with participating seniors to understand their digital learning journey and challenges faced. To spread the festive cheer ahead of the Lunar New Year, they also helped volunteers to distribute DBS/POSB red packets, QR AngBaos, and oranges to the participants. SMS Tan also toured the POSB Bedok Central branch, where he was briefed on the bank's self-service banking options such as its Video Teller Machines, which provide 24/7 banking services that customers can perform instantly and conveniently.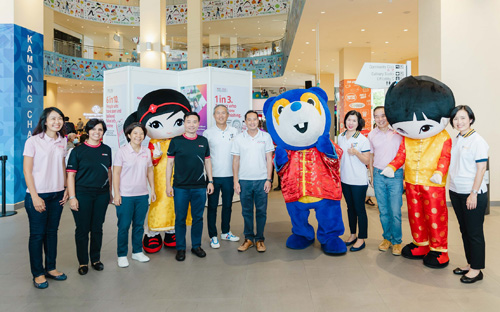 Senior Minister of State for Communications and Information and National Development Tan Kiat How, DBS and IMDA executives, and DBS mascots Xing and Jaan pose for a photo to commemorate the official kick-off of a strategic collaboration between DBS and IMDA to drive digital inclusivity in Singapore. Today's community outreach event marks the start of some 800 digital literacy workshops, to be held over two years.
Douglas Goh, Director, SG Digital Office and Digital for Life Secretariat said, "The DfL national movement aims to galvanise the community to help Singaporeans from all walks of life to embrace digital learning. This collaboration is a good testimony on how our DfL partners can Play it Forward to support Singaporeans with digital literacy and help them keep pace with the development of digital technology. We encourage more companies to step forward to support the movement to have the abled support the less abled in our community."
This partnership is the latest in a series of initiatives by DBS to bolster digital readiness in Singapore, underscoring the importance of private-public collaboration to support the community's needs. For instance, the bank launched the DBS Adopt-A-Hawker Centre initiative in 2021 with the aim of safeguarding hawkers' livelihoods amid the pandemic. The bank rallied community partners including IMDA and various grassroot leaders to help sustain these businesses by organising group buys; boosting discoverability via social media and other platforms including DBS PayLah!; and equipping hawkers with the tools and know-how to digitalise their business. To date, stallholders from ten hawker centres island-wide have benefited from this initiative.
For more information on the digital literacy workshops and other related community initiatives by DBS Foundation, please visit:
Digital for Life | DBS Foundation


[END]

About DBS
DBS is a leading financial services group in Asia with a presence in 19 markets. Headquartered and listed in Singapore, DBS is in the three key Asian axes of growth: Greater China, Southeast Asia and South Asia. The bank's "AA-" and "Aa1" credit ratings are among the highest in the world.
Recognised for its global leadership, DBS has been named "
World's Best Bank
" by Global Finance, "
World's Best Bank
" by Euromoney and "
Global Bank of the Year
" by The Banker. The bank is at the forefront of leveraging digital technology to shape the future of banking, having been named "
World's Best Digital Bank
" by Euromoney and the world's "
Most Innovative in Digital Banking
" by The Banker. In addition, DBS has been accorded the "
Safest Bank in Asia
" award by Global Finance for 14 consecutive years from 2009 to 2022.
DBS provides a full range of services in consumer, SME and corporate banking. As a bank born and bred in Asia, DBS understands the intricacies of doing business in the region's most dynamic markets.
DBS is committed to building lasting relationships with customers, as it banks the Asian way. Through the DBS Foundation, the bank creates impact beyond banking by supporting social enterprises: businesses with a double bottom-line of profit and social and/or environmental impact. DBS Foundation also gives back to society in various ways, including equipping communities with future-ready skills and building food resilience.
With its extensive network of operations in Asia and emphasis on engaging and empowering its staff, DBS presents exciting career opportunities. For more information, please visit
www.dbs.com
.