DBS Bank (Hong Kong) Limited and Shenzhen Rural Commercial Bank Alliance unlocks Wealth Management Connect Southbound opportunity for GBA investors | 繁體
Singapore, Hong Kong
.

10 May 2022
DBS Bank (Hong Kong) Limited is the only bank with three WMC Southbound service partnering banks
Singapore, Hong Kong, 10 May 2022 - DBS Bank (Hong Kong) Limited (DBS Bank (Hong Kong)) and Shenzhen Rural Commercial Bank Corporation Limited (SRCB) today announced a strategic partnership to provide qualified Greater Bay Area (GBA) mainland investors with Wealth Management Connect (WMC) Southbound services.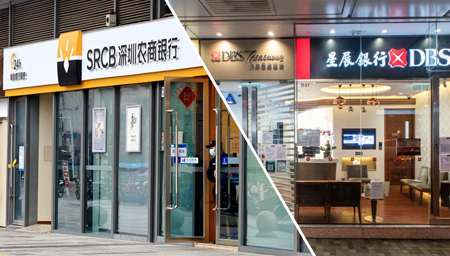 DBS Bank (Hong Kong) Limited and Shenzhen Rural Commercial Bank Alliance
The combined expertise of the two banks will help customers achieve financial well-being with access to customised diversified investment products, services and digital banking capabilities.
Southbound customers banking with DBS Bank (Hong Kong) will be able to benefit from digital account opening services anytime, anywhere. This means that upon submitting their Southbound account application form via the DBS digibank HK app, customers can tap into the benefits of the WMC Southbound services once their accounts are verified.
As SRCB's largest shareholder, DBS has been leveraging its vast Asian network and deep wealth management expertise to enhance SRCB's service capability in its wealth management business. Meanwhile, DBS Bank (Hong Kong) will accelerate its strategic expansion into the GBA via SRCB's extensive local network and insights. This close collaboration will deepen their relationship and mutually support their ambitions in the region.
DBS Bank (Hong Kong) has established a unique WMC offering as the only bank with three Southbound partners under the WMC scheme. Since the scheme's launch last October, over 80% of the bank's WMC Southbound service clients are completely new customers to DBS Bank (Hong Kong). The strength of DBS' WMC services has resulted in the bank's average total amount invested per WMC customer reaching over RMB 130,000, more than eight times higher than the RMB 16,365 market average
[1]
.
Sebastian Paredes, Chief Executive Officer of DBS Bank (Hong Kong) Limited said, "Adding SRCB as our newest WMC Southbound partner in 2022 is a major milestone in the journey of both banks in forging new opportunities for GBA investors. This has strengthened our 'WMC multiple-partnership strategy' to provide individual investors across the GBA with exceptional and more varied international wealth management services. We will continue our strategy to pursue partnership opportunities that can enhance our reach and ability to meet the growing financial needs of our GBA customers."
Jie Yuan, President of Shenzhen Rural Commercial Bank Corporation Limited, said, "Since DBS became our strategic investor last year, we have embarked on deeper collaboration to elevate customer experiences by introducing advanced management technology services. These moves advance our 'retail + technology + ecosystem' strategy and improve our ability to serve individual investors' needs in the GBA. To harness the opportunities the WMC scheme provides, we will work closely with DBS Bank (Hong Kong) to bring more diverse and international investment products and digital banking services to customers in the GBA."
[1] Source: People's Bank of China Guangzhou Branch; as of 31 March 2022
[END]
About DBS
DBS is a leading financial services group in Asia with a presence in 18 markets. Headquartered and listed in Singapore, DBS is in the three key Asian axes of growth: Greater China, Southeast Asia and South Asia. The bank's "AA-" and "Aa1" credit ratings are among the highest in the world.
Recognised for its global leadership, DBS has been named "
World's Best Bank
" by Euromoney, "
Global Bank of the Year
" by The Banker and "
Best Bank in the World
" by Global Finance. The bank is at the forefront of leveraging digital technology to shape the future of banking, having been named "
World's Best Digital Bank
" by Euromoney and the world's "
Most Innovative in Digital Banking
" by The Banker. In addition, DBS has been accorded the "
Safest Bank in Asia
" award by Global Finance for 13 consecutive years from 2009 to 2021.
DBS provides a full range of services in consumer, SME and corporate banking. As a bank born and bred in Asia, DBS understands the intricacies of doing business in the region's most dynamic markets. DBS is committed to building lasting relationships with customers, and positively impacting communities through supporting social enterprises, as it banks the Asian way. It has also established a SGD 50 million foundation to strengthen its corporate social responsibility efforts in Singapore and across Asia.
With its extensive network of operations in Asia and emphasis on engaging and empowering its staff, DBS presents exciting career opportunities. For more information, please visit
www.dbs.com
.
About Shenzhen Rural Commercial Bank Corporation Limited
Established in December 2005, Shenzhen Rural Commercial Bank (SRCB) is the first joint-stock rural commercial banks that was converted from a rural credit cooperative in a first-tier city. With historical roots in Shenzhen that go back 70 years, SRCB is a historical local bank in the city. Strategically positioned as a "community retail bank", SRCB's mission is to help residents in the community thrive and flourish in their lives by providing exceptional retail banking experiences. SRCB's comprehensive governance system, tight risk controls and unique characteristics have enhanced SRCB's reputation in the industry and strengthened its competitiveness. Through a wide range of high-quality financial services, SRCB continually creates value for its 10 million individual customers and 280,000 SME customers in the GBA.
As of 31 December 2021, SRCB's presence includes two branches and 27 first-level sub-branches in Shenzhen, with an additional 211 business outlets, which leads the industry in terms of total outlets. SRCB is flourishing with its eight subsidiaries. As of 31 December 2021, the total assets of SRCB Group reached over RMB 586 billion, of which the parent bank's asset scale totaled over RMB 506.4 billion; deposit balance was close to RMB 430 billion; the loan balance was close to RMB 250 billion and the non-performing loan ratio was 0.84%. SRCB was named within the "Top 1000 World Banks" ranked by "The Banker" magazine in 2021, ranking 264, and its return on equity ("ROE") has been maintained at a high level in the industry for consecutive years.
Please visit
https://www.4001961200.com/
for more information.