Soon, going to work might mean heading to a nearby satellite office or co-working space instead of the office building in the central business district. A typical workday might include taking a work call on the go while picking up the children from school or running an errand; or it might include shifting work hours around to accommodate family commitments.
When the Covid-19 pandemic hit, it irrevocably changed the way we work. In many instances, it accelerated various future of work trends, such as distributed work and increased flexibility.
The newly-launched Future Tense by DBS podcast explored many of these issues in its first three episodes, featuring guests from Microsoft Singapore and JLL. We distil the discussion into seven trends you can expect to see in the future workplace.
Where we work
1. Remote work is here to stay, in some form or other
Not surprisingly, we can expect a lot more distributed work in the future. Work from home has shown to be effective in many companies, with some like Twitter already allowing employees to work from home permanently. Others have shared plans for some form of hybrid work.
DBS Bank, for instance, recently announced that all employees will be given the flexibility to work remotely up to 40% of the time.
The bank's Future of Work Taskforce found that over four in five of the bank's 29,000-strong workforce are able to work seamlessly remotely. However, close to 3,000 employees in Singapore indicated that while they are productive, staying connected with colleagues was challenging. As such, they would prefer hybrid work arrangements over a pure "remote work" or "work in office" approach.
2. Still, the office isn't going away
While remote work becomes part of the norm, the big office is not necessarily going to vanish. It continues to play a key role in building social capital, connection and collaborative work, says Ben Hamley, JLL's Asia-Pacific Lead for the Future of Work.
We might see a more distributed network of office locations to meet the needs of a distributed talent pool. We might see more flexible workspaces in every country, with the same workplace experience and design that was once part of company headquarters.
For example, DBS has announced plans to reconfigure its workspaces to enable greater collaboration and ideation. The bank will also be launching a 5,000-square foot Living Lab that aims to blend the best of physical and virtual workspace configurations. This was after over 80% of employees across key markets indicated they prefer to have more open collaboration spaces to facilitate informal discussions and cross-team ideation, which they found difficult to do remotely.
Here's a look at the DBS Digital Basecamp at Changi Business Park, where the DBS design team is located.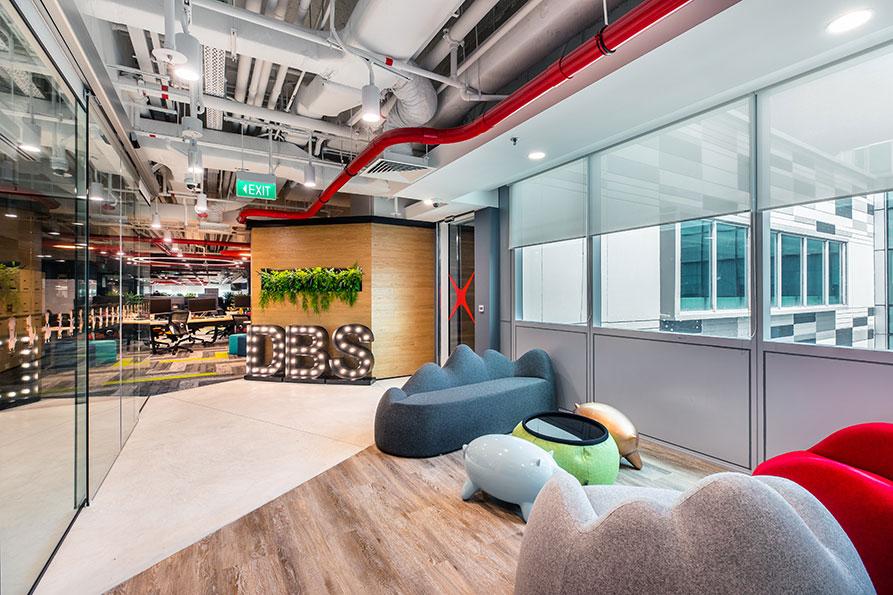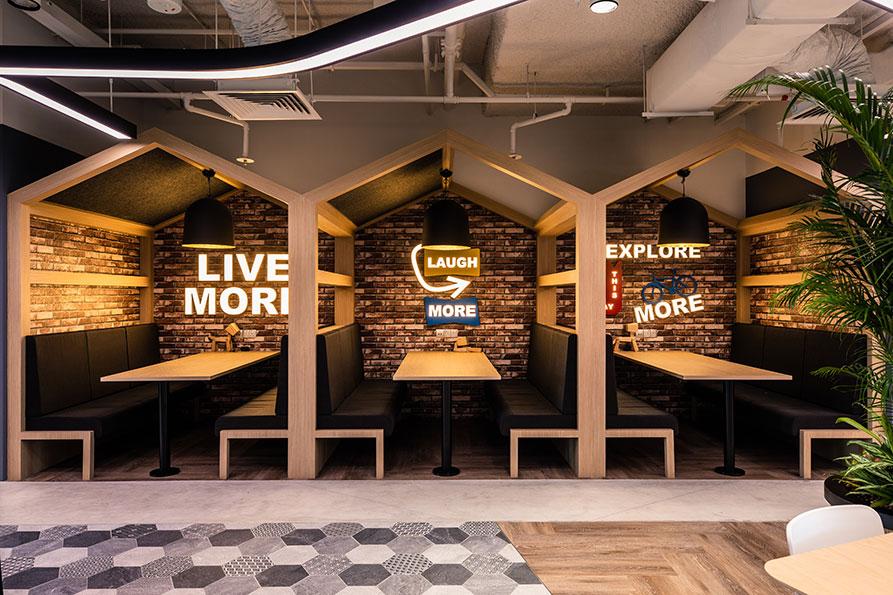 How we work
3. Workplaces to become more flexible
The fact of the matter is work and life have become increasingly intertwined. There needs to be an evolution in how we approach the traditional contract between employee and company and "we need new ways of managing and setting up our companies", says Ben.
He talks about the rise of a "conscious workplace" with greater understanding of "what it really means to have true work life integration and being able to cater for a variety of different work preferences".
Borko Kovacevic, CMO and COO at Microsoft Singapore points out, "At least in Microsoft for a number of years now – there is no notion of from 9am to 5pm, you're 100% dedicated to your work. People spend some of their time booking their tickets for a family vacation or picking up a call from the plumber ... But they also stay sometimes late at night. Sometimes they need to pick up a call during weekend…
"And that's one of the fundamental shifts that Microsoft was advocating. And that's how our company looks at our employees."
We've also seen how in DBS, to better support employees who need more flexible work arrangements, the bank will be implementing a formal job-sharing scheme where two employees can share the responsibilities of one full-time role.
Employees on this scheme will retain all existing medical benefits in full and continue to be covered under the bank's insurance plans. At the same time, the bank will also introduce more part-time work arrangements.
4. Workplaces to become more diverse and innovative
With the rise in remote work, there is now greater opportunity to tap on global talent. This in turn, creates greater potential for innovation and for more voices to be heard in the workplace.
Lynn Dang, HR Lead at Microsoft Singapore, says, "There's this idea now that when we move into the future of work, one, by tapping into more skills in the workplace, we can build more diverse workplaces and two, be able to include more voices to ensure that more voices are heard so that you're not having a dominant voice.
"And so I'm very optimistic about the future of work in the sense that we need to ensure that we're creating diverse work places but also this inclusive environment that we may not have seen in the past in the tech industry and certainly something we work at, at Microsoft too."
5. Richer integration of hybrid offline-online experiences
Technology will be leveraged to enhance human connection while employees are working in a distributed manner.
With volumetric videos, for instance, you could, over the next few years, have the 3D image of someone in another location interacting with you "completely normally, where you can see the gesture, where you can experience the emotions on their face, and that will bring that human connection closer," says Borko.
He notes that Microsoft is also coming up with different kinds of technology like its Surface Hub, which allows people in one room to co-create with others in various locations. "What we're been trying to do is effectively allow that collaboration to happen remotely in an almost seamless and effective way as you would do it in a room."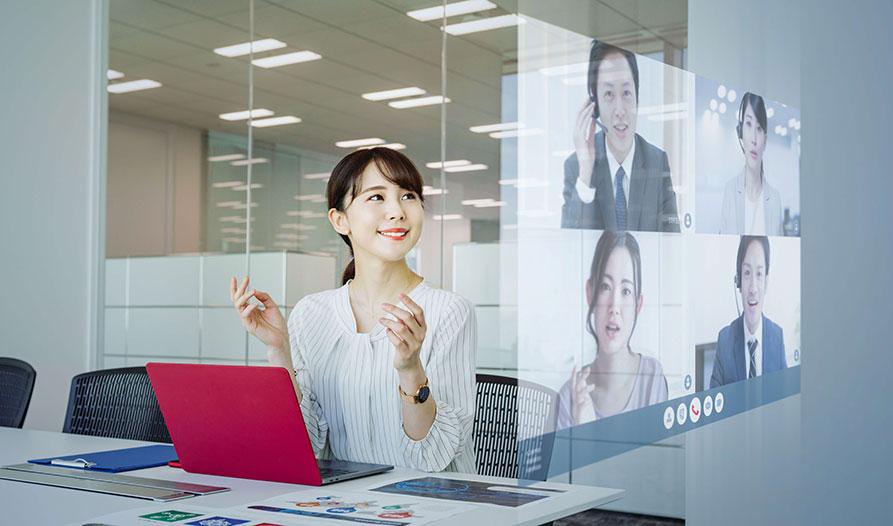 6. Employee well-being will take greater priority
With the pandemic, companies have started placing greater emphasis on employees' overall wellbeing.
"What we're seeing is a lot more focus on the questions of sustainability, wellness and technology."
He says, "We've already seen a huge surge in new value propositions around health and well-being. Cleaning rosters have been increased in a variety of different companies that we provide services for."
Companies could start equipping people with their own miniature facilities management kit, miniature cleaning kit, for instance, so they can keep their workspace hygienic.
Beyond physical well-being, mental well-being will also take greater precedence.
At Microsoft, work from home during the pandemic brought about greater productivity but also greater burn out, notes Lynn.
This, however, created the opportunity for the tech company to broach the topic of mental health with its employees – particularly in Asia, where the topic has been taboo.
Companies are putting much more effort into mental and emotional well-being, and "making sure that people really find that sense of purpose when they're at work", says Borko. This way, employees have an emotional attachment to and motivation for their work.
As he puts it, companies need to become places of well-being for employees. Work can no longer just be a place "where you go to get stressed, then you burnout".
Why we work
7. Purpose will take greater importance
Beyond a sense of purpose on the individual level, "there's a huge mandate to change the whole social purpose of companies," says Ben. "Companies with strong social purpose will be the companies that ultimately are able to shape the future of economic policy, may be able to influence the directions that industries take."
Even before covid, a 2019 CEO roundtable in the US released a white paper on the evolution of the purpose of a corporation. The broad assumption of shareholder primacy hasn't really worked for a lot of people, he says.
"If a company is really sophisticated, they're going to have in place systems for facilitating those strategic conversations with their teams so that they can build the necessary trust and social capital to bring people back to work in a way that suits them, but also suits the company," he adds.
For the full discussions, listen to the podcast here. Subscribe now to keep up to date with all episodes of Future Tense by DBS.
Join us for tips to make your daily life more convenient, especially in ways that contribute to a more sustainable future!