Ask any local foodie what their idea of paradise looks like, and chances are, they'll mention the Japanese food scene, wearing an unfocused, blissed-out expression normally associated with newlyweds or new parents.
Singaporeans' love affair with Japanese food is one of those rare passions that seems incapable of dying out: deeper than our obsession with Michelin rankings, and more enduring than any passing fad (just think of mentaiko, matcha, and Hokkaido milk anything). With the growth of the middle class, and Singaporeans becoming increasingly sophisticated—and experimental—in their tastes, it was only natural that this should spread from restaurants to the hearth, with locals looking to recreate their favourite dishes in the comfort of their own kitchens.
As a result, specialty Japanese grocers have been making their presence felt around the island. From the 'first wave' of supermarkets like Meidi-Ya (the grand old dame of Liang Court) and Isetan Scotts, the rapid expansion of Don Don Donki, to smaller outfits in neighbourhood malls like Isuramuya or Fish Mart Sakuraya, many of us will have wandered into a Japanese grocer at some point, whether to pick up a tray of sashimi or just gaze at all the beautiful food.
And with the e-commerce boom, it was only a matter of time before such suppliers took their business online.
Enter Amanda Tan, who left a corporate career in F&B Public Relations five years ago to start Zairyo ("ingredients"), a Japanese gourmet online grocer. The business, which she runs with her husband, brings in seasonal produce sourced directly from Japanese markets, with fresh imports coming in four times a week. They aim to provide home cooks with premium, restaurant-quality ingredients at low cost.
We had a chat with Amanda, a self-described uni (sea urchin) queen, about the joys of Japanese food and the challenges behind the glamour of the #girlboss label. Itadakimasu.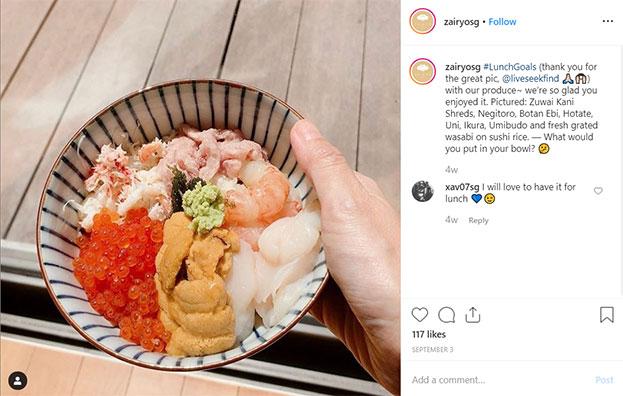 RICE: You worked in F&B PR for a number of years before starting Zairyo. What motivated you to make the switch and strike it out on your own?
Amanda: My family's business has always been in Japanese food supplying, so when my colleagues, media friends and clients got to know this, they'd sometimes ask me to help them get something they couldn't find at their neighbourhood markets, such as quality uni (sea urchin), and I'd help them get some through my sources in Japan. My partner, who is also my husband, then told me to start something online so foodies like them could have access to the same restaurant-quality ingredients without crazy prices.
And because of my time in F&B PR, I had gained a lot of knowledge and experience with certain ingredients through my work with chefs. So I knew what they were looking for, what difficulties they have with the local suppliers, etc. It also helped us to spot 'it' ingredients and market them at the right time.
That's pretty cool. How have Singaporeans' demands/tastes in Japanese food evolved over the last few years, based on what you've observed?
They definitely are more exposed to more Japanese ingredients, mostly from how well-travelled and -eaten they are now. And as a Singaporean, I think we're pretty open to different flavours and cuisines— adventurous even—as a nation compared to others. But I think there's definitely an increase in people who are mindful of their health in recent years. I think people have been looking more into Japanese health food lately, as the ageing Japanese live long and healthy lives.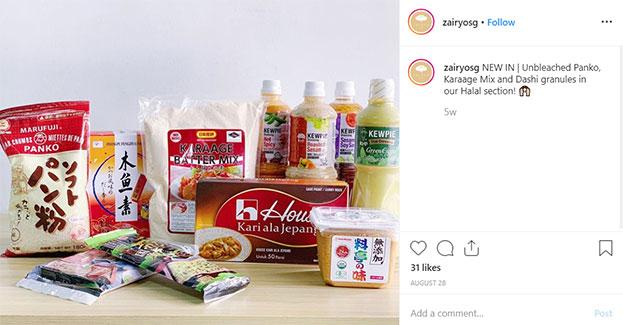 Did you hold any misconceptions about what it'd be like to start a business before you took the plunge? If so, could you tell me more about this?
I think anyone without prior experience in business would think it's going to be glamorous and empowering, like what you see on Instagram, dramas and movies. I know I did. #Girlboss is great, but you're hardly a boss if you're in an SME with an employee count of 1 when you've just begun. The truth is you're slogging and you're going to have to do everything on your own.
There's this common saying between working folks about people who run their own businesses, "at least it's your own", whenever we talk about time and salary. What they don't really see is that you probably don't get a salary for the first few months, or even the first few years, and you don't ever rest (because it is your own). What I'm really saying is—people who start their own business don't always see money that quickly, even if it's their own. Whatever sale they make isn't entirely theirs. It's unlike salary, which is 100% yours.
That's definitely tough. How do you handle work-life balance as an entrepreneur?
I switch off when I have to. Switching off and simply breathing is a good tiny break. I emphasise the need for work-life balance at work so we implemented a Zairyo Wellness Program for our team (so there is a budget for them to claim their massages, staycays, holidays, courses or any upkeeping expenses).
What are some of the biggest challenges you've faced so far? How do you stay motivated in spite of them?
I don't think there's been a challenge that was too big to handle in the past 5 years. There are some problems with produce which happen every summer (it's too hot in Japan), but we've managed to rise above them and handle it well.
Personally, the biggest challenge was to break away from the "family business" and to prove my worth on my own.
Whenever I'm faced with a challenge, I find it most effective to just break away for a while and really focus. I'm very emotional, so it would be difficult to make judgements without any, but I try by switching off all distractions to really focus on anything I have to solve. It helps, I think.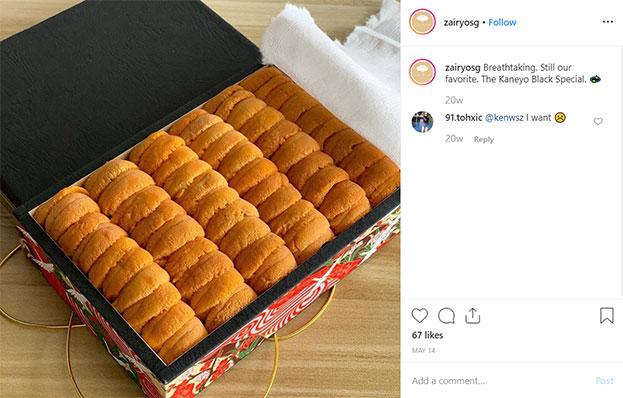 What do you enjoy most about your job? Were there any milestones you didn't expect to achieve?
I find it most enjoyable when customers share their creations with us. They sometimes even share tips about dishes or handling an ingredient, which we could then pass on to other customers; it's this feeling of a community which we've created over the years that I appreciate and enjoy.
The jump in sales every other year was a milestone I hadn't expected to achieve. I'm not a numbers type of person, so I keep going at my job without looking at them!
That said, we've been using DBS as our main bank since day one. They also introduced us to Xero, our current accounting software, which really helped to streamline a lot of our processes. Their tools for SMEs are also very useful, such as DBS Max.
The e-commerce sphere is such a volatile and competitive one. What do you think distinguishes Zairyo from its competitors, and where do you hope to take the business next?
Other than the variety of items (some of which you can only find at Zairyo), I think that Zairyo is very 'human' compared to our competitors. It's made for foodies by foodies, and we're happy to connect with our customers to share and exchange pointers (such as customers who just want to know more about healthier carb options, etc).
We come from a place where we're ethical buyers for our shoppers—because if we won't feed it to our family, we won't feed it to yours.
This interview was lightly edited and condensed for clarity.
This is the third in a 5-part series on a new generation of entrepreneurs who have seized opportunities with the roads less travelled, and are living their best lives.
This story was first seen on RICE.