DBS and Xero launch new service for SMEs to instantly link their DBS bank accounts with Xero's cloud accounting platform
API-driven banking integration enables SMEs to get up-to-date view of their financial data, without manual data entry and reconciliation of banking transactions
Singapore, 01 Aug 2017 - DBS, Asia's leading SME bank
[1]
, and Xero, a leading global cloud accounting platform, have today launched an API-driven bank feed integration that will transform how mutual customers in Singapore manage their finances.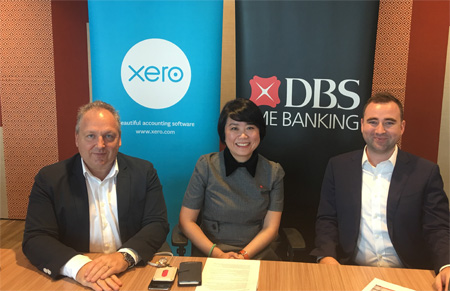 This landmark collaboration allows small businesses to instantly connect their DBS business banking accounts to Xero so that their transaction data can flow securely and automatically into Xero each day. The business owner will get a reliable, up-to-date view of their financial position in Xero, empowering them to make more informed business and investment decisions, without the hassle and costly mistakes caused by outdated cash flow balances and human error.
The online integration is the first-of-its-kind in the region, as existing direct bank feed arrangements require SMEs to apply for the account integration via paper forms, and can take about 10 days to set up.
A recent survey of 150 non-Xero SMEs in Singapore by Xero found that:
· Singapore's small business owners spend an average of 15.5 hours a month manually importing and reconciling their bank statements.
· Of these, almost a third (30%) spend between 20 and 40 hours a month manually reconciling.
· Over two thirds of small businesses (67%) cited manual bank statement reconciliation as a key challenge in managing their operations.
· Of these, 17% cited this as the single biggest financial challenge facing their business.
This initiative eliminates the need for small businesses to undertake inconvenient and time-consuming activities such as manual data entry or importing bank transactions. The technology driving this integration allows small business customers who use DBS IDEAL, DBS's online business banking platform, to opt in to have their bank transactions imported automatically into their nominated Xero subscription every day.
Joyce Tee, DBS Group Head of SME Banking said, "We have made it a priority to reimagine banking, seamlessly interweave banking into a customer's everyday life by being part of their eco-system and to provide SMEs with business management tools to help them grow their business. By enabling SMEs to manage their finances in a much more efficient manner, we hope that they can better manage their business and make more informed decisions."
Ng Peng Khim, Head of Institutional Banking Group Technology & Digital Banking, DBS Bank said, "DBS has been at the forefront of providing digital solutions to our SME customers. With this seamless API-led integration between DBS IDEAL Internet Banking and Xero, we are bringing banking services much closer to our customers. This integration is one of the first of an exciting series of digital solutions we are working with Xero to bring true efficiency gains and new insights to our SME customers."
Rod Drury, Xero CEO and Founder said, "The future of finance is steeped in collaboration between banking institutions and technology companies. This is vital to the success of small businesses, and also for the effective future operation of the financial services sector. We are working with more than 140 financial and fintech organisations around the world to establish a global financial web which securely opens up data flows that can help de-risk lending and enable small businesses to access much-needed capital so that they can prosper."
Alex Campbell, Xero Managing Director for Asia said, "As one of the world's recognised leading digital banks, DBS is a natural partner for Xero to collaborate with and develop game-changing solutions to the financial management challenges that small businesses face every day. The launch of direct bank feeds is a foundational first step to further innovative, technology solutions from Xero and DBS for Singapore's small businesses."
DBS-Xero direct bank feeds are available free to all DBS business account customers who are Xero subscribers. New Xero customers who connect their DBS business accounts to Xero will get 25% off their monthly Xero subscription fees for the next 12 months (offer details apply). New DBS customers who connect their business accounts with Xero will enjoy free GIRO and FAST transactions from 1 August to 31 Dec 2017.
For more information, please visit
go.dbs.com/xero
or
www.xero.com/sg/dbs/.
[1]
DBS was named "Best SME Bank in Asia" by the Asset, a leading pan-Asian financial trade publication
[End]
About DBS
DBS is a leading financial services group in Asia, with over 280 branches across 18 markets. Headquartered and listed in Singapore, DBS has a growing presence in the three key Asian axes of growth: Greater China, Southeast Asia and South Asia. The bank's "AA-" and "Aa1" credit ratings, is among the highest in the world.
DBS is at the forefront of leveraging digital technology to shape the future of banking, and has been named "
World's Best Digital Bank
" by Euromoney. The bank has also been recognised for its leadership in the region, having been named "Asia's Best Bank" by several publications including The Banker, Global Finance, IFR Asia and Euromoney since 2012. In addition, the bank has been named "
Safest Bank in Asia
" by Global Finance for eight consecutive years from 2009 to 2016.
DBS provides a full range of services in consumer, SME and corporate banking. As a bank born and bred in Asia, DBS understands the intricacies of doing business in the region's most dynamic markets. DBS is committed to building lasting relationships with customers, and positively impacting communities through supporting social enterprises, as it banks the Asian way. It has also established a SGD 50 million foundation to strengthen its corporate social responsibility efforts in Singapore and across Asia.
With its extensive network of operations in Asia and emphasis on engaging and empowering its staff, DBS presents exciting career opportunities. The bank acknowledges the passion, commitment and can-do spirit in all of our 22,000 staff, representing over 40 nationalities. For more information, please visit
www.dbs.com
.