Once a bustling hotspot for people to gather and enjoy meals, many coffee shops are now quiet and empty. The Covid-19 pandemic has left stall owners worrying over how to pay for their rent, utility, food ingredients and manpower as they see fewer customers.
Pre-Covid-19, food stalls at Kim San Leng coffee shops were making between $700 and $900 a day. After the circuit breaker started on April 7, the stalls made between $150 and $200 a day, which was insufficient to cover their operational costs.
Mr Andy Hoon, chief executive officer of the coffee shop chain, got worried about the livelihoods of the tenants who operate at the chain's 35 coffee shops across the island. "Our stall owners were really suffering," he says. "They were experiencing around 70 per cent drop in revenue."
Ms Nur Fazira Othman was among those affected. The owner of NurFir Nasi Ayam stall at Yishun Industrial Street 1 says that business has slowed down since the circuit breaker was put in place. However, things started to look up when she was asked to be part of the Feed the City – DBS Edition programme under the DBS Stronger Together Fund. She is among the hawkers from Kim San Leng coffee shops that were roped in to provide food to vulnerable groups.
The $10.5 million fund was set up by the bank to help communities in Asia deeply impacted by the Covid-19 pandemic. In Singapore, a total of $2.5 million will go towards putting food on the tables of the elderly, low-income and migrant workers. Part of the fund is given to 23 DBS F&B clients to provide meals to the needy. The meals are then delivered by The Food Bank Singapore to elderly and low-income beneficiaries. DBS aims to provide 700,000 meals to vulnerable groups.
"Being part of this programme has allowed me to earn extra income while helping others," says Ms Fazira.
She prepares around 100 sets of nasi ayam penyet, or chicken rice, on days when she is roped in to prepare meals for the beneficiary groups.
Food court chain Koufu is also providing food for the elderly and low-income families through the DBS Stronger Together Fund. The chain has assigned 35 stalls to prepare food for the needy, and hopes to involve more stalls to offer a greater variety of food. To date, Koufu has provided a total of 3,294 meals to beneficiaries.
Mr Choo Teck Chuan, chief operating officer of Koufu, says the initiative has not only enabled stall holders to bring in additional sales during a challenging period, but also lets them use up their ingredients.
He says: "This ensures that the food doesn't get discarded wastefully and new orders for ingredients can be made continuously to ensure the freshness of the food for both the beneficiaries and consumers."
The DBS Stronger Together Fund has not only boosted the income of F&B businesses, it has also brought them together to help the community.
"It is an extremely meaningful initiative and relevant to Koufu as we are in the food business," says Mr Choo. "To us, this is about providing hearty, nutritious food to the beneficiaries in need of help especially during this pandemic."
"It is 'tough money' for stall owners because they have to start very early and prepare a large volume of food. But they are all happy to do it because they are helping low-income families. They feel a sense of community that during this period they can come together and help out."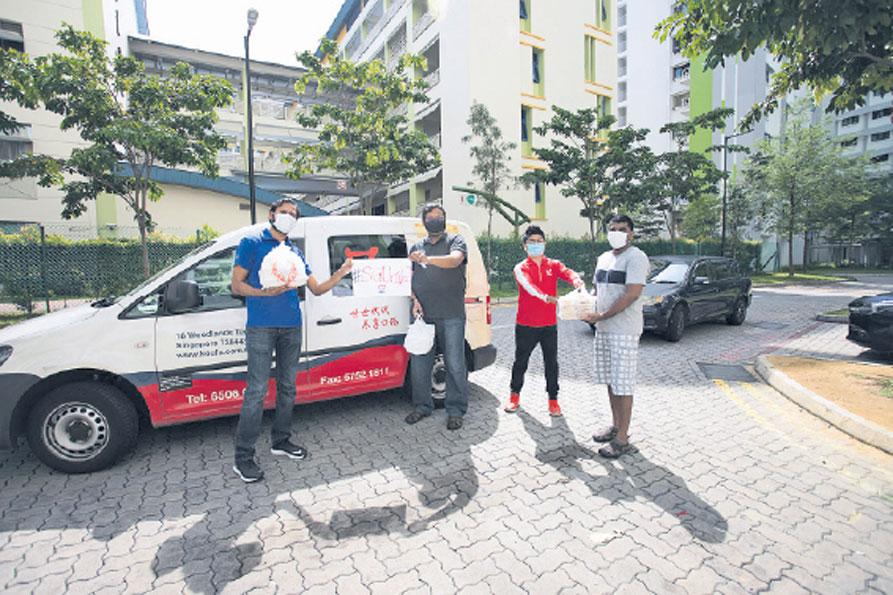 Pivoting business from offline to online
With tightened safe distancing measures forbidding eating out, the F&B sector has had to quickly shift its focus to delivery and takeout meals.
Mr Russell Yu, director of restaurant group Iki Concepts, says that in the months leading up to the circuit breaker, business was already down by 30 per cent as social distancing measures reduced seating capacity at his restaurants. He adds that sales have dropped a further 30 to 40 per cent since dining in was disallowed.
Seeking a way to sustain the business, Mr Yu applied for the DBS F&B Digital Relief Package in April, which will enable businesses to quickly set up an online food ordering site. His business was given a preferential rate to work with online platform Oddle to create online menus with integrated payment gateways and delivery services. Prior to this, only one of Iki Concepts' restaurant brands, Uma Uma Ramen, offered delivery through Grab, Deliveroo and Foodpanda.
Since setting up its online store sales have more than doubled compared to the start of circuit breaker.
Having a more prominent online presence has also contributed to a more efficient food management system. Mr Yu explains that Oddle has helped his four restaurants better match inventory replenishment with customer demand through data analytics.
He says: "As we are dealing with perishables, the ability for us to better understand when we need certain produce leads to less food waste."
Having to pivot the restaurant quickly to focus on delivery and takeout during this period has forced the company to embrace digitalisation, thereby putting it in good stead to survive the new normal in the F&B sector.
"We've been touched that customers, both new and old, have given their support to us during this trying period. Though sales are still a far cry from hosting customers on our premises, there is a glimmer of hope that we may survive in the 'new normal' in the future."
This content is produced in partnership with ST Life.
The global issue of differing access to food has been made all the more apparent during this difficult time. The latest episode of SPARKS "A Call to Action" was inspired by the everyday heroes who stepped up and redistributed food to those who needed it the most during the pandemic.
Join us for tips to make your daily life more convenient, especially in ways that contribute to a more sustainable future!