8 things from 2020 that give us hope for 2021
BY DBS, 14 DEC 2020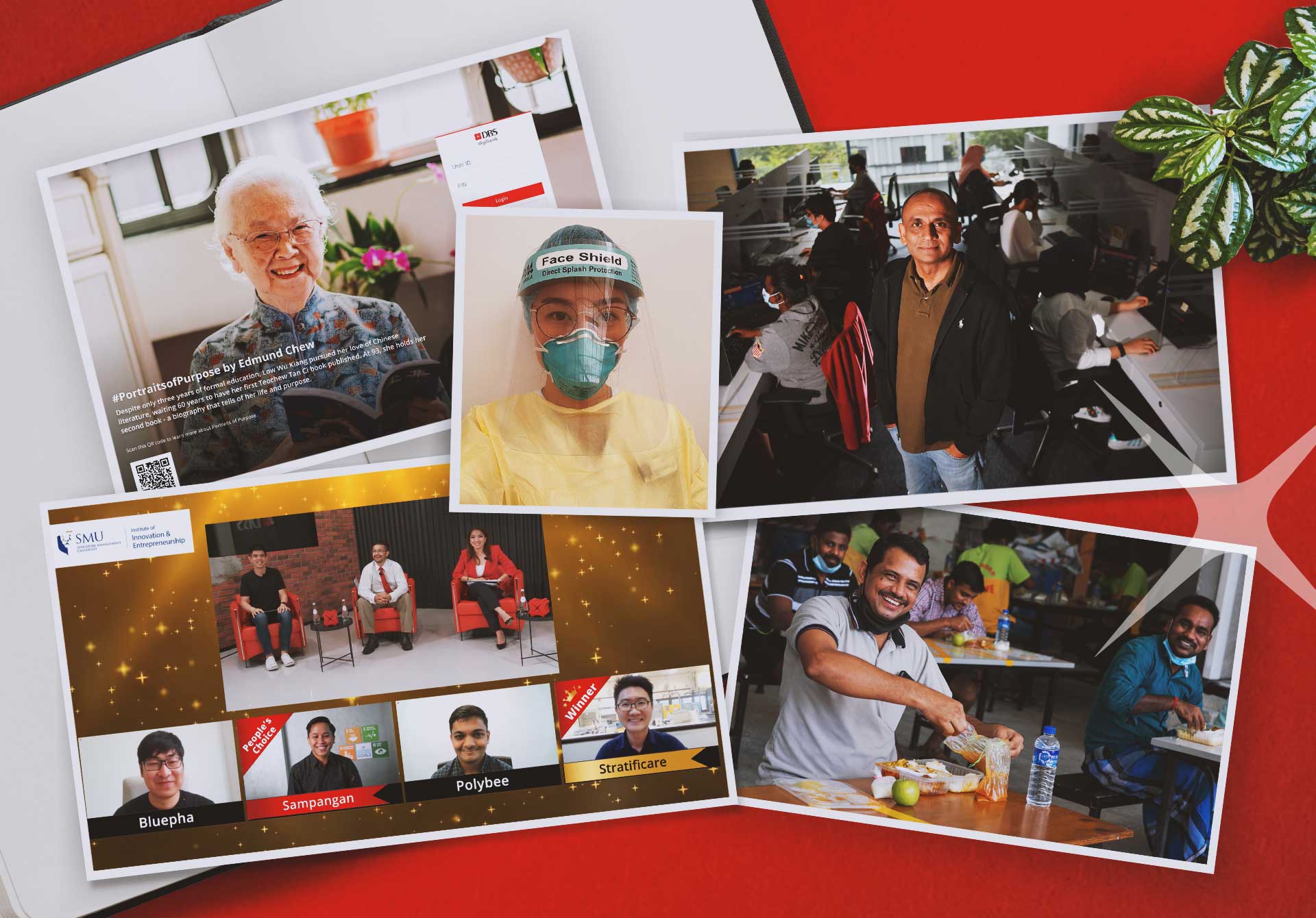 It's been a tough year, but these acts of kindness are pointing to better times ahead
With Covid-19 and its devastating impact ruling the headlines this year, it's easy to greet 2021 with trepidation.
The pandemic will no doubt shape how we work, live, and even relate to each other. But it's not all doom and gloom. In the midst of troubled times, we saw extraordinary displays of courage, compassion, generosity and grit in everyday actions – convincing us that Singaporeans have the mettle to go the distance and come out stronger than ever before.
Here are 8 inspiring acts that kept us going when the going got tough.
1. Just people helping people
Our community banded together whenever they saw others fall through the cracks. A beautiful example is Halal with Hew (@halalwithhew on Instagram), and how they helped Halal home-based F&B businesses during the circuit breaker period.
It was picked up by the #ThisisSG campaign, a national marketing campaign by the Singapore Brand Office. It spotlights how the diverse passions of Singaporeans have inspired hope and courage in the community during challenging times.
#ThisisSG: 1,206 orders were made through @halalwithhew, an online food ordering platform for Halal home-based F&B businesses (HBBs). The platform was launched in April by Shane and Junisa to help struggling HBBs during the circuit breaker. Over the months, they have introduced new features including a dedicated delivery team, a loyalty program and a Whatsapp chat feature on their website to track orders. Encouraged by the positive response, the couple plans to expand their services to include hawkers and restaurants in their delivery list. 
DBS Bank partnered with Viddsee and called for members of the public to submit their Portraits of Purpose – stories and photos that depict accounts of courage, compassion, generosity and grit.
This story of Nafiz, founder of Happy People Helping People Community, emerged.
Nafiz works with volunteers to distribute meals and essentials to senior cardboard collectors. During the circuit breaker, he found a way to keep in touch and made sure they received help by sending vouchers and masks to their homes.
Here are some other stories of #EverydayHeroes:
2. The young taking a lead
Another heart warmer from the #ThisisSG campaign was a quirky and brilliant idea from 15-year-old Vihaan Lyer. The young environmentalist founded Yellowship, which upcycles old tennis balls and gives them new purpose.
Vihaan and his efforts were featured on the official @Singapore account:
#ThisisSG: Instead of tossing them into the incinerator, 7,000 old tennis balls were repurposed through @yellowship.sg — a community initiative started by 15-year-old Vihaan Iyer. The balls were upcycled in creative and meaningful ways such as physiotherapy aids for migrant workers, tripod supports for film crews and toys for shelter dogs. Vihaan is set on giving millions of tennis balls a new lease of life and doing his part to save the planet. 
3. Customers becoming friends
Here's a touching account shared by Jethro (@jethoon on Instagram) as part of DBS' #PortraitsofPurpose collaboration with photographers to tell meaningful stories of those around them.
"This series of photos are of Tsering and Jason. The siblings are second-generation hawkers who run Jun Yuan House of Fish, where they take on the duty of preserving the taste of traditional sliced fish soup, while reaching out to those around them to help."
"Tsering mentioned that they had a regular customer, an elderly man Ah Gwai, who was retrenched during the pandemic and was unable to find a job due to his age and lack of qualifications. They helped him out by hiring him to deliver orders near their stall on Old Airport Road. Delivery charges were all funnelled towards Ah Gwai to help him make ends meet."
"Soon, people came forward with donations for Ah Gwai and also for anyone who had trouble putting food on their tables. With the money, Tsering and Jason provided meals at their stall for anyone experiencing financial hardship, no questions asked."
"I feel that it is truly heartening that despite their own difficulties, Tsering and Jason, with the aid of those who generously donated, were able to provide help to their community and spread awareness about the troubles some are facing due to the pandemic."
4. Businesses and people lending an empathetic ear
Social enterprise Agape Connecting People, a DBS Foundation Social Enterprise Grant Awardee, recognised early on the mental toll Covid-19 could take, and quickly stepped up to set up the National Care Hotline with the Ministry of Social and Family Development. The hotline connected those seeking emotional support with 500 volunteer professionals like psychologists and social workers.
The 24-hour National Care Hotline is at 1800-202-6868
In fact, we saw many Singaporeans lift each other up and tackle the difficult topic of mental health, and even maintaining connections through online portals. Read more here:
5. Healthcare heroes going above and beyond
We have all witnessed how these heroes have shown spectacular strength and courage as they stand in the eye of the storm.
This post from @el.centelleo was voted as the top five #PortraitsofPurpose on Instagram.
"Care to go beyond Being deployed to the foreign worker dormitory has been the best thing that ever happened in my career.
My purpose of life is to give without expecting anything in return. How about you?"

Another DBS Foundation Grant Awardee, Homage, also went above and beyond to help with Singapore's national response to Covid-19, as its caregivers stepped up to help with swab testing at various facilities.
6. The elderly sharing their life lessons
Here's another endearing story that was shared as part of DBS' #PortraitsofPurpose call: Mdm Low Wu Kiang waited 60 years to see her first book of Teochew Tan Ci published. A humble and spirited artist, she went on to publish her second book -- an autobiography about her life and purpose.
As novelist George Eliot said, it's never too late to be what you might have been. Mdm Low's photo is now displayed on DBS' iBanking pre-login page, inspiring 5 million visitors to the page every month.
7. Taking care of other pressing issues
While Covid-19 required urgent attention and resources, Singapore also hit a record number of dengue cases in 2020 – prompting authorities to encourage residents to take further precautions to stay safe.
Social enterprise Stratificare has been working on a test kit that can predict which dengue cases will require hospitalisation and which won't. This could effectively alleviate healthcare costs for those who can recuperate on their own at home, and the pressures on overburdened healthcare facilities.
The struggle to manage the dengue situation worldwide has long been overlooked. Co-founder and CEO of Stratificare, Anthony Chua, says this is partly because the countries worst affected tend to be developing countries and might be less of a priority.
For its compassionate solution, Stratificare was the winner of the DBS Foundation Social Impact Prize. Read its answers to some of our most pressing questions about dengue here.
8. Realising we really are stronger together
Singapore saw its worst outbreak of the coronavirus happen in the foreign worker dormitories. It led to lockdowns at many dormitories, which in turn caused much hardship for the migrant worker community.
But compassion is a strength, and we saw how the country flexed that muscle in this situation.
With the DBS Stronger Together Fund, DBS matched public funds raised dollar-for-dollar for "Project Belanja", in partnership with It's Raining Raincoats, to provide hundreds of thousands of meals to the dormitories in need of help.
In total, DBS raised SGD 3.5 million, which also went to support the "Feed the City" programme with The Food Bank Singapore, to deliver meals to the vulnerable in the community hard-hit by Covid-19.
DBS Asia Treasures drivers, who usually ferry clients to and from the airport, also joined in to deliver food to those in need.
So even as we learn the lessons of 2020, and pave the way forward to 2021, let's fiercely remember the good we've all seen and experienced, and continue to live generously with purpose.
It was by no means any one individual effort that made this difficult year one of outstanding kindness. Let's keep sharing these inspiring stories, so we can continue growing stronger together.
If you have more stories of grit, perseverance, courage and generosity to share, post it on Instagram with #PortraitsofPurpose, and tag @dbsbank.
Recommended for you
Based on your read
Based on similar interests
Recommended
Popular
Latest
Last Read