Manickam Manickaselvam, 38, would usually be heading out to his construction site in Queenstown to work on high-rise residential buildings. He's been working in Singapore for the past 15 years, and on this job for the past year.
For the past few weeks though, he's not left his dormitory in Woodlands. With nine other roommates, they have meals together in their room, yet apart, keeping a metre's distance from each other. For the hours in between, he watches movies, reads, and takes weekly English lessons.
But Manickam says that the boredom is very difficult,
"We have the culture (where) we don't want to stay in the room or whatever. Whatever (it is) we (like) going to work, we're moving around it's okay for our health. (It's) not only boring, it's something (that) creates unnecessary stress".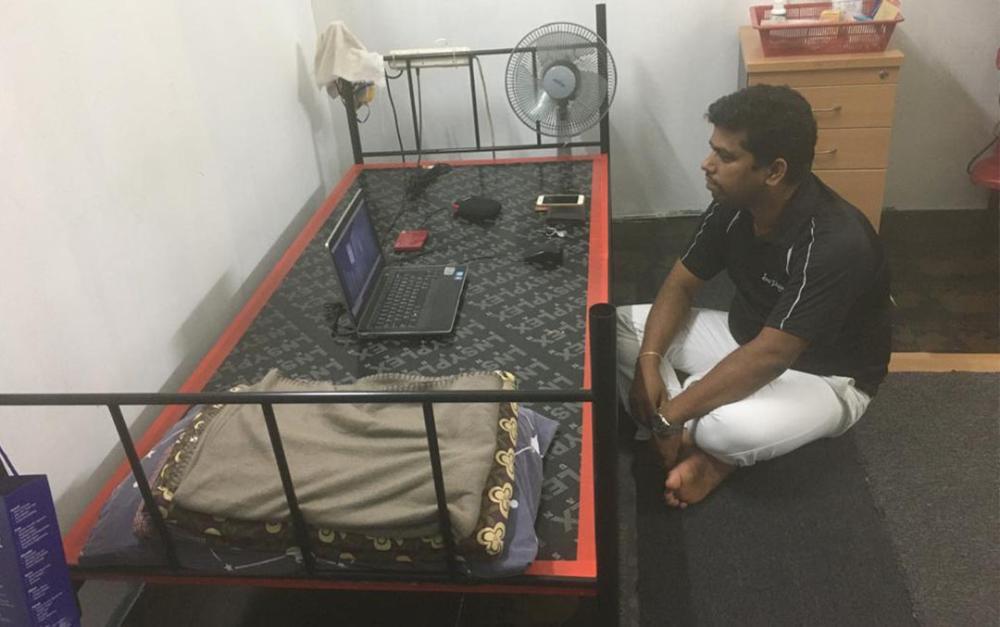 Manickam's family back in Chennai, India, are reading and watching worrying news about Singapore and are concerned for his well-being. "Everyday we're talking to the family not to worry. I tell them Singapore is very safe country. Singapore government is taking very good care," he says, but adds that it's tough not being able to go out to buy things.
Thankfully there are organisations like ItsRainingRaincoats (IRR), which have stepped up to help workers like Manickam with meals and daily necessities. IRR recently partnered DBS Bank to provide meals to migrant workers during the Covid-19 outbreak. The bank is aiming to provide 700,000 meals to those hard hit by Covid-19, including migrant workers.
IRR is a volunteer welfare organisation run by 500 volunteers, set up five years ago by Dipa Swaminathan, to build bridges between the migrant worker community and the local community.
"A lot of us have day jobs, we get zero pay for doing all of this. We're just doing it out of a sense of compassion," says Dipa.
Dipa explains the group started four WhatsApp helplines when the crisis began just for migrant workers, and they can receive up to a thousand messages and calls a day.
"But I'm realising that at this point I need to be also very mindful of the wellbeing of our volunteers. Many of them, including myself, work from dawn till midnight on this, in addition to everything we have to do".
Within April, the daily numbers of infections in Singapore were in the hundreds, and they came primarily from foreign worker dormitories, where they live, dine and sleep in close quarters of each other.
On 21 April, a full lockdown was imposed on all dormitories to curb the spread of the virus. This meant workers had to stop work completely and were not allowed to leave their dormitory campuses.
IRR has been delivering meals to Manickam's dormitory through Project Belanja, which means 'to treat' in Malay, an initiative the organisation started to raise funds and provide workers who need help with meals.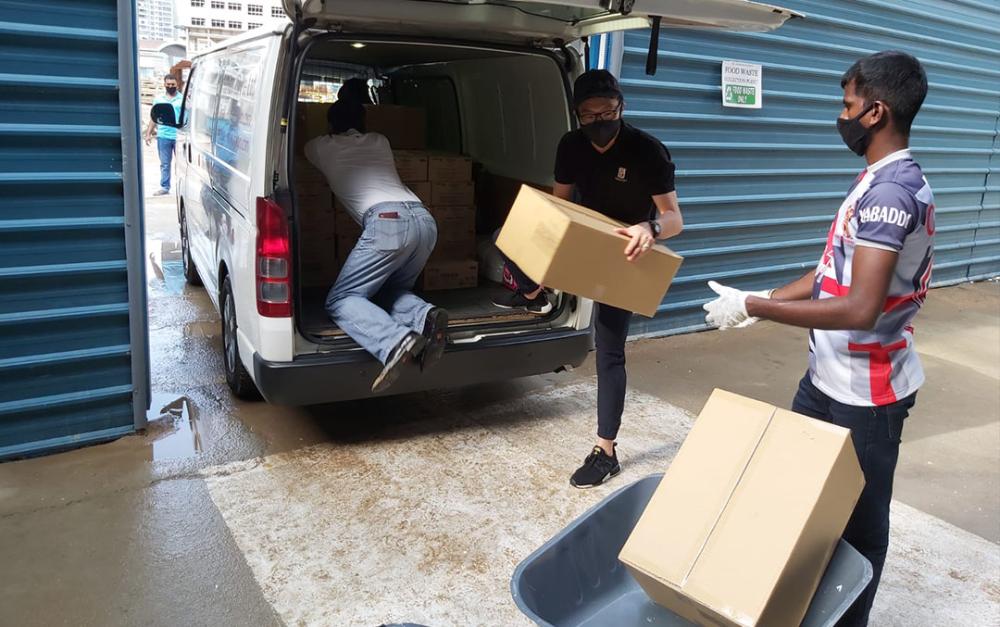 Dipa says she understands that these days mealtimes are the only things workers can look forward to, so there's a greater need to match the catered food with their palates.
"It's important to know that when you've grown up your whole life eating a certain way, it's very hard to then give a meal that doesn't suit their palate, and expect them to eat that same kind of meal twice a day for days on end, right? Once it's okay. Sometimes, they get a meal that's not to their palate… We try and encourage them, we say why don't you try, try and see if you can eat something new. Only if they can't, then we'll go back to the caterer and say please change the meal," she says.
"We are fortunate as we see the empathetic, inclusive side of Singaporeans because they are the ones who reach out to us to help. So every day we get queries and messages from thousands of Singaporeans, all races, all walks of life. Not just Singaporeans, I should say residents, which includes Singaporeans and other nationalities who live here as well".
The outpouring of kindness helps shield her from the somewhat inevitable negativity online, "We try not to focus on that. There is a good side and there's a song that I love it's Ac-Cent-Tchu-Ate the Positive and we try and accentuate the positive."
The lyrics of the song go,

"You've got to accentuate the positive
Eliminate the negative
Latch on to the affirmative
Don't mess with Mister In-Between
You've got to spread joy up to the maximum
Bring gloom down to the minimum
Have faith or pandemonium
Liable to walk upon the scene"
Perhaps through a different tune and in a different language, Manickam is doing the same.
He's looking forward to heading back to work and meeting his friends on Sundays again, when we all get through this storm together.
DBS Stronger Together Fund
To help communities hard-hit by Covid-19, DBS is donating S$10.5 million to provide some 4.5 million meals and care packs, as well as medical supplies, across the region, through the DBS Stronger Together Fund. In Singapore, DBS is partnering The Food Bank Singapore and ItsRainingRaincoats to distribute 700,000 meals for the elderly, low-income and migrant workers. This includes a dollar-for-dollar matching for public funds raised, up to a total of S$500,000.
Find out more about the fund here.
Join DBS in supporting those in need!
Sponsor meals for the elderly and low-income here.
Sponsor meals for migrant workers here.