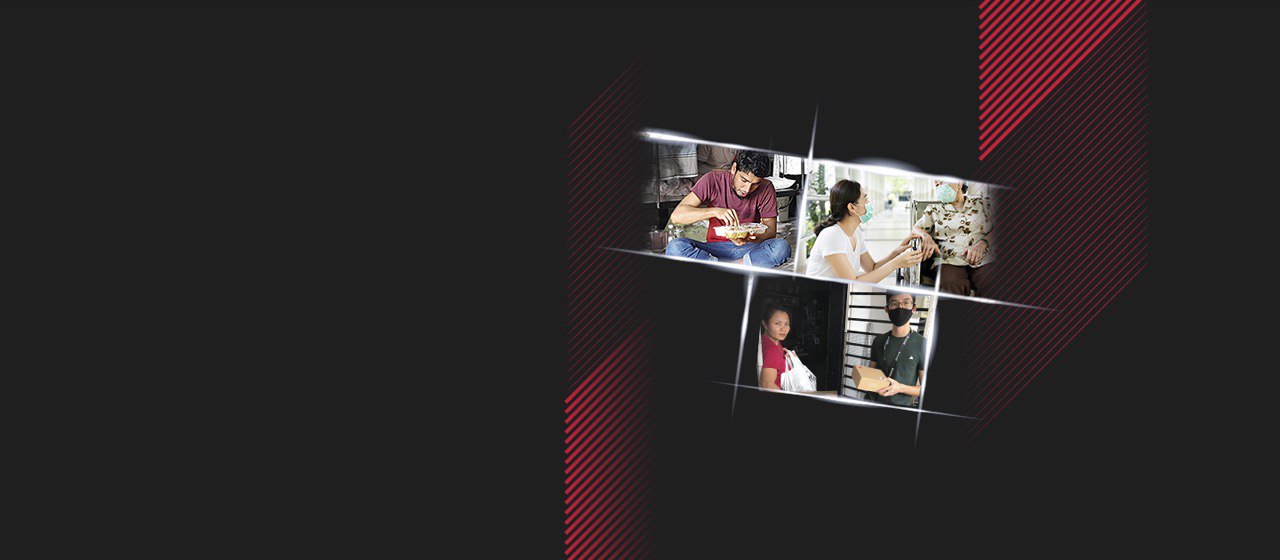 DBS Stronger Together Fund
 
Stronger Together
The DBS Stronger Together Fund is an SGD 10.5 million fund set up by DBS to help communities hard hit by Covid-19 across the region. With this fund, we will provide about 4.5 million meals and care packs to those affected. We will also fund the procurement of diagnostic test kits, personal protective equipment and other medical supplies to help in the fight against Covid-19.
 
Supporting hard-hit communities
As the battle against Covid-19 continues, various groups of people within our communities are facing enormous needs. In countries like India and Indonesia, an acute shortage of medical supplies including test kits is forcing healthcare workers to fight Covid-19 blind. In other countries, livelihoods have been impacted, and pockets of people are going hungry.
We want to do our part to help those in need. We believe that by standing together, we can overcome this crisis and emerge stronger.
 
Singapore
The pandemic has exacerbated the need for food and daily essentials among segments in Singapore. To help, we are partnering non-profit organisations The Food Bank Singapore and ItsRainingRaincoats to distribute more than 700,000 meals to the elderly, low-income and migrant worker communities.
We are funding 28 of our F&B clients – as part of our support for this sector – to provide 200,000 meals for the elderly and low-income communities. The Food Bank Singapore will then distribute these meals via its "Feed the City" programme.
The F&B businesses, comprising SMEs and social enterprises, providing meals are:
| | | | | |
| --- | --- | --- | --- | --- |
| Amalgam Holdings Pte Ltd | Andhra Heritage Pte Ltd | Bliss Group | Chang Cheng Group | Elsie's Kitchen Catering Services Pte Ltd |
| Fei Siong Group | Four Seasons Catering | Gao Ji F&B Pte Ltd | Grain | Java Kitchen Pte Ltd |
| Joe & Dough Pte Ltd | JR Foods Pte Ltd | Kim San Leng Group | Kimly Group | Koufu Group |
| K&C Holdings Pte Ltd | My NoNNa's | PopeJai Pte Ltd | Qi Ji Group | Spize Bedok Pte Ltd |
| Sterling Trends & Concepts Pte Ltd | Straits Chinese Nonya Restaurant Pte Ltd | SWHF Pte Ltd (Simply Wrapps) | Tasty Loong Pte Ltd | Tenderfresh Fried & BBQ Chicken Pte Ltd |
| Tenseven Pte Ltd | The Peranakan | WNK F&B Management Pte Ltd | | |
To feed the migrant workers in Singapore, we will fund 100,000 meals through "Project Belanja".
Staff contributions will also be matched, meal for meal.
Join us in supporting those in need
You can play a part too, by sponsoring a meal! We will match dollar-for-dollar public funds raised for the two food distribution programmes, up to a total of SGD 500,000.
[CLOSED]
Feed the City - DBS Edition
[CLOSED]
Project Belanja - DBS Edition
(Update 27 July 2020) With the DBS Stronger Together Fund and your contributions — matched dollar-for-dollar via the Fund — we have together raised over SGD 3.5 million!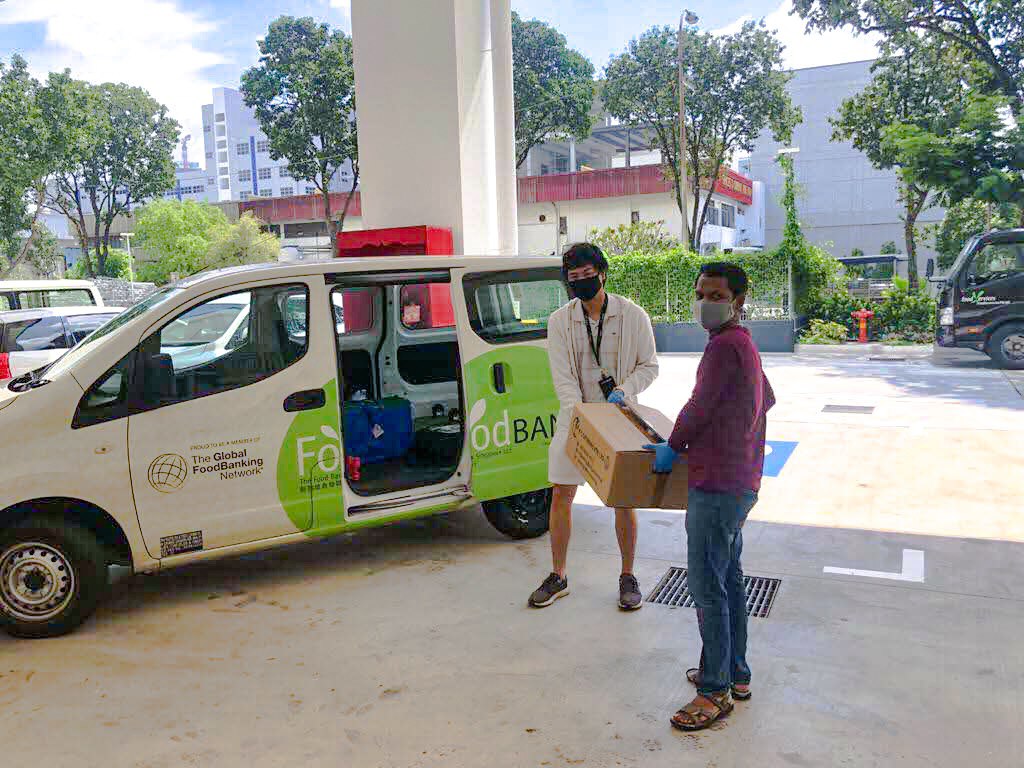 Said Ms Nichol Ng, co-founder of The Food Bank Singapore, "The Covid-19 situation has largely affected our ability to reach out to the beneficiaries as we are running low on food and funds. As their level of food supply has dropped, we have also noted more requests from beneficiaries as they are unable to put food on the table during these uncertain times. Through DBS' support, we can continue to run our 'Feed the City' programme, and to meet the basic needs of those affected."
Said Dipa Swaminathan, founder of ItsRainingRaincoats, "There are close to 750,000 migrant workers in Singapore and only a fraction of those are in the gazetted dorms. Many workers who are lodged elsewhere continue to need assistance with food during this time for various reasons ... Our team of volunteers has been working around the clock to support any such worker who appeals to us in hunger through Project Belanja. We are hugely fortified in this battle now with the added support of DBS and confident that together we will help our workers and in doing so, help our entire community overcome this crisis."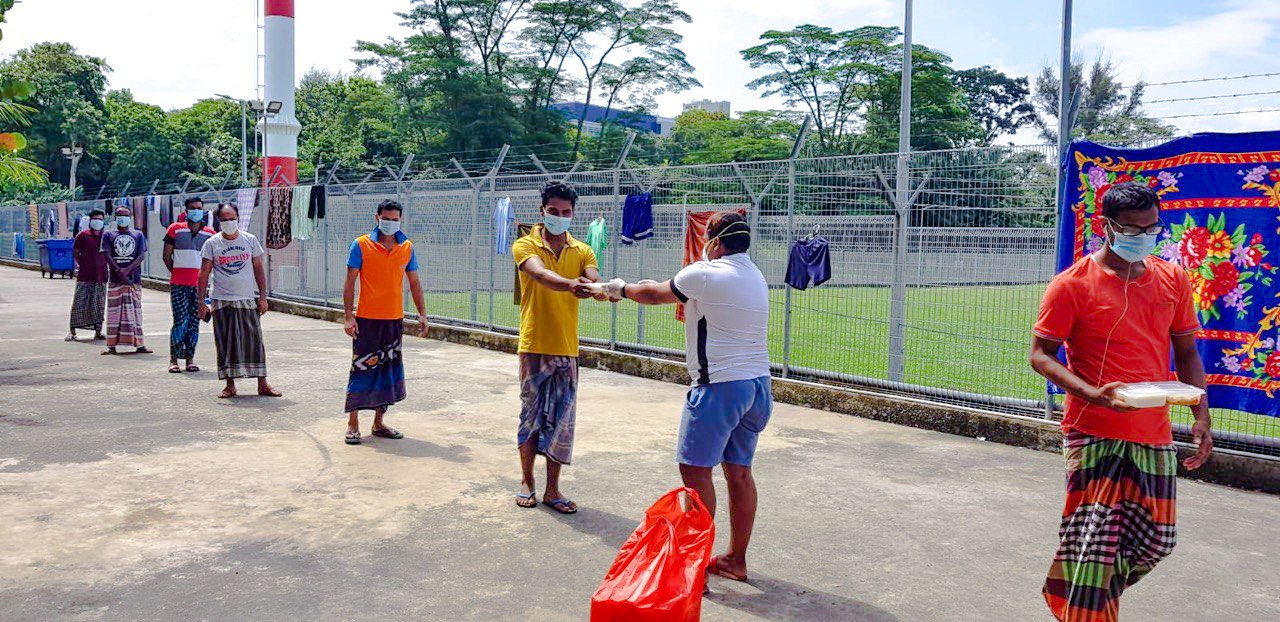 How we're impacting lives together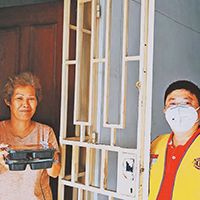 A community coming together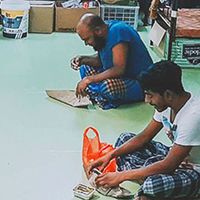 More than ever, we need to shelter each other through the storm

"The assistance has been very helpful for our family of seven, as it helps lower our expenses during this time. Thank you!" – Mdm Tay, a beneficiary of Feed the City – DBS Edition

"Thank you for the support during such challenging times." – Sudha, a beneficiary of Feed the City – DBS Edition

"The food is nice and the portion is generous! My kids love it and appreciate it!" – Siti, a beneficiary of Feed the City – DBS Edition

"We feel spoilt by the sumptuous meals prepared! The food is very nice! Thank you so much for the effort!" – Mdm Ong, a beneficiary of Feed the City – DBS Edition

"It is more stressful during these circuit breaker times. We cannot go to buy things or work. We're very happy to have help such as meals and snacks. … Everyday we're talking to the family, (telling them) not to worry." - Manickam Manickaselvam, a beneficiary of Project Belanja – DBS Edition

"We were very worried when the circuit breaker measures started. ... Now we don't have to worry about our meals and other necessities." - Billal Khan, a beneficiary of Project Belanja – DBS Edition

"I feel grateful that my wife and I don't have to go outside to get food." – Mr Yee, an elderly beneficiary of Feed the City – DBS Edition
Find out more about our other Covid-19 relief measures for our customers in Singapore here.
 
Hong Kong
There are about 1.2 million people in Hong Kong aged 65 or above. Close to half (44%) live in poverty before policy intervention.
To help the elderly and at-risk groups, including low-income families, we will work with local charities Senior Citizen Home Safety Association and Foodlink Foundation, and social enterprise Agent of Change, to provide more than 30,000 care and food packs.
Our resources will also enable the Senior Citizen Home Safety Association to increase its Care-on-Call services by more than 20,000 service sessions, to better address the emotional and physical well-being of the elderly, who may face greater isolation or mobility challenges amid the outbreak.
 
China
While the early lockdown in China has been effective in arresting the spread of Covid-19, this had implications for senior citizens, especially those living alone or facing financial difficulties. The temporary closure of factories and workplaces further impacted low-income migrant workers and raised concerns over job security and access to daily necessities, such as food.
To help alleviate this, we are partnering Non-Profit Incubator (NPI), Green Food Bank and others to launch a "Food for Care" programme.
This will provide about 1.7 million meals to affected communities over the next 12 months. More than 50,000 low-income individuals will also receive support including personal hygiene kits and re-employment training.
 
India
Test kits, protective gear for healthcare workers are in short supply in India, along with critical facilities and equipment.
We are partnering UNICEF, United Way, Metropolis Labs and others to scale up public health infrastructure, provide medical supplies and equipment, and sponsor free testing for the underprivileged.
We will also be providing the equivalent of two million meals, in the form of food supplies and pre-packaged meals, to communities affected by the pandemic, in partnership with organisations such as Pratham, Akshaya Patra and United Way.
 
Indonesia
The World Bank has estimated that the pandemic will throw millions of people in Indonesia into poverty. As of 7 April 2020, more than 1.2 million people have lost their jobs or income due to being placed on furlough.
We will therefore partner with NGOs to provide about 275,000 meals to 11,500 daily wage workers in Jakarta, its surrounding areas, as well as West Java.
To help address the acute shortage of Covid-19 test kits, we will donate 100,000 units of a rapid test kit, polymerase chain reaction machines and other medical supplies to the Government of Indonesia.
 
Taiwan
While the pandemic is comparatively well controlled in Taiwan, older people who live alone in rural areas are going hungry, as they are unable to go to community centres to have group meals provided by NPOs/NGOs. The food delivery system has also been affected by the pandemic. Many people have lost their jobs.
We plan to donate 45,000 food packs to those in need. The food packs contain rice, noodles, fish floss, corn crackers and hand sanitisers. All products are purchased from social enterprises.
Thank you. Your feedback will help us serve you better.
Was this information useful?
Thank you for your feedback
Let us know how this article helped:
We're sorry to hear that.
We're sorry to hear that

Enter only letters, numbers or @!$&-/()',.