A "shopping" adventure to remember
Individuals across markets went the extra mile – literally – to procure masks for peers in Hong Kong – enabling Team DBS to continue serving customers with confidence.
As the head of Group Procurement Services (GPS) in DBS Hong Kong, Alison Leung candidly describes herself as the "shopping queen" of the organisation.
"I'm responsible for purchasing anything the bank needs from third party vendors, from office stationery, to high-end computer systems worth hundreds of millions of dollars, to even toilet paper!" she laughs.
With 25 years of experience in procurement, hardly anything fazes this industry veteran. But this January, Alison faced what she calls the toughest challenge in her career – buying surgical masks to protect her colleagues from Covid-19.
"In the past, I could always complete my "mission" as long as I have the budget. But this time, mere money could not solve the problem," she explains.
Having learnt in December that a mysterious SARS-like virus was spreading in mainland China, Alison sprung into action in early January, seeking out vendors to buy masks to keep her fellow colleagues in Hong Kong protected.
But with most of the mask manufacturers in China already closed for Chinese New Year, the few thousand pieces that she managed to get her hands on were simply not enough for 5,000 staff.
Queuing for hours, returning empty-handed
By mid-January, when panic started to peak, getting a mask was near impossible.
"I can still remember the scenes on the streets vividly. Despite it being so cold and windy, people were standing in queue overnight just to buy masks!" she quips.
"But queuing was no guarantee that you would even get to buy any. Many people waited for hours only to be told that all stock had run out," she adds.
As the bank needed 5,000 masks per day and 450,000 masks over three months, Alison quickly reached out to offices in Singapore, India, and Jakarta for help. She knew that failing to equip the staff with these essential items would prove detrimental to the bank's operations, which would in turn affect its ability to help its customers during the crisis.
"I don't think it is fair to have our staff risk their lives to come to work and not provide them with masks. It is the responsibility of the employer to keep its workers safe."
- Ms Alison Leung
Within days, the Technology and Operations department of the Jakarta office managed to find a supplier that could provide 200,000 masks. Soon after, the Singapore office found a manufacturer in India that could provide another 200,000.
Knocks of desperation
But with governments around the world on high alert because of the viral outbreak, newly-introduced regulations threw a spanner into the works for Alison – when the shipment of masks from Indonesia transited in Singapore, they were held by customs due to heightened screening measures.
After alerting her country CEO about this predicament, Alison did not simply wait idly for a resolution. That same Saturday, she spent four hours knocking on the doors of more than 20 warehouses in Kowloon, desperate to get her hands on whatever was available.
At the end of the day, she managed to find 55,000 masks.
Fortunately, the shipment of masks eventually was cleared from customs and continued on their way to Hong Kong.
Not compromising on quality
Over in India, the head of GPS Ninad Bhide also went the extra mile for his colleagues in Hong Kong. After a mask vendor was identified, Ninad travelled 100 kilometres from his office in southern Mumbai to check out the factory in the northern suburbs of the city.
"I had not heard about this manufacturer before. As such, I wanted to see for myself what the factory was like and whether the masks were of good quality and had all the necessary certifications," says Ninad.
"Besides ensuring that the vendor was reliable, I also needed to confirm the order for our colleagues in Hong Kong. It was a situation where the demand far exceeded the supply. At the end of the day, what was most important was that our colleagues got their masks."
The shipment of masks from India departed for Hong Kong after just five days. If not for the swift actions of Ninad and his colleagues, these essential items would have been stuck in the country – India banned the export of masks just a week later.
One good turn deserves many others
With more than enough masks to get them through the peak of the pandemic, the GPS team at DBS Hong Kong turned to paying it forward, procuring 300 pairs of protective goggles that were sent to staff in the Shanghai office on 5 February.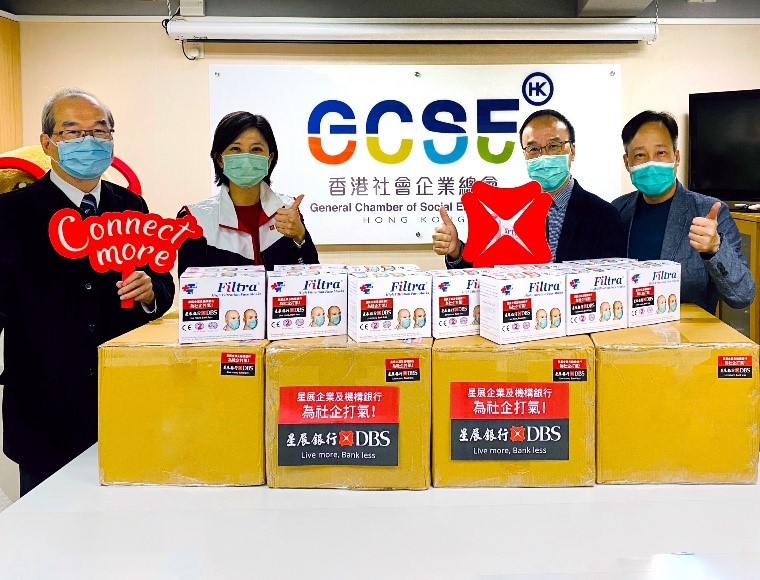 The bank's Institutional Banking Group also approached Alison to help procure 40,000 masks which were donated to the Hong Kong General Chamber of Social Enterprises. These masks were later distributed to more than 200 social enterprises across the city.
Looking back at the frantic search for masks, Alison says she is heartened by the actions of her colleagues from around the world.
"This really was a great collaboration amongst everyone from the various procurement departments in the bank. I am also glad that I can help my colleagues in China tide through this period. All in all, this was an exceedingly difficult experience, but also a very fruitful one at that."
---