Employees
Our people bring DBS' purpose to life. They are instrumental in making banking joyful, from the innovative products they create to the services they provide to our customers. Engaged employees, who feel good about what they do and why they do it, create greater value for customers and shareholders.
We want to be an employer of choice. The ability to continuously attract, retain and develop talent is the key to our success. At DBS, we believe in developing our people by growing our own timber. Our aim is to be a 'university' of banking talent, a place where our people can learn and grow, while making a difference at work. We are committed to developing our 21,000 people, empowering them and building a strong values-led culture with them.
Awards
Among world's best for people development

2014 Aon Hewitt Top Companies for Leaders
Recognised as one of the world's top 25 companies for leaders by Aon Hewitt. Ranked 18th, for the strength of our leadership practices and culture.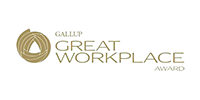 Gallup Great Workplace Award
Won this award, given to approximately 30 companies in the world, for two consecutive years. Recognised for creating a great workplace culture with highly engaged employees.
KPIs
Employee Engagement Score
Our engagement score has increased steadily over the years, and is at a world-class level. We further improved in 2014, and are placed at the 95th percentile of all companies surveyed by Gallup globally.

DBS Q12 grand mean score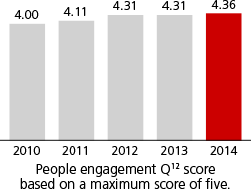 People Development
We provide our people with development opportunities for professional and personal growth. Through our internal mobility programme, we enable our staff to broaden their exposure across businesses and markets as they grow with us. About a quarter of our positions were filled internally in 2014.
Mobility: positions filled internally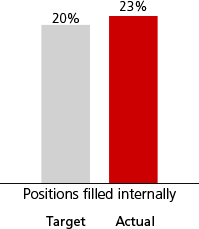 A 'university' of banking talent
People are at the heart of DBS and we are committed to their development. Our holistic Triple E framework creates an impactful learning environment for our people and to help them progress in their careers.
Education: Enabling Our People to Build Skill-Sets
Tapping into in-house expertise and general practitioners, the DBS Academy delivers training courses, which include industry accredited programmes for Treasury & Markets and Wealth Management professionals.
To offer focused and relevant learning solutions to our people, Learning Councils across the region ensure that we prioritise and align learning to strategic priorities and business needs. Employees are able to map out their own training to foster their professional development.
We inculcate an innovative mindset by embracing new ways of learning, including hackathons, peer-based learning, and learning events with interactive booths and games. Leveraging digital platforms to facilitate learning on the go, we launched innovative solutions such as the mLearning application to provide employees with tools that enrich their learning agenda, anytime and anywhere.
In 2014, employees underwent an average of 45.6 hours of training.
Experience: Nurturing Talent from Within
Experience is also an important element in broadening our people's skill-sets across businesses and geographies. To enable our people to take on larger roles as they grow with us, we advocate internal mobility, job rotations, cross-functional projects and other experiential learning opportunities across the bank.
Our internal mobility programme is structured such that employees holding corporate ranks up to Assistant Vice-President, who have worked two years in their current role, can seek to be placed in a new role with two months' notice. For more senior employees, the corresponding periods are three years and three months. In 2014, about a quarter of our positions were filled by internal transfers.
Exposure: Coaching, Mentoring and Networking
The best way to expand the horizons of our people is to give them the exposure to learn from the collective experience of peers and seniors at work and through interactions with leaders.
We introduced a mentoring and coaching system where our people can ask and receive responses to their questions on leadership and career management. This is a key feature of our online career portal, which also comes with individualised profiling assessments, customised training roadmaps, and a library of resources on leadership and development, all specially designed to empower employees to take charge of their careers. We also introduced blogs and facilitated online groups to encourage sharing and learning.
Driving People's Performance
Each year, we engage all employees with three performance conversations, from goal setting to mid and end year reviews. This performance management process also focuses on their career aspirations and development opportunities.
We employ a balanced scorecard approach that links strategy to performance, thereby allowing our people to align their goals with the bank's current year's key performance indicators and strategic agenda.

See Our 2014 Priorities
Growing our own timber, the next generation of leaders
Our senior leaders are committed to building a strong leadership culture at DBS and taking an active role in nurturing talent. We have put in place a talent development programme to build a pipeline of potential leaders from entry-level hires to senior management. As part of the developmental journey, talents across all levels participate in annual talent conferences and workshops specially designed to accelerate their development, develop their strategic insights and strengthen their leadership skills.
Senior-level high potential talents will be tasked to lead key strategic projects or offered rotation stints with various businesses or countries. To sharpen their strategic thinking and broaden their exposure to the Board and the executive team, they are also invited to participate in the Board and senior management offsites. In 2014, one-third were given new job assignments or expanded roles.
To broaden the exposure of our talents, we have assigned specific mentors from other talent cohorts to provide coaching to these individuals. We also organise networking sessions to help them build their networks across the bank.
Over the course of the year, we added over 200 young talents, hired fresh from school, to the existing talent pool. The success of this programme can be measured by the lower than average turnover rate of these young talents, underscoring the fact that they value the development opportunities at DBS.
Nurturing a digital mindset in our talents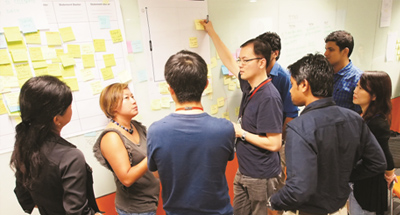 In 2014, we ran the DBS Digital Mindset Masterclass and Hackathon Conferences for our talents. Talents across the bank came together, formed teams to focus on a problem and collaboratively develop a solution. They seized the opportunity to look at things from a customer's perspective and worked with start-ups to develop digital solutions to the business challenge posed to them, all within 72 hours.
Making DBS a great place to work at
We engage our people through our shared values, people programmes and open communication channels. Our aim is to ensure that our people are connected to the bank's purpose, feel valued by the bank and are given opportunities to make a difference.
Engaging Our Employees in Defining Values
A strong workplace culture builds the foundation for success. We developed our organisational values, PRIDE!, over an 18-month journey to redefine the values that are important at DBS and to guide behaviors. It was the culmination of numerous conversations, focus groups and brainstorming with staff and leaders. We held 16 workshops across our six priority markets involving over 300 participants. We also conducted surveys to assess the pulse on the ground and received over 1,000 responses. Leveraging digital technologies, we held virtual jam sessions for our most senior 250 leaders to discuss, debate and determine the actions that will drive us forward.
Open Communication
We believe in consistent, clear and open communication to enable our people to understand the bigger picture and how their roles contribute to organisational goals.
Our CEO holds quarterly staff briefings, and hosts open forums where he responds to questions and takes feedback from all employees, at times leading to changes in policies and practices. In addition, he shares regular updates through an internal blog. Country, functional and department heads also engage employees through various channels such as informal lunches, networking sessions and teambuilding workshops. Our internal staff magazine as well as other regular internal communications, to which employees are encouraged to contribute content, allows our people to be in tune with the pulse of the bank.
Empowering People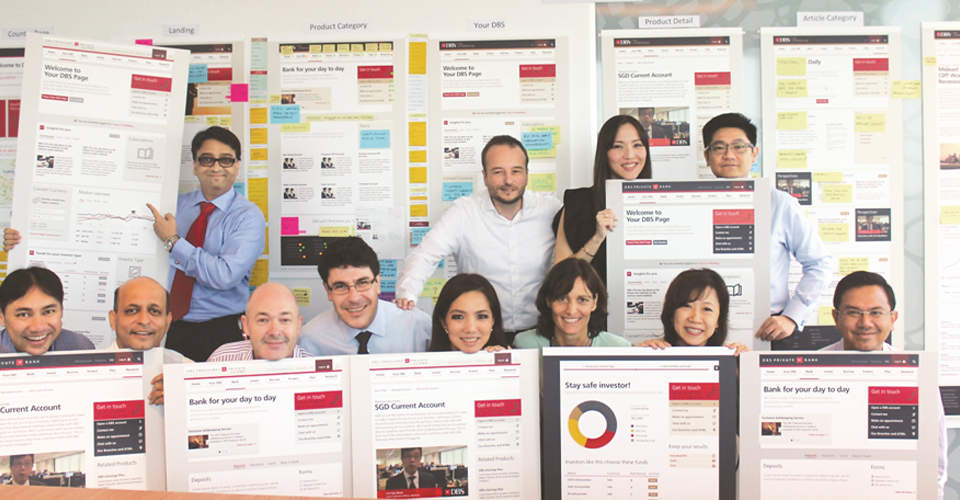 We empower our people by giving them the autonomy to introduce changes to improve the customer experience. They do this through experimentation, innovation and by incorporating human-centred design thinking in process improvement events and customer journey workshops. Our people work collaboratively across functions to design and test concepts, and are given the resources and authority to introduce innovations that will benefit the customer.
For more information on customer experience, please read more in the Customer section
We empower our people by giving them the autonomy to introduce changes to improve the customer experience.
Being a people's company
We believe in being there for our people. In addition to traditional benefits such as health insurance and leave, we also support them by creating a flexible and family-friendly environment. We understand that our staff may have different needs depending on the stage of life they are at.
With the bank's diversified workforce comprising various employee demographics, a one-size-fits-all work environment will no longer meet employees' needs. We have a Flexible Work Arrangements programme in place to provide greater flexibility at work to help staff better manage their time and balance their professional and personal needs. We also offer them the autonomy to choose from a basket of flexible benefits through iFlex@DBS.
We value our employees and have a DBS Cares programme in place. Via this programme, we give gifts of appreciation to our people throughout the year.
Recognising our people
We have a strong programme to recognise role models in the bank. Every year, we present highly coveted Banking the Asian Way Awards to teams and individuals who exhibit our values. We also present individuals who have gone beyond the call of duty with Spot Awards throughout the year. Employees who exemplify what the bank stands for, are also featured on our intranet.
Being an employer of choice
Our people are our best ambassadors. Over 40% of new hires were based on our employees' referrals. Our retention rate has improved year-on-year, with more people choosing to grow their careers with DBS, making us one of the best-in-class compared to our industry peers. We are proud that we continue to be an employer of choice.
In a first for the bank, we gave a special appreciation award of SGD1,000 to every confirmed employee ranked Vice President and below to acknowledge the commitment and contribution of our people, mark the bank's milestone in reaching SGD 50 billion in market capitalisation, and celebrate Singapore's 50th birthday.