DBS launches startup matching platform to help the bank and its customers harness the power of emerging technologies
Singapore, 30 Oct 2018 - In its effort to reimagine banking and make banking simpler, faster and more secure, DBS Bank today launched a programme aimed at matching DBS and its corporate and SME clients' problem statements to startups.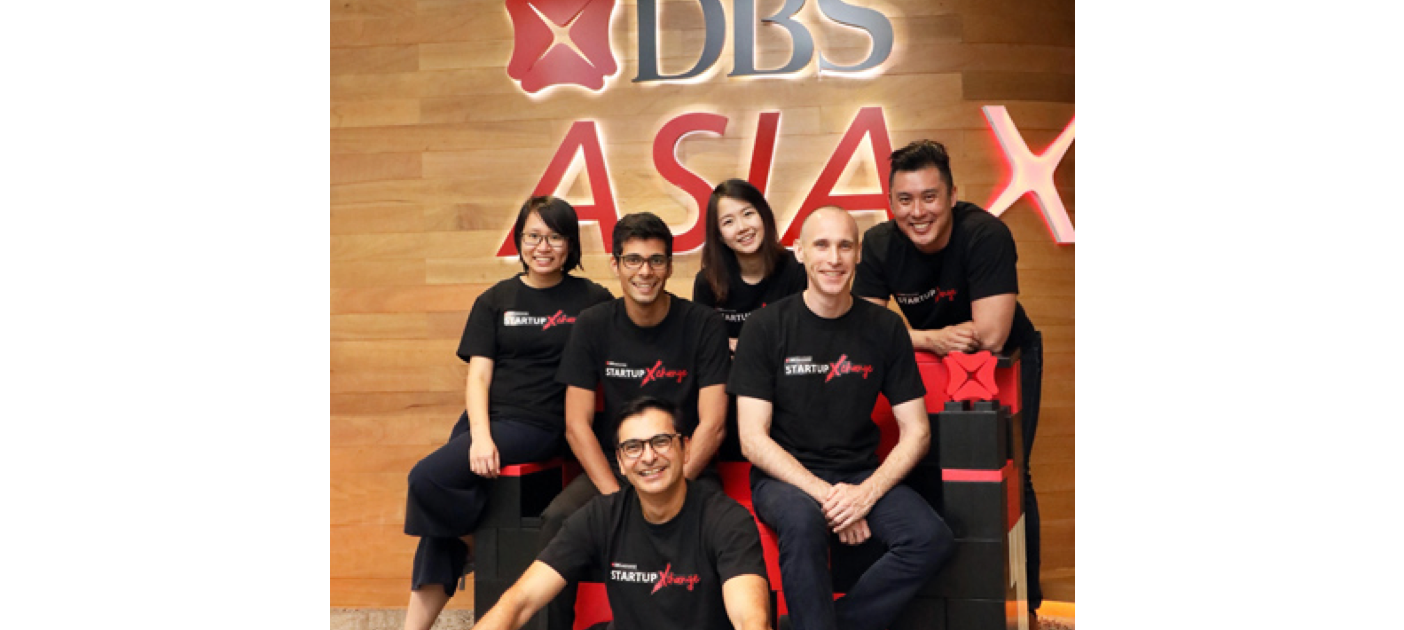 The
Startup Xchange programme
is focused on four areas of frontier technology that will help businesses stay relevant in the long run. They are: artificial intelligence (AI), data science, immersive media and the Internet of Things. By harnessing the power of these emerging technologies, the bank as well as its clients are able to stay one step ahead of their customers, and fulfil their business and lifestyle needs in a faster and more seamless manner.
For a start, DBS has launched the Startup Xchange programme in its two largest markets, Singapore and Hong Kong.
Unlike typical accelerator programmes, Startup Xchange brings in startups to co-create solutions with the bank, thus addressing business problem statements in real-time.
Since its pilot launch several months ago, Startup Xchange has successfully matched 21 startups with units within the bank (e.g., Human Resources) as well as the bank's SME clients to solve business pain-points. This has resulted in the successful rollout of 10 emerging technology solutions to-date, with another 10 solutions expected to be launched over the next 12 months.
In addition to helping DBS and its clients digitise their business, Startup Xchange also allows startups to showcase the solutions they developed for DBS, and to name the bank as an anchor client when raising capital with the investor community. One example of a successful Startup Xchange project is with impress.ai, a Singapore-based startup and DBS SME client that partnered with DBS' HR team to create
JIM
, Southeast Asia's first virtual bank recruiter.
Once JIM was launched, impress.ai raised USD 1.2 million and had a five-fold increase in monthly revenues from the partnership, paving its transition from a startup to a more sustainable business. It is now working with 15 large enterprise customers, including household names like AXA, NTUC Income and Singtel.
Bidyut Dumra, Head of DBS' Innovation Group, said Startup Xchange is a win-win for both the bank and the startup community. "Startups sometimes have the brightest minds to develop the most cutting-edge technology solutions but they lack an anchor client and continuous funding. Startup Xchange is great as it helps the ecosystem of startups, DBS and its customers to commercialise emerging technology solutions to quickly achieve shared business goals."
CEO and co-founder of impress.ai, Sudhanshu Ahuja, said, "The mindset of the team at DBS is very forward-looking and everyone we have worked with has a similar mindset, where they value innovation and focus on the future of digital technology. Joining the Startup Xchange programme was the right next step in our journey to gain business momentum and revenue growth."
A DBS SME customer who has also tapped into Startup Xchange to deliver better customer experience is Zouk, one of Asia's best nightclubs. Customers at its Red Tail Bar will no longer have to jostle through crowds and shout across the bar to get their drink orders taken.
Instead, all they have to do is whip out their phones and tap into Southeast Asia's first bank-led retail chatbot, Foodster. With Foodster, they can skip the queue by ordering and paying seamlessly via Facebook Messenger and DBS payment channels, such as DBS PayLah! and DBS/POSB cards.
This solution was co-created through the Startup Xchange with fintech startup Every Botty. Since it joined the Startup Xchange, Every Botty has grown its F&B client portfolio and secured business with established names such as Da Paolo and Subway.
The Startup Xchange comes at a time when startups are struggling to stay afloat. DBS research found that 78% of accelerators launched in Singapore over the past three years are now defunct as many startups had failed without the continued support from established sponsors and partners. An Ernst & Young ASEAN Fintech Census[1] earlier this year also revealed that less than 39% of fintech startups benefitted from fixed tenures at accelerators. These findings and the desire to make banking invisible led to the revamp of the bank's earlier accelerator programme, DBS HotSpot, to create Startup Xchange. Startup Xchange is part of a five-year SGD 10 million investment made by the bank in 2015 to support the development of startups.
Cross-pollination between DBS and startups for a Smarter Nation
Startup Xchange is also part of DBS' mission to become a 26,000-strong startup by providing employees learning and collaboration opportunities with startups, to encourage a shift towards design and agile thinking.
Testament to the bank's success in encouraging employees to adopt a startup mindset, more than 15,000 DBS staff have participated in design workshops, hackathons and other innovation-related initiatives every year.
"One of the best ways to engage, nurture and grow the startup community is through sustainable programmes like Startup Xchange, but let's not forget the other important piece of the puzzle: DBS employees, who will collaborate with the startups," said Dumra. "Startup Xchange provides a platform of true collaboration by fostering a common culture of innovation through design thinking and experimentation for both startups and DBS project sponsors to achieve shared business goals. This will also help us in furthering Singapore's Smart Nation ambition."
Startups who are interested in joining the Startup Xchange can find more information here –
www.dbs.com/startupxchange
.
[1] Ernst and Young ASEAN Fintech Census 2018 report -
https://www.ey.com/Publication/vwLUAssets/EY-asean-fintech-census-2018/$FILE/EY-asean-fintech-census-2018.pdf
[End]
About DBS
DBS is a leading financial services group in Asia, with over 280 branches across 18 markets. Headquartered and listed in Singapore, DBS has a growing presence in the three key Asian axes of growth: Greater China, Southeast Asia and South Asia. The bank's "AA-" and "Aa1" credit ratings are among the highest in the world.

Recognised for its global leadership, DBS has been named "Best Bank in the World" by Global Finance. The bank is at the forefront of leveraging digital technology to shape the future of banking, having been named "World's Best Digital Bank" by Euromoney. In addition, DBS has been accorded the "Safest Bank in Asia" award by Global Finance for ten consecutive years from 2009 to 2018.

DBS provides a full range of services in consumer, SME and corporate banking. As a bank born and bred in Asia, DBS understands the intricacies of doing business in the region's most dynamic markets. DBS is committed to building lasting relationships with customers, and positively impacting communities through supporting social enterprises, as it banks the Asian way. It has also established a SGD 50 million foundation to strengthen its corporate social responsibility efforts in Singapore and across Asia.

With its extensive network of operations in Asia and emphasis on engaging and empowering its staff, DBS presents exciting career opportunities. The bank acknowledges the passion, commitment and can-do spirit in all of our 26,000 staff, representing over 40 nationalities. For more information, please visit www.dbs.com.