DBS/POSB to subsidise 5 million hawker meals over the next 12 months amid rising food prices
Enjoy a subsidy of SGD 3 when using DBS PayLah! to pay for a meal at any SGQR-enabled hawker stall, capped at the first 100,000 users every Friday
Bank will work with government agencies and grassroots organisations to hold digital literacy workshops to ensure the less tech-savvy know how to access this subsidy
Singapore, 01 Feb 2023 - DBS/POSB today announced that it will subsidise five million hawker meals over the next 12 months, as inflationary pressures continue to drive up food prices. From 10 February 2023 to 19 January 2024, Singaporeans and residents will be able to enjoy a subsidy of SGD 3
[1]
when they use DBS PayLah! to scan and pay for their meals – capped at the first 100,000 users every Friday at any of the 11,600 SGQR-enabled hawker stalls
[2]
island-wide.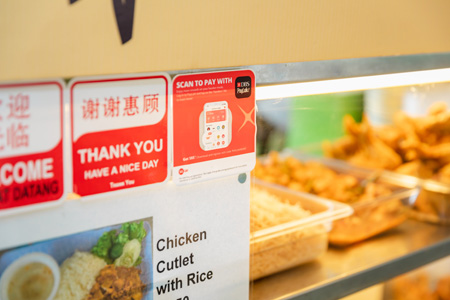 From 10 February 2023 to 19 January 2024, Singaporeans and residents will be able to enjoy a subsidy of up to SGD 3 when they use DBS PayLah! to scan and pay for their meals – capped at the first 100,000 users every Friday, between 6am to 1159pm.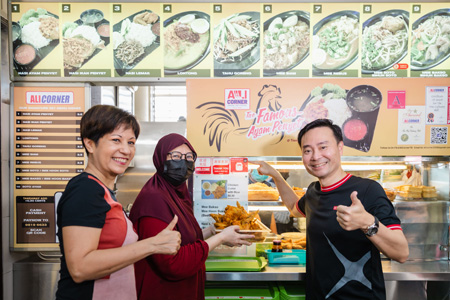 Ms Indranee Rajah and Shee Tse Koon, Singapore Country Head at DBS Bank with the owner of one of Tiong Bahru Market's hawker stalls, after affixing the DBS PayLah! sticker on the stall-front, which diners can look out for when they scan and pay for their meals
While core inflation remained unchanged at 5.1% year-on-year in December 2022, consumers continue to feel the pinch of rising food prices. According to data from the Department of Statistics
[3]
, food prices rose for the 10th consecutive month last December. Hawker food inflation, in particular, soared to a 14-year high of 8.1% from a year ago.
Said DBS Singapore Country Head Shee Tse Koon: "With persistent inflation and rising cost of living, we understand the concerns among Singaporeans and residents that their money is not going as far as before. So we want to do what we can to provide some relief to those looking to better manage their everyday expenses. With the 'DBS 5 Million Hawker Meals' scheme, we are also supporting the livelihoods of our hawkers, who are an integral part of our daily lives. As a key member of the community and a bank that is defined by a strong sense of purpose, we hope this small gesture can provide some encouragement as we ride out these tough times together."
Since last year, the bank has rolled out a slew of support measures to help its customers stretch their budgets and grow their savings. DBS/POSB was the first bank in Singapore to launch a 'Fight Inflation' package in August 2022, equipping those earning less than SGD 2,500 a month with a suite of solutions to stretch their dollar. It raised the interest rates for high-yield savings scheme Multiplier; made it easier for customers to earn more rebates on their everyday spend and get more cashback; and was the only bank that offered a competitive HDB loan that is pegged to HDB's concessionary loan.
Minister in the Prime Minister's Office, Second Minister for Finance and National Development, Indranee Rajah, joined DBS staff and SG Digital Office digital ambassadors at Tiong Bahru Market this morning to raise awareness of the 'DBS 5 Million Hawker Meals' initiative. They met hawkers who have adopted digital payments and interacted with participants at a pop-up digital literacy workshop onsite. Sharing in the Lunar New Year festivities, they also distributed red packets and oranges to the participants.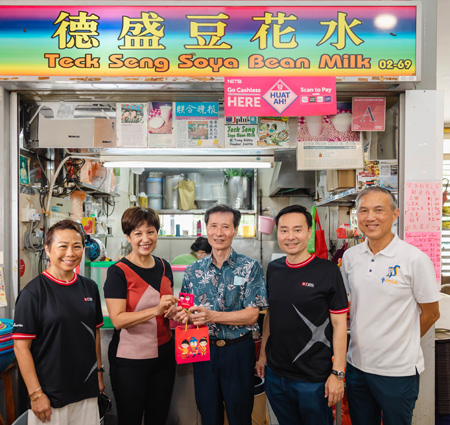 Minister in the Prime Minister's Office, Second Minister for Finance and National Development, Indranee Rajah, DBS executives and a hawker pose for a photo at Tiong Bahru Market to announce the 'DBS 5 Million Hawker Meals' initiative.
The initiative will subsidise five million hawker meals over the next 12 months.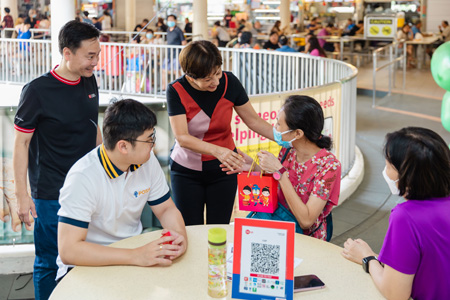 Ms Indranee Rajah and DBS executives interacting with participants of a pop-up digital literacy workshop held at Tiong Bahru Market.
Sharing in the Lunar New Year festivities, they also distributed red packets and oranges to the participants


Private-public collaboration to drive digital inclusivity
Ongoing efforts to drive digital adoption nationwide have led to more people being aware of and opting for digital payments at hawker centres. Since 2020 when the government first launched the Hawkers Go Digital Programme, the number of SGQR transactions at participating stalls has grown.
However, there are still some in the community who lack the know-how and confidence when it comes to digital payments. DBS/POSB is therefore working with government agencies, such as the Infocomm Media Development Authority (IMDA), and grassroots organisations to reach out to the less digitally-savvy through workshops to help them to become more comfortable in using digital banking and payments, and learn how to stay safe online.
The combined efforts underscore the importance of private-public collaboration in bolstering the national Digital for Life (DfL) movement, which supports Singaporeans from all walks of life to embrace digital learning as a lifelong pursuit.
"As technology continues to evolve and become a bigger part of our daily lives, we need to ensure that those who are less comfortable with digital services are given all the support to build up their confidence and skills. This has been our priority for many years and we continue to bolster our efforts to ensure all are brought along on this journey," added Shee.
Douglas Goh, Director, SG Digital Office and DfL Secretariat, said: "Since 2020, the Hawkers Go Digital programme, in support of IMDA's DfL movement, has empowered our stallholders to embrace the opportunities of digital technologies to grow their businesses. This will allow our stallholders to enjoy new revenue offered by initiatives such as 'DBS 5 Million Hawker Meals'. We encourage more like-minded organisations to be like DBS, and join our DfL movement to support us in building a more digitally inclusive society."
The 'DBS 5 Million Hawker Meals' initiative is the latest in a series of initiatives by DBS/POSB to support the community's needs. Last November, the DBS Foundation announced that it will contribute SGD 500,000, which totals up to SGD 1 million with the government's dollar-for-dollar matching, to the DfL fund to support digital inclusion projects and step up its volunteer participation to drive digital literacy training. The effort aims to reach out to some 100,000 Singaporeans by end 2024, including senior citizens, youths, hawkers, and special needs individuals.
The bank also launched the DBS Adopt-A-Hawker Centre initiative in 2021 with the aim of safeguarding hawkers' livelihoods amid the pandemic. The bank worked with IMDA to rally community partners and various grassroot leaders to help sustain these businesses by organising group buys; boosting discoverability via social media and other platforms including DBS PayLah!; and equipping hawkers with the tools and know-how to digitalise their business. To date, stallholders from ten hawker centres island-wide have benefited from this initiative.
[1] 100% instant cashback, capped at SGD 3. Limited to 1 transaction per user, for the first 100,000 users, every Friday between 6am to 1159pm. The initiative will start on 10 February 2023 and end on 19 January 2024.
[2] The 11,600 stalls include those in hawker centres, coffeeshops and JTC industrial canteens.
[3]
https://www.singstat.gov.sg/-/media/files/news/cpidec2022.ashx
[END]
About DBS
DBS is a leading financial services group in Asia with a presence in 19 markets. Headquartered and listed in Singapore, DBS is in the three key Asian axes of growth: Greater China, Southeast Asia and South Asia. The bank's "AA-" and "Aa1" credit ratings are among the highest in the world.
Recognised for its global leadership, DBS has been named "
World's Best Bank
" by Global Finance, "
World's Best Bank
" by Euromoney and "
Global Bank of the Year
" by The Banker. The bank is at the forefront of leveraging digital technology to shape the future of banking, having been named "
World's Best Digital Bank
" by Euromoney and the world's "
Most Innovative in Digital Banking
" by The Banker. In addition, DBS has been accorded the "
Safest Bank in Asia
" award by Global Finance for 14 consecutive years from 2009 to 2022.
DBS provides a full range of services in consumer, SME and corporate banking. As a bank born and bred in Asia, DBS understands the intricacies of doing business in the region's most dynamic markets.
DBS is committed to building lasting relationships with customers, as it banks the Asian way. Through the DBS Foundation, the bank creates impact beyond banking by supporting social enterprises: businesses with a double bottom-line of profit and social and/or environmental impact. DBS Foundation also gives back to society in various ways, including equipping communities with future-ready skills and building food resilience.
With its extensive network of operations in Asia and emphasis on engaging and empowering its staff, DBS presents exciting career opportunities. For more information, please visit
www.dbs.com
.