Cash in minutes via DBS Hong Kong's digital Card Loans now open to new customers | 繁體
Hong Kong
.

18 Aug 2022

.

3 min read
Easy application on DBS Card+ mobile app with express online approval and instant FPS disbursement
Hong Kong, 18 Aug 2022 - DBS Bank (Hong Kong) Limited ("DBS Hong Kong") today announced the launch of Hong Kong's first fully digitalised Card Loans that bring together application, approval and disbursement for new-to-bank customers in a hassle-free process that takes just minutes
[1]
for instant cash in hand.
For the first time in Hong Kong, these new features open doors for customers who are not existing DBS Hong Kong customers or bank account holders. Now, anyone with immediate financial needs can use DBS Card+ mobile app to apply for an approved DBS Credit Card within minutes, then get cash with their new credit card to any bank account instantly[2] via the Faster Payment System (FPS).
This groundbreaking Card Loan experience equips customers to seize opportunities anytime, anywhere. To further our mission to make banking intelligent, intuitive and invisible, DBS Hong Kong's streamlined and fully digitalised Card Loan process enables customers to complete all application procedures through one convenient platform: DBS Card+. DBS creates effortless banking tailored to customers' needs.

Ajay Mathur, Managing Director and Head of Consumer Banking Group & Wealth Management of DBS Hong Kong, said "As the Best Bank in Hong Kong[3], we strive to deliver intelligent banking services along with actionable insights, enabling customers to make confident, well-informed financial and wealth management decisions in their everyday lives. Our new Card Loan service is another step we took in our mission to enhance DBS' digital capabilities and transform our customers' banking journey."

From now on, new DBS card customers can enjoy a cash rebate of 6 months' interest upon successful application for their first Card Loan via DBS Card+.
Existing and new customers can enjoy the offer in three simple steps:
Apply for a DBS Card on the DBS Card+ app in minutes[1]
Apply for a Card Loan on the DBS Card+ app and enjoy express online approval[4]
Receive instant cash disbursement into any bank account via FPS
For more details about DBS Hong Kong Card Loans, please visit (terms and conditions apply):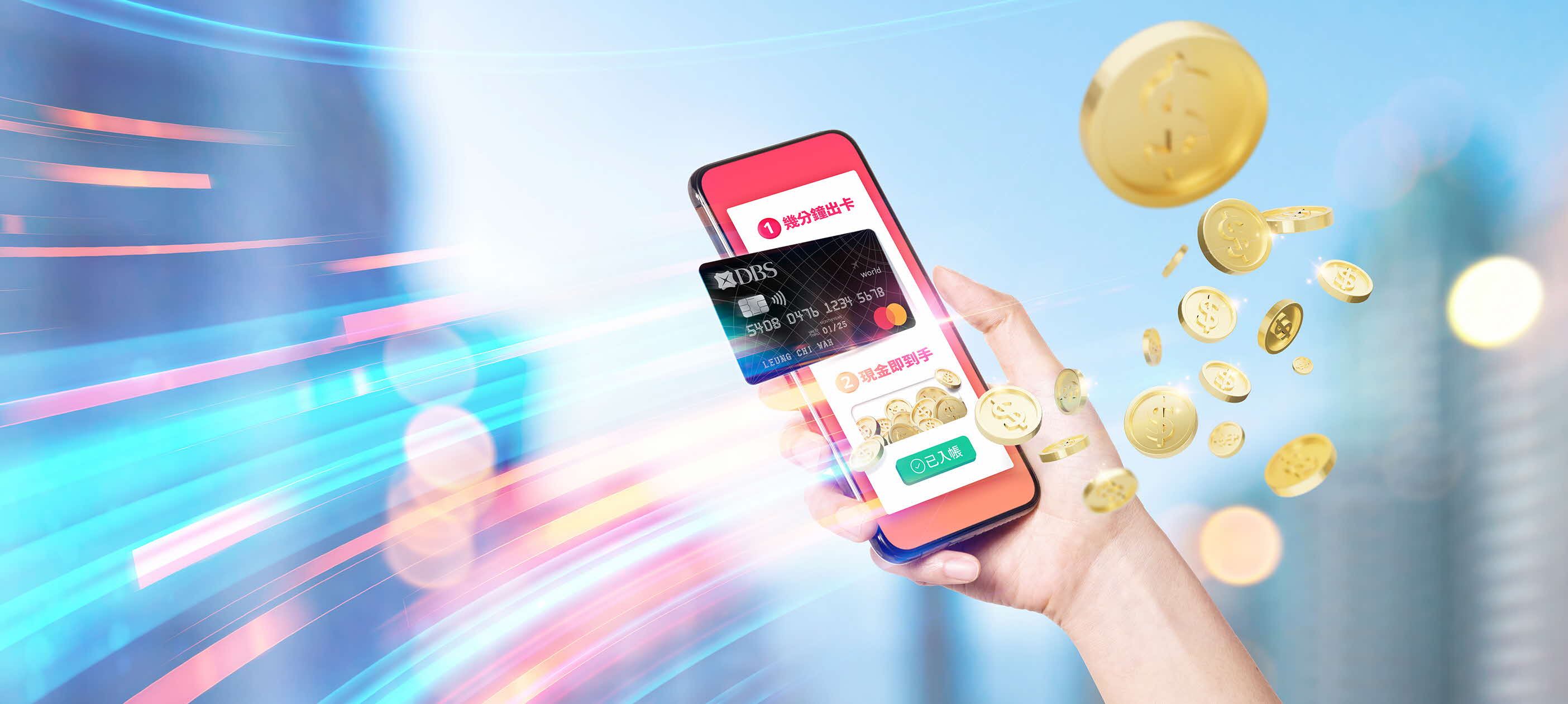 1 Credit card application may not be approved instantly through DBS Card+ for some individual reasons. The Bank may request other documents from you, like address proof and income proof, for application approval. The credit card application is subject to the Bank's final approval.
2 Only applicable to customers who use Faster Payment System to receive the loan payment. The loan payment will be instantly transferred to the recipient bank. The crediting to the recipient account will be subject to the recipient bank's handling.
3 DBS honoured as Best Bank in Hong Kong by four top-tier financial publications for the first time: https://www.dbs.com/newsroom/DBSHK_BestBankHK_EN
4 Due to individual circumstances, the online application may not be approved instantly. In this case, the Bank will contact the customer to follow up the application within 2 working days. The customer may need to provide additional documents for approval.
About DBS

DBS is a leading financial services group in Asia with a presence in 18 markets. Headquartered and listed in Singapore, DBS is in the three key Asian axes of growth: Greater China, Southeast Asia and South Asia. The bank's "AA-" and "Aa1" credit ratings are among the highest in the world.

Recognised for its global leadership, DBS has been named "World's Best Bank" by Euromoney, "Global Bank of the Year" by The Banker and "Best Bank in the World" by Global Finance. The bank is at the forefront of leveraging digital technology to shape the future of banking, having been named "World's Best Digital Bank" by Euromoney and the world's "Most Innovative in Digital Banking" by The Banker. In addition, DBS has been accorded the "Safest Bank in Asia" award by Global Finance for 13 consecutive years from 2009 to 2021.

DBS provides a full range of services in consumer, SME and corporate banking. As a bank born and bred in Asia, DBS understands the intricacies of doing business in the region's most dynamic markets. DBS is committed to building lasting relationships with customers, as it banks the Asian way. Through the DBS Foundation, the bank creates impact beyond banking by supporting social enterprises: businesses with a double bottom-line of profit and social and/or environmental impact. DBS Foundation also gives back to society in various ways, including equipping communities with future-ready skills and building food resilience.

With its extensive network of operations in Asia and emphasis on engaging and empowering its staff, DBS presents exciting career opportunities. For more information, please visit www.dbs.com.
Consumer Banking