By Christel Gomes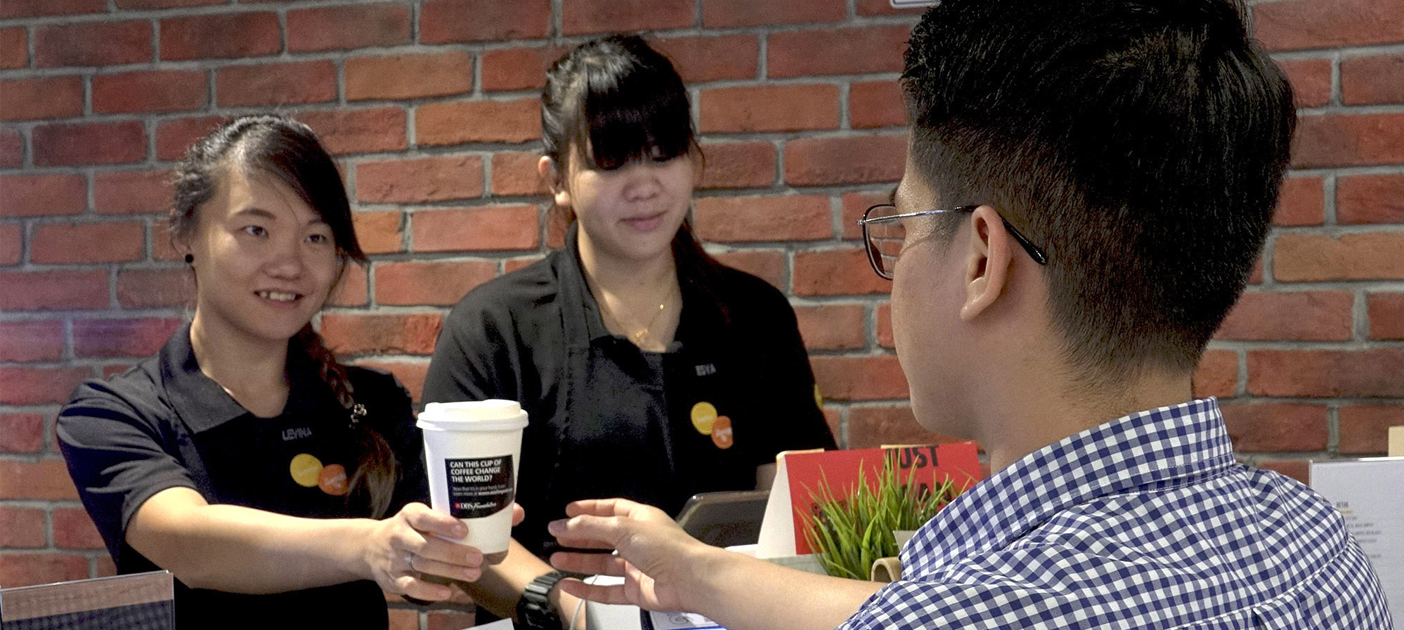 Customers are welcomed by the aroma of freshly brewed coffee by social enterprise Bettr Barista's situated at the entrance of DBS' Plaza Singapore branch. Photo: DBS
Even as banking is increasingly digital, DBS is offering a fresh take on the physical banking experience
Walk into the newly renovated DBS space at Plaza Singapura, and the aroma of freshly brewed coffee and warm bakes from social enterprise Bettr Barista tantalises your nostrils. The space is airy and open, with people chatting at a bar counter or long community table.
The outlet is designed with a "café and branch" concept, offering a cosy lifestyle space and human touch, for the tech generation.
"Banking doesn't need to be so formal. It can be social and cosy," says DBS Bank Executive Director Linda Lee. "Just come for a coffee, to mingle and socialise with friends, or just to have breakfast."
Take a look at DBS' new lifestyle space at Plaza Singapura
01:28
We're entering a time where everything is increasingly digital, but we can't eliminate having a touch point completely. Some people still prefer going down to the branch and we want to offer that option.
DBS Bank Executive Director Linda Lee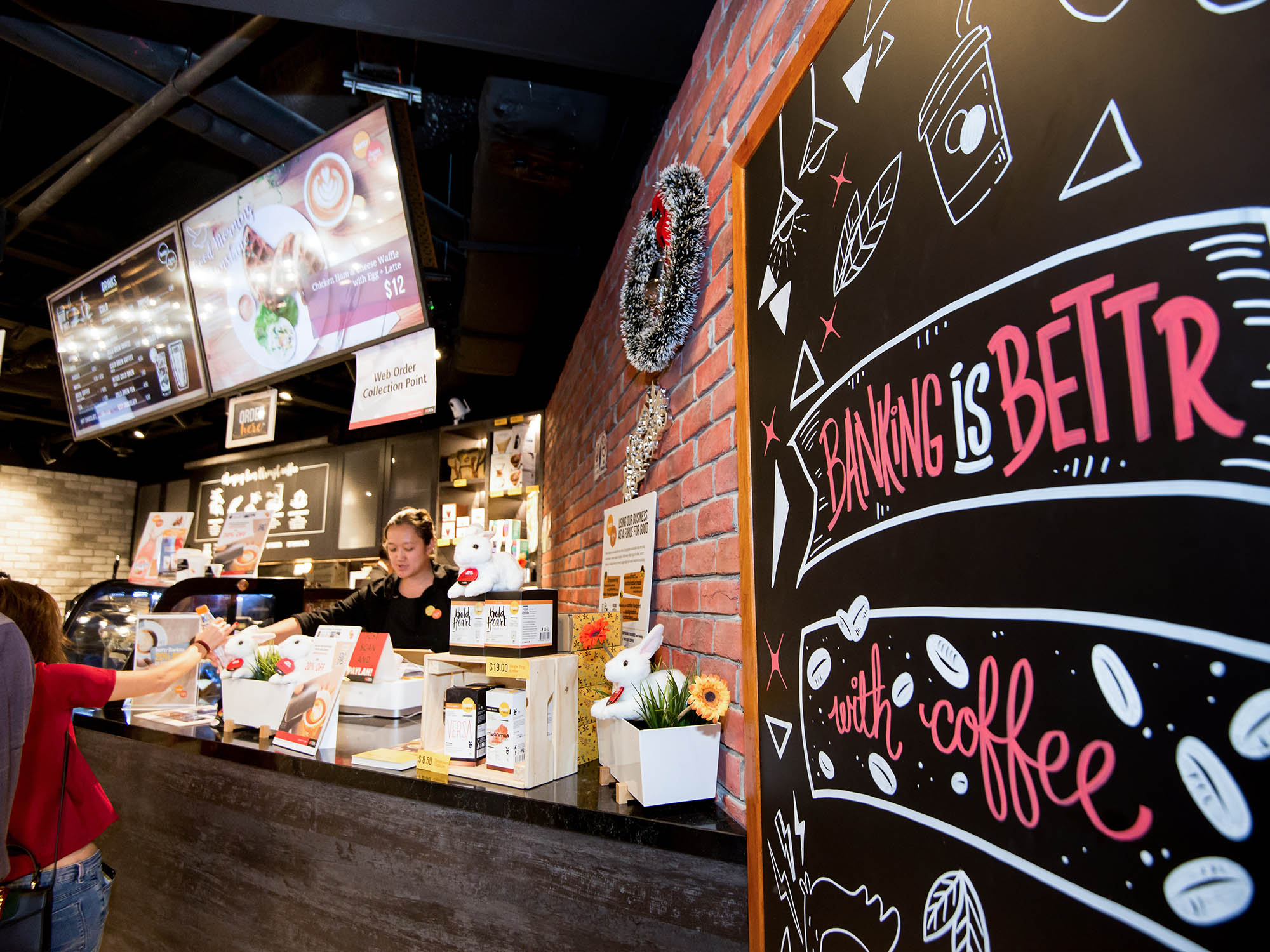 Photo: DBS
Building banking around convenience
Nonetheless, in keeping with the focus on digitalisation, the Plaza Singapura outlet uses the reimagined space to offer customers a highly digital banking experience, narrowing the gap between digital and branch banking.
The branch features a "24/7 banking lane", which houses the bank's Video Teller Machines (VTMs) and Branch Cash Services Machines. These allow customers to conduct transactions after branch banking hours. A humanoid robot, Pepper, stands out prominently – the robot introduces and teaches customers how to operate the VTMs.
The outlet also showcases an industry-first interactive virtual reality (VR) corner, where customers can plan their retirement lifestyles.

We believe in a clicks and mortar model, where digital banking is complemented by face-to-face interaction with our staff.
DBS Bank Executive Director Linda Lee
The VTMs offer non-cash banking services to the bank's customers round-the-clock, thereby offering them greater convenience.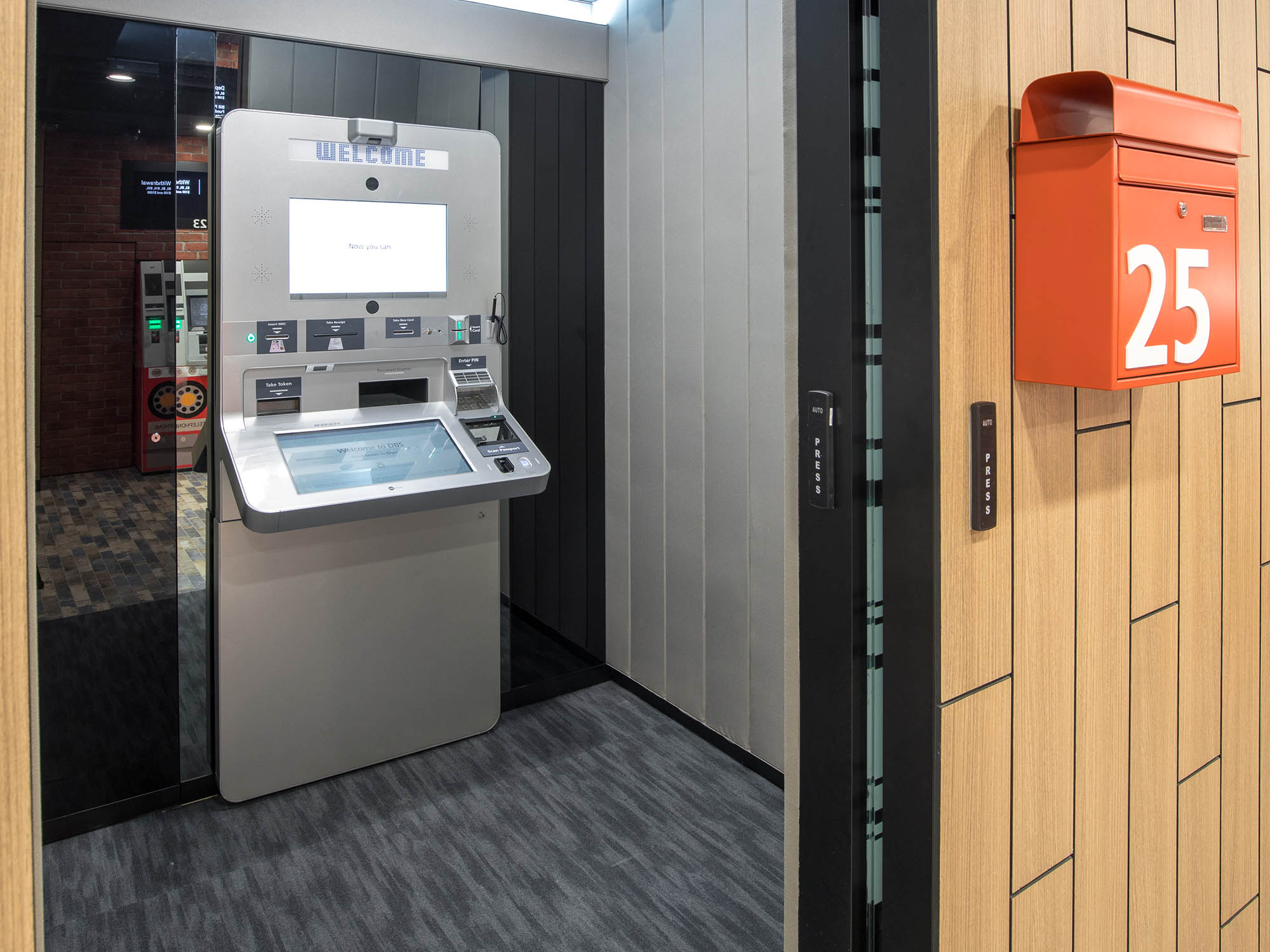 Photo: DBS
For instance, customers can replace their Internet banking tokens or debit cards instantly even after banking hours. This "not only provides convenience, but also enhances security by negating the need for any third-party involvement, such as with postal deliveries", notes Lee.
Customers can request for new cheque books, change their card or GIRO payment limits, reset PINs, or edit their particulars at the VTM. In all, the VTMs offer 21 different services that tellers were once needed for.
Read more: Free yourself from regular banking hours with DBS/POSB Video Teller Machines
Lee stresses there will be no compromise on security. The branch's two VTMs are placed in small booths to offer users privacy. A customer service officer can also advise customers via live video, if staff assistance is required.
Opposite the VTMs, three Branch Cash Services Machines allow customers to withdraw cash above their ATM card limits and select their desired cash withdrawal denomination.
"To cater to the needs of elderly customers who usually hold passbooks, these machines also allow cash withdrawals with both ATM cards and passbooks," says Lee.
Stepping into the future
In the VR experience, customers are guided through four key expenditure areas in life: dining, transport, travel and household. They are advised on how much they need to save for retirement to enjoy their desired quality of life, so customers can start planning to achieve their goals.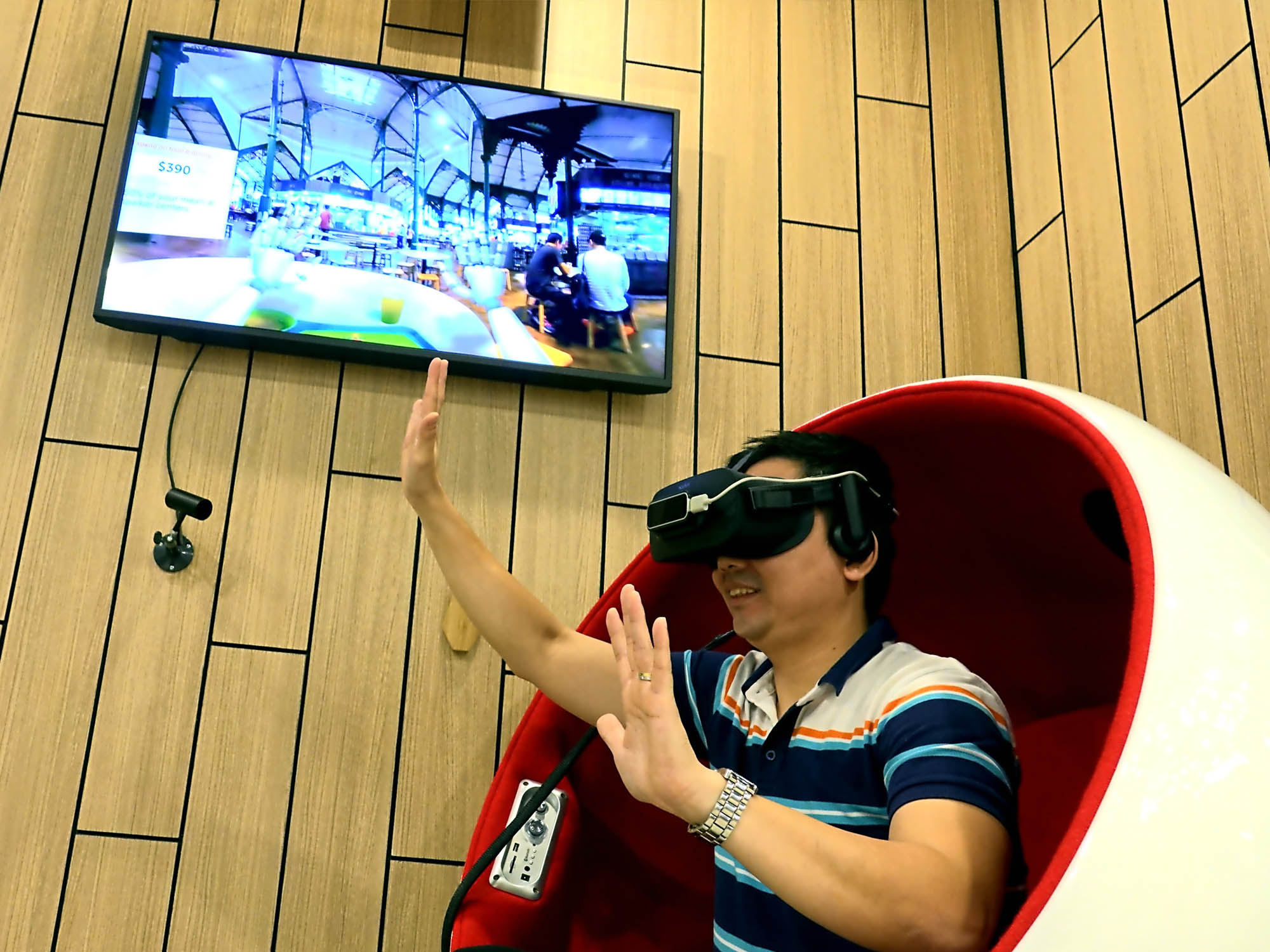 Photo: DBS
Says Lee: "Previously we had branch managers coming up to customers and asking rigid questions. Now customers can put on the VR goggles, and the app immerses the customer into their desired lifestyle 20 years into the future."
DBS is looking forward to improving the banking experience in even more creative ways.
"We are looking at the possibility of working on a different look for our other branches, and exploring how we can house a coffee kiosk in a future branch. We are also thinking about pop up stores for young entrepreneurs to sell and pitch their products," says Lee.
Jeremy Soo, Head of Consumer Banking Group (Singapore), DBS Bank, points out the bank has expanded and further integrated its physical and digital channels over the last few years, enabling customers to choose the platform they are most comfortable with.
"We also believe social networking in a physical space is equally important and that is why we are transforming this lifestyle branch to allow customers to interact with one another based on their interests."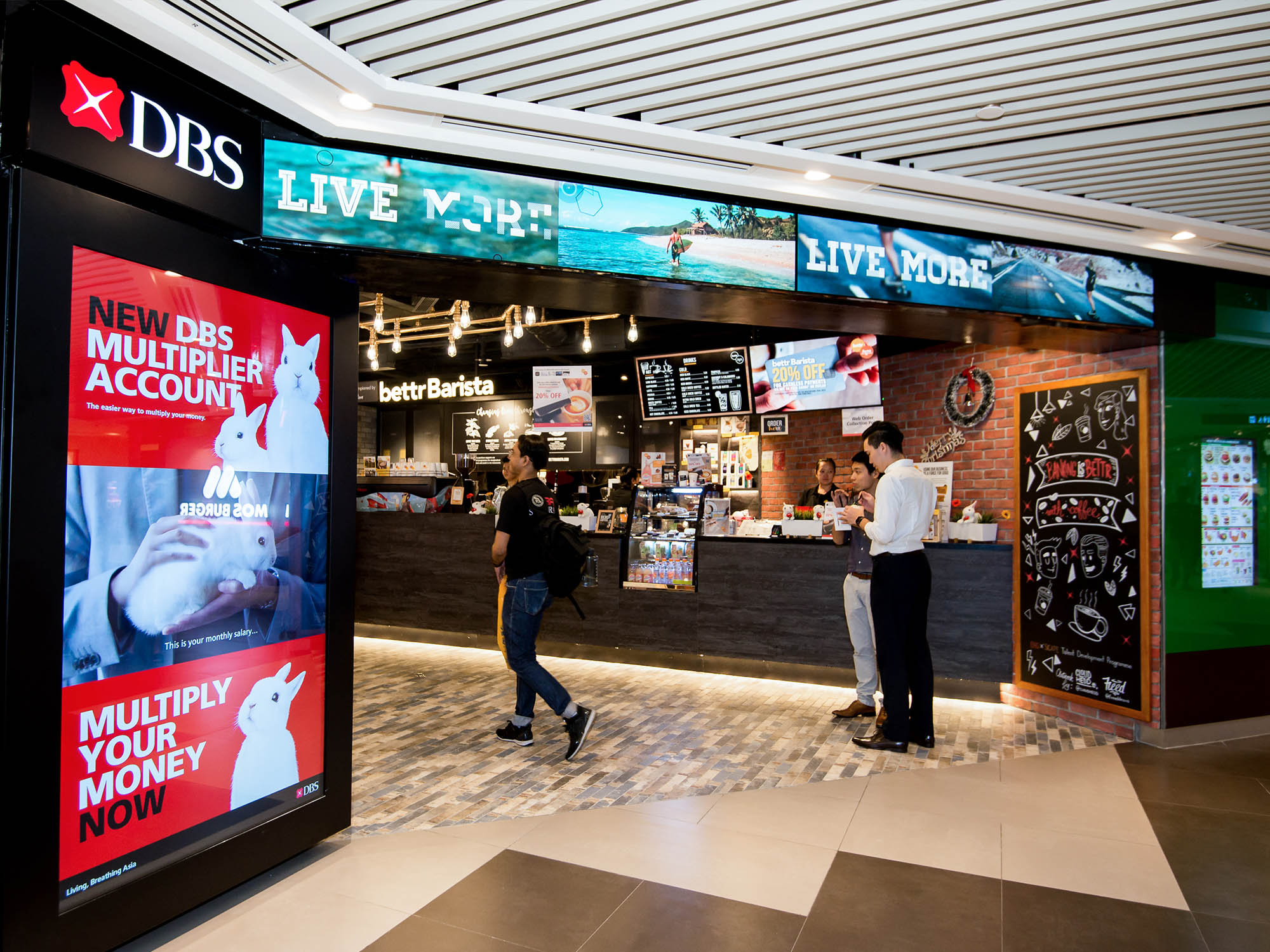 Photo: DBS
By reimagining banking, we want to change the impression of what branch banking is for the tech generation – hence offering this new relaxed environment, where banking is woven into our customers' daily lives.
Jeremy Soo, Head of Consumer Banking Group (Singapore), DBS Bank