DBS Bank and GS1 HK announce innovative partnership to provide local SMEs with on-demand digital trade financing solution | 繁體
Hong Kong
.

21 Jun 2022

.

3 min read
SMEs can now access same-day trade financing in a simple and digital manner by leveraging alternative data
Hong Kong, 21 Jun 2022 - DBS Bank (Hong Kong) Limited and GS1 Hong Kong are pleased to announce the launch of an innovative digital post-shipment trade financing solution powered by alternative data. With this offering, small and medium-sized enterprises (SMEs) on GS1 Hong Kong's ezTRADE platform can now utilise their trade data to access financing in a digital and straight-through manner instead of manually submitting hundreds of invoices every month.
Providing SMEs with a digital and streamlined trade finance solution to meet their business needs
DBS Bank and GS1 Hong Kong's innovation uses trade transaction data to provide SMEs in the fast-moving consumer goods (FMCG) and food & beverage (F&B) sectors with a digital post-shipment trade solution. This digital offering makes it easy for SMEs to access working capital with just one click via the bank's corporate banking platform, DBS IDEAL.
With this solution, SMEs can enjoy faster access to funding with minimal hassle and drive their business growth.[1] Leveraging on GS1 Hong Kong's ezTRADE data and DBS' digital capabilities, SMEs can obtain trade financing within the same day [2]. SMEs no longer need to submit hundreds of invoices manually to the bank. This paperless approach to trade financing not only frees SMEs from repetitive document submission, but also paves the way for more digital and sustainable business practices.
This solution redefines the trade financing journey for SMEs with DBS availing financing through a streamlined credit assessment process. Through DBS' predictive analytics capabilities, invoice data is used to assess the financial health of SMEs. What's more, the amount of financing SMEs can enjoy is updated on a dynamic and recurring basis.
Alex Cheung, Managing Director and Head of Institutional Banking Group of DBS Hong Kong said the partnership demonstrates the bank's steadfast commitment to the SME community. "As a leader in SME banking, DBS is proud to partner with GS1 Hong Kong to support companies with timely working capital in this challenging business environment. By enabling the use of their trade data for enhanced access to financial services, SMEs can further fortify their business resilience," said Mr. Cheung. "This is an optimised solution that is available to all GS1 Hong Kong members using the ezTRADE platform for transactions. SMEs can enjoy a fast turnaround time and draw down on their facility to meet the needs of their business".
In addition, SMEs in Hong Kong can enjoy DBS' HK $180,000 Online Account Opening Offer. With this specially designed promotion, the package gives SMEs the boost they need to meet their business demands and expansion goals.
Anna Lin, Chief Executive of GS1 Hong Kong commented, "This new partnership with DBS capitalises on our platform's rich datasets to enhance SMEs' cash flow, bringing great value to our members in their continued digitalisation journey. As one of the early participants of the Hong Kong Monetary Authority's Commercial Data Interchange (CDI) pilot initiative,[3] we aim to nurture a collaborative digital trade finance ecosystem – building on our close collaboration with more financial institutions and delivering innovative solutions for the Hong Kong business community".
Sandy Tan, Head of Ecosystems for Institutional Banking Group, DBS Bank (Hong Kong) Limited shared, "This digital solution was borne out of DBS' ongoing commitment to meeting our SME customers' needs in new and innovative ways. By leveraging digital ecosystems, we are pleased to be able to enhance the SME customer journey further by providing trade financing via a digital 'one click' transaction experience. SME suppliers receive hundreds of invoices per month and may have limited resources to submit documentation to the bank for trade financing purposes. Through our collaboration with GS1 Hong Kong, we have the ability to use alternative platform data to give us visibility on an SME's health and support their working capital needs".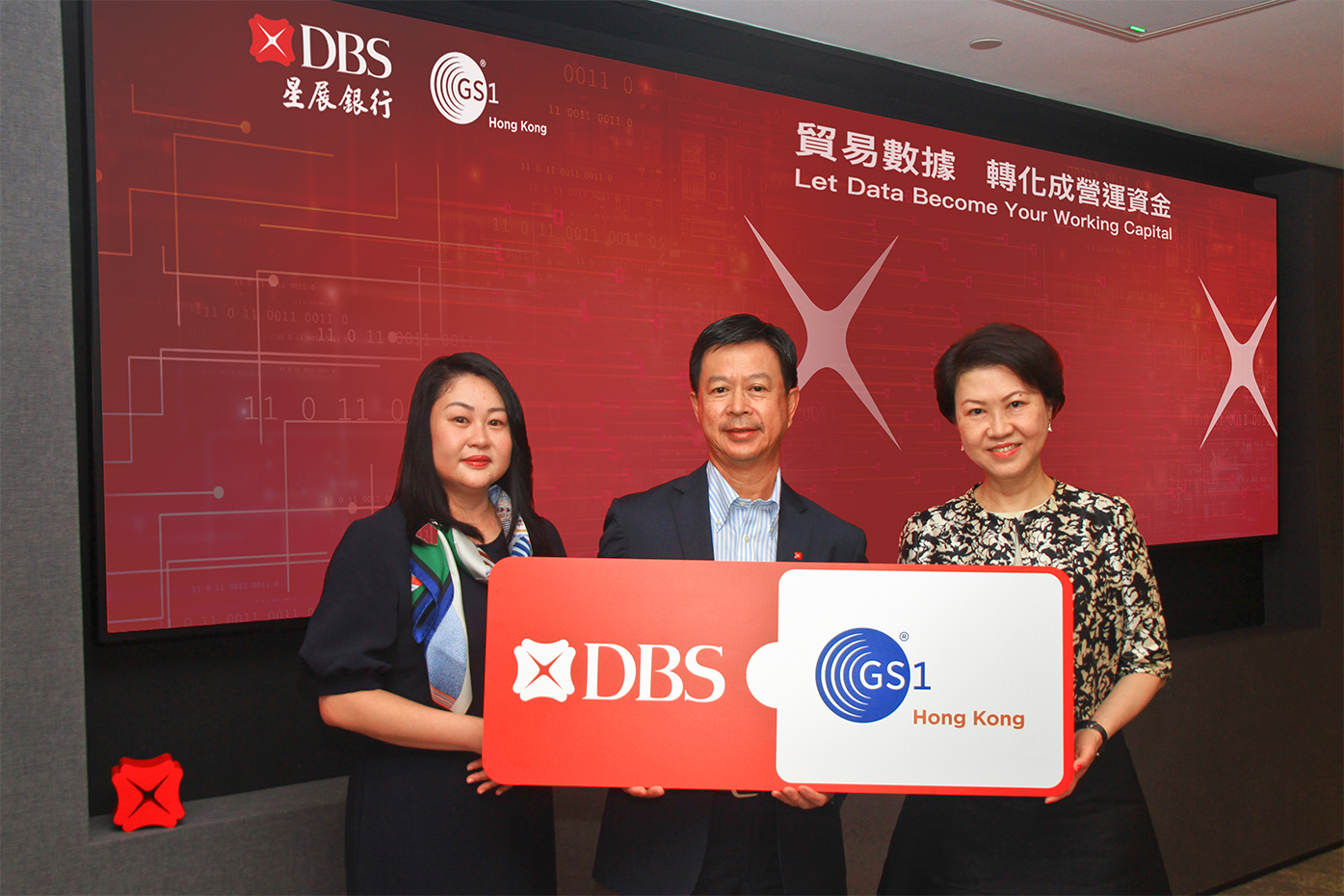 (From left) Sandy Tan, Head of Ecosystems for Institutional Banking Group, DBS Bank (Hong Kong) Limited; Alex Cheung, Managing Director and Head of Institutional Banking Group of (Hong Kong) Limited; Anna Lin, Chief Executive of GS1 Hong Kong; launch an innovative digital trade financing solution powered by alternative data, which enables SMEs to access their working capital with just one click.
[1] With the consent of SMEs.
[2] SMEs can initiate their drawdown request digitally via the DBS IDEAL platform and obtain the disbursed funds within the same day when requesting prior to the 4pm daily cut-off time. If the request is made after 4pm, funds are disbursed to their account the next business day.
[3] The Commercial Data Interchange (CDI) is a next-generation financial data infrastructure being developed by the Hong Kong Monetary Authority (HKMA). It aims to enable more efficient financial intermediation in the banking system and enhance financial inclusion in Hong Kong. For more information: https://www.hkma.gov.hk/eng/key-functions/international-financial-centre/fintech/research-and-applications/commercial-data-interchange/


[End]
About DBS

DBS is a leading financial services group in Asia with a presence in 18 markets. Headquartered and listed in Singapore, DBS is in the three key Asian axes of growth: Greater China, Southeast Asia and South Asia. The bank's "AA-" and "Aa1" credit ratings are among the highest in the world.

Recognised for its global leadership, DBS has been named "World's Best Bank" by Euromoney, "Global Bank of the Year" by The Banker and "Best Bank in the World" by Global Finance. The bank is at the forefront of leveraging digital technology to shape the future of banking, having been named "World's Best Digital Bank" by Euromoney and the world's "Most Innovative in Digital Banking" by The Banker. In addition, DBS has been accorded the "Safest Bank in Asia" award by Global Finance for 13 consecutive years from 2009 to 2021.

DBS provides a full range of services in consumer, SME and corporate banking. As a bank born and bred in Asia, DBS understands the intricacies of doing business in the region's most dynamic markets. DBS is committed to building lasting relationships with customers, as it banks the Asian way. Through the DBS Foundation, the bank creates impact beyond banking by supporting social enterprises: businesses with a double bottom-line of profit and social and/or environmental impact. DBS Foundation also gives back to society in various ways, including equipping communities with future-ready skills and building food resilience.

With its extensive network of operations in Asia and emphasis on engaging and empowering its staff, DBS presents exciting career opportunities. For more information, please visit www.dbs.com.
About GS1 Hong Kong
Founded by the Hong Kong General Chamber of Commerce in 1989, GS1 Hong Kong (GS1 HK) is the local chapter of GS1®, which supports companies' digitalisation to enhance supply chain transparency and efficiency, ensure product authenticity, and facilitate online and offline commerce with global supply chain standards (product identification key and barcode) and a full spectrum of standard-based platforms, solutions and services.
Currently, GS1 HK has around 8,000 corporate members covering close to 20 industries including retail consumer goods, food and food services, healthcare, apparel, logistics as well as information and technology. By engaging with communities of trading partners, industry organisations, government, and technology providers, GS1 HK is fostering a collaborative ecosystem with the vision of "Smarter Business, Better Life".
Headquartered in Brussels, Belgium, GS1® is a not-for-profit, standards organisation that has 115 national chapters serving 150 economies globally. For more information, please visit www.gs1hk.org.
Digitalisation