"Hum apne bacchon ko kaise padhaenge?" (How will I provide education to my children?) This was the first question on her mind while she was packing her bags to leave for her father's house.
Sujata is the ninth of 10 daughters. Before her marriage, she used to hear her grandmother tell her parents "Itni sari ladkiyan hain, kya karoge padha ke?" (You are responsible for too many daughters, don't waste money on their education.) In a society where patriarchy is still dominant, education is not seen as important for a girl. Her future is largely to be the perfect housewife in a marriage.
While seven of her sisters had barely passed fifth standard before getting married, Sujata considered herself to be fortunate to have graduated from high school before marriage. She had been promised further education by her in-laws post marriage but it did not happen.
Now after five years of her devotion to their marriage, Sujata's husband had abandoned her to be with another woman. All she wished for was that she could have studied more.
At 24 years old, Sujata had to lead a household on her own, with a son, aged 3, and a baby girl, just a few months old. She could not fathom how to provide her children with proper daily meals. Her dreams for their shining careers seemed to have been smashed.
She knew she had to do something to ensure her children's lives would be better than hers. Her father's income was not enough. The other men in the family, her brothers-in-law, avoided speaking to her thinking she'd seek financial help from them. There was no other way she could raise her kids and manage a livelihood on her own. She told her father she wanted to work.
Sujata had heard about the "Phool wali factory" (flower factory) but since it was quite far from her place, she feared her father would not permit her to work there. Nonetheless, intrigued by the concept of making incense from temple flowers, she visited the factory with a friend to see how it was run. She was immediately attracted to the culture of the place as she saw the women had so much fun together. The salary offered was higher than most places and everyone said "Bhaiya" (Ankit Agarwal, CEO of HelpUsGreen) was really nice.
She really wanted to join.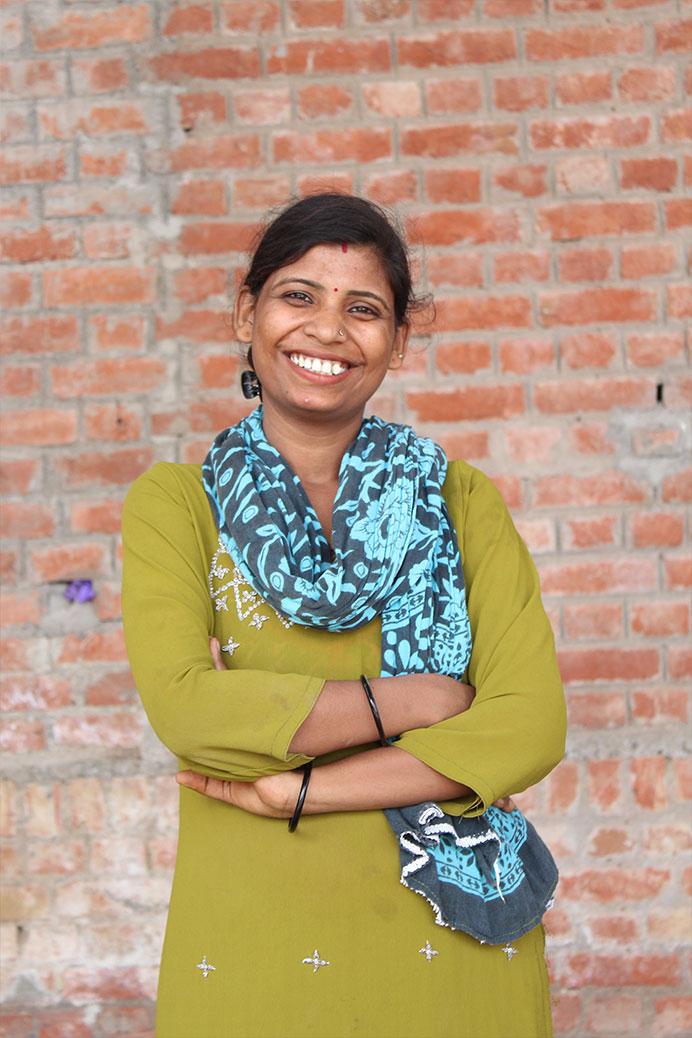 While Ankit was monitoring the packaging of incense sticks, she stepped in and told him that she wanted to work there but her father would be against sending her because of the distance.
The following week, a yellow painted bus with the HelpUsGreen logo came to fetch her and other women to the factory. She saw her neighbours look at her in surprise when she boarded the bus and that made her smile – her first, in a long time.
Sujata's first memory of the factory was associated with cleanliness and hygiene. Most of the women there were either former manual scavengers (a banned practice of manually cleaning human excreta from sewers) or had worked with some other factory. Little attention had been given to their health and sanitation at their previous workplaces. Where they used to handle faeces with their bare hands, they now separated flowers while wearing gloves at HelpUsGreen. They had clean toilets, their drinking water was filtered, they were provided with safety gear, and their medical needs were met.
Each woman working there had a personal banking account and life insurance. They all attended a workshop from HelpUsGreen on the operation of bank accounts, insurance, and ATM cards.
Armed with this knowledge, Sujata taught her younger sister how to use an ATM card. In fact, whatever she learned at the factory, she passed on to her family.
When her father was set to marry off her younger sister after high school, she stopped him from doing so and took on the responsibility for her sister's further education. She wanted her sister to be independent and strong, and knew it could be achieved through education.
It's been more than a year since she joined the factory.
Within 2 months of working at HelpUsGreen, with a steady income she never had before, Sujata was able to enrol her son in school. She is also planning the admission of her 2-year-old daughter this year and would give anything to see her work in the Indian Administrative Service in the future. In a society like hers, it counts as a great challenge.
Sujata now earns more than her husband used to and leads a much more comfortable life. Her brothers-in-law, who were not keen on helping her in her hour of need, now look to her for financial aid.
Sujata began with separating flowers at the HelpUsGreen factory, to learning everything from dough making to packaging. Her favourite part of the day is hand rolling incense sticks with her best friend, Rekha, where they share stories and laugh a lot.
"HelpUsGreen has given me respect, strength, and confidence, and that is why I love working here," Sujata says.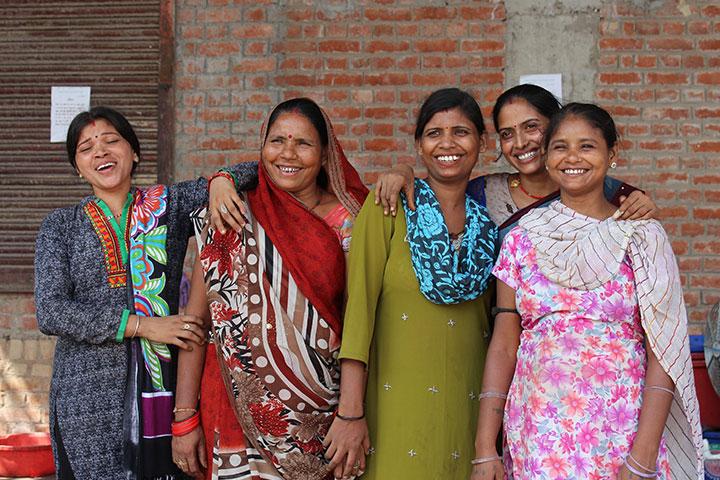 HelpUsGreen provides livelihoods to 78 other such women. Their experience at HelpUsGreen is not only empowering but also transforming.
These women were mostly unemployed or worked as sanitation workers. Due to the taboo around sanitation workers in Indian society, these people are often treated as untouchables. No one wants to employ them as they clean drains and because of the prevalent caste system.
With HelpUsGreen, these women can have disease-free, stable livelihoods.
Their income has increased up to 6 times. Previously, they earned only up to Rs. 60/day. 60% of these women now earn more than their husbands. A few of them are the sole bread-earners of their family. Each of Phool's products narrates a tale about a woman who handcrafted it.
Sita Devi, for instance, bought a refrigerator from the money she saved. Her life's dream was to have cold water. Sumitra bought speakers which she rents out for marriage processions. She is now an entrepreneur.
Above all, each of these flowercyclers is proud to have contributed to preserving the Ganges. This sacred river is the means of livelihood for thousands of families in the vicinity. The monumental temple-flower disposal in the river and its deep-rooted religious significance was overriding the Ganges' biophysical stability and killing it. HelpUsGreen is grateful to have transformed lives through flowers.
HelpUsGreen is preserving India's most sacred river, the Ganges, and transforming the lives of marginalised women. By upcycling flowers offered in temples, the social enterprise creates organic products like incense sticks, incense cones, and vermicompost under the brand 'Phool'. It prevents about 8.4 tonnes of flower waste from being dumped into the rivers on a daily basis.
HelpUsGreen is a 2018 awardee of the DBS Foundation Social Enterprise Grant Programme. The social enterprise was also one of the winners of the 2017 DBS-NUS Social Venture Challenge Asia and recipient of the Judges' Choice Award for its potential sustainable and scalable social impact.
Inspired by HelpUsGreen's story? Here's another social enterprise that is empowering women in India by training and employing them as delivery associates. The latest episode of DBS' mini-series Sparks is inspired them.