A superfood known for its nutritional properties, mushrooms are now being looked upon as a viable alternative to leather and conventional building materials.
Sounds unbelievable, but the humble fungus is already being fashioned into a renewable and sustainable leather-like material for bags, furniture and clothing, thanks to innovative tech start-ups like Mycotech.
The budding company, which launched in 2015, creates building materials and products from a thread-like, vegetative part of mushrooms knownas mycelium. Inspired by tempeh, a popular Indonesian soy product, the company binds mycelium with agricultural waste like corn husks and wood chips, and grows them into a material called mylea.
This material is said to be fireproof, waterproof and flexible, and can be turned into an array of experimental faux leather creations.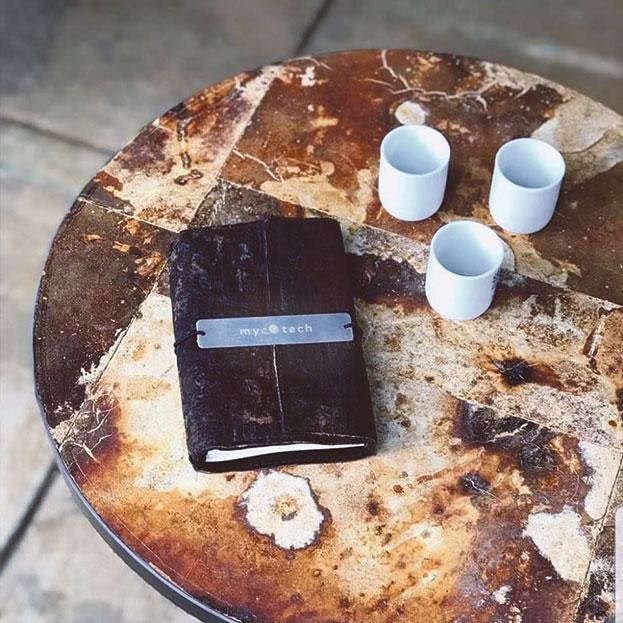 "Mycelium is a natural adhesive. It binds with other cellulose-based materials, without the need for chemical adhesives," says co-founder Ronaldiaz Hartantyo. "One of our first projects was to build a solar pavilion out of mycelium composite with Swiss university ETH Zurich in 2017. Afterwards, we kept inventing new products such as bio-based binderless boards and mylea."
Mycotech's aim goes beyond creativity and novelty. They have bold aspirations to revolutionise the textile industry with their sustainable alternative to animal and petroleum-based leather, which are not as kind to the planet.
Livestock, whether reared for food or the leather industry, currently accounts for about 14.5 per cent1 of global greenhouse gas emissions, surpassing the transport sector which is responsible for 14 percent2 of emissions. Cows are one of the primary sources of emissions, with each animal releasing 114kg to 189kg3 of greenhouse gases a day.
While many of us are already taking active steps to shrink our carbon footprint by cutting back on food waste or choosing to eschewplastic bags at supermarkets, more needs to be done to curb our appetite for leather goods. Everything from rearing and transporting livestock e to tanning, curing and fabricating raw hides into leather for final consumption contributes to rising global emissions.
According to Mycotech, the process of turning one cow's worth of raw hide into traditional leather industry's impact on model, Mycotech was further leather emits a whopping 355.5kg of carbon dioxide. In comparison, the process of producing the same amount of mylea from mushrooms releases just 0.7kg of carbon dioxide.
To date, the plucky start-up has collaborated with a string of independent Indonesian designers to create a wide range of mylea-based products, from watches and bags to furniture. They have also received grants for their efforts to achieve circular economy within the textile industry.
On Sep 22, Mycotech received a US$10,000 grant from MIT Solve, a business incubator and business idea marketplace from the Massachusetts Insitute of Technology, for the use of their mushroom mycelium technology to reduce waste and carbon emissions. They also will be opening their next Series A funding round this October.
Armed with a mission to unravel the traditional leather industry's impact on the planet, the company's next goal is to market their technology to other businesses in the construction and fashion industry.
"Sustainability is not a trend, it's a necessity.It's not the Earth that needs us; we need the Earth. With Mycotech, we are trying to save the world by offering a more sustainable alternative to animal-based leather. It's not leather, it's better."
How to go on a low-carb(on) diet
Reduce the environmental impact of your food choices in five simple ways
TIP #1 Buy only what you need

 

Prepare a shopping list or have recipes on hand so that you buy only what you need at the supermarket. Bringing recyclable containers to zero-waste grocery stores like Unpackt can help you to measure the right amount of pantry staples you need. This helps reduce food production, which is responsible for a quarter of all greenhouse gas emissions.




TIP #2 Don't discriminate against ugly food

 

Fruits and vegetables are often tossed when they are blemished or misshapen because they are deemed ugly. Reduce food waste by supporting edible "ugly food" & from social enterprises like UglyFood and TreeDots, which are supported by DBS Foundation.




TIP #3 Store your food properly

 

Make sure your produce is properly stored to prevent premature ripening and rotting. For example, potatoes, tomatoes and garlic should not be refrigerated.




TIP #4 Donate to food banks

 

Do your part to reduce food waste by donating unsold or excess food to distribution organisation like Food from the Heart (FFTH) and The Food Bank Singapore. You can give FFTH a call before visiting their warehouse in Toa Payoh or drop off excess food at The Food Bank's Bank Boxes islandwide.




TIP #5 Turn food scraps into snacks

 

Instead of throwing away fruit and vegetable scraps, get inventive and turn them into healthy snacks. For instance, you can blend the stems, ends and peels of leftovers produce to make nutrient-packed smoothies.
In 2016, Mycotech was awarded the DBS Foundation Social Enterprise Grant to support the prototype development of their sustainable bio-material. Beyond grant funding, the bank has provided mentorship and guidance to Mycotech to help them address various business challenges.
Having developed a working prototype and scalable business model, Mycotech was further awarded a grant in 2018 to support their plans to scale up production and establish an intellectual property strategy.
This content is produced in partnership with ST Life.
DBS Foundation provides holistic support to businesses of impact, including the flagship Social Enterprise Grant Programme. Click here to find out more.