In this series on safeguarding Asia's future, we look at the innovative solutions being developed by social enterprises supported by the DBS Foundation, through its Social Enterprise Grant Programme.
Mama Maria worked hard in the field every day – even when she was pregnant and lacked nutritious food. She had lost three of her children: one was a stillbirth, another died before reaching one month old, and the third died before reaching a year old.
The 36-year-old mother of seven was worried about money so she avoided going to the clinic to give birth. There were complications during her sixth pregnancy and she had to journey two hours to the clinic. It was too late. She gave birth at the side of the road and her baby didn't survive.
Social enterprise Du'Anyam Weaving Goods wants to help mothers like Mama Maria. Tapping on the existing wicker weaving tradition among Indonesian women, the social enterprise engages women to produce wicker craft, an alternative employment to subsistence farming.
The craft items, ranging from beautiful hand-woven baskets to business card holders, are then sold online at DuAnyam.com, which was created with a vision to become the first and largest online wholesale crafts platform with a social cause.
Now, Mama Maria and her oldest daughter Sinta, who's 19, gain income by weaving with Du'Anyam. Sinta was able to weave while pregnant and eventually gave birth safely in the health clinic last year.
Du'Anyam aims to address socioeconomic barriers for women in accessing nutrition and health services in rural Indonesia by leveraging existing skills and resources among the women community.
"Despite programmes designed by the government and NGOs, there are socioeconomic issues yet to be addressed," says Ayu, noting that maternal and child health issues in rural Indonesia remain among the highest in Southeast Asia.
For instance, women lack access to year-round cash for health services and nutritious food because they rely on seasonal subsistence agriculture. When pregnant or breastfeeding, they undertake heavy agricultural labour despite insufficient nutrition. Some 45% of pregnant women suffer from chronic energy deficiency in East Nusa Tenggara, Du'Anyam's pilot province.
In addition, says Ayu, women still do not have much voice in the household including in decisions regarding their reproductive health.
By connecting existing skills and resources to the marketplace, Du'Anyam hopes to help these women monetise their skills while promoting and preserving the local culture.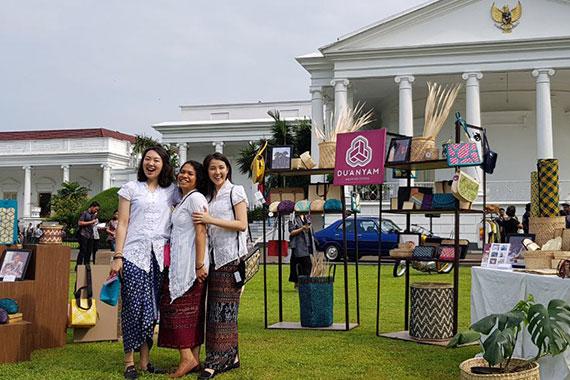 A regular source of income will offer these women financial security and increase their access to better nutrition, and education for their children and themselves.
The social enterprise also wants to partner other organisations to provide health intervention, scholarship, and technology improvement for the rural women community.
Says Ayu: "These issues are crucial because we believe that women empowerment as well as maternal and child health are important for the development of the next generations.
Without optimal nutrition in early life, even from pregnancy, children would not be able to reach their full brain and life potential. This inter-generational malnutrition will eventually lead to inter-generational poverty, which is something Du'Anyam is keen to address."
Since starting in 2014, Du'Anyam has empowered 400 women and hopes to impact 2,000 women artisans by 2020.
There have been challenges along the way.
When one of their weavers, Mama Mili first started weaving products for sale, her husband was adamant she stop, threatening to burn her weaving products if she continued. He felt it distracted her from her main "duty" as a housewife, which included cooking and caring for their children.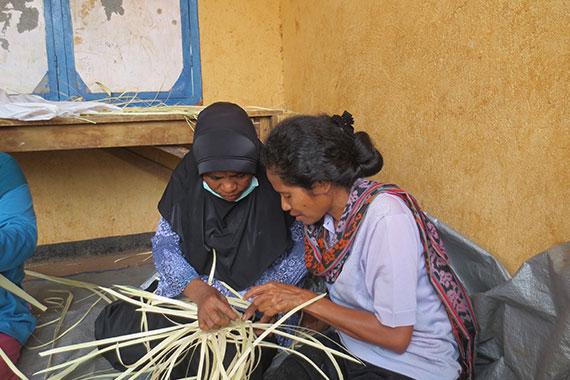 Mama Mili continued weaving in secret, from her neighbour's house. Finally, she convinced her husband, Pak Frans, to support her efforts once she started earning money from the sale of her wicker craft. Today, Pak Frans helps with procuring the raw materials for weaving and even helps with household chores like washing the dishes if Mama Mili is busy weaving.
"We are inspired by the spirit and persistence of these women despite very limited resources," says Ayu.
"Seeing how resilient and resourceful the women we work with are and how much positive impact, not just financially but also on the perspective of the women, that Du'Anyam has brought, are the things that really get us going."
The DBS Foundation's social enterprise grant will be used to expand and streamline the enterprise's production and increase its sales via the online wholesale platform.
The DBS Foundation's Social Enterprise Grant Programme encourages innovation by social enterprises to meet complex social needs. The grant enables social enterprises to develop their prototype into a working model, improve existing processes or add critical capabilities to achieve sustainability, or scale up their existing business that leads to greater social impact. Find out more
There are other social enterprises, similar to Du'Anyam, that empower women by providing them employment opportunities in non-traditional fields. Even Cargo, a Delhi-based social enterprise, employs women as delivery associates so as to provide them a steady income and a sense of dignity. The latest episode of DBS' mini-series Sparks is inspired by their empowerment journey.