When her beloved mother-in-law suffered a stroke, Mary resigned from her full-time job and took on the responsibility of caring for her. She showered and fed her, changed her diapers and kept her company. Her mother-in-law had been adamant about not being placed in the care of a stranger.
After her mother-in-law passed away, Mary wanted to help other seniors but was uncertain if she had the necessary capabilities. She turned to Homage, an on-demand home care solution, where she received caregiving training certified by the Ministry of Health in Singapore and learnt how to handle seniors from one of Homage's partner physiotherapists. Now, she is now one of the most trusted and trained caregiving professionals available on Homage.
Leveraging technology to tackle the needs of Singapore's rapidly ageing population, Homage matches seniors in need of personalised, expert, and flexible care with suitable caregivers. There are currently more than 400 caregivers on the platform, co-founded by Gillian Tee, Lily Phang and Tong Duongin (who is no longer with the enterprise) in 2016.
In the same year, Homage was awarded the DBS Foundation Social Enterprise Grant, which recognised the start-up's potential to not only plug the gap in demand for home care services but also to shake up the healthcare industry. Since then, Homage has gone on to win the President's Challenge Social Enterprise Start-up of the Year in 2017.
'A service we can personally trust our parents with'
Homage, available online and as a mobile app, offers an array of home care services, starting at SGD 22 an hour for a one-off session. Apart from basic nursing and activities of daily living, caregivers are also skilled in administering nursing procedures such as catheter care and injections. More specialised care is also available, such as speech therapy and home physiotherapy.
When matching a senior to a caregiver, otherwise known as a Care Pro, Homage uses a smart algorithm that considers more than 50 variables from their profiles, including the senior's medical conditions and caregiver's experience and availability. All caregivers undergo a rigorous selection process involving a background check, CPR certification, tuberculosis screening, among others.
On the mobile app, users can schedule visits for the senior – typically a loved one – as well as access reports about each care visit and communicate with Care Pros.
But while Homage uses technology to facilitate each visit, Tee and Phang are quick to stress that the core of their service is about providing the human touch.
"The way we weave technology into our service is to enhance our users' experience and allocate caregivers more expediently than what a human coordinator can achieve. But ultimately, we are always looking to add more of a human touch and go beyond a basic, minimal level of care," says Tee.
For example, before assigning a Care Pro, Homage sends a senior registered nurse to assess the recipient's medical and environmental conditions at home before recommending a holistic care plan. This helps to ensure the senior's needs can be accurately met.
At the end of the day, we want to keep our service quality high so that we know we can personally trust our parents with Homage's Care Pros.
Supporting seniors' mental and emotional well-being
After all, it was their parents who inspired the start of this social enterprise.
While learning to care for their ageing parents, Tee and Phang discovered a lack of home care services in Singapore. Both were concerned about how to cope with their mothers' loneliness in old age, apart from other health concerns, and found it difficult to look for trusted caregivers.
"On top of that, we also realised that a lot of the elderly ended up in hospitals because of poor living conditions at home. For example, they might easily contract pneumonia from poor feeding, which can be avoided with the right kind of home care," says Phang, who has worked in public healthcare and clinical management in Singapore.
"Beyond acute medical care, what is important to these seniors during their golden years is to have support for their mental and emotional well-being in the comfort of their own homes. We wanted to improve the quality and accessibility of home care services in response to that," adds Phang.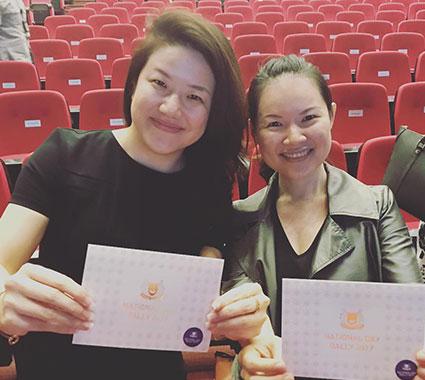 What lies ahead
One of the challenges Homage faces is to increase awareness about the types of home care available.
"While we are experiencing a shift in healthcare to home- and community-based care, we still regularly encounter Singaporeans who need to be made better aware of what options are available.
"It's one of the reasons we've officially partnered with some of the largest local care organisations and Voluntary Welfare organisations (VWOs) such as The Salvation Army to deploy Care Pros and provide care to lower-income seniors," says Tee.
"We will be using the DBS Foundation Social Enterprise Grant to continue improving our home care services. For example, we are refining our mobile app to support multiple family members managing the same care recipients, which will help to reassure the family that their loved ones are in trusted hands."
Homage is a social enterprise supported by the DBS Foundation. In 2016, Homage was awarded the Foundation's Social Enterprise Grant Programme. The Grant Programme enables social enterprises to develop their prototype into a working model, improve existing processes or add critical capabilities to achieve sustainability, or scale their existing business for greater social impact. Grant awardees join an esteemed community of social enterprises that the DBS Foundation supports to ignite possibilities for a truly inclusive Asia.