His face broke out in a smile and tears welled up in his eyes as he moved his arm up and down, left and right, recreating the familiar sounds from a piano on a special device.
Sorna Rajah used to be able to play beautiful melodies on the piano, until he was stricken with Parkinson's disease, which affects movement. For 40 years, he could not play the instrument. Two years ago, at age 88, Rajah was finally able to make music again.
Rajah was part of a pilot project by St John's Home for Elderly Persons, where he was a resident, and I'm Soul Inc, a social enterprise that uses music technology to harness the therapeutic power of music.
I'm Soul Inc uses a range of music technologies and programmes to enable everyone to make music. One of these technologies is the Soundbeam, a device that uses movement-led technology to facilitate music production and composition.
Originally designed in the 1980s for dance, the Soundbeam is an inclusive technology that enables anyone with no musical background to make music easily and instantly, including older adults and those with disabilities. It consists of very sensitive movement sensors, and plates that act as sound switches. A client can make music, controlling pitch and sounds produced just by moving their hands, legs, head or body, around, closer to or further away from the sensors.
Its ultrasonic sensors detect movement within its "beam", and the device translates the movement into sounds. The use of wireless switches and motion sensor beams sets the Soundbeam apart from other existing music apps.
"Most people do not know that music triggers the release of chemicals such as dopamine and oxytocin in our brains that makes us feel happy and closer to others," says Michelle Lee, Founder & CEO of I'm Soul Inc.
She compares playing an instrument to a full body workout for your brain, which multiplies the therapeutic effects of music far more than just passive listening
Neuroscience research has found that music is one of the few activities that stimulates and uses the entire brain. It increases the growth of new brain cells, which is critical for enhancing positivity and for the rehabilitation of disorders such as strokes, Parkinson's disease and dementia. It can benefit those with physical and learning disabilities.
'The happiness is palpable'
"Many people cannot make music the conventional way, especially those who are ill or have a disability. Our fun and innovative programmes and technology enable anyone to make music with ease," says Lee, whose father used to love playing the Erhu but could no longer do so after a stroke.
"A group can form an ensemble to make any music that resonates with them, in any language or genre. The happiness is palpable. It is less tiring for the body to move to music. Social interaction is enhanced when they make music with friends and family."
"When people are amazed and self-motivated to move to make music, physiotherapy sessions become so much more fun and empowering."
Lee came across the Soundbeam in 2013 when she was in the United Kingdom. It was used mostly by children and musicians with special needs there, but Lee saw the potential impact it could have on other people as well.
She eventually brought the technology to Singapore. While the Soundbeam comes with pre-programmed soundsets, Lee believes in the magic that music evokes when well-loved tunes are played. She works with musicians and movement experts to add in more tunes that resonate with local clients, such as Rasa Sayang and Dayung Sampan, as well sounds made by Asian instruments such as the guzheng, erhu and kumpang.
I'm Soul Inc's innovative programmes have enabled positive behavioural and emotional change for the communities they work with.
"We have enabled hundreds to make music and touched the lives of the young and old, abled and disabled, families and communities across generations. For those whose access to music is restricted, or even deemed impossible previously, we open up a whole new world of possibilities," says Lee.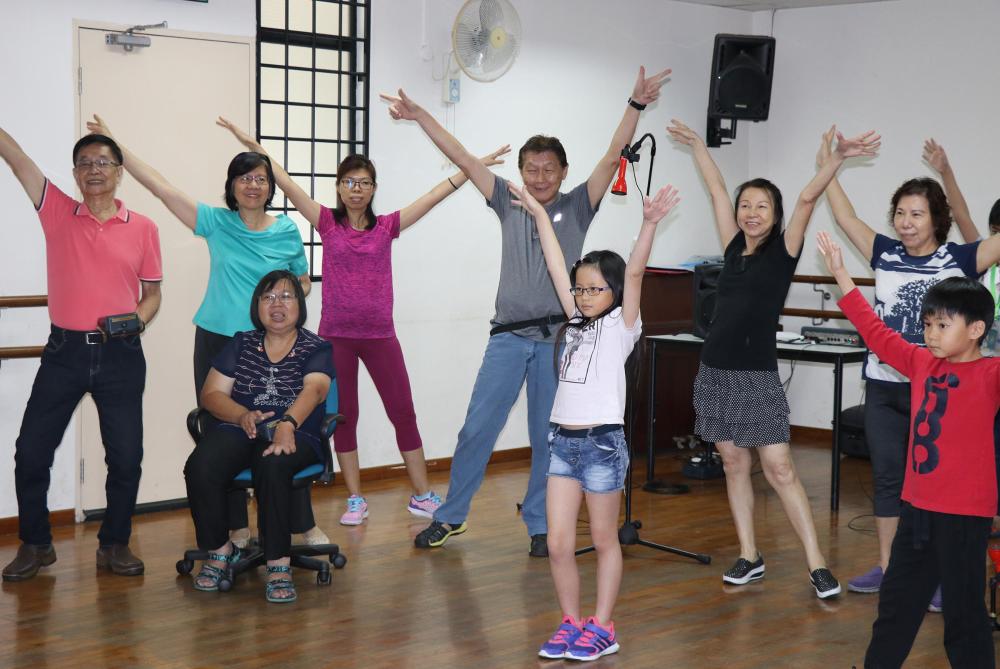 Stressing that the technology is inclusive, Lee adds that the social enterprise wants to enable people of all ages and abilities to make music, not just people with disabilities or the aged. Making music can help with creativity, productivity, stress reduction and team bonding, she states.
I'm Soul Inc was one of the top 12 social enterprises in the 2016 edition of DBS-NUS Social Venture Challenge Asia (SVCA), as well as the winner of the Asia For Good Reader's Choice Award 2016.
I'm Soul Inc has gone on win the Best Active Ageing Award (Community) at the Asia Pacific Eldercare Innovation Awards 2017. The social enterprise is also looking at expanding into Malaysia, Hong Kong and Japan.
"Being a part of SVCA has helped raise our profile tremendously and opened up many new opportunities for business and mission growth," says Lee.