10 money-saving tips and hacks for fuss-free travels
BY DBS, 19 AUGUST 2022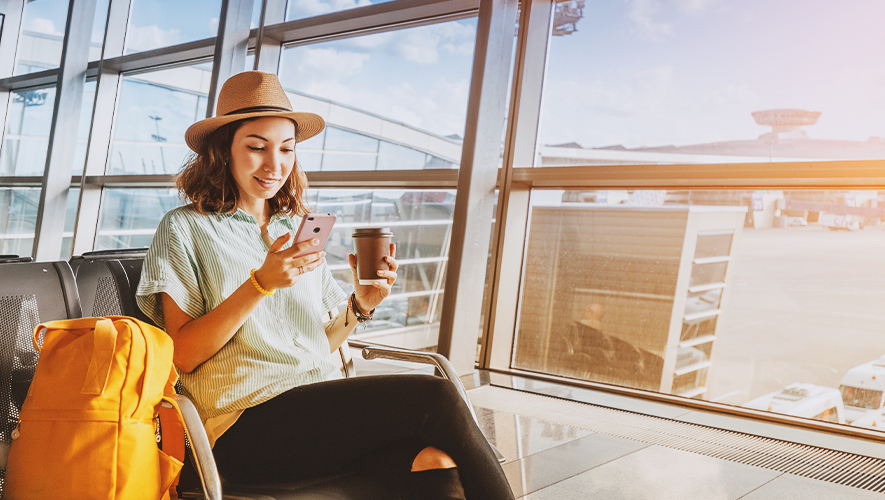 Bit by the travel bug? Don't start booking your trip until you've read these handy money-saving travel tips
Before you travel
1. Book your flights early
Don't overpay by leaving your bookings to the last minute! The safest bet will be to book your flights at least three months in advance.
Overwhelmed by the sheer amount of flight or hotel booking platforms online? Fret not because the DBS Travel & Leisure Marketplace has your back.
The Travel & Leisure Marketplace is a one-stop platform for holiday booking needs for DBS Credit or Debit Card holders. Earn DBS Rewards from your flight or hotel booking, fully or partially offset your booking amount with DBS Points and POSB Daily$, and benefit from complimentary travel insurance, with Covid-19 coverage!
Earn & redeem DBS Points and POSB Daily$:
a. The full flight/hotel booking amount is eligible for DBS Rewards. The booking amount also includes points used in the offset of the transaction. For a limited period, your DBS Points are now worth 3X! Every 100 DBS Points can offset S$3.00 of your flight and hotel bookings.
b. For a limited period, your DBS Points are now worth 3X! Every 100 DBS Points can offset S$3.00 of your flight and hotel bookings.
Complimentary travel insurance:
a. Travellers who are Singapore Residents can receive complimentary travel insurance for flights commencing in Singapore or overseas hotel bookings through DBS Travel & Leisure Marketplace.
b. Accompanying travellers in the same booking will also be covered. T&Cs apply.
2. Use shared lists of saved places
Travelling with loved ones?
Try collaborative planning tools such as Google Maps, where you can save the places you want to visit in a list. Share the list with other travellers in your group and get them to contribute to it.
The map is great for brainstorming places to visit, crafting a shared itinerary, and making the most out of your trip by mapping out your travel route.
3. Get insured
A travel insurance policy may incur some money before your trip, but it goes a long way towards stress-free travel.
Having a comprehensive travel insurance policy can protect you from financial losses you might incur due to unforeseen situations. The TravellerShield Plus policy provides extensive coverage on overseas medical expenses (including Covid-19 coverage), loss of or damage to personal belongings (such as travel documents and baggage), journey cancellation or postponement, and more.
a. From 1 July until 29 September 2022, enjoy 55% off Single Trip Plan or 25% off Annual Multi-Trip Plan* with the purchase of TravellerShield Plus! T&Cs apply.
b. You can also enjoy No-Questions-Asked-Cancellations* on all TravellerShield Plus single trip travel policies issued from 16 December 2021 to 31 August 2022. T&Cs apply.
4. Be open to new experiences
Consider other modes of travel other than direct flights! Booking flights to a neighbouring city and switching to alternative modes of transport such as bus or train may be a cheaper option.
If you are feeling more adventurous and have time to spare, take advantage of flights with longer layovers to explore a new destination. Stack more savings and discover new experiences with up to SGD 70 off bookings on Expedia, Klook, KKday and more.
5. Pack smart
Here are some nifty packing tips to lessen your load:
Create a simple packing list and categorise them into clothing, toiletries, technology, snacks and more. You can also create different lists for your luggage and carry-on baggage.
Use a luggage tag to easily spot your luggage at the conveyor belt & add a "fragile" sticker on your luggage to ensure your belongings get treated properly.
Use compression/vacuum bags to maximise the space in your luggage and roll your clothing instead of folding them.
Wrap a piece of plastic over your liquids and shampoos before screwing the cap on to prevent spilling.
Wear bulky clothing such as jackets or sweaters instead of packing them to free up space in your luggage.
Pack some clothing in your carry-on baggage to ensure you have something to wear if your luggage goes missing.
While you travel
6. Use cards with zero foreign exchange fees
It's easier to carry a debit or credit card instead of cash during your trip. Skip the queue at local and overseas money changers and reduce the risk of paying high or unnecessary foreign exchange fees.
The DBS Visa Debit Card enables you to exchange 11 different foreign currencies with zero FX fees or conversion charges. In addition, on top of the 2% cashback on foreign currency transactions all year round, you can also enjoy an additional 5% cashback till 30 Nov 2022 if you register for the Foreign Currency & Online Spend Promo on the DBS PayLah! app. That's 7% cashback in total.
Bonus tip: Always pay for items in local currency when paying with your debit or credit card to avoid dynamic currency conversion!
7. Track your expenditure
It can be easy to lose track of your expenditure when you're having fun. Start by planning a daily budget and check back at the end of the day to see if you have kept within it. This helps you better plan your spending for the remainder of the trip.
Mobile apps like Splitwise and Spendee can track daily or travel budgets. The Splitwise app is especially helpful if you are travelling in a group and need to split payments.
You can also track your DBS credit/debit card expenditures overseas by turning on the Travel Mode in your DBS digibank app. The Travel Mode enables you to exchange up to 12 foreign currencies on the go, activate cards for overseas use, and easily track your expenses in both SGD and foreign currency.
8. Save more by being an eco-traveller
Adopting eco-friendly travelling habits can help you save more! One way to do so is to keep your hotel rooms clean and opt out of the housekeeping service.
Participating hotels often reward guests with loyalty points, F&B vouchers, and other incentives when they forgo the housekeeping service.
You can also track your carbon footprint on your travels with DBS LiveBetter. The Live Better platform is Singapore's first carbon conscious tool that helps you track your carbon footprint and offset them by participating in projects to reduce greenhouse gas emissions.
9. Have a check-out routine
If you are prone to forgetting your belongings in the hotel room after checking out, this is where your packing list from tip #5 comes in handy again! Cross-check the items that you've packed and note additional items you have purchased.
Tick off the items in your list as you pack and do a final sweep of the room: bathroom, under the beds, in the wardrobe, and in every drawer.
Final tip....if you can't actually travel
10. Sun, sea, and staycation!
Can't travel far but need a break? Explore sunny Singapore and all the good it has to offer! Here's a suggested itinerary of local experiences curated by DBS Foundation, with 57% off selected purchases in August.
For bookings on local hotels and experiences, DBS Visa Debit cardmembers can enjoy 5% cashback on your online bookings from now till 30 November 2022 when you register for the Foreign Currency & Online Spend Promo on the DBS PayLah! app. Stretch your dollar further with 3% cashback on local transport spend and 4% cashback on online food delivery spend.
You are also in for a treat if you own a DBS/POSB Mastercard credit card. Take 20% off your room stay at participating Accor properties in Southeast Asia (min. 2 nights booking) from now until 5 November 2022 and enjoy other exclusive deals at your fingertips.
---
TravellerShield Plus and Complimentary Travel Insurance are underwritten by Chubb Insurance Singapore Limited ("Chubb") and distributed by DBS Bank Ltd ("DBS"). It is not an obligation of, deposit in or guaranteed by DBS. This is not a contract of insurance. Full details of the terms, conditions and exclusions of the insurance are provided in the policy wordings and will be sent to you upon acceptance of your application by Chubb.
These policies are protected under the Policy Owners' Protection Scheme which is administered by the Singapore Deposit Insurance Corporation ("SDIC"). Coverage for your policy is automatic and no further action is required from you. For more information on the types of benefits that are covered under the scheme as well as the limits of coverage, where applicable, please contact Chubb or visit the General Insurance Association or SDIC websites.
Recommended for you
Based on your read
Based on similar interests
Recommended
Popular
Latest
Last Read