Local produce is fresher, lasts longer
BY TAN HSUEH YUN, FIRST PUBLISHED IN THE STRAITS TIMES, 7 SEP 2021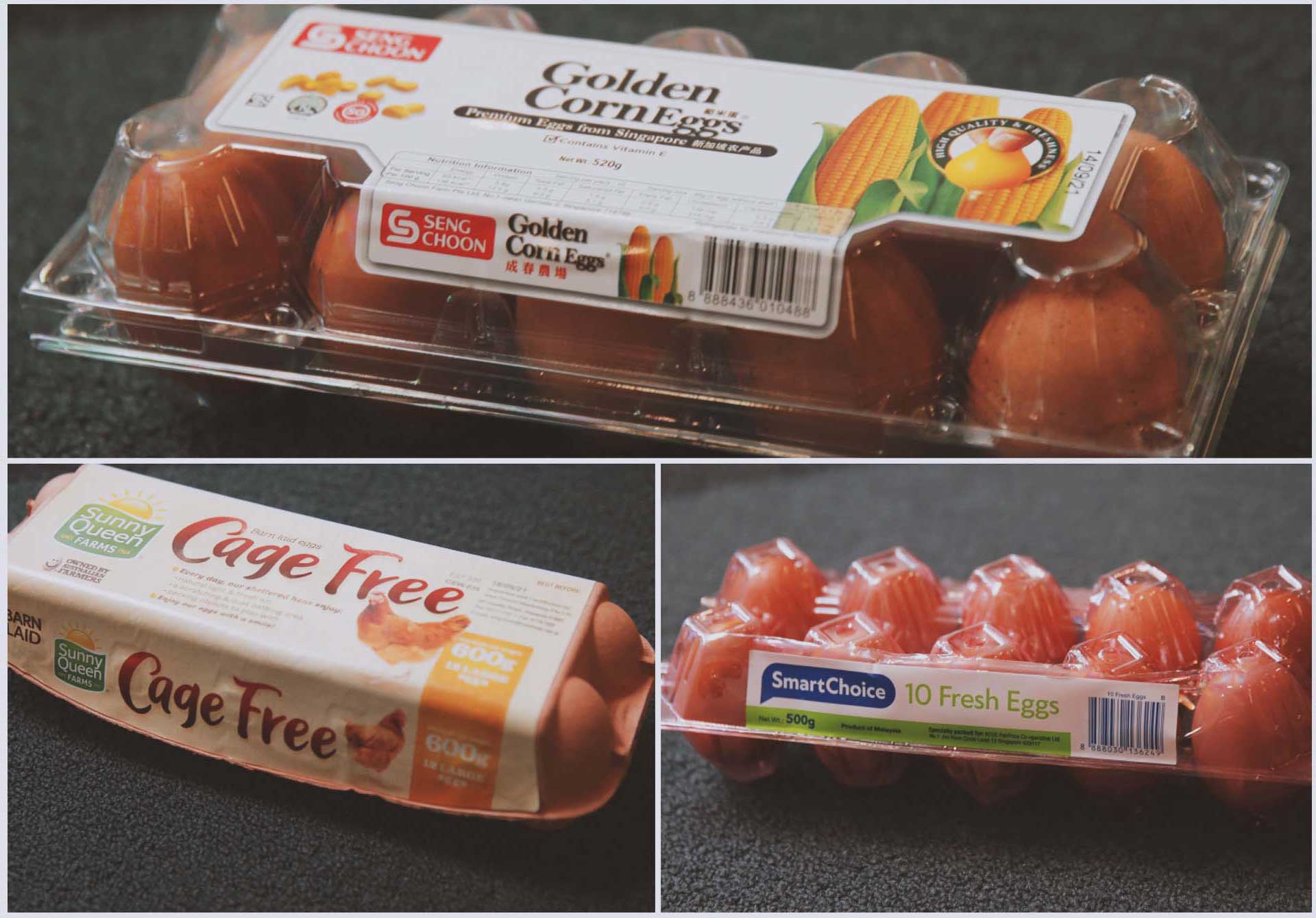 Can Singapore eggs stack up against those from Australia and Malaysia?
Now, more than ever, it is easy to eat sustainably in Singapore. The choice of eggs, vegetables and seafood produced here has widened, and so has the range of sustainably produced groceries such as instant noodles and milk alternatives.
As Singapore moves towards 30 by 30, with the aim of producing 30 per cent of the republic's nutritional needs locally and sustainably by 2030, a network of services is also taking shape to help the island's agri-businesses improve yield and get their products to consumers.
Some 220 farms here produce 14 per cent of the leafy vegetables consumed here, 26 per cent of eggs and 10 per cent of fish, according to the Singapore Food Agency.
Vegetable farms are producing more than kale and spinach. Supermarkets carry a range of Asian leafy greens such as kailan and xiao bai cai grown here hydroponically or in soil.
Consumers are also cottoning on to how locally grown greens are fresher and last longer than imports, the farming businesses say.
Sustenir, which has some 50,000 sq ft of farming area in Singapore, says its farms are located no more than 60 minutes from the city centre, to shorten the food supply chain, so customers get their greens from farm to doorstep in a jiffy.
The variety of what is available has also grown.
Artisan Green, set up in 2018, and which focused on growing baby spinach, recently launched a line of herbs, including lemon basil, dill and coriander, adding to the variety available for customers.
Edible Garden City, which runs more than 50 urban food gardens around Singapore, was given a grant by the DBS Foundation in 2017 to ramp up productivity and expand its product range.
Ms Sarah Rodriguez, its head of marketing, says customers are receptive to locally grown vegetables, a change in mindset from before, when imports were considered superior. People who subscribe to its Citizen Box get a range of soil-grown vegetables, including leafy greens such as mani chye and other produce such as lady's fingers and brinjals.
She says the 30 by 30 goal has given the industry here a big boost.
"But it is not just about agritech farming," she adds. "Let's also look at how traditional farming can link us back to our heritage."
A spokesman for ComCrop, which started in 2011 as a community farm, says affordability is key.
He says: "It has always been a fine balance between charging a small premium for the fresher vegetables produced, and keeping the price affordable for people.
"At the end of the day, Singaporeans enjoy leafy vegetables like caixin and kailan, and only a certain portion of the population has the luxury of choosing packets of kale at $7 each. This is why we grow high-value crops such as mint and basil, to balance out the affordability of perceived low-value crops such as Asian leafy vegetables."
While the focus over the last few years has been on production, a network has been growing to support Singapore farms, to help them generate higher yields, and to get their wares to consumers.
Polybee, which was awarded the DBS Tech for Impact award worth $50,000 this year and the DBS Foundation's Social Impact Prize People's Choice Award worth $25,000 last year, has developed technology to track the health of the crops, and to help farms pollinate their crops using small drones that imitate the work of bees.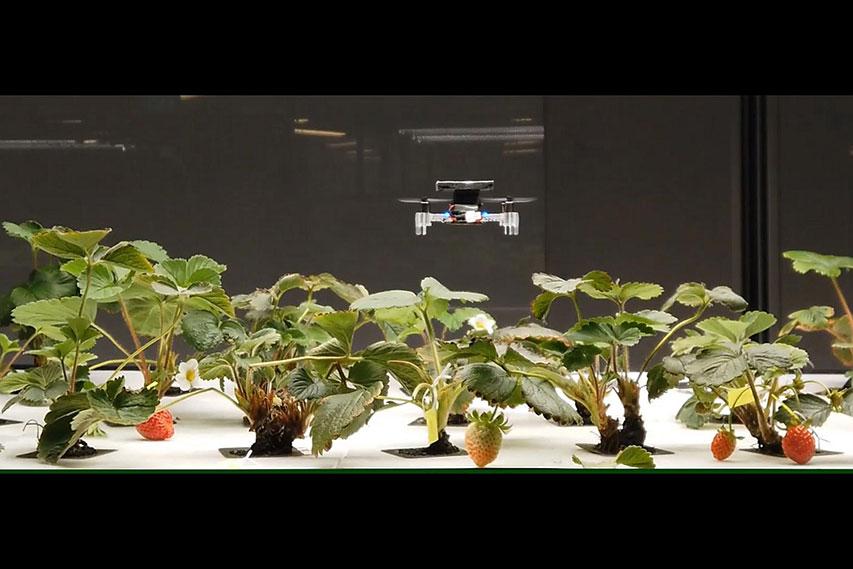 Founder Siddharth Jadhav says: "Most of the crops grown in controlled environments - tomatoes, peppers, berries, eggplants among them - require pollination. It makes economic sense to use micro-drones to pollinate hundreds of thousands of flowers in indoor vertical farms and glasshouses."
The drones weigh about 35g. The company has also developed technology to help farms keep tabs on the health of their crops. Businesses which sign up for its services track the progress via an app.
With part of its $25,000 prize, Polybee set up an 80 sq m product development farm in Science Park, where it is pollinating tomato plants with the tiny drones.
Ms Claire Wong, head of the DBS Foundation, says: "The need for autonomous pollination to build basic food supply is spot-on, especially with Covid-19 throwing the issue of food resiliency into the spotlight. Given Singapore's 30 by 30 ambitions, Polybee's solutions could be very relevant in helping us to scale food production in greenhouses and vertical farms."
Ms Nichol Ng, managing director of FoodXervices, started Backyard Productions last year to aggregate produce from Singapore farms for its business customers. Retail customers can buy its Singapore Salad, comprising greens grown in here. It works with 10 farms and is looking to rope in more.
"The main gap in the market is that farmers are struggling with business-to-business sales," she says. "We're saying leave that to logistics and distribution people like us. Focus on the growing."
Beyond produce grown in Singapore, sustainability is also about how crops are grown.
WhatIF Foods, a Singapore brand, has a range of instant noodles, shakes and soups made with the Bambara groundnut, a nutritious, high protein legume that grows on arid land, requiring little water. It helps restore the land on which it is grown by putting back nitrogen into the soil.
The company, a DBS Foundation grant recipient last year, recently launched BamNut Milk, which has a low carbon footprint. WhatIF founder and CEO Christoph Langwallner says it takes 628 litres of water to produce 1 litre of cow's milk, compared to 14 litres of water to produce 1 litre of BamNut Milk.
He adds: "With every litre of BamNut Milk, we are also restoring 1.12 sq m of degraded land. Lands that have been restored contain more carbon, more nutrients, more life, and retain more water."
DBS Foundation's Ms Wong says: "These innovative businesses are creating solutions that address real social and environmental issues. By redesigning how food is produced and where our food comes from, we can not only reduce carbon emissions and ensure food security, but also consume food that is better for our wellbeing and the planet.
"DBS Foundation saw opportunities for us to catalyse the growth of these solutions through grant funding and opening doors for these ideas to grow and flourish."
Taste test
The Sunday Times conducted a blind taste test of five types of Singapore-grown produce, pitting each one against two imports. On the tasting panel were chef Alex Phan, co-founder of Avenue 87, a restaurant in Amoy Street that uses local produce; Ms Chan Fang Lynn, founder of Loaded Gun Kitchen, a home food business that sells vegan dips and burger patties; and this reporter.
The produce was bought from FairPrice Xtra in VivoCity. The eggs were hard-boiled, the xiao bai cai and kailan blanched. They were graded on taste and texture, with a maximum score of 10 for each category.
Here are the results:
Eggs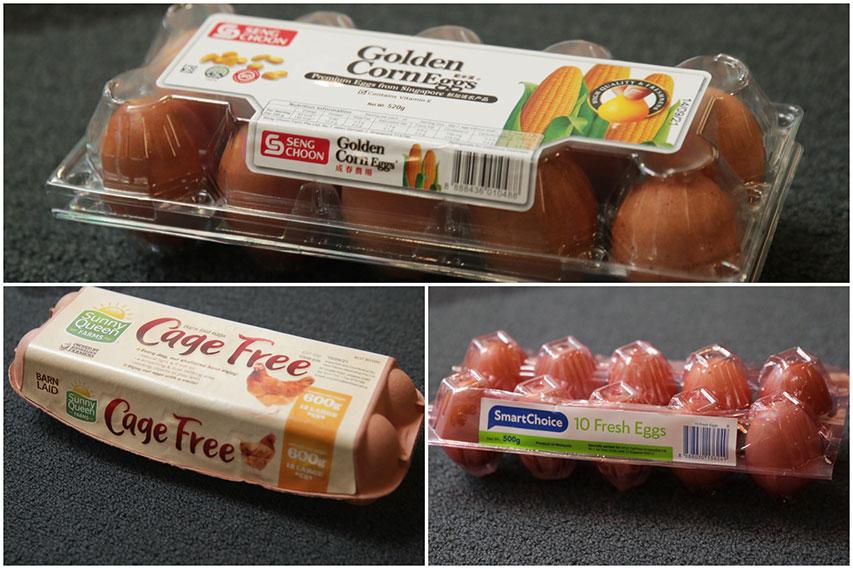 Seng Choon Golden Corn Eggs, $2.60 for 10 52g eggs (Singapore) - 16/20
Sunny Queen Cage Free Eggs, $8.90 for 12 50g eggs (Australia) - 12/20
Smart Choice, $1.85 for 10 50g eggs (Malaysia) - 14/20
Alex Phan: "The Singapore eggs have rich-tasting yolks."
Baby spinach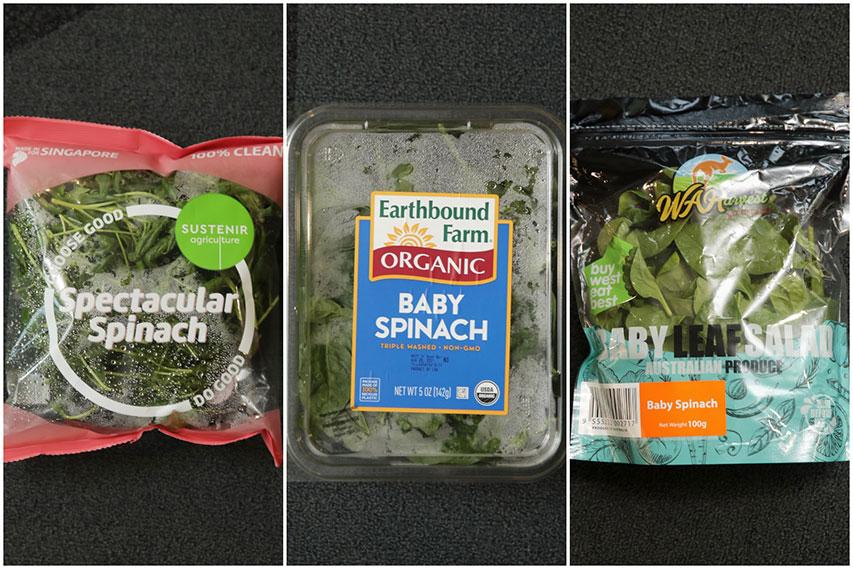 Sustenir Spectacular Spinach, $4.95 for 100g (Singapore) - 15/20
Earthbound Farm Baby Spinach, $8.30 for 142g (US) - 10/20
WAHarvest Baby Spinach, $3.90 for 100g (Australia) - 16/20
Chan Fang Lynn: "The Australian spinach had the juiciest leaves."
Xiao bai cai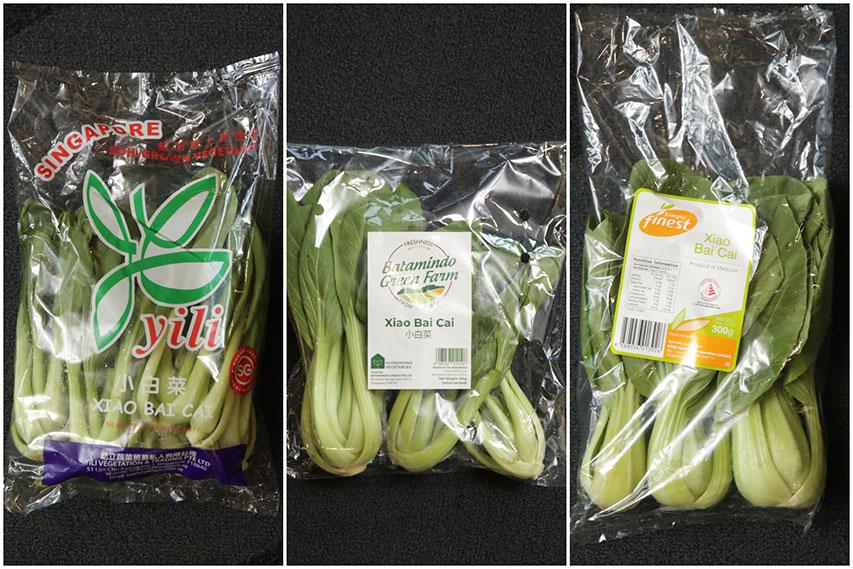 Yili Xiao Bai Cai, $1.85 for 300g (Singapore) - 10/20
Batamindo Green Farm Xiao Bai Cai, $1.20 for 200g (Indonesia) - 11/20
Simply Finest Xiao Bai Cai, $1.75 for 300g (Malaysia) - 13/20
Chan Fang Lynn: "The Malaysian one has sweet notes. Yummy!"
Kale
Sustenir Super Kale, $5.50 for 120g (Singapore) - 13/20
Earthbound Farm Baby Kale, $8.90 for 142g (US) - 14/20
Corrigan's Kool Kale, $4.95(no weight stated) (Australia) - 9/20
Alex Phan: "The American kale has a tang to it, and a juicy texture."
Kailan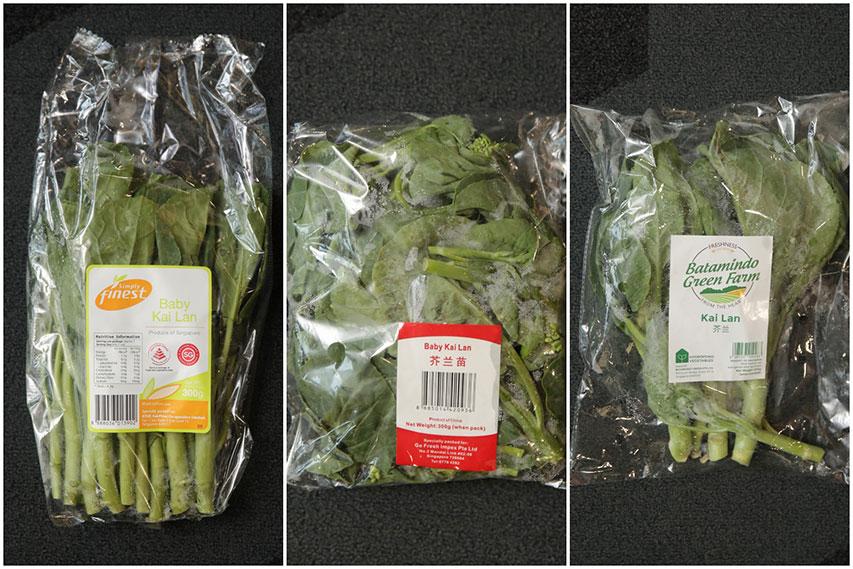 Simply Finest Baby Kai Lan, $2 for 300g (Singapore) - 9/20
Go Fresh Impex Baby Kai Lan, $2.10 for 300g (China) - 13/20
Batamindo Green Farm Kai Lan, $1.20 for 200g (Indonesia) - 15/20
Tan Hsueh Yun: "The stems of the Indonesian kailan have loads of flavour, and a crunchy texture."
How to shop sustainably
Tips from Mr Ray Poh, founder of Artisan Green, an indoor farm.
* Consider buying local produce. It can be stored longer because it travels a lot less, and will result in less food wastage.
* Look for produce grown without pesticides. Organic produce can sometimes be grown with organic pesticides.
* Buy from a known source, a company that is transparent about how its produce is grown.
This series presented by DBS and The Sunday Times explores the environmental impact of everyday food choices, and how consumers can live more sustainably when it comes to what they eat, and how much they leave behind.
Learn more about how you can continue your journey #TowardsZeroFoodWaste.
Find out more about DBS' other partnerships and initiatives #TowardsZeroFoodWaste.
Recommended for you
Based on your read
Based on similar interests
Recommended
Popular
Latest
Last Read