Is it okay to over-stock our fridges so our families always have plenty to eat?
BY DBS, 20 JAN 2022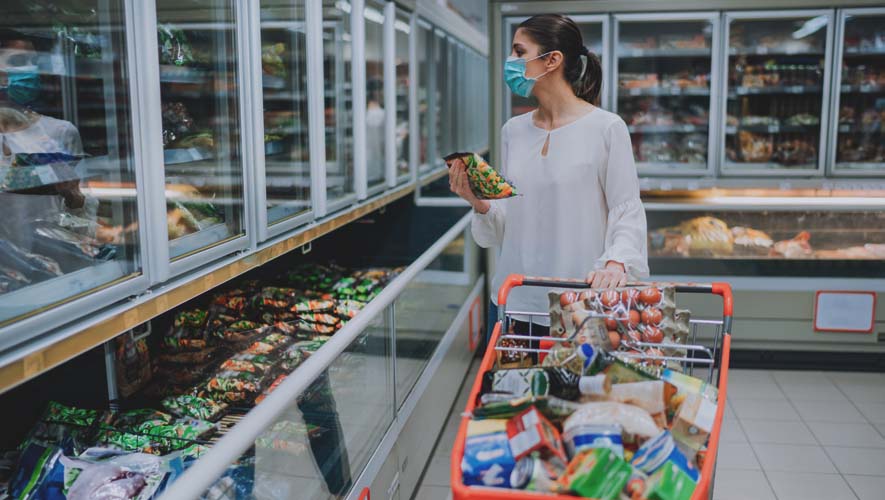 Two self-confessed food hoarders tackle the contents of their fridges
According to the Singapore Environment Council, the average Singapore household throws away an equivalent of 52 plates of nasi lemak every year.
Given that most of us probably don't want to waste any food at all (bad for earth, bad for the wallet...), how does so much household food waste accumulate? And can we effectively tackle the leftovers and expiring food in our kitchens more consciously?
A recent social experiment took a sneaky peek into the fridges of two Singapore households to find out.
A look into someone else's fridge
It might be considered impolite to open the fridge in someone else's home, but two self-confessed, food hoarders bravely allowed us to dig deep into their fridges, for the sake of seeing how sustainable (or not) they were.
The first fridge belonged to Rasathi, whose fridge brimmed with beverages, an assortment of Ziploc bags and containers with raw ingredients, and containers of leftover homecooked dishes.
The second fridge belonged to foodie Justin, whose fridge really looked like it was bursting at the seams!
It was packed with cooking ingredients and condiments, a haphazard variety of dishes, and a heaving vegetable compartment.
The whole assortment begged the question of how each fridge would be emptied and consumed before all that food went bad. There was only one thing left to do in a bid to reduce food waste.
Why exactly do we "hoard" food?
Joakim challenged Justin and Rasathi to a cookoff to save their leftovers from the bin, but first asked if they considered themselves to be food hoarders.
Justin rated himself "maybe a five or a six" out of 10, sharing that there are three people in his household who cook, leading to the fridge always being "fully stocked". To prevent food wastage, Justin tracks the expiry dates of his food items and plans his meals ahead.
"But then again sometimes some wastage is unavoidable", he added, remarking that "you tend to not want to eat the same thing".
Rasathi gave herself a food hoarder rating of seven out of 10. She shared that as a busy single mother, she often plans her meals ahead, cooking and buying food for a week at a time.
"If you don't use them right away, you forget that they're in there sometimes, like I do", she added, giggling with embarrassment.
When Rasathi cooks from scratch, it's "absolutely based on what I feel like having". But as the food begins to dwindle down to leftovers, her thoughts shift towards repurposing them.
Those habits served her well in the cookoff, as her final dish was a fresh pot of creamy soup using leftover bacon, ground pork, chicken broth, and potatoes, with fresh ingredients, like kale, cooking cream, onions, and garlic.
Justin used leftover roast chicken, eggplant, potatoes and tomatoes, and chicken oil and jus to make a tangy chicken shakshuka, with some fresh ingredients like eggs, tomatoes, onions, and garlic.
Both (re)creations went down well and were praised for their creativity and flavours!
It seems that leftovers, whatever they are, can really take on new culinary life with a bit of ingenuity and effort.
The cost of throwing our food away
Food waste accounts for 8-10% of global greenhouse gas emissions, which contributes to global warming, so when we waste our food, we're contributing to climate change.
Nichol Ng, co-founder of The Food Bank Singapore, said, "For a country like Singapore, where we import 90% of our everything that we consume, the amount of carbon footprint that we generate is in fact more than other countries that have agriculture in their backyards."
The Food Bank Singapore works to tackle food insecurity in Singapore and reduce the impact of food waste by collaborating with corporate partners to redistribute food to communities in need. Recently, their cause has been made more accessible to the public. Now, anyone can donate to The Food Bank Singapore easily with LiveBetter on the DBS digibank app.
Throwing out expired food or leftovers may have become routine for many of us. But with a little more thought to what we buy and how we cook, those habits can be changed.
So, take a peek into your fridge and think through why some of your food ends up going to waste.
You might be surprised at how being more mindful when grocery shopping, and planning a streamlined menu that includes leftovers, can introduce some unexpected variety to your meals.
DBS partnered CNA for "My Own Green Plan", a three-part series of experiments that explores how our food choices might change when considering the environmental consequences.
Learn more about how you can continue your journey #TowardsZeroFoodWaste.
Find out more about DBS' other partnerships and initiatives #TowardsZeroFoodWaste.
Recommended for you
Based on your read
Based on similar interests
Recommended
Popular
Latest
Last Read