DBS Foundation: Leaving no one behind
BY DBS, 9 NOV 2022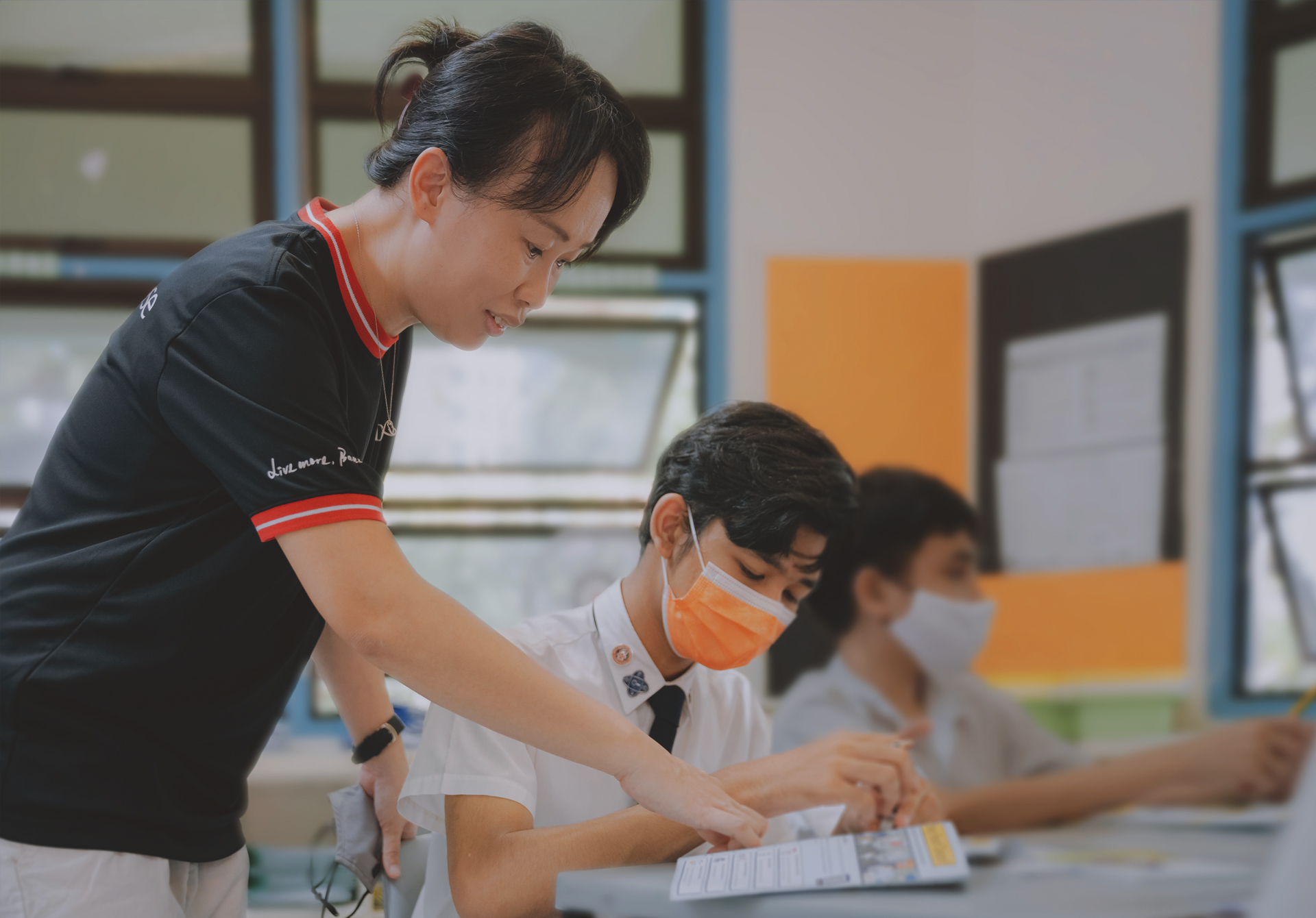 Continuing a purpose-driven culture of creating impact, DBS Foundation is partnering IMDA for nationwide workshops to bolster digital readiness within the community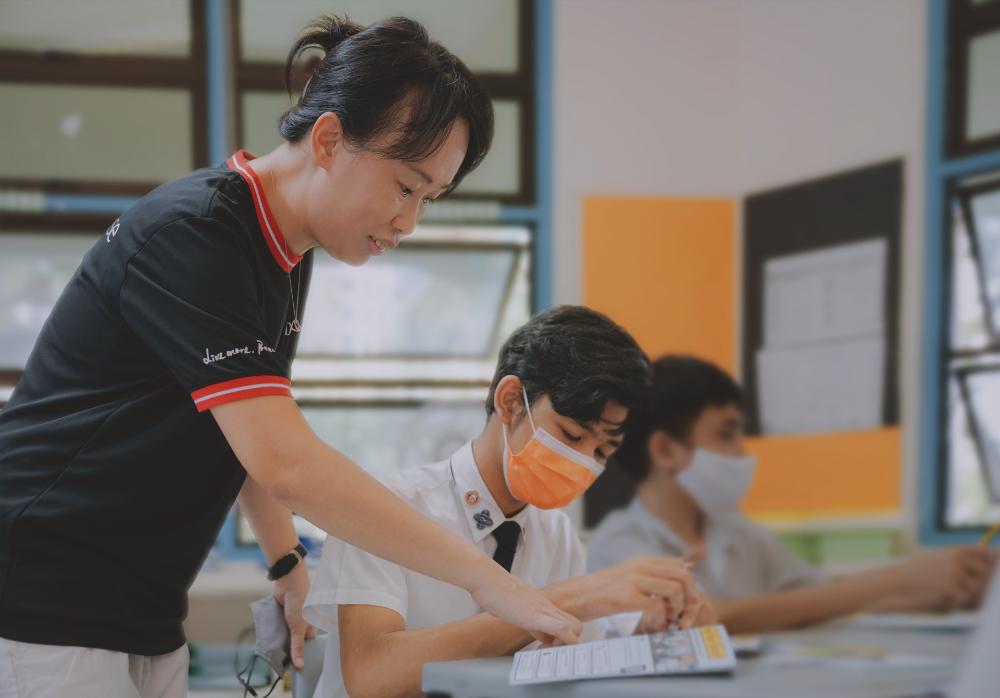 16-year-old Daiyan Aniq Bin Mohammed Faizal, a student at APSN Tanglin, attending the POSB Financial Literacy workshop, conducted by DBS volunteer Chloe Wu.
"This is my prefect tie. It means you're honest and brave." 16-year-old Daiyan Aniq Bin Mohammed Faizal lifts his tie to show the neatly embroidered title "Prefect". He proudly wears it to school every day.
His other prized possession? A little Antman plushie that hangs off his schoolbag. He's even designed the same character in the virtual universe of Roblox "with blue eyes" he says, as his own light up talking about his favourite Marvel character.
It's no wonder the ultimate toy Daiyan is eyeing is an Antman helmet he can actually wear over his head. It's his biggest "want" that he identified during a financial literary workshop organised by POSB and Daiyan's school, APSN Tanglin.
The POSB Financial Literacy x APSN – Save Smart with Smiley workshop complements the Secondary 4 curriculum at APSN Tanglin, a school for students with mild intellectual disabilities.
The programme takes students through modules like "Categorising Needs and Wants", "Value of Money", "Cashless Payments" and even "Online Security", particularly against scammers.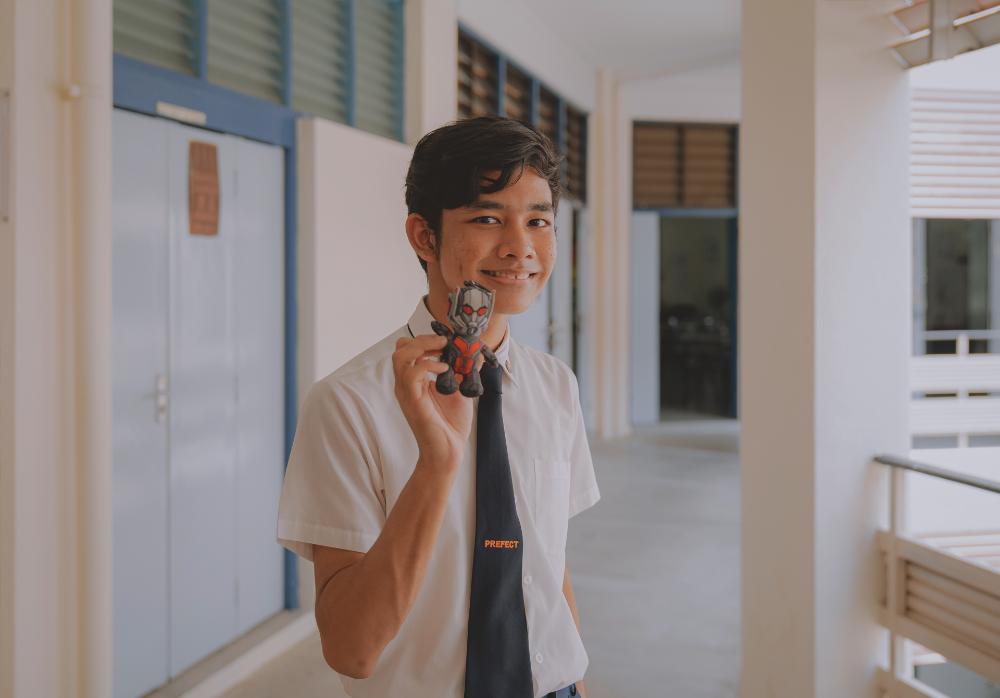 Daiyan's favourite Marvel character is Antman and he hopes to one day save enough money for an Antman helmet.
The 16 year olds at all APSN schools don't sit for GCE 'O' Levels. Instead, they go through Workplace Literacy & Numeracy assessments, and a functional curriculum to help the students manage real-world experiences.
"We have a spectrum of students. For the high support students, the most worrying part is really how to use money. Especially now when things are going contactless, all the more they may not see the meaning behind it," said Lai Mern, Head of Department for Numeracy at APSN Tanglin.
Lai Mern added that having professionals from DBS Bank engage with the students adds gravity to the financial literacy messages.
A foundation of giving back
Since 2020, DBS People of Purpose, the bank's staff volunteering programme, has reached over 1,000 special education students with digital or financial literacy workshops, and is just one series of community engagement activities DBS runs to create impact beyond banking.
Recognising the societal needs in the markets DBS operates in, DBS Foundation created a new "Community Impact" chapter at the beginning of 2022 to equip communities with future-ready skills such as digital and financial literacy and mental resilience, as well as reducing food waste for a more food secure future.
The new chapter extends the Foundation's impact since its inception in 2014, when it became the first foundation in Singapore focused on championing social enterprises (SEs). Since then, DBS Foundation's "Business for Impact" chapter has supported over 800 SEs across the region and awarded over SGD 10 million in grants to 93 SEs.
As part of the new "Community Impact" chapter, DBS Foundation, supported by the government's dollar-for-dollar matching, announced it will contribute SGD 1 million to the national Digital for life movement and step up its volunteer participation to drive digital literacy training, bolstering digital inclusion efforts in Singapore.
The effort aims to reach some 100,000 Singaporeans over the next two years, including senior citizens, youths, hawkers and special needs individuals. Beyond partnering IMDA to co-develop and refresh the digital literacy curriculum, DBS will mobilise at least 2,500 of the bank's employee volunteers to run some 800 workshops, with the support of community partners such as the SG Digital Office.
Fulfilling experiences for all
Teo Wee Peng, Executive Director of Group Compliance at DBS, is a repeat volunteer for the workshops at different APSN schools. He even rallied his entire team to join the session at APSN Tanglin.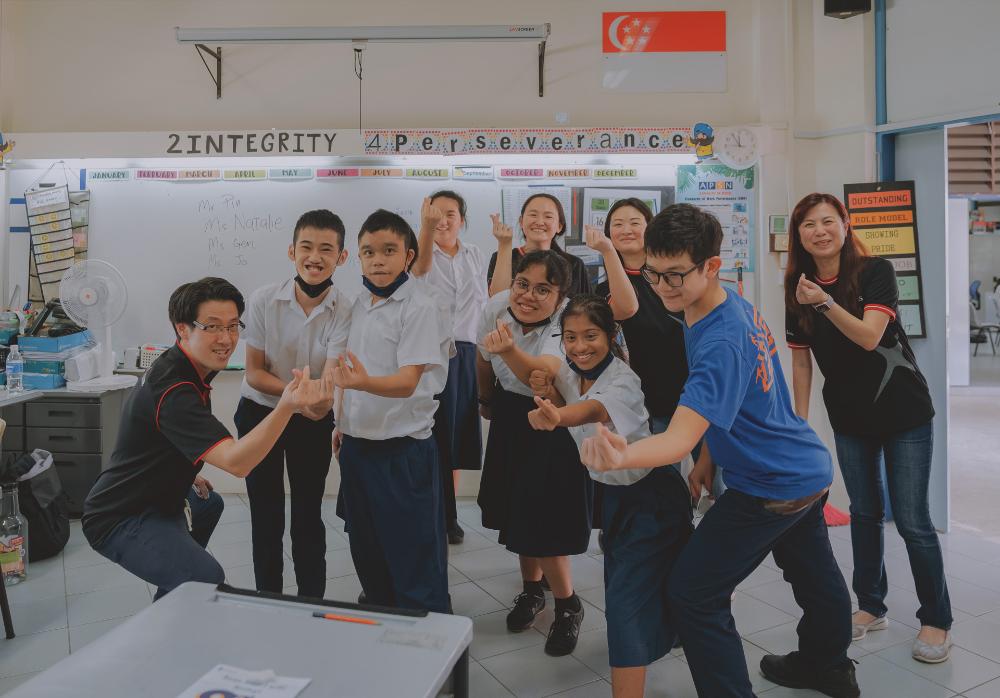 Teo Wee Peng from DBS and colleagues with the students in the workshop he conducted at APSN Tanglin.
"This is a good match of giving back with the knowledge and skills we have working in a bank," Teo explains.
He enjoys the experience not only because it's a worthwhile cause to volunteer for, but for the special moments he gets to share with the students.
"The class teacher pointed out a student who hopes to be a chef and start her own restaurant. When I explained how our lessons can be applied to her dreams – such as creating some savings, then elaborated that she can choose subjects in culinary arts or business, and even volunteer for internships at restaurants, I caught the sparkle in her eye. It's one of those moments that makes you feel you've connected with someone meaningfully. Hopefully, I'll get the chance to eat at her restaurant one day."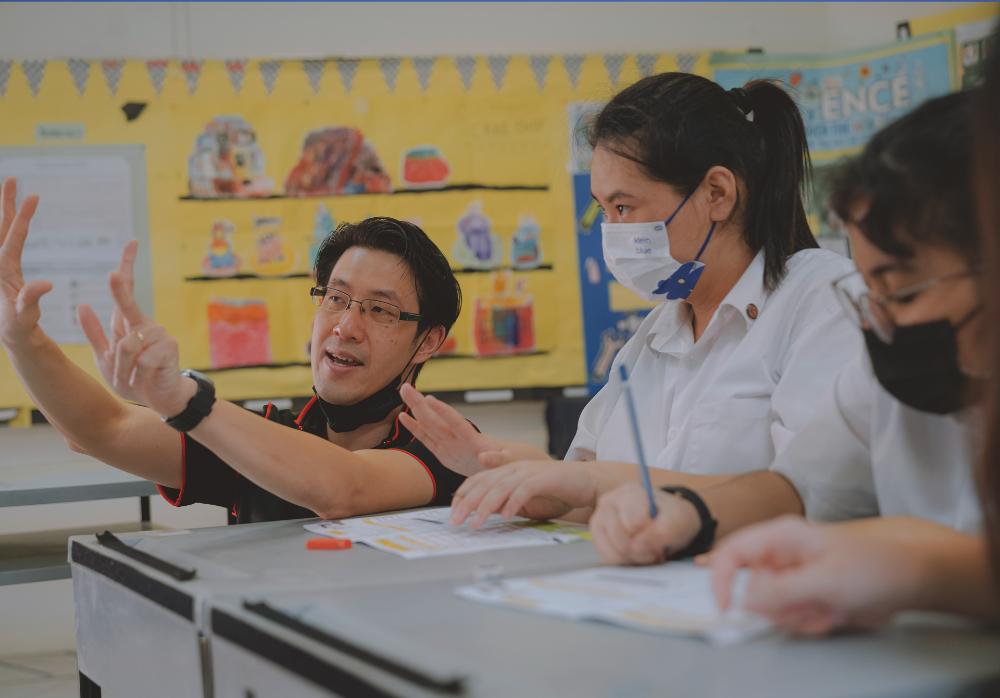 Teo enjoys volunteering not only because it's a worthwhile cause, but for the special moments he gets to share with the students.
Another repeat DBS volunteer Chloe Wu, Vice President at CBG Digital Banking at DBS, recalls her own heart-warming experience.
She shared, "When school ended for the students, there were kids who saw us at the corridor and exclaimed 'I save money with DBS!'. It was their warm way of telling us they understood our purpose. We even got a banana as a gift from one of the kids!"
Recommended for you
Based on your read
Based on similar interests
Recommended
Popular
Latest
Last Read